5 Must-Try Detroit Restaurants During Your Next Meeting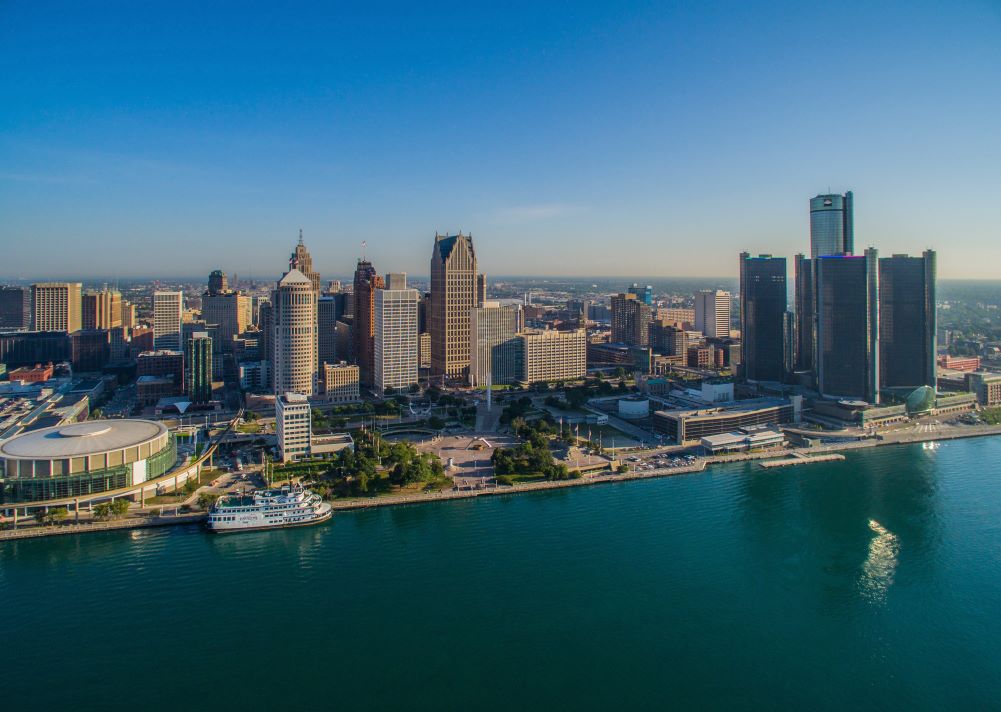 Detroit skyline. Credit: Vito Palmisano
With nonstop flights to 150 destinations around the world; the nation's 17th-largest convention center, TCF Center (with over 723,000 square feet of convention space); vibrant business hubs; and a determined, hard-working attitude, Detroit was poised for continued success going into 2020.
"We thought 2020 was going to be our best year ever," said Claude Molinari, president and CEO of Visit Detroit. "We had this incredible lineup of events."
Enter the pandemic. After more than a year of a shuttered meeting scene, the first in-person events returned to Motor City in June, and Molinari said the hospitality industry is revved up and ready for the return of groups.
"Detroit was the comeback city after the [past] challenges of bankruptcy…the city has gone through an incredible renaissance," he said, referencing Detroit's financial struggles when the city filed for bankruptcy in 2013 and subsequent new developments in Detroit. "Our marketing slogan is 'It's Go Time, Detroit,' and we really feel like it is go time."
[Related: 6 Great Hosts for Outdoor Group Gatherings in Southwest Michigan]
Development news is on Molinari's mind, hoping a continued push to improve the hotel room and meeting space offerings downtown will attract more return and new business.
"Right now, we have 11 cranes in the air," he said. "Two of them are building a skyscraper that will be the second-tallest building in the state of Michigan and will include a hotel property." 
Next up? Visit Detroit is in talks with developers, owners of the convention center and the city to reuse the space next to TCF Center that was the old home of the Red Wings arena to build two 800-room hotels. "It's a monumental project," Molinari said, noting that while it's not yet confirmed, he's hoping to get the project approved. 
Amidst the ambitious development goals, Detroit is seeing an influx of bookings coming to the city next year.
"In the past week we have booked six conventions just for 2022—that's 60,000 event rooms and over $100 million in economic impact," Molinari said in mid-July. 
When the thousands of attendees scheduled to return to Detroit arrive—and many more to come as the city continues to build up—there will be much to explore on the ground. Notably, the city's food scene is heating up—hardly surprising for a metro area that has a Coney Island hot dog challenge and invented a new style of pizza.
Whether you want to indulge in one of these iconic foods or dine in new luxury hotspots overlooking the city lights, there are many options for memorable eats after your first meeting or convention in Detroit post-pandemic. Molinari shares some of his favorites.
The Apparatus Room
Located at The Foundation Hotel across the street from TCF Center, Molinari marks The Apparatus Room as one of his favorite restaurants in town, and an easily accessible option for attendees meeting at the convention center. 
Michigan native chef Thomas Lents—who earned a two-star Michelin rating during his time at Sixteen in Chicago—serves up New American cuisine made with Midwestern ingredients. Menu highlights include short rib bourguignon, roasted duck breast and ricotta gnudi.
Buddy's Pizza
"I have to give a shoutout to Buddy's Pizza," Molinari said of the 1946 eatery that invented Detroit-style pizza. Attendees can try the iconic pie at the original location, which is distinguished by its square shape and cheesy, crispy corner crusts. The 'za is influenced by Sicilian-style pizza, which is often square with a thick crust.
Buddy's creators pioneered their take on this pizza by baking it in forged-steel pans borrowed from local automotive plants.
Inverted layers also make this pizza unique, with pepperoni laid directly on the dough, followed by Wisconsin brick cheese, additional toppings and finished off with sauce.
Buddy's original location in east Detroit makes for a fun visit, but the chain also caters events if planners want to bring the iconic pie to their attendees.
Highlands Steakhouse
A newcomer to the dining scene in 2019, Highlands is a stunner, led by James Beard Award-winning chef Shawn McClain on the 71st and 72nd floors of the GM Renaissance Center, headquarters of General Motors and home to the 1,300-room Detroit Marriott at the Renaissance Center. The skyscraper is the tallest building in Michigan, which means it has some of the best views in town, overlooking downtown and the Detroit River.
The three-course dinner includes dishes like wagyu beef tartare, Spanish octopus, baked crescenza ravioli, NY strip and Alaskan halibut—to name a few. 
Whiskey and scotch connoisseurs will enjoy the High Bar, which curates whiskey from around the world, in addition to its craft cocktail list.
American Coney Island and Lafayette Coney Island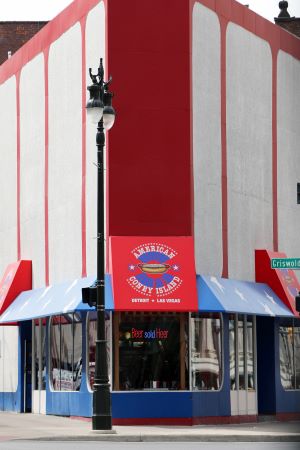 Sitting side by side on Lafayette Boulevard in downtown Detroit are two hot dog diners that are some of the best places to grab Detroit's famous Coney Island hot dog. With their stories going back 100 years, and locals firmly allegiant to one dog over the other, Molinari said that trying both recipes at these historic spots is a must-try for visitors.
"A lot of times when people come to Detroit for the first time, they do the 'Coney Dog challenge' and try both," he said.
The rivalry between the two eateries goes all the way back to 1917, when Greek immigrant Gust Keros opened American Coney Island selling his Coney dogs, which are typically made with a beef frankfurter in a steamed bun, topped with chili sauce, yellow mustard and diced onions. His brother Bill opened Lafayette Coney Island right next door in 1924, and both have operated in the same spots since. 
While it's difficult to say why Bill Keros opened Lafayette next door, Molinari said a common theory is that there was a dispute over the spiciness of the chili sauce. According to the Detroit Historical Society, "American makes its own chili, which is said to be spicier than the beefier chili of Lafayette, made from a family recipe." 
Food television shows like Food Wars and Man v. Food have fanned the flames of the rivalry, and a quick stop at both for a taste test makes for a memorable lunch or dinner excursion for meeting delegates.
Ottava Via
Nestled in the historic Corktown district west of downtown Detroit, rustic Italian eatery Ottava Via is one of Molinari's favorite places to take visitors—an noteworthy endorsement from the CVB's president and CEO.
"It's an old-school Italian restaurant and it has bocce in the back and wood fires for pizza. Whenever we have out-of-town guests, we bring them there and play some bocce," he said.
Planners can use spaces at the restaurant for semi-private or private bookings. The Music Room can accommodate up to 30 guests for a three-course or family-style meal. Full buyouts of the bocce area are also available—a unique networking option within the city's oldest neighborhood.
Connect
Visit Detroit
800.338.7648
Read this next: 4 Iconic Foods and Drinks of Kansas City and St. Louis