U.S. Labor Shortage Affecting Your Meetings? Try Mexico and Caribbean All-Inclusives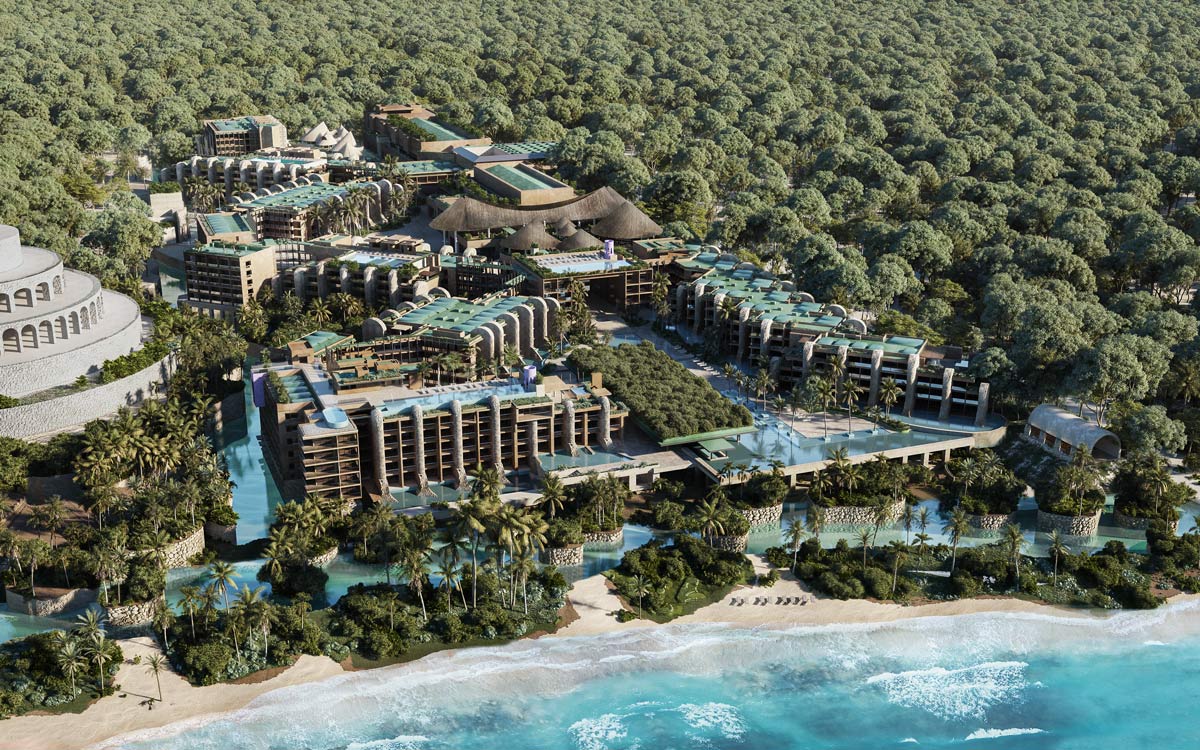 While the meetings and events industry wrestles with an in-person comeback stuck in slow gear from the Delta variant and lingering labor shortages that have impacted service levels, the all-inclusive segment in many cases has used the pandemic slowdown to open new facilities or improve existing ones.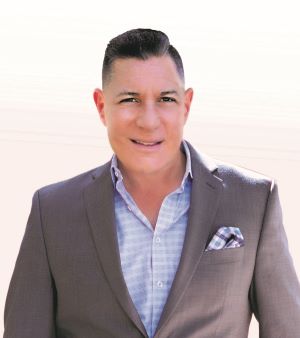 "I travel pretty much every week. I can tell you, I stayed at a place [in the U.S.]—I couldn't get a towel, the restaurant was closed—it was a nightmare," said David J. Manzella, senior vice President of sales and marketing for Fiesta Americana Hotels & Resorts/Posadas. "You don't have those issues in Mexico and the Caribbean—there is not a stipend or extended unemployment benefits."
Manzella said Fiesta Americana hopes to pick up business especially from incentive travel organizations that may be skeptical they can deliver a true luxury experience due to labor shortages in the U.S.
"I do think we'll pick up some of these additional groups, because some of these areas aren't ready to welcome groups," he said. "You'd think by now they'd be past that limited-service threshold, but they aren't.
"Our staff ratios are back to where they were pre pandemic," Manzella continued. "Our hotels are all up to 80 percent to 90 percent. We are fully staffed, and you see that when you arrive at the hotel  through departure, and we hear clients say that."
[Related: Unique Venues in Mexico to Boost Your Next Meeting or Incentive Program]
An Incentive Travel Leader Chimes In
Ashely Lawson, the globe-trotting vice president of business partnerships at Achieve Incentives & Meetings, a global meetings and travel incentive planning firm, is currently on an extended trip around the world to suss out destinations and their readiness to welcome incentive travelers.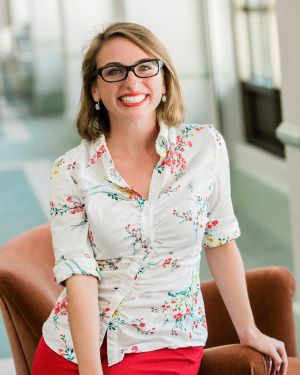 Lawson echoes Manzella's comments about the readiness of Mexico to welcome luxury-minded groups and incentive travelers with an acceptable standard of service.
"Mexico and Caribbean don't have safety nets—there's no unemployment [benefits] in Mexico," she said. "As an incentive planner, I don't need to be greeted with the red carpet, but I need to know that hotels are creating the red carpet, and many [U.S.] hotels are slashing budgets and face hiring challenges, and have cut housekeeping or are incentivizing less services, such as every day you don't get housekeeping service, you get reward points."
In her travels to countries with labor shortages, Lawson has sometimes noticed a shocking drop in the level of service.
"There's new staff in many places," Lawson said of the experience she had at some of the hotels she visited. It seemed like a quarter of the staff had been there less than a week—it seemed like I knew more about the hotel then they did."
Lawson said that another lure of all-inclusive properties in the age of COVID-19 is the benefit they offer of being able to keep all guests on property, which can be especially important in destinations such as Mexico that may not have a uniform level of safety protocols once guests venture off-property.
"I think it's more of a safety perspective," she said. "Everything you need is on-property and you don't have to go off-property. If you leave the property, you don't know what the safety protocols of those businesses are."
[Related: 5 Incentive Travel Trends to Watch]
All-Inclusives News
All-inclusive properties are also trying to prime the pump by offering packages to lure groups. Following is news from all-inclusive properties that cater to meetings groups. 
Hilton Makes Moves in Mexico 
In July, Hilton announced the signing of a management contract for three properties in Mexico: Hilton Vallarta Riviera All-Inclusive Resort, Hilton Tulum All-Inclusive Resort and Conrad Tulum.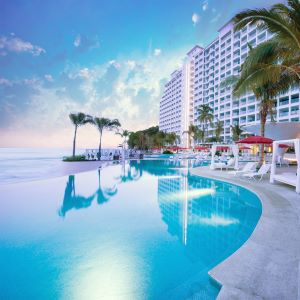 Hilton Vallarta Riviera All-Inclusive Resort, which is set to convert to a Hilton brand in the fourth quarter of 2021, offers access to 26,000 square feet of meeting space. The Hilton Tulum All-Inclusive Resort, which shares meeting facilities with the Conrad Tulum, includes a 55,000-square-foot convention center and a 400-seat auditorium, and plans to convert to a Hilton in the first quarter of 2022. 
Wellness at Melia 
Major all-inclusive operator Melia launched a new Wellness Inclusive by Melia offering with the debut of its Melia Punta Cana Beach adults-only property. The program gives guests access to a meditation labyrinth, flamingo oasis and bird-feeding stations. Specifically for meetings, the property offers spa mobile meeting breaks that incorporate Pranayama breathing sessions and reflexology or stretching sessions under its Millenary Tree.  
On the culinary side, Melia Punta Cana Beach is hosting medical herb workshops, cocktails inspired by the seven chakras and super-food cooking lessons led by wellbeing specialists such as an herbalist and a neuropathic therapist. 
Paradisus by Melia, a collection of properties in Mexico and the Dominican Republic, relaunched its brand positioning to elevate the all-inclusive experience through enhanced service. Examples include The Reserve program, which provides the following: 
Specialized concierge service (including private check-in and check-out) 
Personalized in-room aromatherapy 
Custom turndown service 
Individual assistance with priority reservations for activities and restaurants 
Private pool and beach club access with customized service 
Access to special curated events throughout the resort, such as special culinary events and glamping on the beach 
Paradisus and other Melia brands are also promoting a "We Are Back!" group package that offers double MeliaRewards Points and added flexibility to cancel or change group bookings. The offer applies only to new contracts for meetings booked through June 30, 2022. 
Paradisus promotes creating customized experiences for groups, including gastronomic programs and out-of-the-box outdoor activities with themes such as "glamping," "Chic and Tonic" and "Like a Local." The brand's convention centers have a capacity for up to 1,200 people, and a group's brand messaging and presentations can be augmented by 360-degree video projection walls. 
At publication time, the brand was gearing up to open Paradisus Playa Mujeres, a 498-room new-build property in Cancun. Highlights include 10 dining concepts, a spa and a fitness center. 
Cancun Ready for Its Close-Up 
Planet Hollywood Beach Resort Cancun opened in late January 2021. Located just north of Cancun's Hotel Zone in Costa Mujeres, the 898-suite new-build resort is filled with Hollywood movie memorabilia and promotes curated entertainment-themed experiences for guests and groups. 
Highlights include 11 restaurants and nine bars, four swimming pools, a lazy river, waterpark, surf simulator, PUMPED Fitness Centre and the PH Spa, which offers immersive therapies, massages, a steam room, sauna, hydrotherapy pool and an ice fountain. 
The property also offers a convention center that can accommodate groups of up to 1,300, as well as the Planet Hollywood Adult Scene Cancun, the brand's rollout of its adults-only resort-within-a-resort concept. It offers 332 suites, a private beachfront and pool area, and two dedicated specialty restaurants: Braza Grill & Churrascaria and Catch Seafood Restaurant.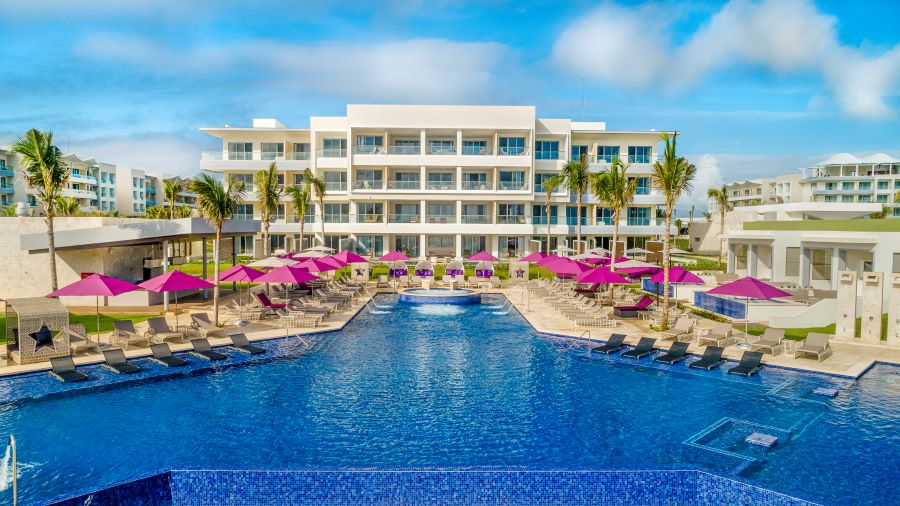 Xcaret Gets Arty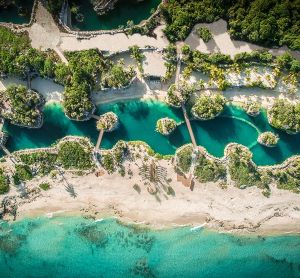 Groups meeting at the new Hotel Xcaret Arte can immerse themselves in Mexican art at its five Casas at Hotel Xcarte Arte via hands-on workshops that include textile and weaving lessons, dance instruction, coloring and painting, and workshops covering pottery making and cooking. 
Hotel Xcaret Arte features nine restaurants and five rooftop bars, and at its Muluk Spa guests can create their oils, scents and lotions via its Alchemist Studio. 
As part of the Group Xcaret's "All-Fun Inclusive" concept, guests of Hotel Xcaret Arte and sister property Hotel Xcaret Mexico also receive unlimited access to Group Xcaret's seven eco-adventure parks and tours, including roundtrip transportation to the parks. Combined, the properties feature two convention centers and an entertainment stage that can host between 1,140 and 2,065 people.
Read this next: Hilton Expands Mexico All-Inclusive Portfolio