A Look at the Newly Expanded Charlotte Convention Center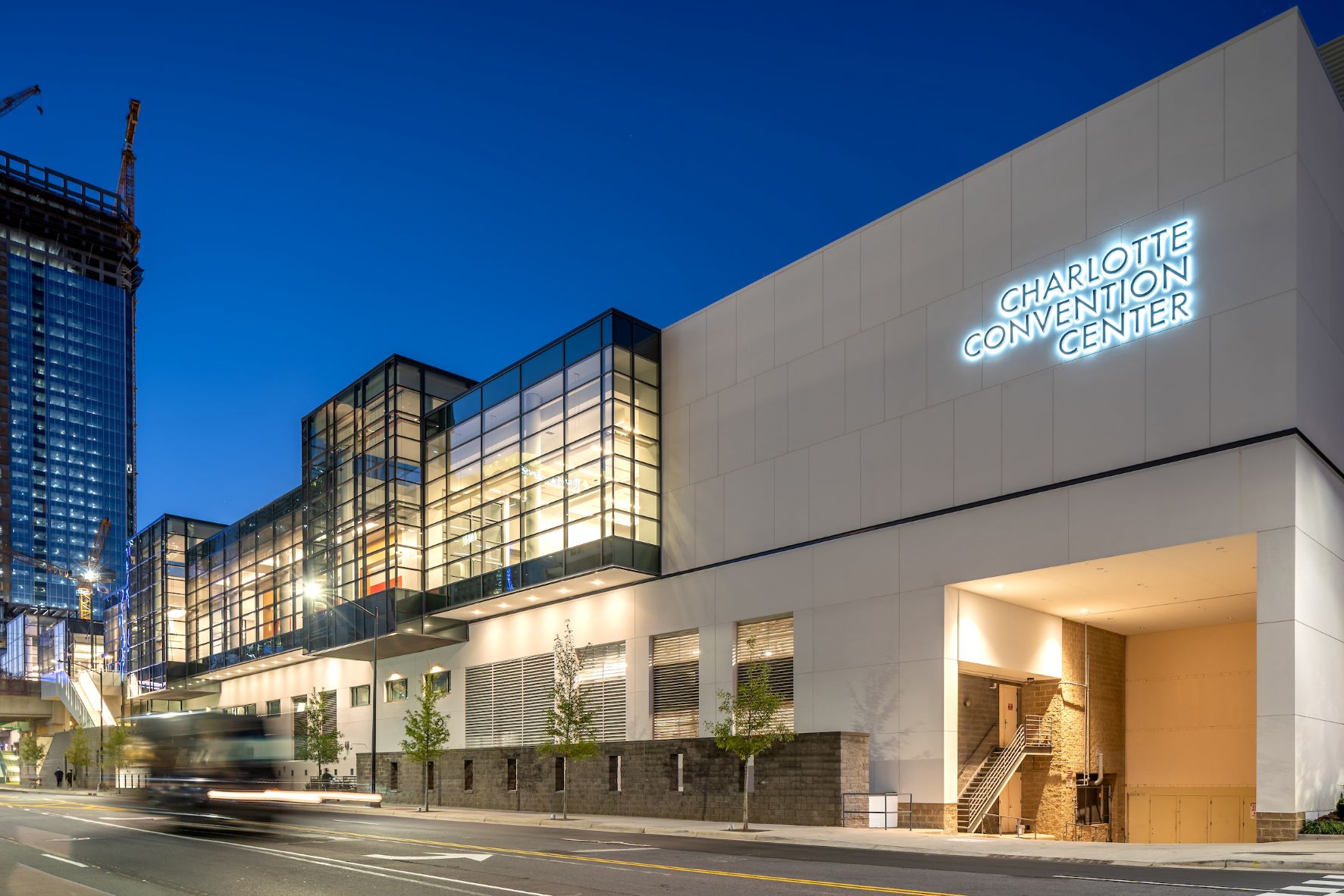 Meeting planners shared, and Charlotte listened. As the Queen City expands its restaurant and brewery scene, vast hotel and accommodations options and vibrant and glowing skyline, the newly expanded Charlotte Convention Center is quickly making the city one of the Southeast's premier meetings and conventions destinations.
In-depth data and research directed the course of the expansion with the focus relying on extensive feedback from meeting planners. An emphasis on increasing breakout spaces, enhancements to the meeting attendee experience and pedestrian-friendly connectivity to the convention center and Uptown Charlotte were named among the top priorities by industry professionals. The expansion saw and met these needs, leveraging creativity and innovation to design and execute the best possible meetings experience.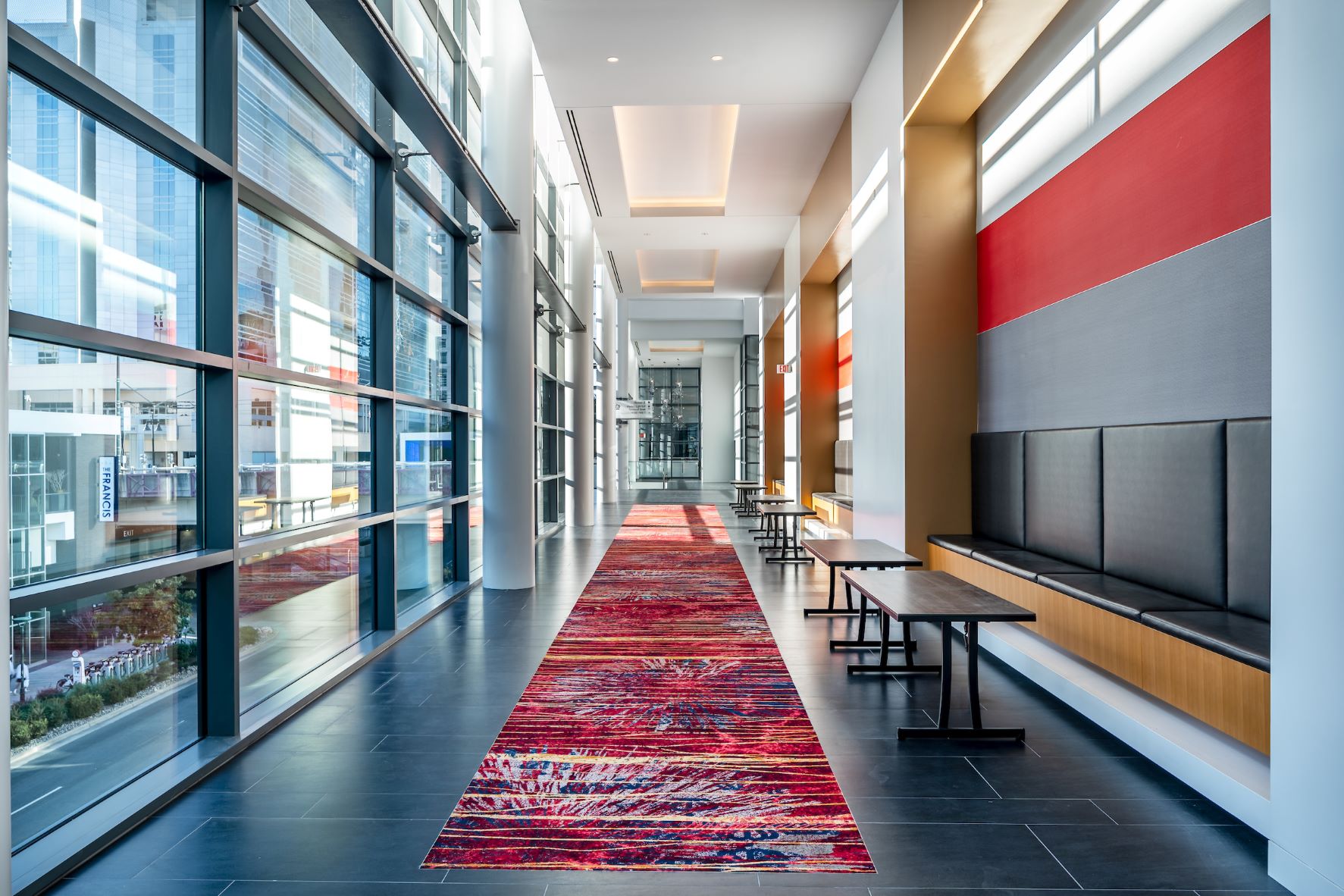 The $126.9 million project elevated meeting space breakout options with an intimate yet modern design, perfect for a variety of event needs. A bright and open layout makes the convention center easily navigable, with multiple lounge and small convening areas scattered throughout. The expansion adds approximately 50,000 square feet of meeting room and pre-function space, taking the venue's total leasable space to 600,000 square feet.
Fifty-five total meeting rooms—up from 41—include two highly flexible 10,000-square-foot spaces, each divisible into 19 different configurations. The new space complements existing larger meeting spaces such as the 40,000-square-foot Crown Ballroom and 35,000-square-foot Richardson Ballroom, which can accommodate a variety of events and capacities.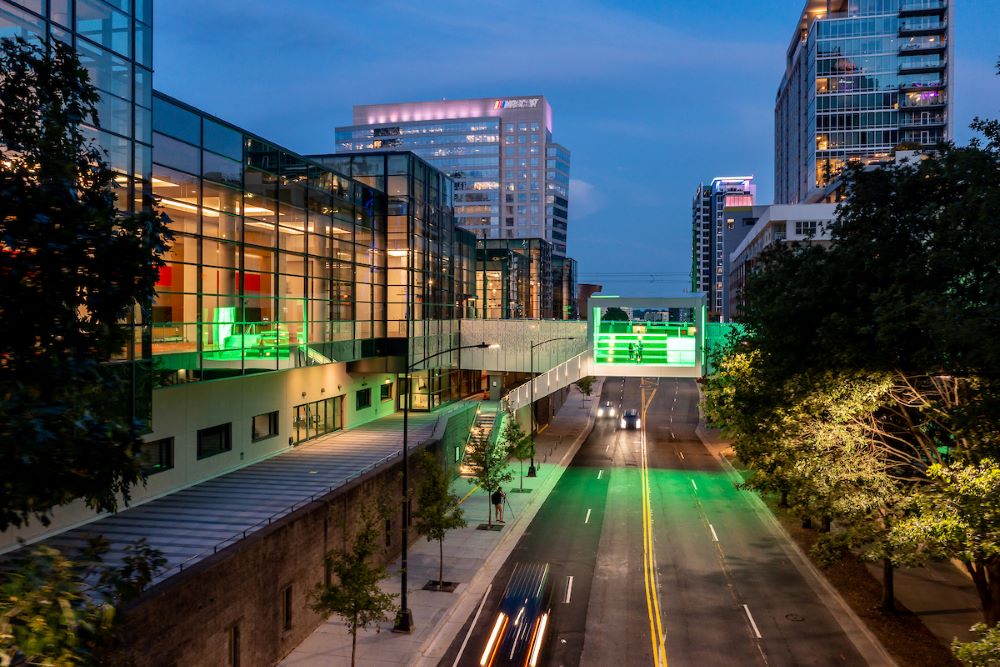 Floor-to-ceiling windows in the new space along Stonewall Street, a bustling, ever-expanding corridor in Uptown, provide a feeling of connectivity to the city with a view of "SKYLINE" by artist Susan Naruli. This sleek public art installation, which doubles as an over-street pedestrian walkway, blends functionality with creativity.
From the pedestrian walkway, guests can access Whole Foods, countless cafes and the 700-room Westin Charlotte, the area's largest hotel. The walkway also allows for easy accessibility to and from the LYNX Blue Line light rail system, which boasts connectivity to 26 stations and allows attendees to travel with ease to explore unique Charlotte neighborhoods, nightlife and more. Adjacent to the center and accessible by an over-street walkway is the NASCAR Hall of Fame, featuring ever-evolving exhibits and interactive experiences showcasing the history and excitement of NASCAR.
The expanded footprint of the facility means the city can attract not only larger events, but also creates the ability to layer multiple events in the venue simultaneously. Explore more on how the Charlotte Convention Center is built for better meetings at charlottemeetings.com.