SuperReal Brings Projection Mapping Technology to Iconic NYC Venue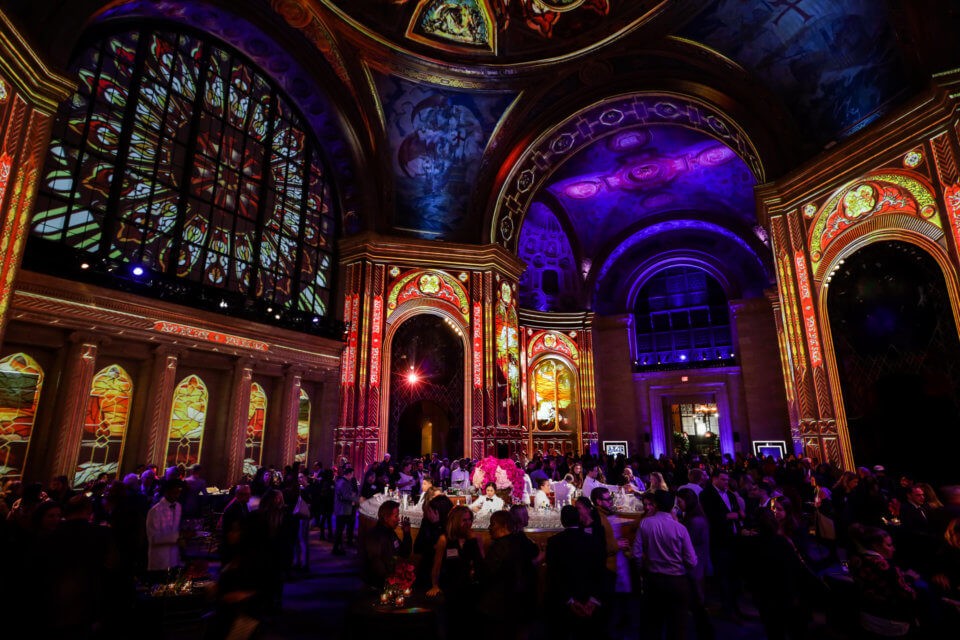 Event at Cipriani 25 Broadway during SuperReal experience
As you can see by the below photo by Michael Jurick Photography, I think I own the place. Dare to dream! First, how cool would that be? My name would now be: Michael Cipriani (I'm thrilled because I would still be MC), and I would tell everyone my grandfather, Giuseppe Cipriani, poured the first Bellini in the summer of 1948.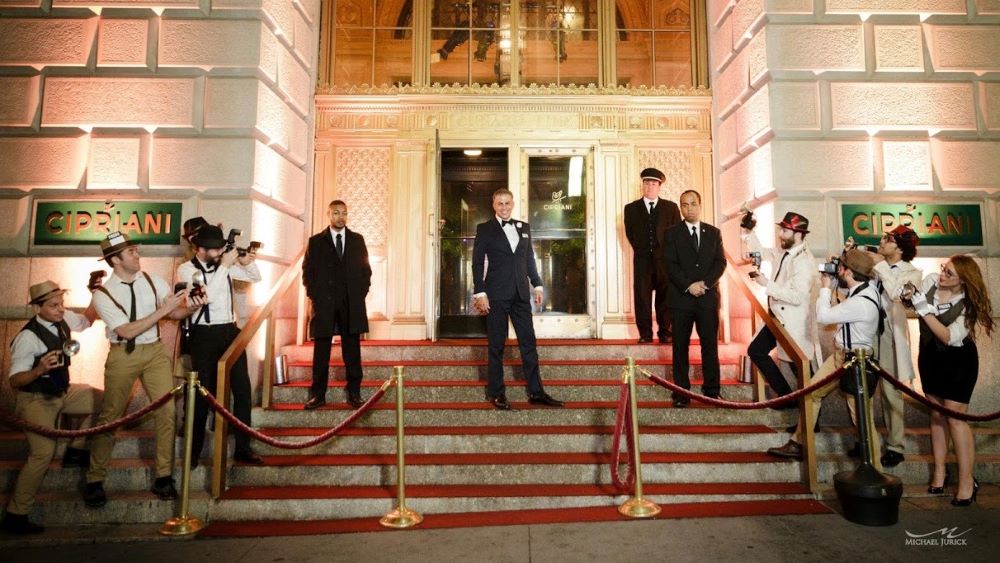 Giuseppe was the founder and barman of the legendary Harry's Bar in Venezia. Located just off the Grand Canal, this iconic bar was frequented by the likes of Humphrey Bogart, Truman Capote and Ernest Hemingway.
I love being connected to the Cipriani brand as a planner. As Cipriani is Venezia, Italy…it's also so New York City. Being an Italian and a true New Yorker, my connection runs deep with the incredible Cipriani venues in Manhattan. From Cipriani 42nd Street to Cipriani Wall Street, and Cipriani South Street to Cipriani Club 55, I have been able to create some of the most memorable events of my career at these venues. They not only serve Bellinis, with a touch of Italian flair, but have some of the most delicious catering (mmmm the pasta!!) this city has to offer. 
Included in this amazing bunch of venues is Cipriani 25 Broadway, located in Lower Manhattan/The Financial District, right across from the famous Charging Bull. Cipriani 25 Broadway has all the perks every Cipriani venue has to offer, as well as the history and landmark building. 
Cipriani 25 Broadway, the former Cunard Building, is a historic New York City landmark built in 1921 for the Cunard Steamship Line, which was named after Samuel Cunard. The lobby of the building was used as a ticketing hall for transatlantic journeys and designed by architect Benjamin Wistar Morris. The interior of the building was designed to represent marine and steamship lines that portrayed the voyage at sea, while the exterior boasts a Renaissance façade making it attractive to all that walk by. 
The building has maintained its opulent interior, which includes paintings of steamship routes and sea life to add to the exquisite, vaulted ceilings and unique architecture. The rich history behind the iconic building serves to tell a narrative through its paintings and architecture. The Cunard Building was designated a landmark by the New York City Landmarks Preservation Commission on September 19, 1995. With its majestic interior and breathtaking architecture, the Cunard Building serves as an iconic institution for Downtown New York. 
[Related: This Meditative Sound Bath Will Immerse and Relax Attendees]
The Return of SuperReal
Can you imagine who passed through these halls? Can you imagine hosting an event in such an incredible space? What more can you ask for? GUESS WHAT!? That's not all. A multimedia experience that takes the beauty of the past and turns it into an immersive experience and beyond is coming to the venue.
As New York City eagerly re-emerges from pandemic restrictions, Cipriani, in collaboration with multimedia entertainment studio Moment Factory, have announced the return of SuperReal—the cutting-edge interactive art experience of your digital dreams that bridges reality and illusion. It's exclusive to New York City and returns during the 100th anniversary of the historic building, which opened in 1921. 
Created by Moment Factory specifically for Cipriani's 25 Broadway location, this pioneering immersive adventure fuses pixel-precise projection mapping technology and unprecedented multimedia art, to transport visitors through multidimensional moments that heighten all the senses.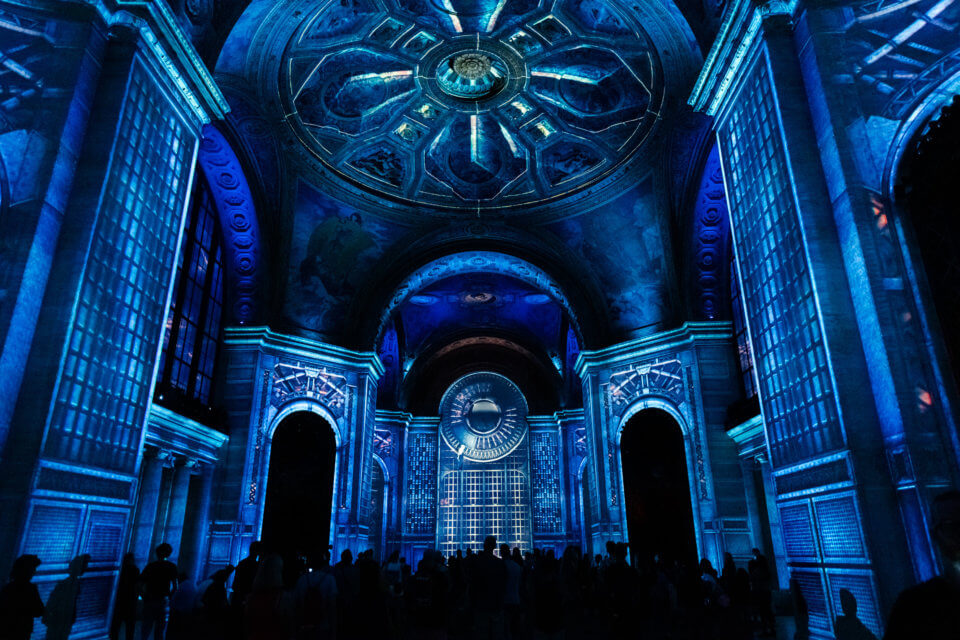 "We are thrilled that our partnership with Moment Factory is returning to this beautiful New York City landmark just as the city begins to reopen," said owner Giuseppe Cipriani. "SuperReal brings together the best in art, technology and hospitality that New York has to offer, for a truly one-of-a-kind experience, and we look forward to welcoming everyone back."
SuperReal is the new surreal. It explores new realms of immersive experiences juxtaposing iconic Landmark Architecture with layers of new technology to create contemporary surreal experiences. Blurring the lines between the physical and the digital, the real and the unreal, illusion and reality, SuperReal transports audiences into emotional spaces of awe, magic and wonder.
The experience is an optimistic view on where technology can bring humanity as it celebrates the future of dreams and the poetry of the invisible, inspiring transformation in a communal experience. As humanity has entered the age of "The Merge" where the digital and the physical are becoming ever more indistinguishable, SuperReal is an experiment in exploring the potential for new human experiences in which the interface is ubiquitous.
Projection Mapping Technology at an Iconic Venue
SuperReal invites visitors to explore, play or relax within five unique dreamlike scenes in one grandiose hall—each one encompassing a different dimension with a distinct narrative, bringing abstract concepts to life with stunning and interactive visuals. 
"SuperReal seems even more relevant and meaningful after this crazy time of worldwide isolation," said Sakchin Bessette, co-founder and executive creative director at Moment Factory. "We are excited to bring people together physically again and to share this inspiring, delightful and optimistic immersive experience with new and returning audiences. The theme of blurring the lines between the physical and the digital and creating a 'New Surreal' is very timely."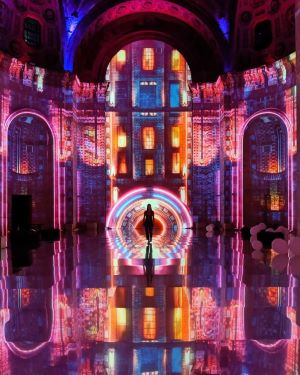 SuperReal has been carefully conceived to heighten the iconic architecture of Cipriani 25 Broadway, transforming the former home of the Cunard Line's Grand Hall from a vast, imposing structure to a playful and interactive feast for the senses. In the same way the site was associated with transatlantic journeys, connecting the Old World with the New during the 1920s, today, after a year-long reality altering pandemic, SuperReal is a symbol of New York's resilience, connecting the past and the future, and blurring the boundaries between what is real and what is surreal.
Moment Factory collaborated with Cipriani to define a new experience for events at 25 Broadway, an Italian neo-renaissance architectural treasure in New York City. They created an immersive multimedia experience that blends 360-degree projection mapping, architectural lighting, spatialized surround sound, and trompe l'oeil effects to completely transform the space. To realize this vision without damaging or detracting from the landmarked building's priceless murals, moldings and artwork, Moment Factory 3D-scanned every inch of its interior to calibrate the technology seamlessly integrated into custom-built arches. 
The 60-foot vaulted ceilings, dome, alcoves and walls of the Great Hall form a spectacular media environment with built-in entertainment and wow moments. The ambience shifts to set different moods: dinner could be framed by vibrant florals, followed by galaxies during a speech and a dance party amplified by abstract visuals. This programmable permanent installation is animated by diverse thematic content capsules that clients can customize, sequence and layer.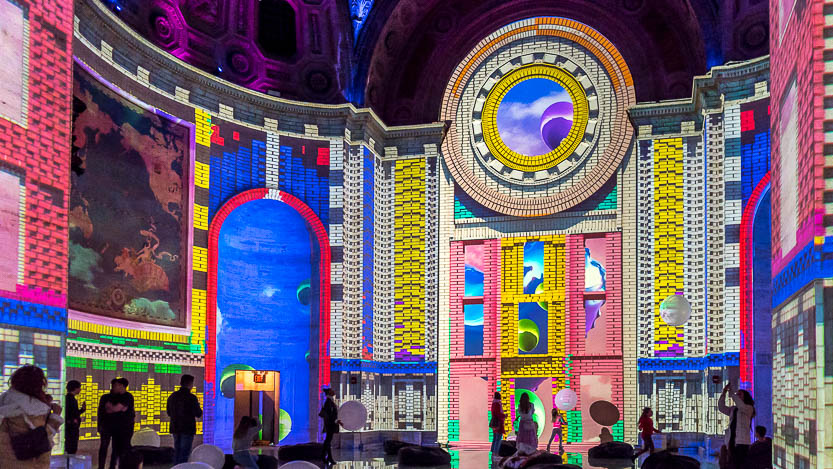 This intervention transforms Cipriani 25 Broadway into a bespoke immersive multimedia canvas that brings rich atmospheric worlds to life.
Creating incredible events with the Cipriani family has always inspired me to create truly imaginary events. With SuperReal, I can truly take my client's events to a new experience the attendees have never experienced before.
Stay #EventStrong. 
For more information on booking, please send an email to: info@cerbellicreative.com. 
Back to life, back to reality. 
M 
See more of Michael Cerbelli's: The Hot List™