Outside-of-the-Box Florida Beach Event Ideas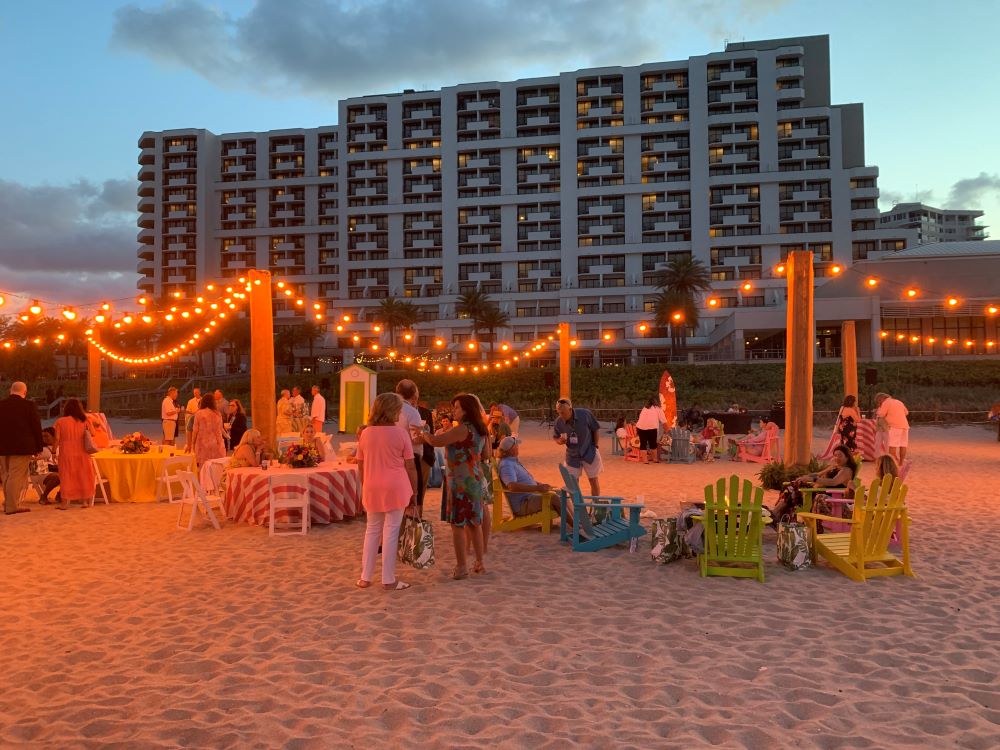 AFSA event, Fort Lauderdale Marriott Harbor Beach Resort & Spa. Credit: Wildly Different 
Want some outside-of-the-box ideas for beach fun? Say no more! 
The days of tug-of-wars on the beach with your colleagues may be a thing of the past. But you won't miss them because innovative destination management companies, tour companies and hotels continue to create new and entertaining ways for your groups to have fun in the sun. 
Read on for creative ways Florida has hosted some memorable beach events recently. 
Fort Lauderdale Marriott Harbor Beach Resort & Spa 
When the Washington, D.C.-based American Financial Services Association (AFSA) met at the Fort Lauderdale Marriott Harbor Beach Resort & Spa last May, Michele Battaline, director, meeting and conferences, decided to hold most of the company's events on-property. Attendees were still understandably a bit skittish about being in close confines, even on buses to go off-property, because of COVID, she said. So, for one of the main events, she decided to bring the jam to her attendees and throw a beach party.  
And what a party it was.  
Upon arrival, guests were gifted with bracelets adorned with turtles to be mindful of nests on the beach. Against a backdrop of surfboards and a vintage VW bus, a DJ spun songs from the '50s, '60s and '70s.  A bourbon tasting awaited guests on one part of the beach while a cigar roller demonstrated that time-honored technique nearby. Seemingly endless racks of Tommy Bahama beachwear twisted in the wind at a pop-up shop—with cabana-like changing rooms for guests to shop the tropical shirts and dresses Tommy Bahama is known for.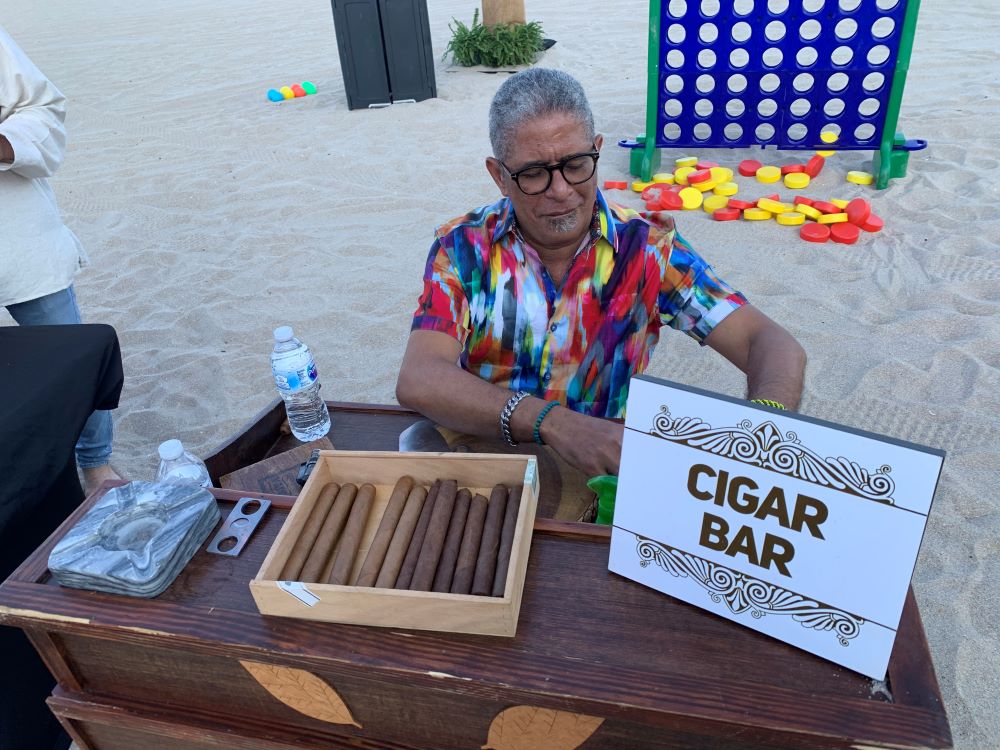 "We had to keep the theme going," Battaline said with a laugh. 
As nighttime fell, those still ready to play had glow-in-the-dark golf available, or, attendees could lounge in colorful Adirondack chairs or gather in the living room around the fire pit to chill or share ghost stories. Fireworks capped off the evening.  
"We got such great feedback," Battaline said. "The party was a huge hit."  
Margaritaville Hollywood Beach Resort 
At the Margaritaville Hollywood Beach Resort, a destination resort and entertainment complex situated on the legendary Hollywood Beach Boardwalk, guests can chill Jimmy Buffett style, or, for the more adventurous looking to catch a wave, jump on the Beachfront FlowRider® Double. This surf simulator generates a thin sheet of water to flow over a curved hill to form the perfect ocean wave for attendees to shred.  
For a teambuilding event that's truly one-of-a-kind, Margaritaville's team members hide salt shakers throughout the resort to lead teams to solve the mystery of the lost shaker of salt.  
 "Jimmy" leaves a note explaining that someone or something has stolen the secret ingredient to his perfect margarita: But who's to blame? That's for the group to figure out! Throughout the resort, an assortment of challenging clues leads to the missing salt shaker, and upon discovery, it's put to good use with a Margarita Mixology demo on the beach. The resort supplies all the ingredients—rum, limes, sugar, various juices—and teams set out to make the best margarita. No one loses in this competition! 
[Related: Latest Property Openings and Renovations in Florida (2022)]
Hilton Sandestin Beach  
Beach Olympics are taken to new heights at Hilton Sandestin Beach. In the Fire Hydrant competition, for example, each participant gets a bucket and takes a seat on the beach in a line with the person behind them facing their back. The first person in line gets a full bucket of water and without speaking, each person must completely dump the bucket of water over the back of their own head while the person behind tries to collect all the water they can. This continues until the last person in the row has collected the team's water. The team with the most water wins. 
The Giant Ring Toss is a super-sized version of the old-fashioned ring toss. With hula hoops as the rings, the person tosses at the various poles scattered 20 feet away. To win, guests have to wrap the most hula hoops around the various rings by the end of the designated time.  
For The Blind Trust competition, all team members are blindfolded but one, the "spokesperson," who must lead his teammates through various obstacles with verbal instructions ("walk three steps, lift your right foot and step over, take one giant step"). The first team to complete the obstacle is the winner. 
More Unique Outdoor Event Ideas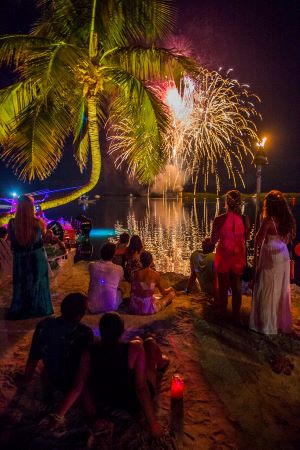 The Diplomat Beach Resort Hollywood, Curio Collection by Hilton has designer luxury pool cabanas by Trina Turk on the second floor of the pool deck, providing a relaxing and stylish oasis for the day to enjoy lunch or a cocktail while taking in the views. 
Located on North Beach, Conrad Fort Lauderdale Beach includes unique activities for groups, including Sky Lawn Game Night (oversize Jenga and chess), guacamole making competitions, pizza nights (with a takeover of the onsite dining outlet, Cornucopia), group yoga on the beach, and boardwalk bike rides. 
At Pink Shell Beach Resort & Marina in Fort Myers, groups can explore their adventurous side with a campfire experience near the beach every night from 7-9 p.m. Guests can enjoy their own fire pit with chairs and s'mores package. 
At Caribe Royale Orlando, guests can fish at the Boca Pier with some catch and release fishing. Complimentary equipment rental is available at the fitness center. 
The DonCesar on St. Pete Beach is home to Spa Oceana, overlooking the Gulf of Mexico. With 16 treatment rooms, a full-service salon and a stunning rooftop terrace, small groups can enjoy treatments, use of the whirlpool baths, aroma-infused steam rooms and the soothing Whisper Lounge. 
In Key West, Casa Marina, A Waldorf Astoria Resort, is proud of its resident professional and sculptor, Marianne van den Broek, who hosts popular sand sculpting workshops and competitions for groups. 
The Full Moon Party at Morada Bay Florida Keys in Islamorada, starts with a scrumptious dinner of Chilean sea bass or lobster curry at Pierre's, or Caribbean-American fare at The Beach Cafe. Music fills the night as guests dance beneath the stars to the sounds of the live band on the beach.   
The Shores Resort & Spa in Daytona is known for its morning yoga on the beach with local yoga studio Kula Yoga Studios, and surf lessons through a partnership with Pure Life Surf School.  
On Singer Island, from the ocean view demonstration kitchen, Amrit Ocean Resort & Residences' team of personal wellness coaches create individualized group programs and healthy cooking demos to teach groups how to create the recipes from their plant-centric restaurant. 
At SeaWorld's Discovery Cove in Orlando, luaus are popular. Steel drums and ukulele music can be heard in the background as guests feast on shrimp skewers and barbecue. Hula dancers sway on the beach as fire throwers put on their red-hot show. Amidst all this breathtaking entertainment, there may be a few dolphins swimming by.   
B Ocean Resort in Fort Lauderdale is known for its underwater mermaid experience dating back to the '50s. Over a tropical cocktail, attendees will be thrilled to see living mermaids through a porthole view in the Wreck Bar. Every Sunday, Yoga, Mermaids & Mimosas gather on the beach for the Yin Yoga Class with Whitney Fair, which follows with Sunday brunch at the Wreck Bar.  
Banana Bay Resort & Marina in Marathon in the Florida Keys allows groups to book onsite for excursions such as diving, snorkeling, sunset cruises, paddle boarding, spearfishing and jet ski tours.  
The Henderson, a Salamander Beach & Spa Resort in Destin, offers numerous teambuilding beach-based activities for groups, including build-a-board workshops (mini charcuterie making class); Wine About It (Bordeaux blending class); Coastal Ceviche class (learn the art of ceviche and how to make the perfect marinade); By the Shore S'mores (competition to create unique s'mores using bacon, fruit, etc.), and the Amazing Henderson Race (including corn hole, ocean trash cleanups and more). 
While Lake Nona Wave Hotel in Orlando is far from the beach, guests can roam the hotel's lush, tropical grounds and then participate in 90-minute "Mindset Workshops'" blending classroom-like discussions with physical activities throughout Lake Nona. Experiences include climbing at ROX Climbing, the region's only 42-foot rock climbing tower, or meditation at Chopra's Mind Body-Zone and Spa. The Nona Adventure Park, a water-based entertainment center with an inflatable aqua-park and wakeboarding/water skiing, delights groups with its one-of-a-kind 60-foot climbing tower and ropes course. 
Wyndham Garden hotel in Fort Myers Beach offers shelling guidance for guests who want to stroll the beach and pick up some souvenirs.  
Hudson, on Florida's Sports Coast, is home to Lift Adventure Park, part of SunWest Park, a former phosphate mine converted into a waterpark offering kayaking, paddleboarding, a dynamic floating obstacle course and a public beach.  
Crystal River is the spot to see manatees—and even swim with them, weather permitting. Crystal River Florida Manatee Tours also specializes in sunset tours to watch dolphins frolic in the water and jump through the waves.  
Panama City Beach Airboats Gone Wild offers eco-friendly exploration. Airboat tours take you to explore the waters to perhaps catch a glimpse of alligators and dolphins, yet without disturbing wildlife or vegetation. Panama City is also the proverbial fishing hole for deep sea fishing where amberjack, snapper, grouper, cobia and black fin tuna are in abundance. Kelley Girl and Lady Kelley Charter Boats are available for groups.  
Read the 2022 edition of Meetings Today Florida