Discover Omaha's Multibillion-Dollar Meetings Makeover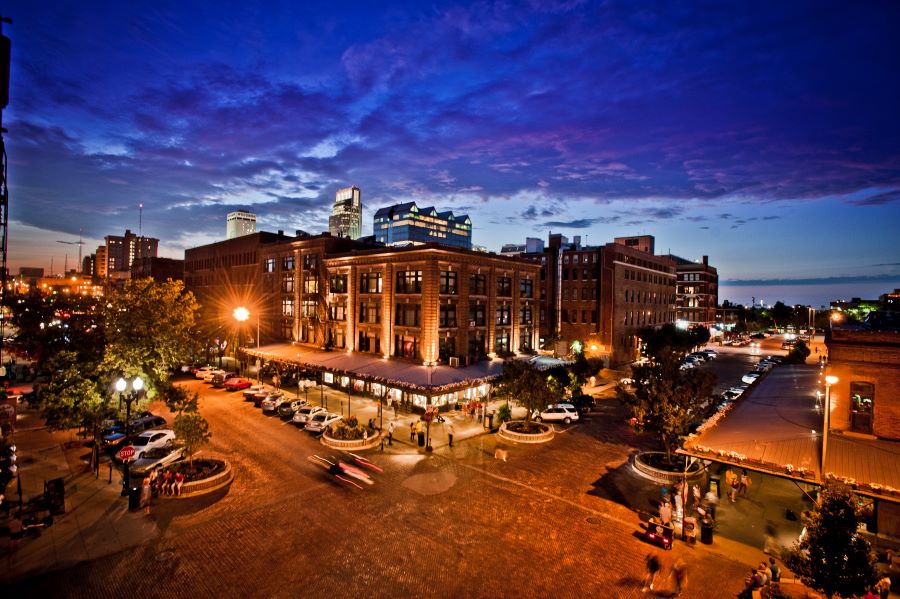 Omaha's Old Market Entertainment District. Courtesy of Visit Omaha.
From massive urban makeovers to nature-inspired meeting venues, there's lots going on in Omaha, Nebraska, and Council Bluffs, Iowa, which straddle the Missouri River in America's heartland.
Omaha's Multi-Billion Makeover
The home of high-profile philanthropists such as Berkshire Hathaway's Warren Buffet, Omaha is blessed with civic-minded moguls who frequently pitch in for the good of the community.
According to Mattie Scheeter, director of sales for Visit Omaha, there has been nearly $8 billion in public and private money spent on projects impacting Omaha's downtown convention district, riverfront and other areas.
"It's not all in the heart of downtown, which is cool to see," she said. 
Scheeter said one particularly exciting project is the $300 million Riverfront Revitalization Project near the city's convention center and which will transform Gene Leahy Mall, Heartland of America Park and Lewis & Clark Landing. Major features include a performance pavilion, sculpture garden, boardwalk, urban beach and the Luminarium center, which will boast riverfront views.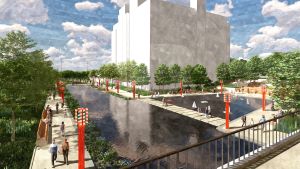 "Gene Leahy Mall was sort of a river that led to nowhere," Scheeter said. "They revitalized that whole area, took it up to street level and did redevelopment, and it's mostly privately funded—maybe 80%. It's the community leaders coming together in an effort to connect all of these parks because they saw a need for it."
Scheeter said the first phase of the Gene Leahy Mall development will be where most of the rentable space for events will be, including a performance pavilion set to open this summer. Other rentable areas will include 40,000 square feet of lawn space.
Heartland of America Park will feature an ice-skating ribbon that resembles a snowman and allow people to continually skate between each of three rinks. Another sure to be popular feature will be bocce ball courts.
The project is expected to wrap in 2023 and also include the refurbishment of the Lewis & Clark Landing historic park, which will boast an urban beach, sand volleyball courts, pickleball courts and an event plaza with carnival rides.
Other Omaha development highlights include the following:
A new $306 million downtown streetcar project set for 2026 that will run a three-mile route, allowing delegates to hop on to reach the Blackstone entertainment district from the convention center.
The 50-story Mutual of Omaha Tower, a $433 million glass skyscraper scheduled for completion in 2026 that will provide a backdrop for the revitalized Gene Leahy Mall.
A $500 modernization of Omaha Airport, which is located a mere five miles from downtown.
A new neighborhood, Avenue One, that is estimated to cost $1.5 billion to create 200 acres of contemporary residential and entertainment offerings.
The $500 million The Mercantile, a 20-acre downtown mixed-use project scheduled for a summer opening with residential, commercial, retail and green space.
The Crossroads, a $500 million entertainment district that when open in 2024 and is set to transform the aging Crossroads mall into an entertainment district.
The Row at Heartwood Preserve, a $500 million West Omaha downtown-style district that will include a hotel, restaurants and shops when it is expected to open by the end of 2022.
A $23 million Topgolf center that opened in 2020.
The $101 million Kiewit Luminarium, a STEM (science, technology, engineering and math) center that will greatly augment the destination's life sciences meetings lure when it opens in Lewis & Clark Landing in 2023.
The downtown Omaha Performing Arts center, which is estimated to cost $109 million and be able to accommodate 3,000 concert-goers when it opens in mid-2023.
The Millwork Commons, a $300 million mixed-use development offering restaurants, music venues, hotels and retail in the north downtown area that opened this year.
An expansion of the Joslyn Art Museum that by 2024 will see the addition of the 42,000-square-foot Rhonda and Howard Hawks Pavilion and support new community spaces and public programs.
A $200 million in ongoing improvements to the Capitol District, which is located directly across from The CHI Health Center Arena and offers dining venues and a new 333-room Marriott hotel.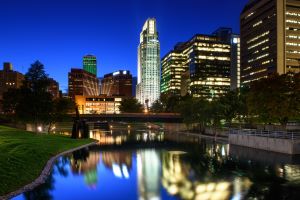 Besides the new Marriott and existing Hilton Omaha, which offers 600 rooms and is attached to the convention center, the city also benefited from a mini boom in boutique hotels during the pandemic, including the following:
Kimpton Cottonwood Hotel, a 205-room hotel in a 1920s landmark building with 13,500 square feet of meeting space and located in the revitalized Blackstone District.
The Farnam, Autograph Collection, a 120-room property located in the central business district and offering 7,700 square feet of meeting space.
Hotel Indigo Omaha Downtown, a 90-room hotel near the Blackstone District with a small meeting room and which pays homage to Omaha's history of bootlegging by incorporating Prohibition-era underground vaults and tunnels. 
The Peregrine Omaha Downtown Curio Collection by Hilton, an 89-room Nouvelle Art Deco hotel with 1,300 square feet of event space.
Lincoln Moves Ahead on CC
Located an hour southwest of Omaha, the state capital of Lincoln has embarked on a mission to develop a new convention center. 
"Much like Pinnacle Bank Arena and the adjacent entertainment district, a convention center would become yet another transformative destination development for our community and downtown," said Jeff Maul, executive director of the Lincoln CVB, in a statement announcing the feasibility study. "It would enhance the tourism landscape and help shape the future of tourism in Lincoln for years to come, continuing the ongoing momentum of Lincoln as one of the Midwest's most beloved destinations."
Council Bluffs: A Natural Choice
Across the Missouri River from Omaha, Council Bluffs, Iowa, offers planners in excess of 85,000 square feet of meeting space and more than 2,000 hotel rooms, with the city's Mid-America Center offering up 64,000 square feet of that space near 400 hotel rooms.
Besides its stature of being named the official starting point of the transcontinental railroad by Abraham Lincoln, Council Bluffs is perhaps best known as a regional gaming center, with a Harrah's Council Bluffs Hotel and Casino (251 guest rooms; 2,600 square feet of meeting space, with the adjacent 4,000-capacity Stir Cove Concert amphitheater) and Ameristar Casino and Hotel (160 guest rooms; 6,600 square feet of meeting space) being major draws.
Other interesting Council Bluffs area options include Hitchcock Nature Center and The Palace Events Center, both of which showcase the region's natural lands and open spaces.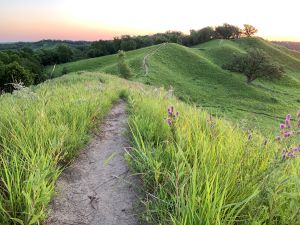 Hitchcock Nature Center, located in Honey Creek, Iowa, about 15 miles north of Council Bluffs in the gorgeous Loess Hills, features Loess Hills Lodge. This event venue offers two meeting rooms: the Goldfinch Room (50-person capacity) and the Bluestem Room (70-person capacity).
"Individuals can bring in whatever food they like, and we also have an alcohol license for guests to bring in their own beer and wine, although this does not cover liquor, which is not allowed," said Kylie Gumpert, promotions and outreach coordinator for Pottawattamie Conservation, which promotes appreciation for Pottawattamie County natural areas and operates both venues. "We often have groups rent both rooms and use them for breakout spaces, and we are currently working on developing an outdoor pavilion for rentals and events as well, working with a company called WholeTrees to feature some of the park's oak trees."
Located about 15 miles east of Council Bluffs in Treynor, Iowa, the Palace Events Center is a stunning repurposed barn that features sprawling outdoor spaces. 
Facilities for events such as conferences, strategy meetings, networking, retreats and dinners and picnics include the following:
Outdoor or indoor seating with setup
An outdoor pergola and grassy area
Seating 300, with setup and tear down
Dance floor
A prep kitchen for caterers
Alcohol packages available