Inspiration Meets Innovation on Florida's Gulf Coast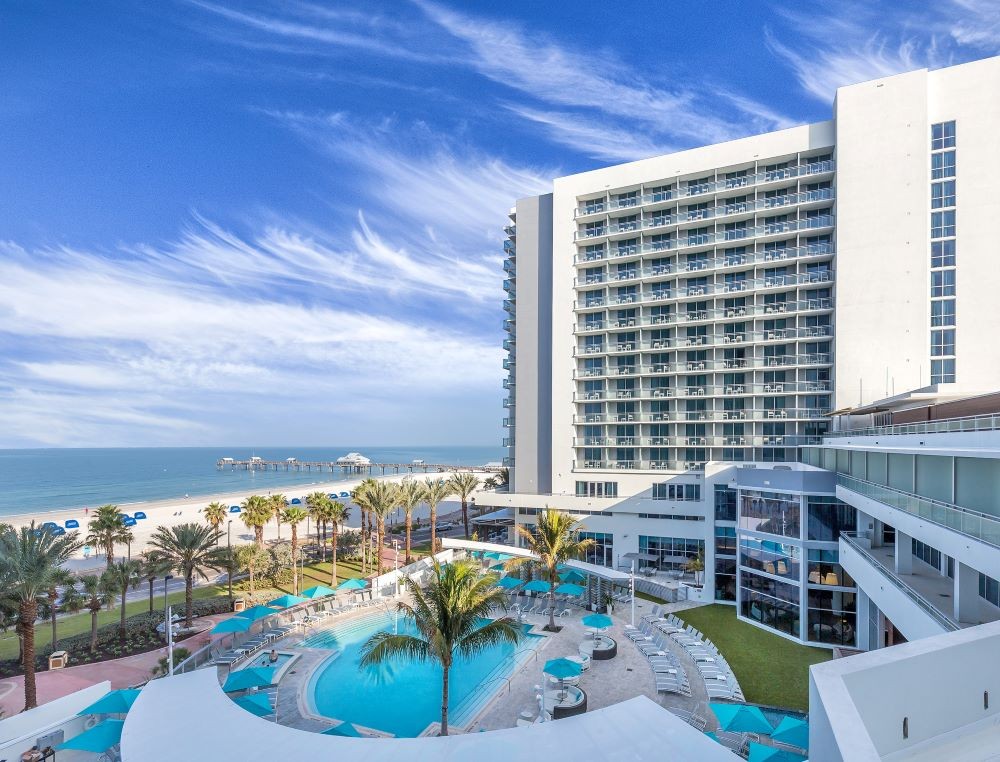 Wyndham Grand Clearwater Beach
As business travel and conferences continue to pick up momentum, hotels must be flexible and creative as they strive to meet the needs of 2022's corporate travelers. With 343 modern, well-appointed guest rooms, most with terraces and balconies sporting spectacular views of the nearby Intracoastal or the crystal waters of the Gulf of Mexico, Wyndham Grand Clearwater Beach is the ultimate setting for an extended-stay bleisure trip for meeting attendees and their families. Rooms provide the ultimate in relaxation and comfort, with Plush BeWell bedding, high-speed internet access, and 50" HD flat-screen TVs with premium cable. Other amenities include a heated outdoor pool, sauna overlooking the Gulf of Mexico, beach chairs and an umbrella. 
Planners are keen to take advantage of outdoor event space as it allows attendees to comfortably spread out and keep a safe social distance, enjoy the fresh air and serene views, and soak in the natural benefits from Florida's sunshine. We also have several event spaces offering terraces, which remain incredibly popular for corporate events. Our pool deck and the outdoor lanai at our signature four-diamond Asian-fusion restaurant, Ocean Hai, allow guests to enjoy the resort in a safe, open-air setting. Another draw for meeting planners is our ballroom, which is the largest in the destination, accommodating gatherings of up to 700 people. Our prime location steps away from one of America's top beaches with sugar-white sand and crystal blue water, and easy access to many outdoor activities including the marina across the street offering boat tours, jet skiing, dinner cruises, and more allow for a variety of outdoor activities to complement any meeting.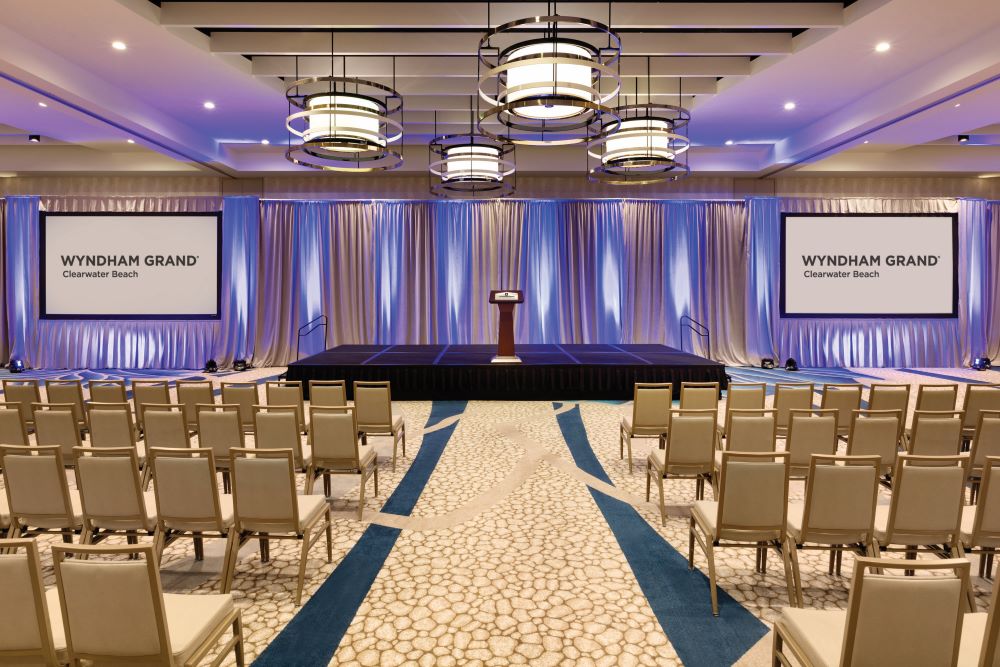 Maintaining wellness routines is another important pillar of corporate travel. Our Pallavi Luxury Spa is the ideal place to rejuvenate after a day of meetings and we have more corporate groups incorporating these services into their itineraries. The space features Chroma therapy experience showers, eucalyptus steam rooms, and a luxurious relaxation lounge as well as extended treatment times that allow for guests to fully unwind and immerse in relaxation. Additionally, we offer Salt Therapy treatments designed to heal the respiratory system, soothe skin conditions, and even balance chakra energies. Groups can book spa services for teambuilding or incentives, and attendees can take advantage of these offerings during their leisure time.  
Equipped with a state-of-the-art 24/7 fitness center overlooking the Gulf, attendees often enjoy a morning run or evening stretch to stay active. We offer yoga on our pool deck at select times and planners even have the option to schedule a personal trainer for a customizable group fitness retreat through our partnership with 1Team Fitness. This unique partnership has grown over the last two years as we increase our health and wellness offerings at the resort. 1Team Fitness offers group sessions for all levels and can incorporate everything from kayaking, biking, beach boot camps, HIIT classes, resistance training, cardio blast, boxing, interval training, and more. Adding a one-hour session, half or full-day retreat to a meeting gets attendees re-energized and motivated.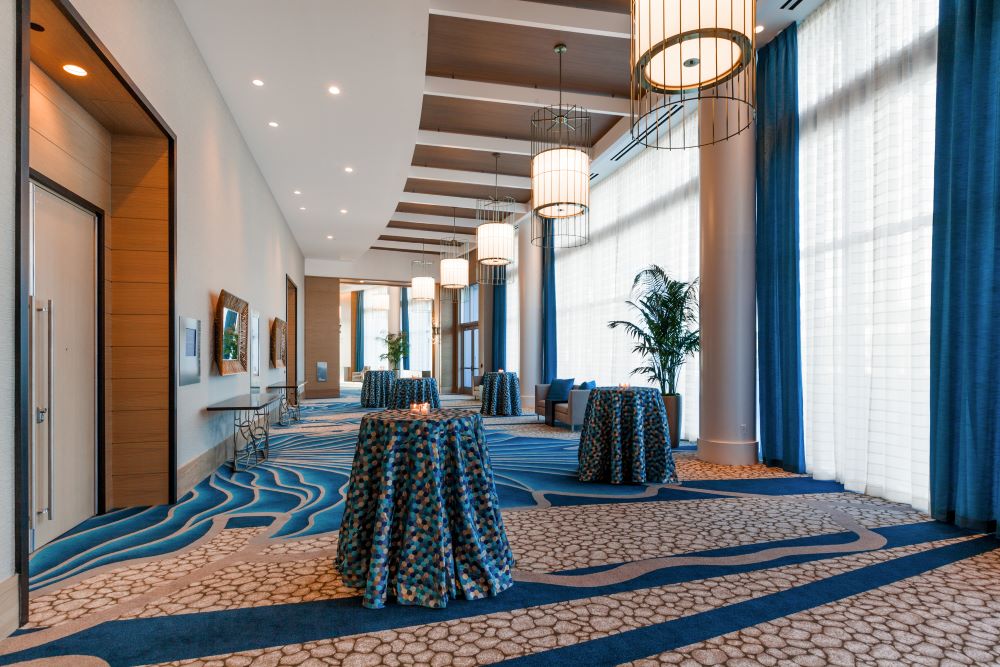 Additional wellness initiatives include a new vegetarian menu at our signature restaurant, Ocean Hai. The fusion menu features starters, soups and salad and entrees, which include crispy Brussel sprouts, Thai coconut soup and crispy tofu lo Mein. New for this year, we have added creative mocktails and calming beverages, enhanced with CBD or other adaptogens, as an alternative to alcoholic drinks. Our banquet menus are filled with fresh, local, ingredients, inspired by the Gulf coast that groups can feel good about. Local produce is incorporated into all of our buffet or plated dinner options. We offer highly customizable options to personalize events and accommodate dietary restrictions and preferences. In the past year, we have expanded our event menus to include more vegetarian, vegan, and gluten-free dishes. 
Offering engaging team-building and philanthropic experiences is another important element of keeping business travelers engaged. We are proud to partner with the nearby Clearwater Marine Aquarium, whose mission is to rescue marine animals, rehabilitate them from sickness or injury, and release them back into their natural habitats. We often work with meeting planners to coordinate philanthropic activities that support the aquarium's mission, which supports team-building and personal fulfillment. The Clearwater Marine Aquarium is also a favorite among business travelers visiting the destination with their families. From educational presentations and hands-on animal care experiences to movie screenings and sea life safari boat tours, the aquarium offers a myriad of informative and inspirational experiences sure to keep the entire family entertained. 
*Sponsored by Wyndham Grand Clearwater Beach