Water's Table Mad Hatcher Chicken Recipe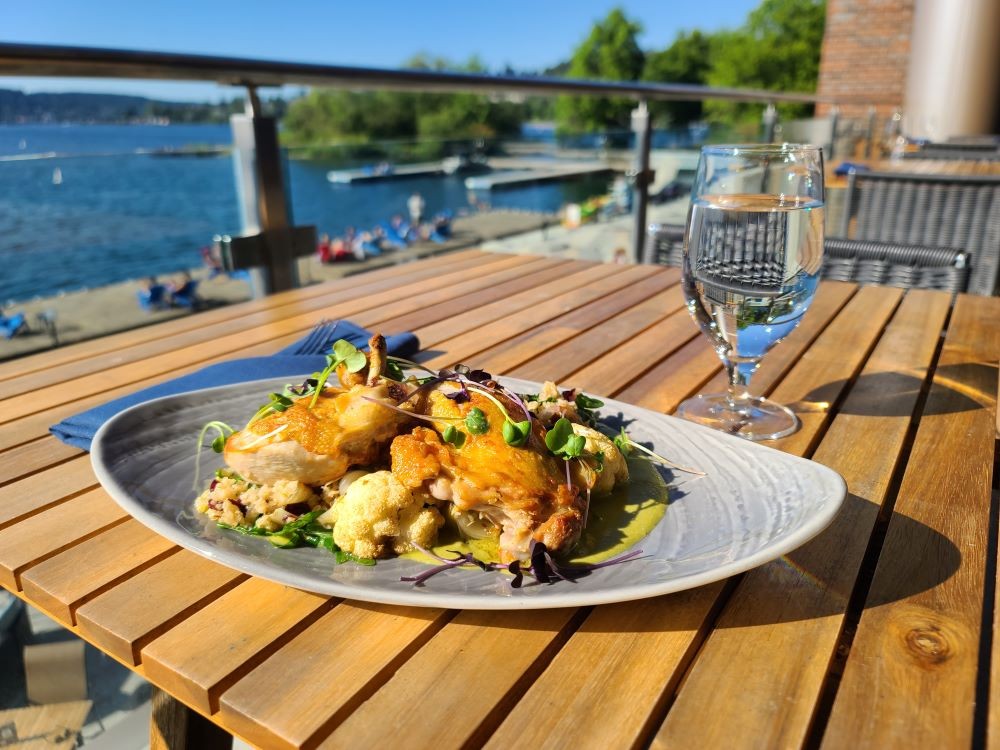 One of the local delicacies served at Hyatt Regency Lake Washington is chicken from Mad Hatcher Farms in Ephrata, Washington, at its Water's Table restaurant. These chickens are free-range and raised on a feed that the owner grinds and mixes on his own, containing natural ingredients and mineral mix. Chefs pair the hen with a bulgur salad and poblano sauce for a warm and comforting entree.
Water's Table Mad Hatcher Chicken
Serves 4-6
Ingredients
1 whole chicken, 4-6 chicken pieces will work fine as well
1 tbsp. black peppercorns 
5-6 sprigs of thyme 
1 bunch cilantro 
8 peeled cloves of garlic 
2 Walla Walla sweet onion 
2-3 medium sized poblano peppers 
1 tbsp. cumin 
½ cup heavy whipping cream 
1 quart chicken stock (don't go cheap on this one) 
2 cups of bulgur wheat grains 
½ cup dried cranberries or cherries 
½ cup shaved almonds 
3 cups of arugula 
1 head cauliflower 
3 tbsp. white balsamic vinaigrette (Marie's dressing preferred) 
1 gallon of water for brine
1 cup of canola oil 
1 cup salt (and some extra for seasoning) 
Directions
Start with making the brine for the chicken: Add 1 gallon of water and 1 cup salt to a 6-quart stock pot. Add thyme, 4 garlic cloves, peppercorns and one large, diced onion. Once boiling, turn off heat. Cool to room temperature, then strain and place in fridge for 6 hours. This is very important to the end product, but not a necessity, so if you do not have time, do not worry, just be extra careful when cooking the chicken as not to make the meat dry. Section whole chicken into quarters or in half, leaving the skin on. When brine is chilled, place chicken pieces in liquid until submerged and place in fridge for 6-8 hours. Then remove chicken and place on paper towels to dry. 
Cook the bulgur wheat: Boil 2 quarts of water in a small stockpot. Place bulgur in a heat resistant bowl. Pour boiling water over wheat until just covered and add a pinch of salt. There will be some extra water in the pot. Cover with plastic wrap or tight-fitting lid and set aside for 40 minutes. 
Roast poblano peppers over an open flame until skin is black and charred. (You can also place in an oven at 400 degrees F for 20 minutes). Remove and place in bowl. Cover with plastic wrap and allow 10-15 minutes to steam. Remove from bowl and using a knife, scrape the skin off the pepper and remove the seeds. Set aside. 
Make the sauce: Small-dice one onion and 4 garlic cloves. Heat 2 tbsp. of oil in a 4-quart pot on medium high heat and sauté onions until caramelized. Add 2 cups chicken stock and reduce on medium until just a small amount of liquid remains. Turn off the heat and add roasted poblano peppers. Place mixture into blender or food processor on high speed for 2-3 minutes. Add one bundle of cilantro with stems removed and continue to blend. When mixture is emulsified, add heavy cream and salt to taste. 
Cook the chicken: Preheat oven to 350 degrees. Start an oven-friendly pan on high heat and coat with 2-3 tbsp. of butter and olive oil. Ensure chicken is completely dry. Salt the skin side of the chicken and make sure to carefully lay the chicken into the pan away from you. The sizzle should be strong. Turn down heat to medium high. Leave on stove for approximately 3-4 minutes or until the skin starts to turn golden and crispy. Flip the skin side up and place pan in oven. Continue to monitor temperature, check in 15 minutes (should be done in approximately 20 minutes, but always use a thermometer).
While chicken is cooking, cut cauliflower into florets and toss in oil (1-2 tbsp.) and salt (1-2 pinches). Roast in oven with chicken and remove when chicken is done cooking (165 degrees). 
In a large salad bowl, mix warm, cooked bulgur, cauliflower, dried fruits, arugula, shaved almonds, vinaigrette and a pinch or two of salt. Remember to taste! 
For plating, place 2-3 tbsp. of sauce on the bottom of plate and spread; place a cup of bulger salad mixture on top of the sauce. Remove chicken from pan and place on top of salad; add sauce to top if desired. 
Enjoy!