Ritz Half Moon Bay Chef Applies International Techniques to the Local Bounty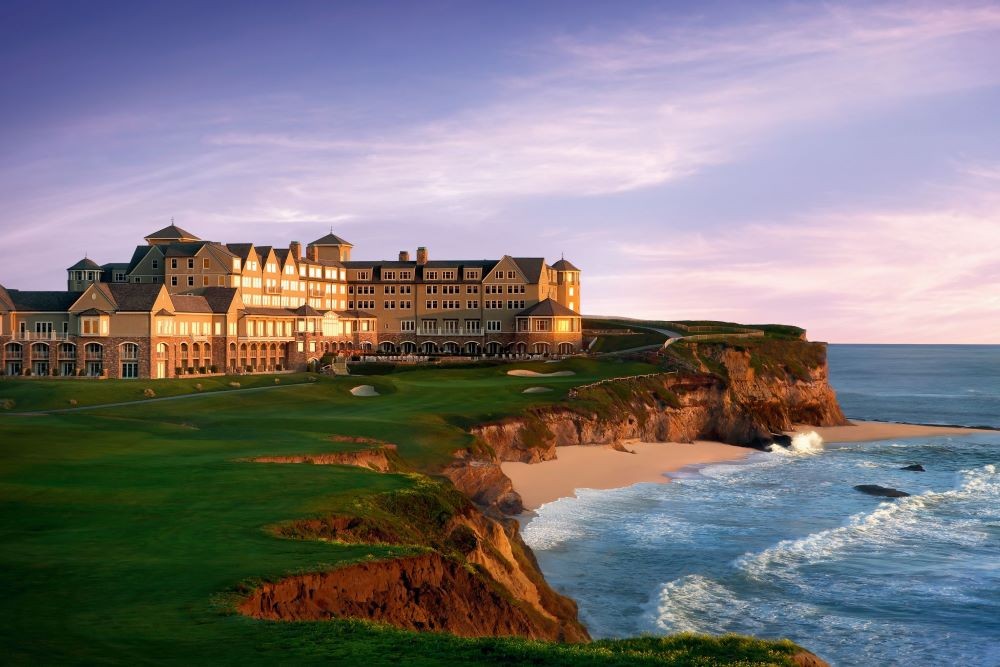 The Ritz-Carlton, Half Moon Bay. Credit: The Ritz-Carlton, Half Moon Bay.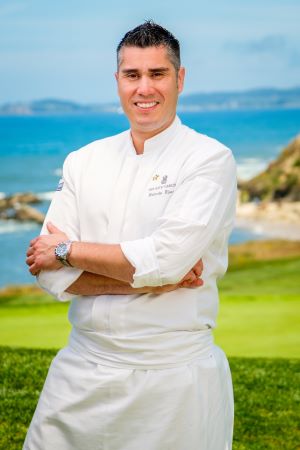 Resorts don't get much more magical and mystical than the San Francisco Bay Area's The Ritz-Carlton, Half Moon Bay, dramatically perched on a cliff overlooking the Pacific with verdant hills and meandering fog punctuating the heady atmosphere.
But for all its scenic beauty, the region and resort also boast some of the best farm-to-table fare in the world, from the area's small farms to the relatively endless bounty of the sea—Dungeness crab fresh off the boat, anyone?
The new executive chef leading the resort's F&B efforts, Roberto Riveros, who was promoted from within after spending the last year as executive sous chef, is well prepared to meet the challenge.
"April of next year will mark me being four years at the hotel," Riveros said. "It is a good start to understand the entire operation, the back of the house. And now I oversee different areas, such as financing and operations. I speak Spanish as well, and the majority of cooks speak Spanish, the majority of servers speak Spanish, so there's a good connection with the team as well."
Riveros' international experience—he was previously chef de cuisine for the prestigious rooftop restaurant Ozone at The Ritz-Carlton, Hong Kong, as well as stints in Barcelona and in his native Chile, in the capital city of Santiago—means that he can bring global cuisine styles and processes to prepare the local ingredients.
In Barcelona, for example, he worked at three-Michelin-Star Lasarte Restaurant under who he describes as one of his greatest mentors, Martin Berasategui, a Spanish chef with 12 Michelin stars on his resume.
Riveros said he will continue to leverage the San Mateo Peninsula's rich agricultural and seafood bounty to inform his group and individual dinner menus.
"I'm very grateful to be here because every single day I can have a conversation with a different vendor, say, for charcuterie with a process from France or Spain but with a local source," he said. "It's a great opportunity to try these processes with the local produce. Every day you see something different in terms of produce, and a lot of variety to decide what to use."
Heading into fall, locally inspired ingredients will include the area's famed pumpkins, and crab season is just around the corner. Local sea bass and beef strip loin from a farm in the North Bay will also figure into the F&B equation.
Group Options
Other menu highlights include a watercress risotto—Riveros and staff frequently prepare risotto at live action stations for groups—with Bay Area-sourced uni (sea urchin roe) and mushrooms and Point Reyes blue cheese originating from Marin County.
Another popular group option is for the staff to prepare, and explain, Half Moon Bay wasabi in front of attendees. Riveros said this local version of wasabi—now popular at a variety of Bay Area fine-dining restaurants—is very different from Japanese wasabi and provides a great platform for he and his staff to interact with guests during the preparation.
When working with groups, Riveros said communication—and thinking outside of the box especially for diners with dietary needs—is a must.
"Their expectations can be very different than what the sales team hears, so I want to hear from them about what their expectations are and really leave them with a good feeling," he said. "Some are very particular, such as a lot of vegan or vegetarian guests, who are tired of quinoa, tired of the tofu. We are working with cauliflower, broccoli, pumpkin, chickpeas—heavy proteins—and away from quinoa and tofu, which is getting very tired." 
[Discover More Top Chefs: www.MeetingsToday.com/top-chefs]
The Ritz Carlton, Half Moon Bay Pumpkin Soup
Serves 8
Ingredients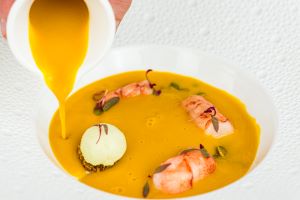 1 ea. sugar pie pumpkin
1 ea. cinderella pumpkin
1 ea. red kuri squash
¼ lb. butter
1 qt. apple juice
¼ tbsp. cinnamon powder
¼ tbsp. nutmeg
¼ cup maple syrup
1 qt. heavy cream
Salt
Preparation
Clean the pumpkins and cut in half, remove the seeds. Spread the butter on the flesh of the pumpkins, sprinkle the spices and drizzle the maple syrup on top. Roast at 360 F for about 50 minutes or until soft. Scoop out the pumpkin flesh. Using a blender, blend the pumpkin flesh until very smooth, using apple juice and heavy cream to balance the texture. Heat up the soup, add more heavy cream if necessary and season to taste. Finish with toasted pumpkin seed and drops of crème fraîche.
[Discover More Top Chefs Recipes]