U.S. Travel Spend Approaching Pre-Pandemic Levels—With a Caveat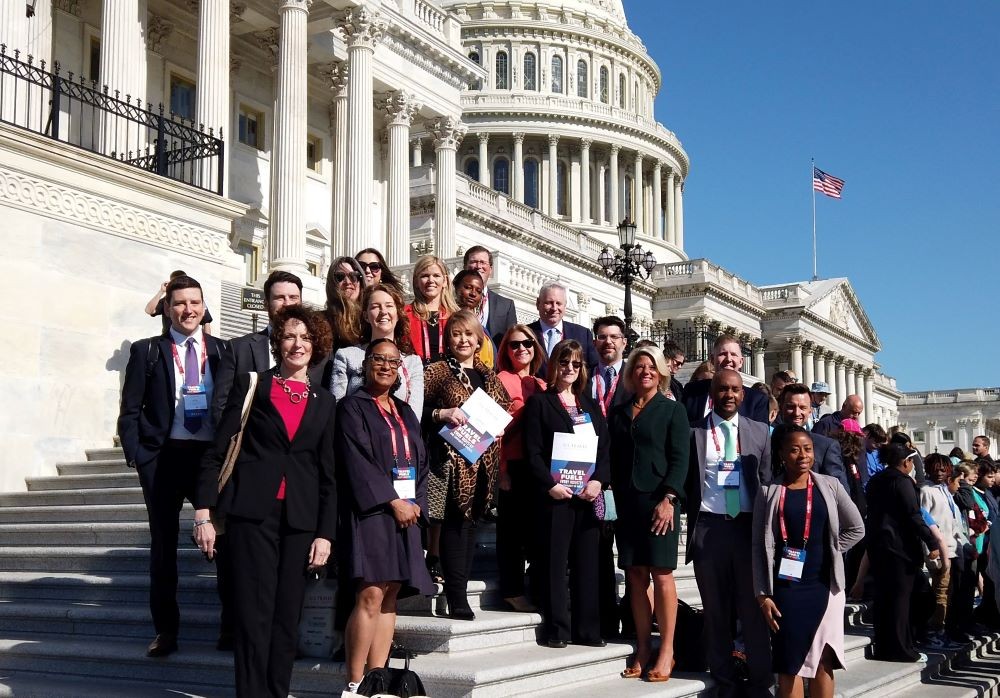 U.S. travel industry representatives on the steps of the U.S. Capitol. Credit: U.S. Travel Association.
Direct spending on travel in the U.S. in 2022 was on par with pre-pandemic numbers, according to new data released by the U.S. Travel Association to coincide with the travel industry's annual Destination Capitol Hill trip to Congress to meet with federal policymakers. 
But while the $1.2 trillion in direct spending in 2022 compared favorably to direct spending registered in 2019—also $1.2 trillion—the 2022 figure when adjusted for inflation reflected that overall spend remained down 14% in 2022 when compared to 2019. 
"Travel rebounded strongly in 2022 thanks to robust demand for domestic leisure travel," said U.S. Travel Association President and CEO Geoff Freeman in a statement. "Now we must focus on fully restoring the international and business travel segments to continue growing this critical driver of the U.S. economy." 
According to U.S. Travel, key data points include the following: 
Travel accounted for $1.2 trillion in direct spending in 2022, which produced an economic footprint of $2.6 trillion. 
In 2022, travel supported nearly 15 million American workers, with 8 million directly employed by the travel industry.  
Travel spending generated nearly $160 billion in total tax revenue, including $84 billion in state and local tax revenue in 2022.  
Travel-generated tax revenue alleviated an average of $1,270 in taxes per U.S. household.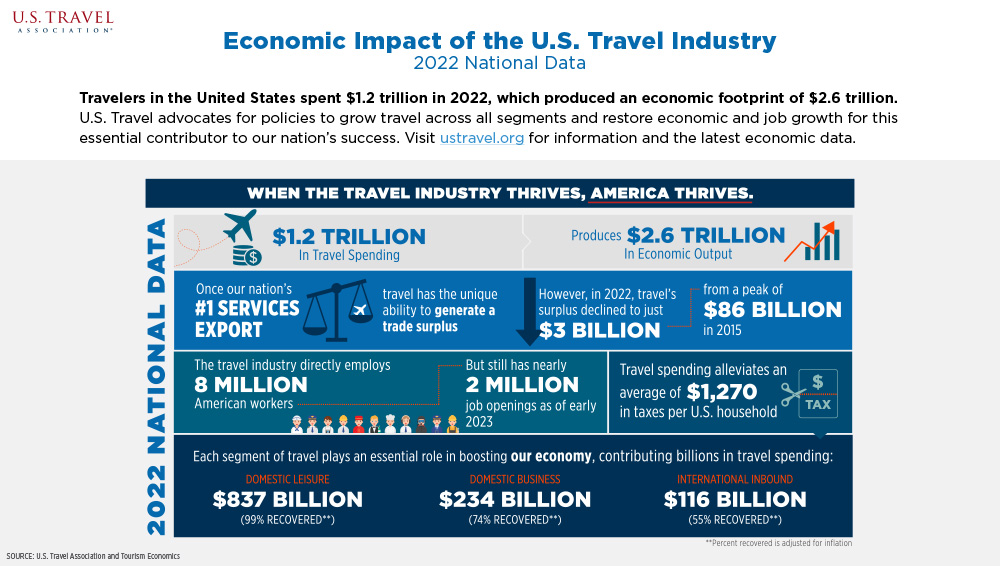 The 2023 edition of Destination Capitol Hill saw 250 U.S. travel industry leaders participate in scheduled meetings with 230 members of congress and their offices April 19 to discuss how travel drives economic growth and creates jobs in their communities. 
U.S. Travel said the effort's top legislative priorities are the following: 
Fully fund the office of the Assistant Secretary of Commerce for Travel and Tourism. 
Lower visitor visa wait times. 
Provide H-2B cap relief to address travel workforce shortfalls. 
Advance Federal Aviation Administration reauthorization priorities. 
Other 2022 travel industry numbers that stood out in the U.S. Travel report include the following: 
The travel industry employs 8 million workers in the U.S. but still has nearly 2 million job openings as of early 2023. 
The domestic leisure segment registered $837 billion in spend, a number that was categorized by U.S. Travel as "99% recovered." 
The domestic business segment registered $234 billion in spend, categorized as "74% recovered." 
International inbound travel accounted for $116 billion in spend and was categorized as "55% recovered."