UPDATED: Hospitality Labor Union Announces Boycotts of Over 60 L.A. Hotels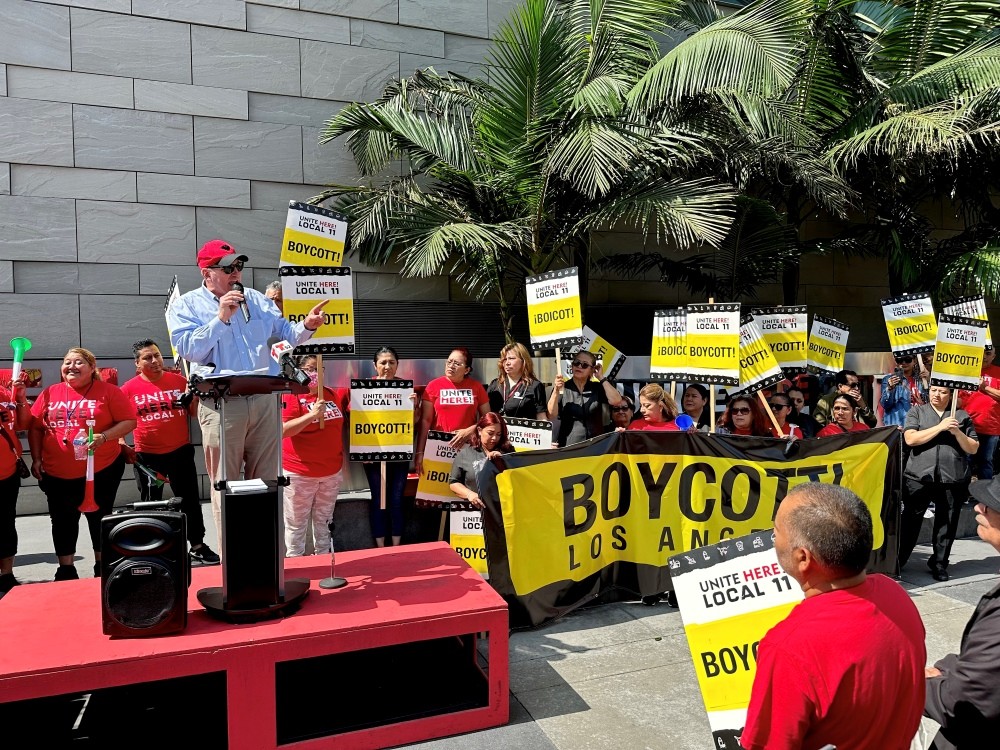 Credit: Unite Here Local 11
*Editors Note: This story has been updated from its initial version published on August 29. Meetings Today is following this developing story closely. Check this page frequently for updates. 
The Los Angeles Hospitality Labor Union UNITE HERE Local 11, along with representatives from future citywide conventions and events, recently announced boycotts of over 60 hotels in the Los Angeles area. The workers call for all conventions, meetings and events to avoid Los Angeles, marking a major escalation in the largest hotel worker strike in U.S. history.  
The group demands that the L.A. hotel industry pay the workers a living wage, with many in the group saying 80% of their income is spent on rent alone, and that their wages are not keeping pace with the increasing cost of living in Los Angeles. One of the group's demands is an immediate $5 per hour raise. 
The union also called for hotels to cease violence against striking members of the labor union. The group reported that earlier in August, the management of three hotels committed or condoned violence against their own employees while the employees were picketing. The union filed federal labor charges against the Fairmont Miramar Hotel & Bungalows in Santa Monica, Hotel Maya in Long Beach and the Laguna Cliffs Marriott Resort & Spa in Dana Point in response. 
October 6, 2023:
Workers Walk Off the Job at Eight Properties Near LAX Over Healthcare
Workers at eight properties near Los Angeles International Airport walked off the job on October 6 over what the union called a "proposal to eliminate affordable healthcare". The hotel properties include Four Points by Sheraton, Sheraton Gateway, Hyatt Regency LAX Airport and Westin Los Angeles Airport Inn. 
The union says that the hotels proposed a 1% annual increase to its healthcare contribution, one-sixth of projected healthcare cost increases. The hotels' proposal would also result in massive cuts to members' healthcare, including increased co-pays and massive changes in eligibility. 
"Never have I seen a more punitive, draconian proposal than what these greedy hotel owners put across the table. They are asking workers to choose between a meager pay raise and excellent healthcare," said Kurt Petersen, Co-President of UNITE HERE Local 11 in a press release. "Our members who sacrificed everything to keep this industry alive during the pandemic have no choice but to walk out again."
September 29, 2023:
Two Hotels Reach Tentative Labor Agreements With Union
Days before it was set to turn 100-years-old, the historic Millennium Biltmore hotel reached a tentative labor agreement with over 300 striking hospitality workers, providing benefits such as unprecedented wage increases, improved family healthcare, safer staffing and reduced workloads, improved pension and equal justice language that provides access to union jobs for formerly-incarcerated individuals. 
"We applaud the Biltmore Los Angeles for putting their workers and our city first," said Kurt Petersen, Co-President of UNITE HERE Local 11 in a press release. "LA is the world's most important tourist destination, with the World Cup and Olympics coming back to back in 2026 and 2028.  This agreement takes steps to ensure that workers who work in LA will be able to live in LA."
In late June, before strikes were called on other properties, Los Angeles' largest hotel, the Westin Bonaventure, reached a historic agreement with over 600 of its workers to avoid a strike. The workers at that property enjoyed the same benefits as the Millennium Biltmore. No other hotels have reached agreements with the union and the strikes remain ongoing. 
How the Boycott Affects the Meetings and Events Industry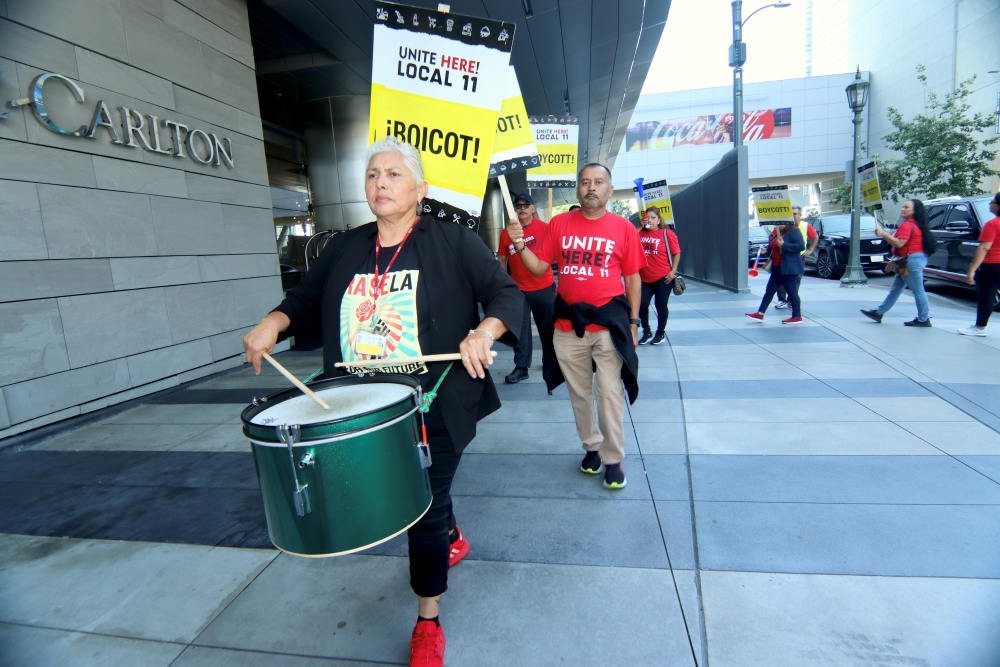 The ongoing strikes and new boycotts of many major hotels in L.A. will likely affect the local tourism industry. Tourism is one of the largest industries in L.A. County, generating tax revenue for vital public services, according to the Los Angeles Tourism & Convention Board. Tourism is one of the main drivers of investment in the L.A. hospitality industry, and many tourist groups along with large meetings and conventions may be dissuaded from holding their events in L.A. due to the hotels' refusal to meet worker demands. The Los Angeles Tourism & Convention Board declined to comment about the ongoing strike.
"We moved our event twice to stand with hotel workers," said Ana Grande, executive director of the Program for Torture Victims. "We call on our nonprofit and for-profit friends. Move your conferences, and gatherings to places that value hospitality workers, their servers, their housekeepers—move your events or boycott L.A.!" 
The hotel strikes have caused many groups such as the Democratic Governors Association, the Japanese American Citizens League, and The Council of State Governments West to relocate, suspend or cancel their events. Hundreds of members of the American Political Science Association (APSA) have canceled their plans to attend the 6,000-person APSA convention set to be held over Labor Day weekend after APSA leadership chose not to cancel the event. 
This information is based on a press release from the UNITE HERE Local 11 labor union.