Sherrif Karamat, Don Welsh Talk Business Events Industry Week, Trends and Ukraine
PCMA, Destinations International and a host of other meetings and events industry associations are getting ready to launch their inaugural Business Events Industry Week in Washington, D.C., which includes Destination Showcase, the Convention Sales & Services Summit and the Visionary Awards, among other elements.
Meetings Today's Tyler Davidson sat down with them to talk about the inaugural voyage of the event—which was scuttled due to COVID-19 last year—as well as current in-person meetings trends and the associations' stance on the Russian invasion of Ukraine.
Listen now:
Read this next: PCMA Convening Leaders Draws a Respectable, and Masked, Crowd to Las Vegas
Tyler Davidson: Hello, and welcome to this Meetings Today Podcast. I'm Tyler Davidson, vice president and chief content director for Meetings Today, and very happy to welcome our two guests today, Sherrif Karamat, CEO of PCMA, and Don Welsh, the CEO and president of Destinations International.
Thanks for joining us, Sherrif and Don. And I guess the big news with your two organizations right now is you're gearing up for the March 23 to 25 Business Events Industry Week/Destination Showcase. Why don't you let listeners know what that event is, and the history behind how your two organizations came together for that?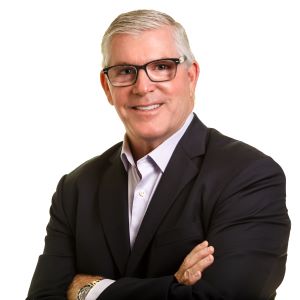 Don Welsh: Hey, Sherrif. Do you want me to take the first part, and then you can pick up the exciting things we built over the last couple of years?
Sherrif Karamat: Absolutely.
Don: So, Tyler, when we had Destination Showcase for many, many years at DMAI, and certainly since we rebranded about five years ago, I think we realized that with various programs that they had run their cycle, and that when you looked at the power of the event, really it was for the destinations to maximize their time with customers with the event and business planners that were members of PCMA.
We've always had a great relationship with our organization, and Sheriff and I in particular. And when we thought it was the appropriate time to begin expanding how we can really maximize time and get as many planners in front of the destinations, it really led to a conversation with the Sherrif and I, and we forged the business relationship that launched in 2019, and we successfully had a program in 2020. And, unfortunately, COVID showed up.
But since then, we continue to collaborate and Sherrif and I have a vision for this, and I'll kick it over to him to talk about some of the things that have been added since '19 and '20.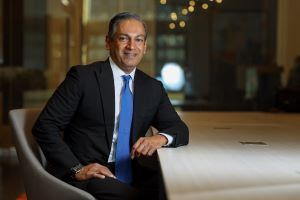 Sherrif: Thank you, Don and good day everybody. And Tyler, thank you for having Don and myself on your program. You know, it is said that when you do business, and you do good business with strangers, it's the great thing. When you do good business with family, it's an even better thing. And I think of Don Welsh and Destinations International as my family. And Don has done a remarkable job in leading Destinations International to great prosperity.
And, truth be known, many of the Destinations international members are also great partners and members of PCMA. So, we are a good family together. But coming together as two organizations to do something bigger than our individual selves was our vision, and one would argue that Washington, D.C., is the global capital for associations, and indeed, many Fortune 500 companies are located around the D.C. area. And let's not to forget media, global media.
The vision of Business Events Industry was to come together and bring all the stakeholders to Washington, D.C., the nation's capital and the global headquarters for associations, one week a year, allowing us to maximize the impact that we have on the industry and also utilize the dollars that we have effectively. And so that led our thinking to what can we do and how can we come together in 2021.
As Don said to you, COVID and 2020 was the start of something, but 2021 was COVID. So, we thought that in 2022, we will launch the inaugural event that we call Business Events Week, the Power of Purpose. And the idea is to just bring all buyers and suppliers together focusing on four areas, content, commerce, community and experience, that we have.
We know and we believe that our industry is critically important for economic growth in all communities around the country and around the world, and we believe that the platform that we have will allow us access, especially in Washington, D.C., to government, but also to media. And our goal, not in year one, but in year two and year three and years forward, is that we will bring together global media and global politicians to this forum to discuss the importance of the business events industry and the role that it's going to play in economic good and in social good in the short term.
This year, we're starting out with some great partners, DI and PCMA, of course, are incredible partners. But we also have IAEE that's a part of the event. The Events Industry Council, EIC, is a part of the event. And the LGBT MPA organization is also part of the event. And I want to mention, while it was short term, our friend at ASAE, Michelle Mason, is also very, very supportive of this event and will be a part of the event. Likewise, we have organizations such as U.S. Travel, Brand USA and others who are supportive, and will ensure that they support us in any way we can want to be supported.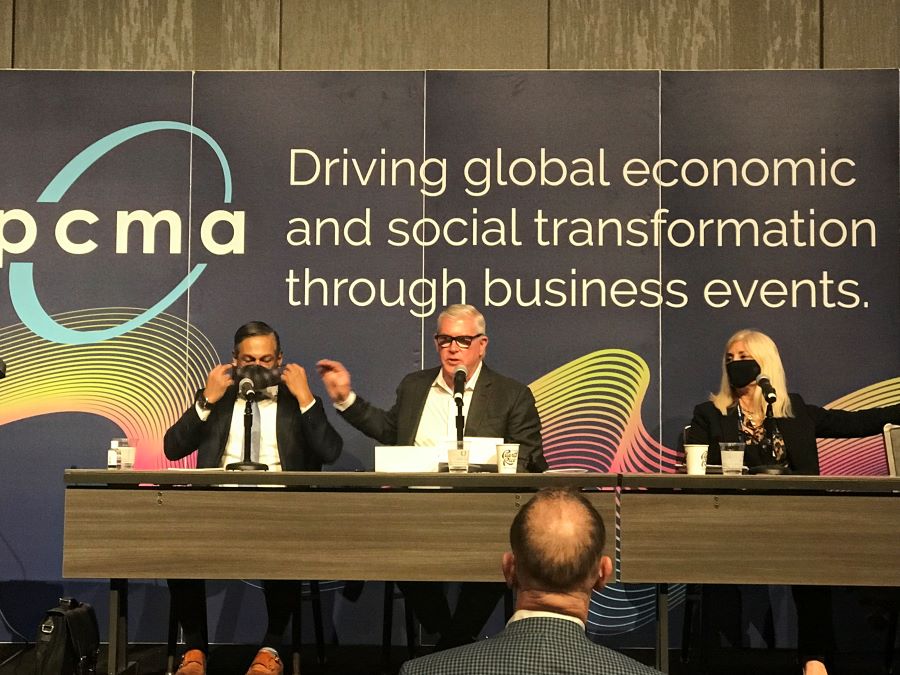 Tyler: And I guess, maybe I'm wrong on this, but every year, the industry would typically--and we're talking about non-pandemic years--would go to D.C. and talk with politicians, representatives to sort of advocate for the industry. Is this sort of related to that in any way?
Sherrif: Don, do you want me to start that, and maybe you take it?
Don: I'll pick it up a little bit. You know, I think what you're referring to maybe has traditionally been done with Roger Dow and his organization at U.S. Travel, which is Destination Capitol Hill.
But I think, just to pick up on the fact that we all began lobbying much greater than we probably ever have. Because I think we need to get in front of lawmakers, not only the importance of keeping destination organizations healthy, but understanding that the meetings and events industry, that was going to be the first segment to recover outside of the leisure traveler, also needed that support.
So, I know the Sherrif and MPI and ASAE and others have done a great job to really get there. So yes, the U.S. Travel event will take place in April, and hopefully lawmakers will be able to see those coming in from destinations and other organizations.
Tyler: Great. Yeah, I guess you'll soften it up for him on the ground there, so their job will be easier when they go in.
Don: I applaud the fact that when the industry found out that it wasn't getting necessarily the, I guess, the attention and respect that it deserved, there was actually a coalition put together led by David Audrain and David Dubois to make sure that somehow lawmakers understood the power, and what meetings do far beyond heads and beds and restaurants, but really what it does for the overall economic condition of a destination.
Tyler: That's a good point. And so, really, I guess one of the messages is The Power of Purpose, and how we see the future of business events. What does that mean and why is it important to have this event right now?
Sherrif: There's a number of reasons why this is important. First and foremost, The Power of Purpose was talking about the role that business events play in broader society. And if the pandemic highlighted something, it was the lack of business events and the role that it played in almost every single industry, in every sector, and how badly it was missed.
So, the purpose was not just economically, it was about how we bridge understanding for many things. Today happens to be International Women's Day, and it is a real fundamental role, bringing people together from all walks of life to solve complex issues is what business events do. And so, today's a good example, it's really fitting, actually, Tyler, that we're speaking today about this issue.
So that's one. Two is equity across all sectors, and whether it's as we speak, a women's issue today, but equity for LGBTQ, for people of various colors, whatever the issue is, our industry brings people together to solve that. And solving that hand in hand with different sectors, with government at the table, is important to us. And doing that in the nation's capital, it obviously gives us easier access to make that happen.
Tyler: Right. Tell us, what are some of the highlights of the event, when it actually starts and when people are engaged with it?
Don: Well, it's funny, before we actually kick in...We're gonna start on that Wednesday with the Convention Sales and Services Summit, which will probably have close to 200 people coming in, and it will be a complete day of training and exposure. And then that evening we'll be having a bit of a joint cocktail reception, with certain customers coming in from EIC. And then, of course, turn it over Sherrif to talk about the great things MPI—excuse me, PCMA—is doing. Pardon me, Sherrif. I was talking about...
Sherrif: That's all right. I mean, we're all good friends...
Don: And then on Friday, we get into Showcase, which is building more rapidly by the day.
Sherrif: Yeah, and you know, I think that everyone can benefit from this event. We've got the Sales and Services Summit. PCMA has its partners conference, and its Chapter Leadership Retreat. We also have our board meetings on the Wednesday. And of course, we've got the Visionary Awards, happening on Thursday night before Destination Showcase. Right now, we already have 750 people registered for the Visionary Awards, which is phenomenal pacing, so that's doing phenomenally well.
So, that's going to be a really nice event. And then we have Destination Showcase, and we are well on target to exceed our initial goals of that event.
So, it's a combination of various things. We will certainly invite the media, both from the trade as well as from other sectors, to meet with us and to discuss the importance of business events, and the role that we plan on playing going forward. And, the fact is that this opportunity, when you think back, say going back four or five years ago, Tyler, we used to have—maybe longer than that—we had Springtime, we used to have the Visionary Awards, we used to have Destination Showcase. We used to have IAEE Leadership, Women's Leadership Initiative, we're bringing all of these things together under one umbrella.
So, it's actually allowing our supplier partners to maximize their sales efforts and their business development efforts, and spending a lot less money doing it. So, I think this shows that true collaboration, how we can spread our money forward but actually save our supplier partners' dollars, which I think in this day and age is very, very important, given what they have suffered to the last two years.
Don: You know, and just to piggyback on that, we've also heard from both destinations and the planners saying how much they appreciate the fact they get a chance to conduct such business without having to come back multiple times throughout the year. And I think it's been very respectful to the planner community, because we realize right now, we're ramping up meetings, probably at all time high right now, and a lot of the organizations are still short staffed, not where they were before COVID. And I think it allows just optimum time and efficiency for everybody involved. We certainly heard that from the destination side.
Tyler: And what are you guys hearing about the ramp up? What was the latest figures you've been privy to as to the return of the industry?
Sherrif: Sure. Okay. Well, what we are seeing is that, and let me preface this with certainly with the decline of Omicron. Very, very quickly, it's been very, very positive. And events are moving forward. Events are actually happening across the country, around the world.
You know, there's still certain restrictions that exist in terms of borders, and tests that are required. But hopefully, some of these are being lifted faster, and that events or attendance are not being so impacted. There's obviously the economic impact of COVID that's impacting attendance, but if we can lift the other restrictions, I think things are going to move faster.
But what you're hearing about now is less around cancellations and more about moving forward, and you're also hearing the fact that people who would sort of push their events out of January and February and potentially March trying to get their events scheduled to other quarters in the year.
So, you're going to see a bit of compression, which would be caused by that. And that will also pose some challenges for suppliers as well as our event organizers, because some of our suppliers are still challenged by recruiting and bringing back employees. Obviously, the sector was really hard hit and a lot of employees were laid off--so, trying to bring back the service levels and so forth.
So, we're asking of everyone right now, and I think that people are showing a lot of grace and a lot of kindness to the fact that all sectors of the industry are trying to bring back itself, which is good for business, which is good for the economy, and good for all sectors. So, I see positives are coming out of that.
Don: You know, on that point, just to pick up on what sheriff said, I believe when we saw the first event which took place pre-COVID, we had a great turnout for year one, and we saw business was actually being transacted on the floor. And I think right now, based on what you just heard, and then also, us being in touch with many of our destination members that are in meetings and events, feel there is pent up demand.
So, I think this is going to be another example where business will be conducted on the floor, and people are gonna have a chance to at least get RFPs and hopefully move things along. Because as Sherrif said, I think the faucet is being turned back on. So that compression issue is going to be critical. And I think, again, if they can be face-to-face, and have conversations and understand space and availability, it just sort of plays out perfectly as to what we had envisioned for this program to begin with.
Sherrif: Tyler, I don't know, anyone who is rushing to get back to another Zoom meeting?
Tyler: Ha! I appreciate that. Yes, I live that comment. So, before we go, I'm guessing people can find out more about Business events Industry Week and Destination Showcase at the Destinations International website? Is there a place you're sending them to learn more?
Sherrif: Absolutely. On both websites, right on the homepage, you can find out about Business Events Week and the programs that we've got, collectively. And IAEE and LGBT-MPA, all of that is there, and also those organizations are pushing out their events. I will tell you that the IAEE event is capped at 200 people because they want it to be superly powerful and impactful.
And, of course, you know, it's important to register early. We welcome as many people to Destination Showcase—we think it's going to be our best ever, and truthfully, I would submit that this is only our second year of coming together but the first year of Business Events Week, because as we started it COVID happened. And so, this is the first year.
Tyler: Excellent. Well, before we sign off, the huge event is the ongoing tragedy in Ukraine, with the Russian invasion. And, you know, I know both of your organizations have issued statements about that. And, to their credit, a lot of industry organizations have really made firm statements and decisions. What led you to do that and what are your perspectives on that issue right now?
Don: Sherrif, go ahead, go first.
Sherrif: First and foremost, I think that any humanitarian suffering in our society, we've got to try to avoid. Our goal is, regardless of what the grievances are, we don't want to see humanity suffering. And the pain of the average Ukrainian person right now, or people, is very tragic, and we want to make sure that doesn't happen.
The second thing is that we have just gone through COVID and the world has gone through tremendous pain, and we're still going through COVID. And we've had incredible border restrictions. And now we are actually, because of COVID and so forth, we are seeing inflation.
But we're also seeing border restrictions, with the war in Ukraine only adding to border restrictions and challenges for people. So, our industry focuses on bringing people together to solve complex issues. I believe this is an issue that we have to take head-on, and not to get into politics, but for humanity's sake, we should be focused on avoiding conflicts and supporting our fellow human beings around the world. And this day, we need to support our Ukrainians.
Don: You know, and on that point, from our end, after discussing with our board, we're fortunate we have about 625 members in 15 countries, so we have a global perspective. We had been in discussions for a lot of years with Moscow, but really our only member that we have right now is St. Petersburg, and we decided to move forward and suspend their membership until hopefully these actions against Ukraine settle down.
But you know, like getting back to what Sherrif said, I think we all know that meetings and events and travel in general has always been the bridge to societies. It has been ways to address issues between various cultures, so I think by the stand that's being made in the business sector, and in almost every sector right now, it's clearly making the statement to Putin and others that it's not going to be tolerated, and you're going to be held accountable for these unprovoked acts against the Ukrainian people. So, it's nice to see it.
But equally important, as we all know, right now it's going to be important that the refugees find accommodations, they find temporary housing, and most importantly, they're fed. And we've been very involved so far with the World Kitchen, which we've already begun raising money for through our members and our partners. So hopefully, that money can be spent quickly and put a hot meal into people's souls and their spirits while they're being displaced from their homes.
Tyler: Excellent. All right. Well, thank you. That's very nice sentiments to end this podcast with. I really appreciate your time, gentlemen. Thank you.
Sherrif: Thank you for having us.
Tyler: You're welcome. That was Sherrif Karamat and Don Welsh, from PCMA and DI, respectively. I'm Tyler Davidson, vice president and chief content director of Meetings Today.
Thank you for joining us for this podcast. And if you're interested in any other of the podcasts we do, head on over the MeetingsToday.com. You'll see our podcast section there with lots of interesting discussions with various thought leaders in the meetings and events industry.
So, thank you for joining us, and whatever you're up to with the rest of it, have a great day.