Meetings on the Beautiful Beaches of Fort Myers & Sanibel
Danielle LeBreck and Jill Vance, the director of sales for The Beaches of Fort Myers & Sanibel, take a deep dive on why this tranquil Southwest Florida destination is ideal for your next meeting. They cover its natural beauty and inspiration surroundings, unique waterfront venues, team activities, CSR programs and more. Listen now.

*This podcast was created in partnership with The Beaches of Fort Myers & Sanibel.
Read the transcript below:
[Start transcript]
Danielle: Welcome to the Meetings Today Podcast. I'm Danielle LeBreck, Lead Destinations Content Strategist with Meetings Today.
This podcast is brought to you in partnership with The Beaches of Fort Myers & Sanibel.
Joining me today is Jill Vance the director of sales for The Beaches of Fort Myers & Sanibel. Fort Myers & Sanibel is located in Lee County on the southwestern Florida Gulf coast.
In this episode we are going to talk about why you should bring your meeting to The Beaches of Fort Myers & Sanibel and some of the unique offerings in that sunny destination.
So welcome Jill and thanks for joining us today.
Jill: Thank you, Danielle. It's my pleasure.
Danielle: So, to start us off, for our listeners who may have never been to The Beaches of Fort Myers & Sanibel before, can you give us an overview of the area? What the weather's like, what are the natural surroundings like, those types of things?
Jill: Sure, The Beaches of Fort Myers & Sanibel to me, is a natural paradise. We are located in Southwest Florida on the Gulf of Mexico and our destination includes more than 100 islands. Plus, natural environments like mangrove forests, beautiful peaceful waterways and pristine white beaches.
As far as the weather goes, our average high temperature is about 85 degrees and average low is about 65, but since we are a coastal community, even in the height of summer season there's a nice warm Gulf breeze that moderates the temperatures.
We have over 50 miles of natural white-sand beaches. And what's interesting is that when nature is allowed to run its course, a beach's individual character shines through. So finding the perfect beach is really easy. For instance, on seven miles of white sandy coastline, one of our well-known beaches is Fort Myers Beach. And there you'll find Time Square, which is the unique dining, shopping and nightlife area located right at the Fort Myers Beach Pier.
Some of our other most popular beaches are where shell collecting is one of the most popular activities. You can find more than 400 species of shells on nearly every beach, but it's Sanibel and Captiva Islands that capture the most, thanks to their unique geography.
In fact, our shell collecting posture is so common, that they have been given a name. They are called the Sanibel Stoop and the Captiva Crouch. And if you can believe it, shell collecting is the second most popular collecting hobby in the world. Only stamp collectors outnumber shell collectors.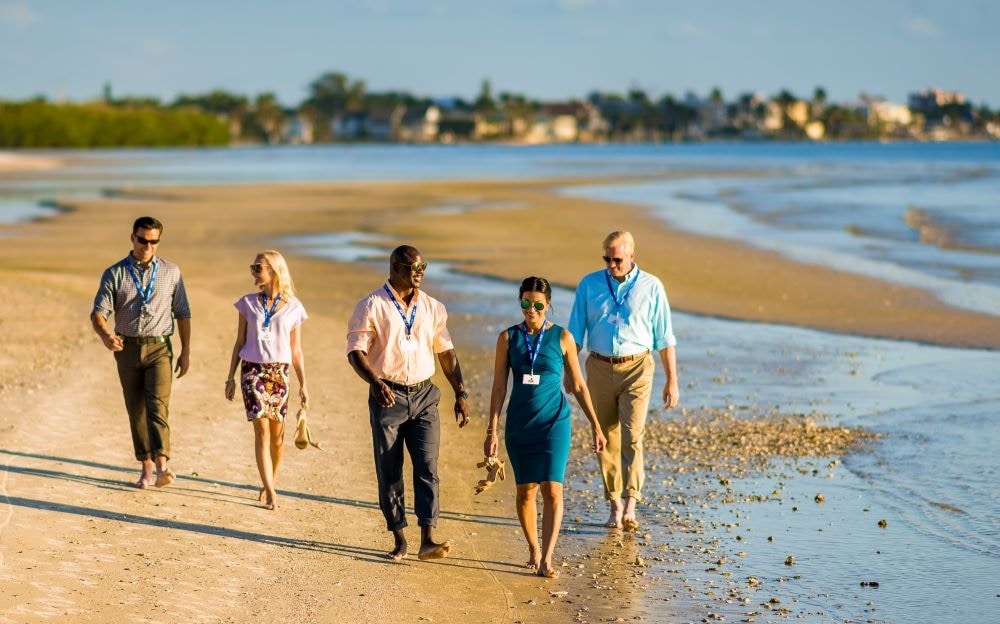 Photo: Bunche Beach, Fort Myers
We also have some really unique wildlife like the manatee, which is one of the Gulf's most iconic and friendly mammals. Most people never forget their first experience with what we lovingly refer to as our "gentle giants." They're drawn to our coastline by the warm waters, so make sure you keep an eye out when you're in a kayak in case one surfaces next to your boat! It's really quite amazing.
Another animal that loves our warm water is the dolphin. They are more common in the Gulf than the Atlantic Ocean, and you can often see them from one of our charter cruises. Pine Island Sound, right here in the destination, has one of the largest populations of Bottlenose dolphins in the world.
Then, in the springtime, loggerhead turtles make an appearance on our beaches. The little hatchlings just pop out of the sand to make their way to the water, hoping to avoid hungry predators along the way. Unfortunately, human interference throughout the world has put them on the endangered species list, however, efforts made right here on The Beaches of Fort Myers & Sanibel are helping them back from the brink of extinction. I'm a firm believer that you can tell a lot about a destination by how they treat their animals. We truly love our animals.
Finally, the most sought-after wildlife to take pictures of is our abundance of migratory birds. More than 245 species of migratory birds are protected in the J.N. "Ding" Darling Wildlife Refuge, which is located on Sanibel Island. One of the country's largest developed mangrove ecosystems. While you're there, you might even see a bobcat or alligators.
If you're lucky, you may see the colorful roseate spoonbill. I love these birds! They look like the just came out of a Dr. Seuss book, with their really bright pink feathers, they have red eyes, partly bald heads and giant spoon-shaped beaks. There are only six species of spoonbills in the entire world, and the roseate spoonbill is the only one found in the Americas.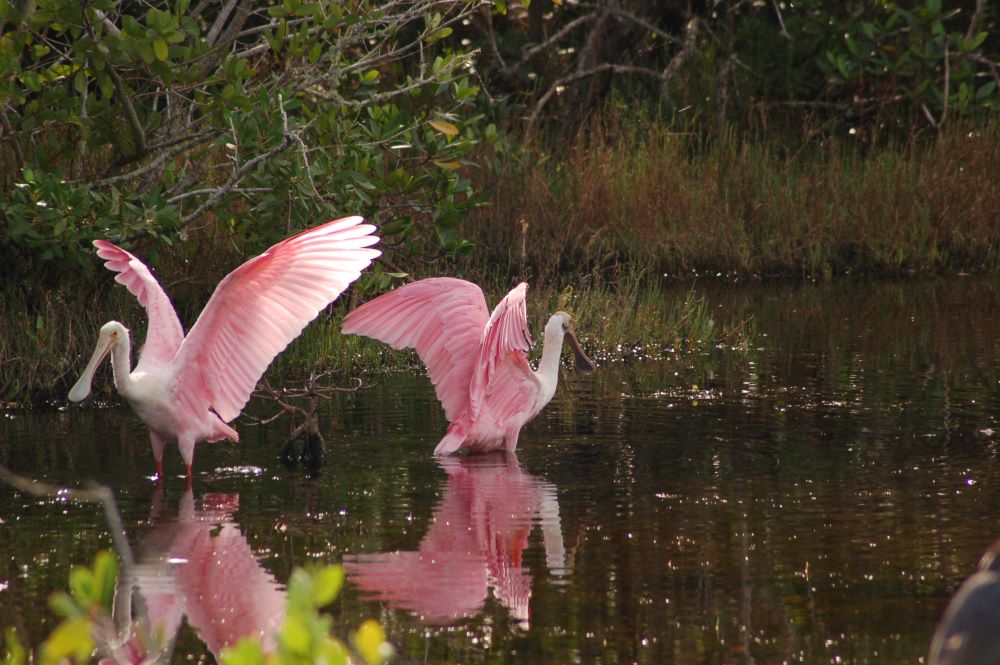 Photo: Roseate Spoonbills at J.N. "Ding" Darling National Wildlife Refuge on Sanibel Island
Danielle: Wow! That's really cool. You guys have a really unique crop of animals there, and you obviously can't beat that weather and a lot of unique activities—the shell collecting is so interesting too, it seems like this location is totally a no-brainer for vacations. But let's talk about meetings. Why should planners consider this area over other popular coastal Florida meetings destinations?
Jill: Well, because of our natural beauty. We have a strong focus of conservationism and a strong preservation of our natural assets. For instance, Sanibel Island has no structures higher than the tallest palm tree. It's been proven that natural settings improve meeting performance by boosting memory, overcoming creative blocks, and even increasing brain function and improving mental health. Bottom line: nature has qualities that boost the success of a conference by helping attendees with focus and clarity.
We found that if you go outside to go inside, you can quiet your mind from the voice of emails and looming deadlines. As a result, nature sparks new ideas with connections and an affinity for inspiration. I think a really good example of this is Thomas Edison who built his winter retreat here in Fort Myers in 1885. He found so much inspiration in our natural beauty that he wound up with 1,000 patents on his inventions. To me, that's inspiration at its best.
Danielle: Oh, that's so cool! I had no idea. That's really unique and sounds like the natural surroundings can really make meetings special. How can meeting planners, if they're interested in coming to The Beaches of Fort Myers & Sanibel, how can they work with your team, partner with the Visitor and Convention Bureau to make planning their event as easy and seamless as possible?
Jill: You can get destination assistance from our wonderful conference services staff. At no cost, our conference services team provides services like attendance builders. We are happy to provide complimentary visitor information for upcoming conferences to increase our attendance from photographs, images, videos, even digital brochures.
Also, for site inspections our staff can assist meeting planners with scheduling appointments, accompanying clients on tours of local facilities, and attending meetings with local conference suppliers.
We can help with planning meetings. Our conference services staff will meet with clients to assist in pre-planning and other conference needs. And we also have registration assistance. Where our staff of trained volunteer ambassadors help conferences with registration and they also provide onsite destination assistance like information on restaurants, and shopping and local activities and attractions.
And finally, we help you find unique offsite venues. Maybe your group needs a distinctive place to gather for a reception or an awards banquet or even a teambuilding event. Conference services can help you find the perfect place.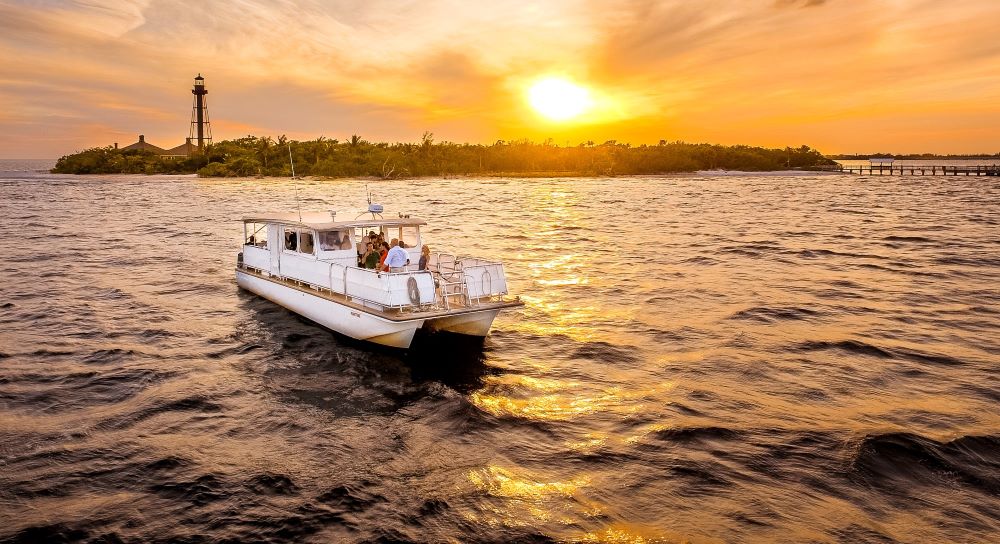 Photo: Boat Charter; Sanibel Island​
Danielle: So, I want to talk a little more about that because offsite venues are a really great way for groups to leverage the natural surroundings of the area that they're meeting in, you know, to make those meetings and events more memorable. What are some venues you'd recommend and why?
Jill: Well first I'd like to mention that there are unique outdoor spaces onsite at most of our hotels with meeting space that are waterfront or on the beach. For instance, the Westin Cape Coral Resort at Marina Village, they are waterfront and they are located on a full-service marina. They host outdoor group events on what they refer to as their gazebo lawn, which has beautiful coastal views.
There's also the Hyatt Regency Coconut Point Resort & Spa. Again, they're waterfront and they offer several outdoor courtyards and pool decks to host an event, and just a short boat ride away, events can be held on the beach on their own private island.
And then Sanibel Harbor Marriott Resort & Spa, they too are waterfront. Outdoor event space includes poolside and a riverside beach. Or, you can take your group on a dinner cruise aboard the Sanibel Harbor Princess yacht.
Of course, your group will never forget an event on the beach at our beachfront properties, such as South Seas Island Resort on Captiva Island or Sundial Beach Resort on Sanibel Island. And on Fort Myers Beach, there's DiamondHead Beach Resort and Pink Shell Beach Resort just to name a few.
Now some unique offsite venues to consider are The Edison and Ford Winter Estates. As I mentioned earlier, Thomas Edison and Henry Ford both made their vacation homes in Fort Myers, building their estates for leisure time and their experiments. The properties are filled with tropical gardens laboratories, and a museum filled with artifacts, inventions, and special exhibits. They offer group tours on the grounds, and it's a perfect venue for teambuilding exercises or outdoor receptions.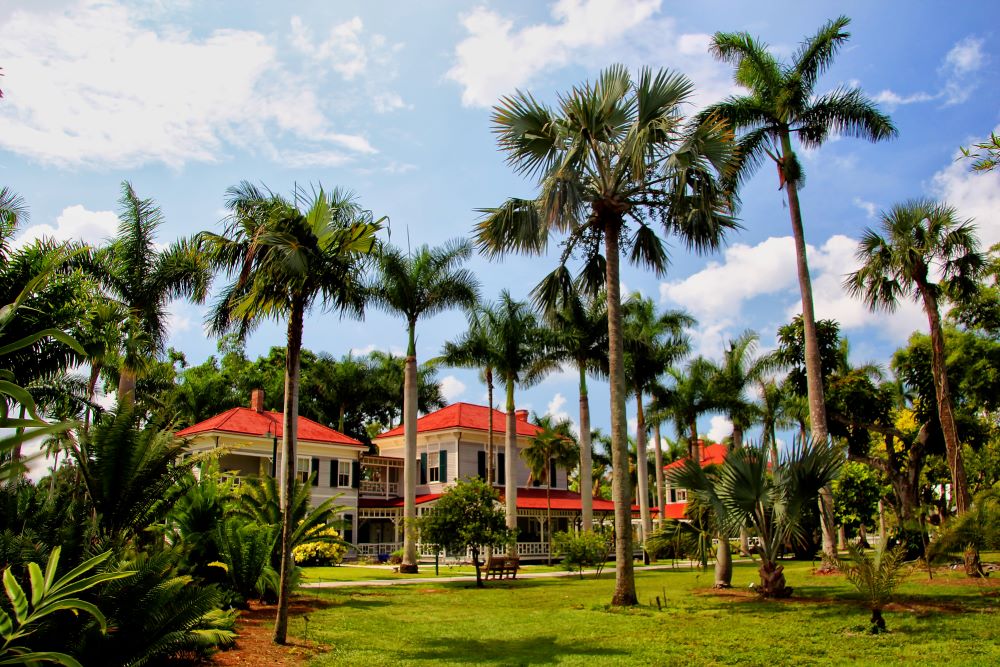 Photo: Edison and Ford Winter Estates, Fort Myers
Did you know, Danielle, that Thomas Edison is considered to be the most inventive man who ever lived, holding 1,093 patents? From everything from, well most people know about the lightbulb, but also cements, phonographs and even natural rubber that he made from goldenrod. And he still fascinates people today, I believe there's a movie that was recently released called Current Wars.
Another offsite venue is Shangri-La Springs Historic Hotel in Bonita Springs, which features their Harvest & Wisdom restaurant, which is an authentic farm-to-fork experience. Between 80-90% of the ingredients at the restaurant are grown on site. And garden tours can be arranged for your group to learn about the unique produce and flowers grown there.
If you want to be immersed in arts and culture, the Mound House is a great place for offsite events. It's located on Fort Myers Beach. The Mound House was recently restored to its 1921 arts and crafts style. It was built on a 2,000-teay-old Calusa Indian shell mound. It's now a museum with Calusa artifacts, exhibits, and very large expansive grounds that make for a memorable experiential event.
Danielle: Great! Well I also imagine on top of those cool venues that there are probably a wealth of group activities and teambuilding ideas that also take advantage of the history and the natural surroundings of The Beaches of Fort Myers & Sanibel as well. So, you had mentioned earlier some kayaking, I'm sure a lot of these involve the water, so can you just run through some popular options for groups?
Jill: Sure, I'd love to. There's certainly no shortage of fun-in-the-sun teambuilding experiences here. For instance, a group can take a fishing charter and have a friendly fishing competition. We have back-bay fishing with a wide variety of fish, plenty of great fishing spots throughout the islands.
Also, a very popular area is Boca Grande Pass, where the largest tarpon migrations take place every year. As a result, we have earned the name of the "Tarpon Capital of the World." And at the end of your fishing expedition, some resorts and restaurants offer what is called a "hook and cook experience," taking your fishing experience to the next level where the catch of the day becomes dinner for your group.
Then there's the Offshore Sailing School. What better way to break the ice and build teams than to figure out how to work a sailboat? You can spend an afternoon on the Gulf and get to know each other while getting to learn a thing or two about sailing with experienced instructors. The boat will do most of the work while you enjoy the water, and you can end with a friendly team competition if you'd like.
Another great way to build a team, is like you mentioned, by kayaking on the Great Calusa Blueway, which is a 190-mile paddling trail through the back-bay waters. Kayaking, it's more of a relaxed way to spend some teambuilding time on the water. A guide can take your group to one of our wildlife reserves where you can see all kinds of unique animals to the area.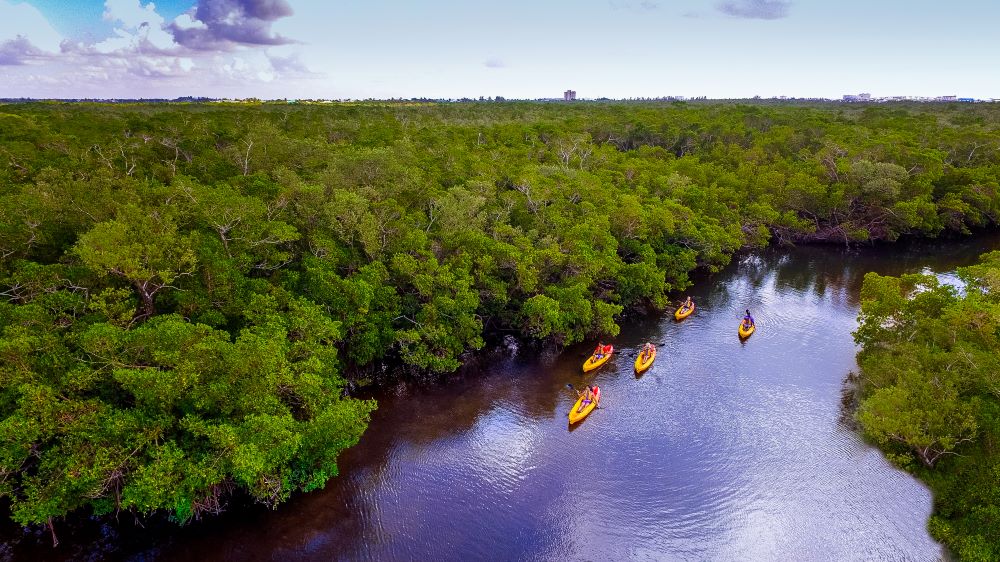 ​Photo: Kayaking the Great Calusa Blueway
Then there's the shelling tour. One of the main things that brings people here is our wide variety and abundance of seashells that make their way to our shores. You can go on a guided shell tour and have a group scavenger hunt and find all kinds of different shells on the beach. Shelling is a great activity for any group visiting our area and in fact, The Beaches of Fort Myers & Sanibel is home to National Seashell Day, which is June 21st.
Then we have boat tours. Our destination is a haven for boat tours that specialize in dolphin and sunset cruises, nature and wildlife cruises, along with eco cruises. And speaking of boat tours, on one of our meeting planners fams we were island hopping with Southern Instinct Charter, and a planner asked the owner, Captain Ryan, what he liked most about his job. His response to the planner was really interesting.
He said, "My favorite part about my job is when I see them breathe." The planner asked, "What do you mean 'see them breathe?'" Captain Ryan said, "Well, when people first get on my boat, their bodies are stiff and tense with the stress of life. After a little while on the water, I slowly see their legs uncross. A little later, I see their shoulders sink down and their arms relax. And then," he took a deep breath, "I see them breathe."
I think that's a great example of how our natural beauty can affect your conference attendees.
Another place to take your team is C.R.O.W. And that stands for the Clinic for the Rehabilitation of Wildlife, and it's a teaching hospital and visitor education center dedicated to saving our wildlife here for over 50 years. From state-of-the-art veterinary care, research, conservation medicine—you can take your group on a behind-the-scenes tour and visit their education center.
There's also arts and culture in Matlacha, which one-of-a-kind village on Pine Island. And to visualize a picture, first you have to capture the spirit of the people who live there. It's part cozy town, and part fishing village. Matlacha is a bohemian Pine Island community with very colorful shops, art galleries, there's seafood markets waterside restaurants. You can take your group on the Flavors of Matlacha tour and truly experience this community.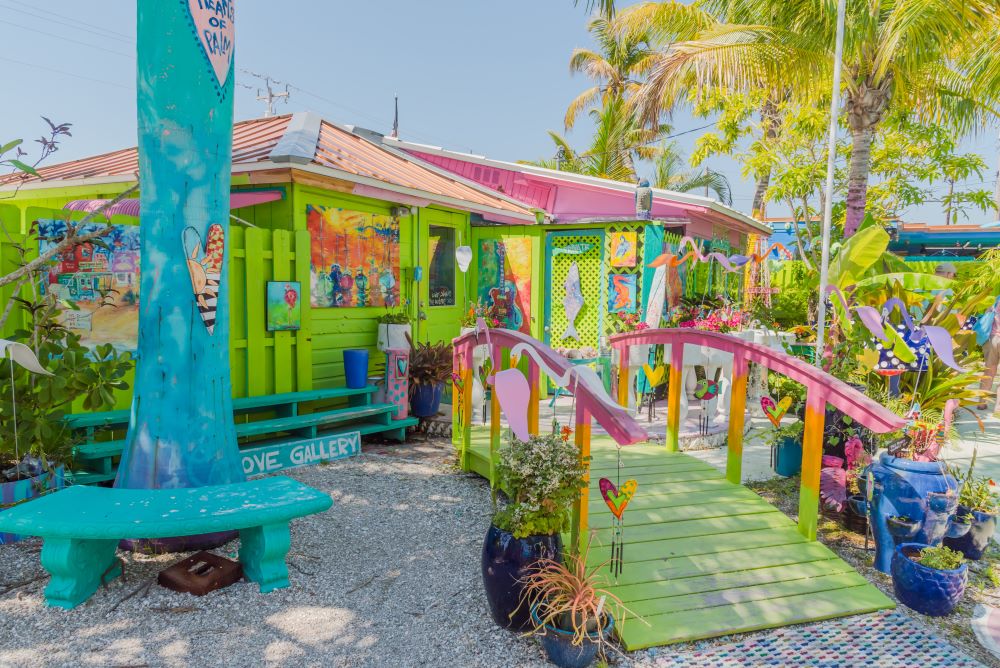 Photo: Leoma Lovegrove Gallery on Matlacha
We also have the Key West Express which is located on Fort Myers Beach. Now the Key West Express is a high-speed, jet-powered catamaran that travels roundtrip every day to Key West. It takes a little over three hours each way and it has full food and beverage service on board. I remember when my husband and I were on our way back from a day at Key West and we decided to sit on the top level of the ship, and it was amazing. The warm breeze felt like a blanket around us and we watched the sun set over the Gulf and there's just no words to describe how beautiful it was.
In fact, some people have seen the Green Flash at some of our sunsets. The Green Flash is an optical phenomenon that sometimes occurs just after sunset. When the conditions are right, there's like a green spot that flashes right on the upper rim of the sun just as it sets, and it lasts no more than two seconds. A good place to see the Green Flash is on Captiva Island. In fact, there's even a restaurant named after it.
Another teambuilding activity is the hand-feed-a-goat tour at ECHO Global Farm. ECHO stands for Education Concern for Hunger Organization and what it does is it gathers hunger solutions from all over the world that are trying to solve the hunger problems. And then it disseminates them into their network.
The ECHO Global Farm tour was recently named one of the top tours in the country for its unique experiences and charitable efforts. It even includes hand-feeding a goat!
The tour highlights the difficult farming and gardening conditions in extreme climates and demonstrates fascinating ways to produce food in these harsh conditions. Groups will walk through the lush gardens and have a chance to try rare and delicious plants. There's even a berry there that we tasted, and it tasted just like peanut butter, it was amazing.
The last teambuilding option that I want to mention is Wicked Dolphin Rum Distillery. Located just miles from sugar cane fields, Wicked Dolphin is a family-run distillery and it produces award-winning rums produced from 100% Florida sugar and local ingredients.
I'm told that the owners of Wicked Dolphin Rum moved to Cape Coral to home on one of the many canals the cape is known for—in fact it actually has more canals than the Italian city of Venice. Apparently, every day a dolphin swam back and forth, taunting their dogs to bark non-stop.
In frustration, JoAnn, one of the owners, said, "that wicked dolphin needs to leave our dogs alone," and needless to say, the name stuck. Distillery tours can take your group through how the ingredients are sourced, fermented and distilled. They can even end the tour in the distillery's tasting room where they can sample quite an assortment of different rums.
Danielle: Very cool! That's a very diverse group of activities, something for everybody seems to be in there. Another type of activity that we are seeing grow in popularity are the corporate social responsibility activities—or CSR activities—they are becoming an important component to meetings.
People want to give back to the place they are visiting. These can be inspirational, give attendees a sense for important issues in a destination, and gives them an opportunity to give back to the community hosting them. Are there any of these you'd recommend on The Beaches of Fort Myers & Sanibel?
Jill: There are. There are actually quite a few options where groups can make a difference and leave their legacy in our community. The first one I want to mention is Lee County Parks and Recreation has a Conservation 20/20 program. And this is the Lee County Environmentally Sensitive Land Acquisition and Stewardship Program to protect our natural assets.
Conservation 20/20 manages 48 preserves totaling almost 30,000 acres spread throughout Lee County. All of the preserves are open to the public for hiking and wildlife observation and natural study, and several of them even offer fishing, kayaking, canoeing and horseback riding.
The groups can help keep our destination naturally beautiful by volunteering at one of the nature preserves and help with a variety of land management projects. There's trail maintenance or recording wildlife, there's exotic plant control and other special assignments.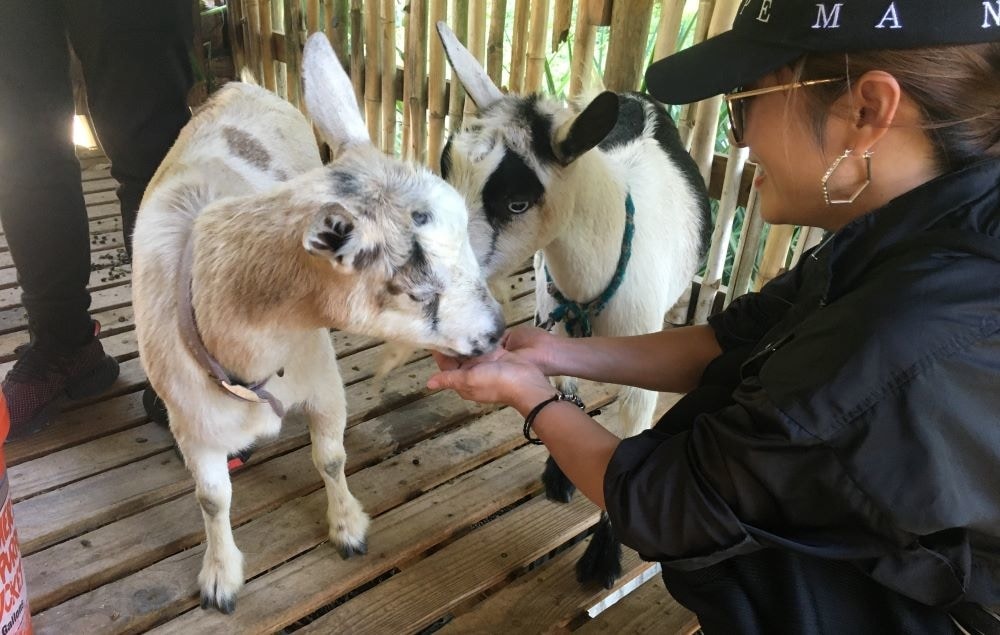 Photo: ECHO Global Farm, North Fort Myers​
Another great CSR activity is the Harry Chapin Food Bank. You can help overcome hunger in southwest Florida by donating food items, or if you'd like, your group can volunteer to sort and pack donations of food at the food bank distribution center.
And then helping the elderly in our area can also be a rewarding experience. Organizations like Friendship Centers, pairing someone with a little extra company in their life. You can brighten the day of a senior citizen by volunteering for as little as a single hour or even a 15-minute phone call. The visits not only liven the spirits of those that you're helping, but they also leave a very profound impact on your group as well.
We also have the Animal Refuge Center, where your group can use this center to help care for homeless animals brought to them. You can work with cats or dogs socializing them or providing basic care. A great way to help individuals who are experiencing homelessness or poverty is participating in a Habitat for Humanity project. There are activities you can contribute to and they vary enough in skill levels and physical ability.
And finally, your group can even do something as simple as donate business clothes to Dress for Success Southwest Florida and help women to achieve economic independence.
Danielle: Thanks for sharing those, those are some really great options. Finally, wondering if you can share a few examples of groups who have met in The Beaches of Fort Myers & Sanibel that you thought really organized an especially inspired and innovative meeting?
Jill: We had a group recently that conducted a cybersecurity escape room, which was very innovative. And we have others that have held activities like sand-sculpting contests and "anything-that-floats" raft races that was fun. But what we're really excited about is the innovative possibilities that groups will experience at our newest downtown hotel, The Luminary Hotel & Co., which is part of the Autograph Collection by Marriott.
Now this hotel will have 243 guest rooms and stand 12 stories tall. There will be signature restaurants, a rooftop lounge, retail stores, and a pool area with a large pool deck, all over-looking the waterfront of downtown Fort Myers. It's scheduled to open pretty soon, in September [2020] with 8,000 square feet of function space, and it will be connected to the 42,000-square-foot conference center, which is currently under renovation.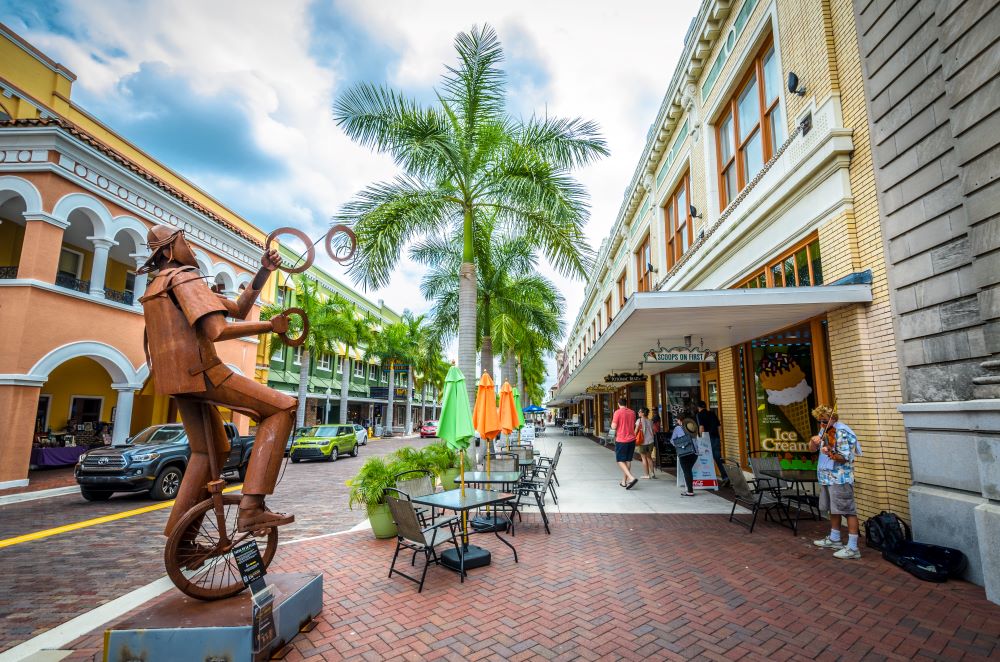 Photo: Downtown Fort Myers River District
I want to point out one feature in this hotel that is certain to spark innovation that is referred to as the "Workshop Culinary Lab." It's a culinary classroom with stadium-style seating. This is the Luminary's own state-of-the-art demonstration kitchen—it's designed for inspiration and collaboration. And you can hold culinary competitions, wine tasting, discovery classes—you name it, it can happen here. And we are certain it will inspire innovation in any group.
Danielle: Fantastic! That's some really exciting news. It just sounds like there are so many options for groups meeting in The Beaches of Fort Myers & Sanibel so, I really appreciate you joining me today and highlighting some of these benefits of meeting in the area so, thank you, Jill!
Jill: Thank you, Danielle
Danielle: And as always, thank you to our audience for listening to the Meetings Today Podcast. You can learn more about meetings in The Beaches of Fort Myers & Sanibel on our website, where we will be publishing a few articles expanding on some of these teambuilding activities and unique outdoor venues after the New Year. Or, if you want to learn more now, you can go to www.fortmyers-sanibel.com/meetings.
If you enjoyed this episode, stay tuned for more on our website at meetingstoday.com/podcast or subscribe now on iTunes, Google Play or Pocketcasts. Bye, everyone!
[End transcript]
About Our Guest, Jill Vance: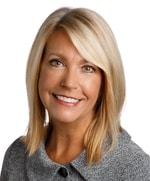 Jill Vance serves as director of sales for the Lee County Visitor and Convention Bureau (VCB) in Southwest Florida. She was appointed in 2017. Jill oversees the sales team for the promotion of The Beaches of Fort Myers and Sanibel as a travel destination to targeted domestic and international visitors, including vacationers, and business travelers. She is responsible for implementing the strategic planning of the domestic and international sales, overseeing the day-to-day operations of the VCB's local staff and consultants, with offices in Washington, D.C. and the Midwest. 
A graduate of Miami University, Jill holds a Bachelor of Science degree in business administration. Jill has spent more than three decades in the hotel tourism industry and has vast experience developing sales and marketing plans and conducting sales training.
Note: All images are courtesy of The Beaches of Fort Myers & Sanibel
Enjoy this podcast? You might also like: