A Tour of Australia's Enchanting Whitsunday Islands
Lead destination content strategist Danielle LeBreck tours the Whitsundays, a collection of islands near the Great Barrier Reef in northeastern Australia, during a fam trip with Business Events Australia. Listen to an overview of two resorts ideal for incentive groups—qualia and InterContinental Hayman Island Resort—along with an interview with qualia's director of business event sales, Julie Ford.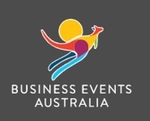 *This podcast is brought to you in partnership with Business Events Australia
Read the transcript and check out the view below:
Danielle LeBreck: Hi, Meetings Today listeners. Danielle LeBreck here, lead destinations content strategist for Meetings Today. This podcast is brought to you in partnership with Business Events Australia, who hosted me at their bi-annual events showcase Dreamtime and a post-event fam trip in the Whitsundays last week.
If you haven't listened to it yet, I recorded a podcast in Dreamtimes' host city of Perth. I chatted with tourism Australia's Penny Lion about the state of the incentive event industry in Australia and why North American planners should consider bringing their incentive groups to the country. Definitely check that out if you haven't yet.
If you did listen, you'll know that after the business events showcase, our group of North American incentive meeting planners was continuing on to a fam trip in the Whitsundays. For those of you who are unfamiliar, the Whitsundays are a group of 74 Islands in Northeastern Australia. They lie between Queensland and the Great Barrier Reef. This region is a slice of paradise to say the least, full of secluded luxury resorts.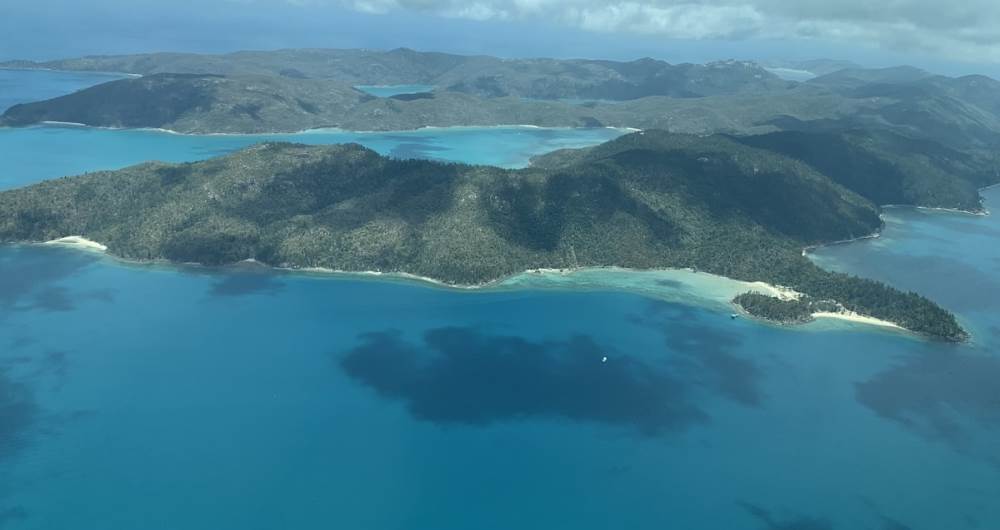 Photo: View of the Whitsundays from a scenic plane ride; Credit: Danielle LeBreck
Many of the islands are unspoiled and uninhabited, but four of them offer resort options and are gateways to Great Barrier Reef experiences. Our group was lucky enough to hop between two of those islands over the course of a few days last week.
Our first stop was Hamilton Island, which is where the Whitsundays main airport, known as Great Barrier Reef Airport or Hamilton Island Airport, is located. Hamilton Island is home to a few resorts and our group got to live like stars at qualia, which is easily the most lavish on Hamilton Island. Its rooms have been graced by the likes of celebrities like Taylor Swift, Oprah and Chris Hemsworth.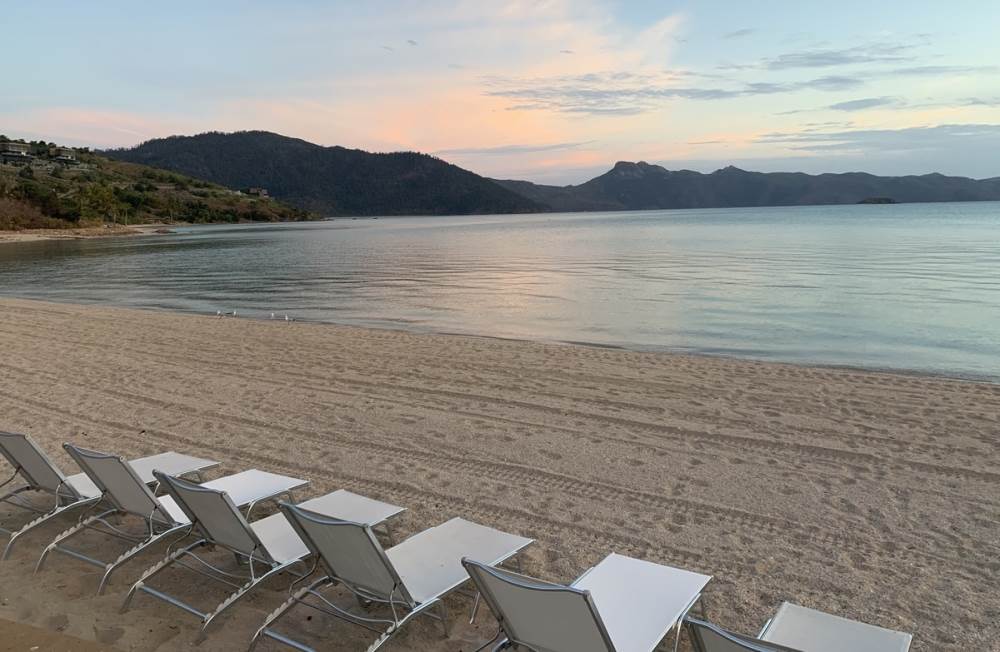 Photo: InterContinental Hayman Island Resort's beach; Credit: Danielle LeBreck
After spending a magical evening on the resort grounds—we stayed in the lovely pavilions and enjoyed a sunset dinner on the beach—I sat down with the resort's director of business event sales Julie Ford in the resort's open-air, sea-view Long Pavilion entryway to discuss a bit more about the resort and what it can offer to incentive groups. Here's the interview.
[Start interview]
Okay, today I'm with Julie Ford, who is the director of business event sales at qualia on Hamilton Island. qualia is a luxury resort in the Whitsundays in Australia. Thanks for joining us today.
Julie Ford: Thank you.
Danielle: To get us started for our listeners that are unfamiliar with the Whitsundays, can you give me an introduction of qualia and its location?
Julie: Sure. So, qualia is located on Hamilton Island, which is part of the Whitsundays. The Whitsundays is a group of 74 islands nestled in halfway between Brisbane and Cairnes, so really easily accessible. One hour from Brisbane or two-hour direct flight from Sydney. So, it's very accessible from major capital cities.
Danielle: And can you give me a little overview of the resort as well, this isn't your typical resort.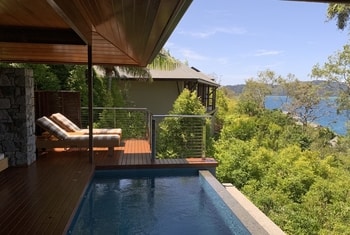 Julie: No. So, the resort was built in 2007. And we were very lucky to get Conde Nast best resort in the world, in 2012. It's located on the northern tip of the island. It's a gated resort. So, you can only get in here if you're actually staying here.
It has 60 free-standing pavilions, some with private plunge pools (pictured), others with more of a sun deck. And when you arrive, you walk into the long pavilion with sweeping views of the Coral Sea. It's adults-only and so, its most suited to incentive groups.
Danielle: That was gonna be my next question, what sort of groups this place was best suited for. So, incentives and can you give us an idea of what size?
Julie: So, with 60 pavilions, you can do a buyout. We do get a lot of buyouts, because then you've got a lot of flexibility with what you can do in the resort. As far as signage, you can pretty much own the resort. You can do signage, you can do your own special events. There's lots of different event areas that you can take over. Or we can take smaller groups of 15 pavilions or less. So, a very small like type executive retreat, or a complete buyout is the best type of incentive for us.
Danielle: And there are a lot of unique spaces around the resort to have dinners and events. Last night, we had dinner down at Pebble Beach, which was gorgeous here overlooking the water, right behind the pool. So, what are some other areas around the resort?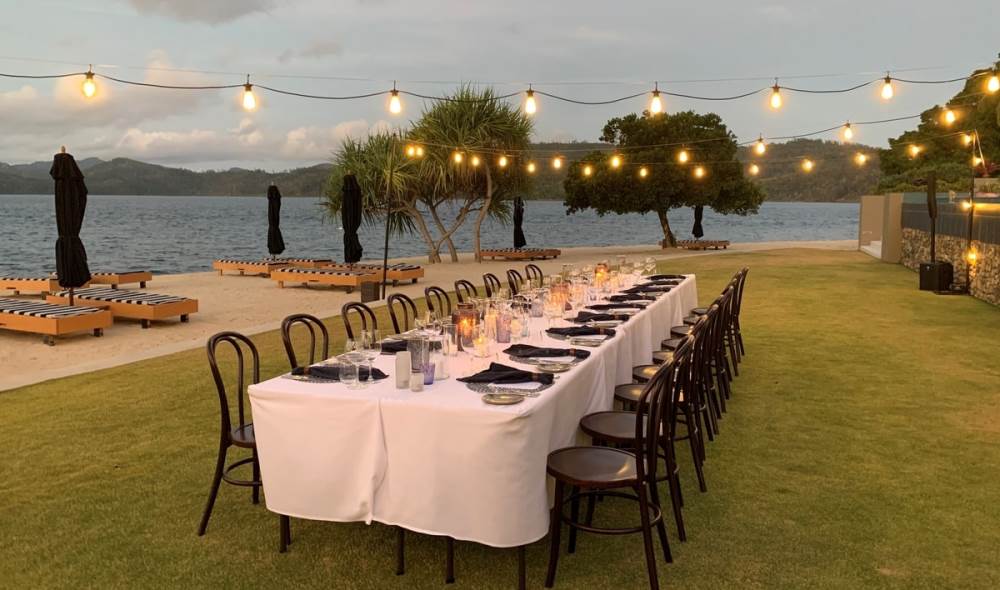 Photo: Outdoor dinner set-up at qualia's Pebble Beach; Credit: Danielle LeBreck
Julie: We also have in the main pavilion here, in the Long Pavilion, there's a private area that's like a sunken bar deck, so we can do a welcome lunch there, we can do welcome drinks as well. We can hold events on our helipad as well, and it faces west so you get the beautiful sunset. So, you can have a beautiful standing cocktail there or we've also had groups even put up a marquee on the helipad. So, got lots of different choices for events.
Danielle: And there are a lot of unique activities to this area. This is the gateway to the Great Barrier Reef. And also, last night for example, our group, we worked with you guys and took a cruise with Alani cruises, a sunset cruise, enjoyed the beautiful sunset. So, what are some of those unique activities that you can help arrange for groups that stay here?
Julie: Sure. So, with the Whitsundays, it's very well known for sailing. We have a lot of sailing regattas here. So, a lot of groups would either do the luxury motor cruiser that we did last night, or we have large catamarans as well so they can actually get that sailing experience. Fishing charters are popular. Of course, we have golf, we have our own golf course on its own private island.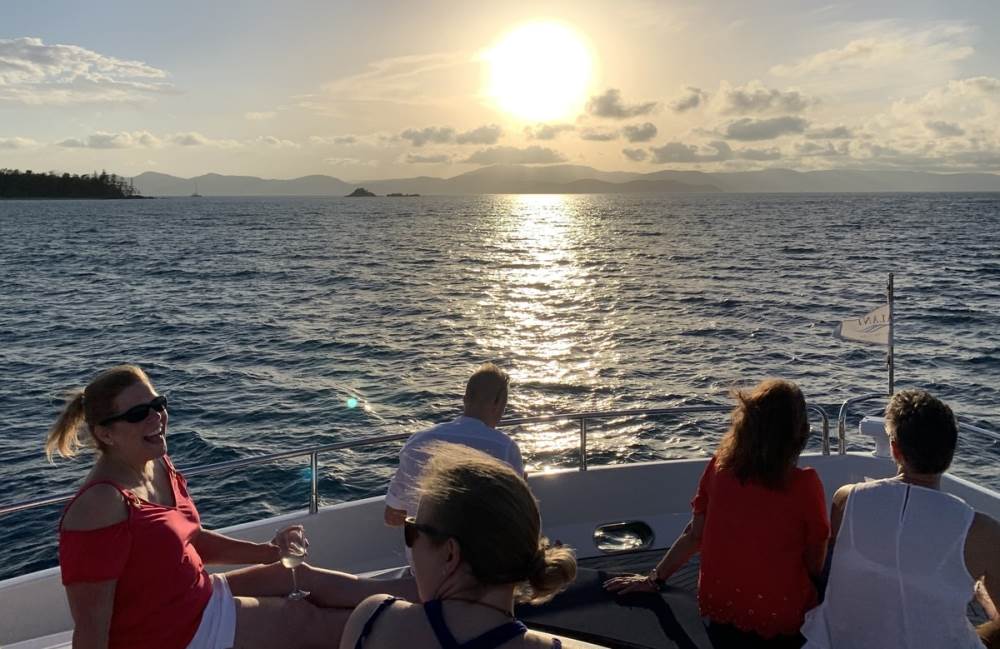 Photo: Sunset cruise with Alani; Credit: Danielle LeBreck
And you're actually spoiled for choice because we have a lot of activities on Hamilton Island itself. So, you don't have to stay within qualia, you can actually go outside the gates of qualia. And on Hamilton Island, we have jet skis, we have fishing charters, parasailing, go karts, lots and lots of different activities, even bushwalking trails. There's a lot of different activities to do.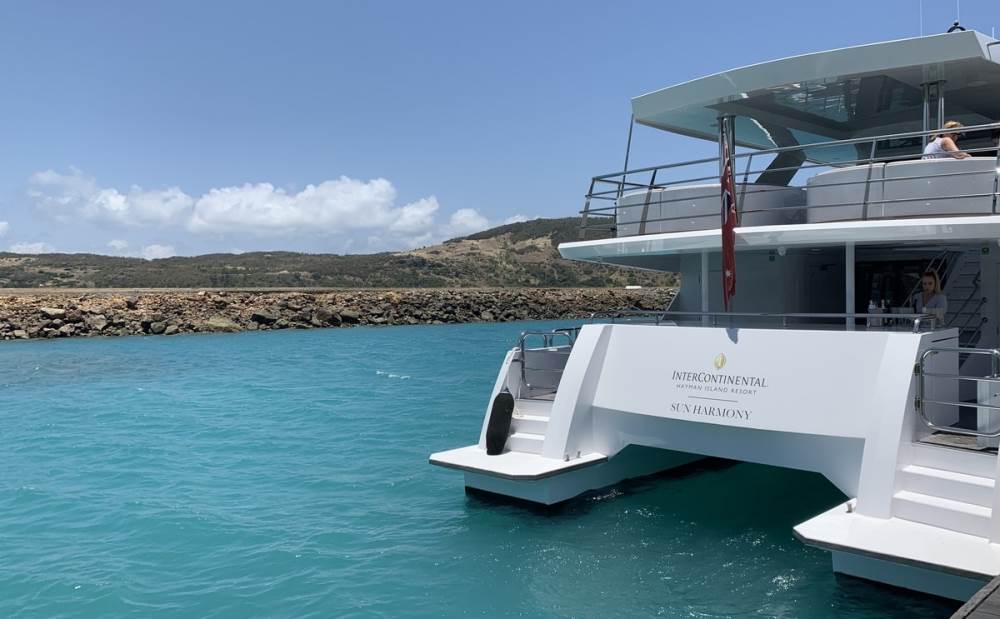 Photo: Luxury boat charter to InterContinental Hayman Island Resort; Credit: Danielle LeBreck
Danielle: And so, for North American incentives, Mexico and the Caribbean are really popular destinations. What's kind of your pitch for Hamilton Island and qualia? How is this different from those other types of water, beach destinations?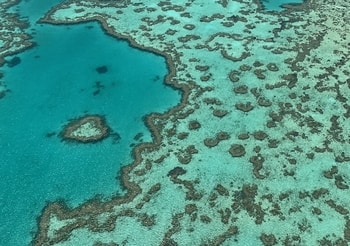 Julie: Well, I guess it's unique because we're obviously in Australia. We also have a lot of native wildlife as well, like we have wallabies just roaming around the island. We have a wildlife park on the island. So, for a welcome reception, we can actually have koalas be brought to the resort and the guests could have their picture taken with a koala for the welcome event. So, we've kind of got that Australian experience as well as the Great Barrier Reef.
And the Great Barrier Reef is one of the natural wonders of the world. We're very lucky that you can take a helicopter over the reef, you can take a cruise on the reef, we can scuba dive underneath the reef.
So, the Great Barrier Reef (pictured, Heart Reef at Great Barrier Reef; Credit: Danielle LeBreck) is very, very unique as far as that goes. And there's lots of different ways to explore it, whether you like getting in the water or not.
Danielle: Right. And this resort actually has also been graced by a few celebrities too. So, that's how you know it's good. Oprah, I think you had said yesterday. Taylor Swift.
Julie: Taylor Swift. Yeah, and they like that kind of exclusivity, yet comfort of being somewhere that has accessibility as well.
Danielle: Right. This place feels very secluded and private, which is really nice for small groups, high-end luxury incentive groups, but it's also, like you said, very accessible and very laid back and welcoming. So, a nice mix there. Are there any updates about the resort or around the island that we should know about?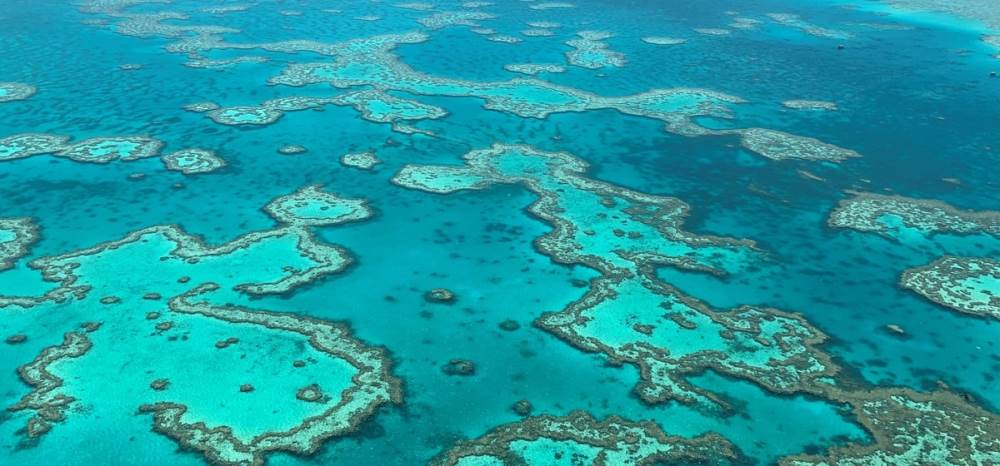 Photo: Great Barrier Reef; Credit: Danielle LeBreck
Julie: Well, qualia itself is a fairly new resort. At the actual island of Hamilton Island there's always new things going on like we had the golf course built in recent years. We're also having a new event venue built over on one of the other beaches on the island, the Beach Pavilion, which is a $2.5 billion new event space. And qualia groups can also use those spaces as well.
They don't have to just use what's inside qualia. They can use spaces that are outside of qualia as well like the Hamilton Island Yacht Club, which is quite an iconic building. We call it the Opera House of the Whitsundays. But there's always something new happening. There's a lot of different restaurants as well, so they can do dine arounds and really get to explore the island in their own personal golf carts.
Danielle: What has the feedback been from incentive planners and incentive groups that have stayed here? What impressions have they walked away with that you've heard?
Julie: Well, we've had a lot say, 'This is the best one we've ever had. And how are we going to raise the bar?' I guess the groups that we have here are extremely well traveled. They've been to a lot of high-end destinations and high-end properties. But the reaction that we get from them as soon as they walk in the Long Pavilion, they all just say, 'Wow.' So, we feel really proud that we have a very quintessential Australian product. It's luxury, but it's understated luxury.
We like guests to feel like they're at home. And that's the feedback that we get from a lot of the groups is that it's an exclusive resort, yet you have a lot of choice of activities, but it's also very, very different to other resorts that they've stayed. And it's kind of got that relaxed Australian style about it.
Danielle: Right. And I guess I'll just end with this question. What have been some of the most unique events or unique activities that groups have come here and you've worked with them on? Any examples that you'd like to share?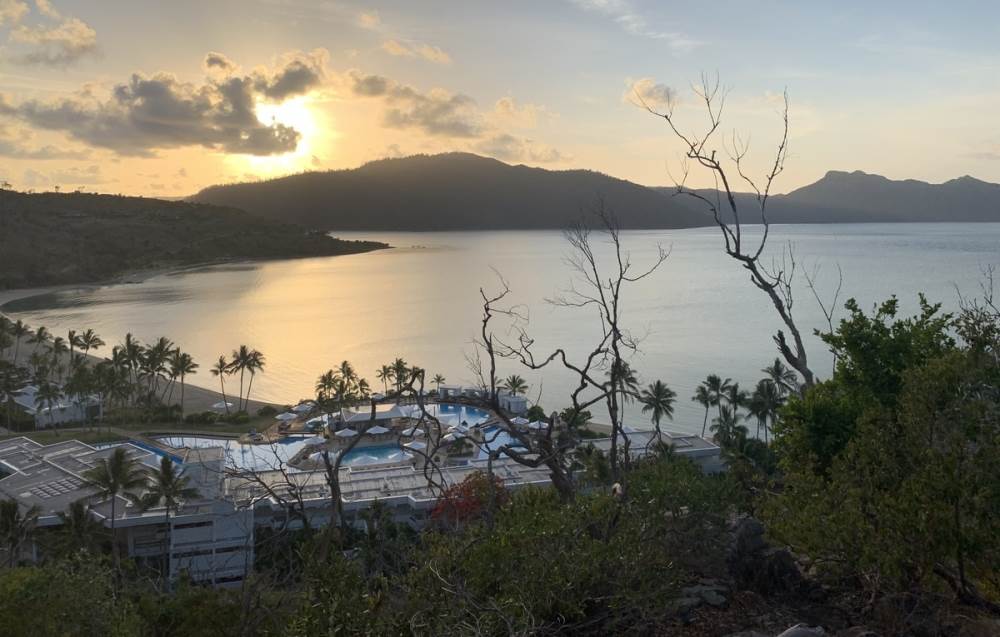 Photo: Hayman Island hiking route views; Credit: Danielle LeBreck
Julie: We've had—I guess a lot of the industries that we've had have either been auto or insurance, and we've got the airport right on the island so they can bring in their private jets. So, that kind of works from an easy accessibility point of view. But I guess if they have exclusive use of the resort, with the pool, they can put signage in the pool. We've had recovery brunches after welcome dinners where they actually with the infinity pool, they've actually put a bar up next to the edge of the infinity pool, so it becomes a swim up bar.
Down to the Pebble Beach main pool down there, we've had groups. We can also do stages with live bands where we had dinner last night. If you've got exclusive use, you can have a live band there, an outdoor concert right on the beach. We do fireworks as well. We are able to do a lot of the branding and signs that they'll like—they're like your brand their own buggies.
So, everyone's got their names on their buggies. We do a great activity called a buggy rally. It's like an amazing race. They go around the whole island. So yeah, I mean, each of them is a little bit unique. We like working with the planners to come up with something that's a little bit different, so that each group has kind of a different experience. But a lot of groups just also like giving their guests some free time just to really explore the resort and enjoy the rooms because the rooms are so sunny.
Danielle: They're fabulous. Yeah.
Julie: And I guess the people that have come here worked hard to achieve that incentive to get here. So, the corporations like to actually give their people some downtime.
Danielle: Well, this is an absolutely stunning resort. Thank you so much for having us and hosting us.
Julie: Thank you for coming.
Danielle: Thank you.
Julie: We really appreciate it.
[End interview]
Danielle: Following our staff qualia, we took an absolutely mind-blowing scenic flight over the Great Barrier Reef. That was personally a bucket list item for me. I've always wanted to see it and it's really every bit as surreal and stunning as you'd imagine it is. When we landed, we were whisked away on a 45-minute luxury boat charter from Hamilton Island to Hayman Island, which is the Whitsundays northernmost island. It's home to the recently reopened InterContinental Hayman Island Resort.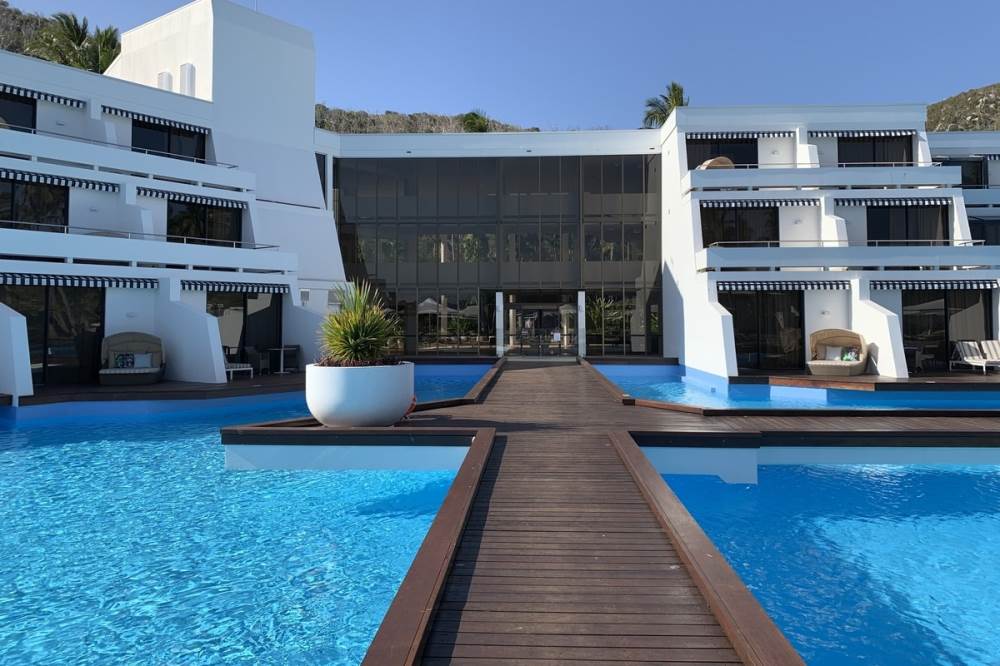 Photo: InterContinental Hayman Island Resort; Credit: Danielle LeBreck
The charters leave from a dock right outside the doors of Hamilton Island Airport, which, needless to say is quite a bit more enjoyable than your typical Uber or a shuttle ride. The boat drops you off at the foot of the InterContinental. Previously, the One & Only, the Intercontinental reopened in July of this year after a massive $135 million refurbishment. The guests staying in one of the resort's 168 rooms stay on their own private island.
The InterContinental is the only resort on Hayman Island and it's only accessible via luxury boat, sea plane or helicopter. So, it's got a very secluded, private feel to it. The exclusiveness of this location gives the resort such a tranquil vibe.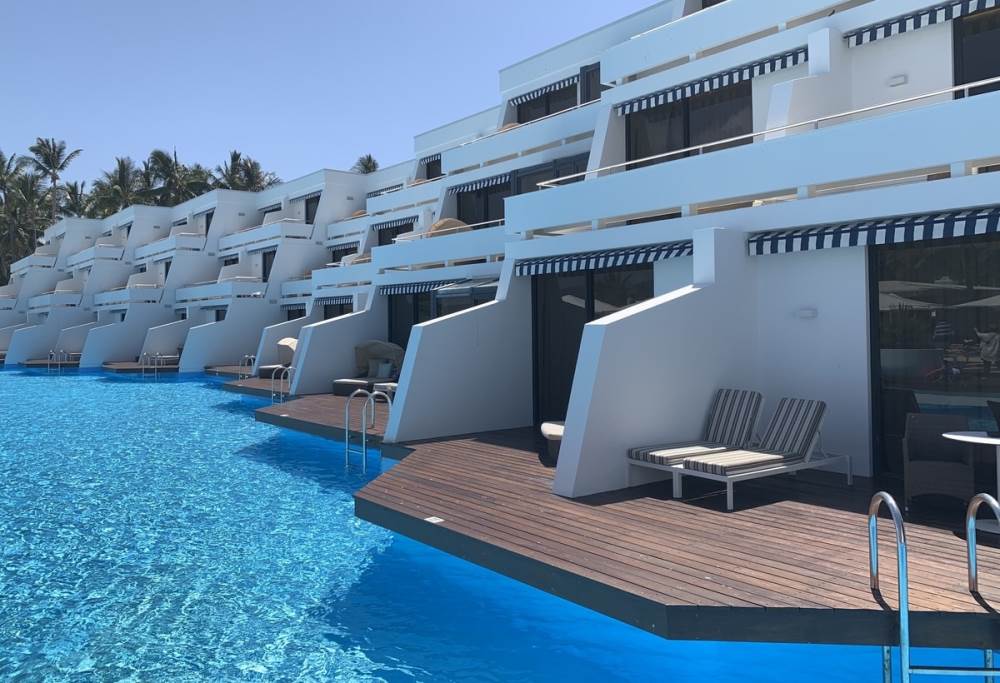 Photo: InterContinental Hayman Island Resort; Credit: Danielle LeBreck
Our group even took a seven-kilometer hike around the island on designated hiking trails. We did that early Saturday morning and it was just a great way to see the rest of the island. It gave us sweeping views of the untouched sides of the island, and we could see some of the private beaches below where you can walk out and go snorkeling.
The InterContinental has a fabulous really large pool, too. But it also has beach access to the calm shores of the Coral Sea and the resort can help arrange activities like paddle boarding, snorkeling and others.
The property also has five restaurants and bars which range from classic Italian, fresh seafood and Asian cuisine. Our group sampled these through a progressive dinner outdoors. Though guests and staff make up most of the people on the island, we weren't completely alone. Exotic birds like friendly cockatoos and native Australian animals like wallabies can be spotted on the hiking trails, very much like on Hamilton Island. Both qualia in the InterContinental were absolutely exceptional resorts. I'd go as far to say they were little slices of heaven.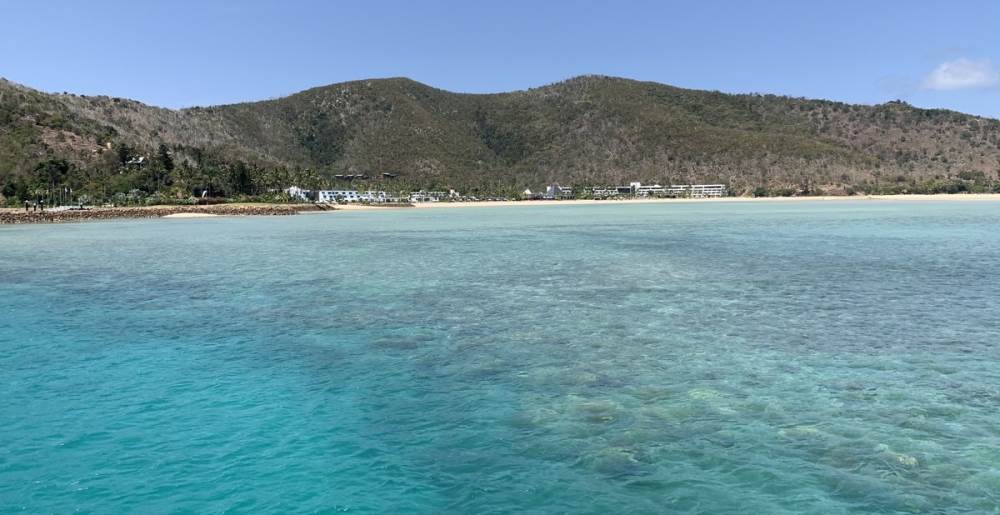 Photo: View of Hayman Island from luxury boat charter; Credit: Danielle LeBreck
But they're also two very different products depending on what experience you're looking for, for your incentive groups. qualia is for those small, very high-end luxury groups as you heard Julie Ford explain, while the InterContinental can accommodate a bit larger groups. qualia's Julie Ford also mentioned to me after our interview that the resort often works very closely with the InterContinental on Hayman Island, referring groups to the resort and vice versa, depending on availability and size. That really seemed to be part of the collaborative nature of the islands. The resorts all work together. So, you definitely have a lot of support when you bring people there.
There are a few more resorts in the Whitsundays, but sadly, our trip had to end on Saturday morning, and we took one last beautiful morning charter, hopped off the dock at the airport and made the short 30-second walk into the airport's doors. Initial feedback from the incentive planners I traveled with was overwhelmingly positive immediately upon departing the Whitsundays.
Soon, we will post a video of the experience so you can hear from them directly, and also see with your own eyes some of these exceptional destinations. I'll also be covering the entire trip to Australia in our February print issue of Meetings Today, so definitely keep that on your radar.
Thanks for following along as I hopped around Australia this week, and a big thanks to Business Events Australia for organizing such an in-depth, unique tour of some of Australia's best incentive destinations. And as always, we appreciate you listening to the Meetings Today podcast. If you enjoyed this episode, stay tuned for more on our website at meetingstoday.com/podcast.
Listen to another podcast from Dreamtime 2019 in Perth, Australia: The Case for Bringing Your Incentive Trips to Australia