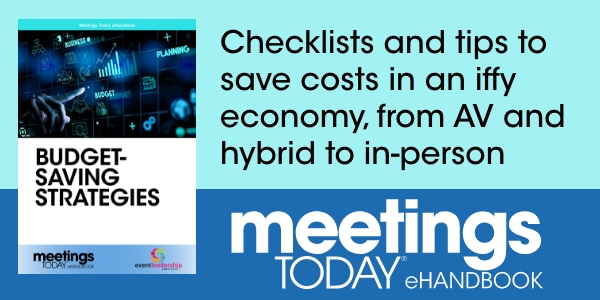 Checklists and Tips to Save Costs in an Iffy Economy, from AV and Hybrid to In-person

Our collaboration with meetings and events education leader Event Leadership Institute resulted in a wealth of information to help meeting and event planners guard the bottom line as we get back to meeting in-person in an economy that is teetering on recession. From a top-level perspective on the current economic environment to how to save on hybrid and AV costs--and general cost-savings tips for in-person meetings--this eHandbook will help ensure the financial health of your programs.
Complete the form on this page and receive your free copy!

Note: By submitting this form, you agree to receive emails from Meetings Today and its valued industry partners. View our Privacy Statement for more information.
---
Check out all of our eHandbooks on our eBookshelf.