Nevada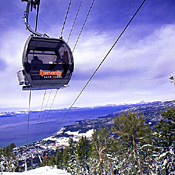 It's common knowledge that New York and Las Vegas duke it out as the nation's top contenders among cities that don't sleep, where restaurants and bars are open until the wee hours. But according to Chris Crystal, spokesperson for the Nevada Commission on Tourism, the entire Silver State enjoys an exciting "24/7 lifestyle" that complements its gaming industry.

"No one can dispute that we're unlike anywhere in the country in terms of things going on all night, close to your hotel," she says, adding that this non-stop action is particularly attractive to groups. "A reward awaits them and it'll all be open when the meeting's over, so they'll work harder and take care of the business at hand without sneaking away to see attractions."

Crystal's talking about the Las Vegas area and Reno, of course, but also Nevada's smaller meetings communities, including Elko, Carson City, Laughlin, Mesquite and Primm.

"What's great about meetings in our smaller communities is that same convenience of everything open all night, but they also have a small-town ease and friendliness," she notes.

Overall, Crystal says, Nevada is a "choice" destination for meetings, where planners can count on accessible airlift, an abundance of group-friendly facilities, CVBs that are eager to help out, and attractions galore at any hour.

Las Vegas Area

The magnitude of Las Vegas—including the 3.2 million-square-foot Las Vegas Convention Center and north of 135,000 guest rooms with 25,000 more expected to join its portfolio by the end of 2010—can be intimidating, even for meeting planners who are familiar with its ever-changing terrain, according to Michael Goldsmith, director of convention sales at the Las Vegas Convention and Visitors Authority (LVCVA).

"That's where the LVCVA is a planner's greatest asset," he says. "We're kind of like Google—we know where to go for answers, and our job is to make life easier for planners."

The LVCVA plays a role, for starters, in educating planners about typical exhibit space, but it also has in-depth knowledge about atypical meeting spaces throughout its hotel inventory.

"We have restaurants and nightclubs and top-floor ballrooms with views of the city," Goldsmith says, citing properties that house a variety of event spaces, including Mandalay Bay, The Palms and MGM Grand.

Aside from pointing planners in the right direction for meeting space and room blocks, and appropriate entertainment and dining opportunities in a sea of options, the LVCVA also notices and relays trends throughout the meetings industry.

"Right now, everyone's aware of impacting the planet, so a lot of green initiatives are going on in Vegas," Goldsmith says. "MPI was recently here and there was some surprise that we're industry leaders, from water use to recycling. Small changes in big properties make a huge difference."

Vegas has a reputation, speaking of big properties, of being "king of the huge trade show," Goldsmith adds. "But small meetings [of under 500 rooms] are also big business here. Most major properties have designated small meeting teams, and they do understand the value of small meetings."

Sin City's many new projects include Aliante Station Casino & Hotel, which debuted in November, as well as the all-suite Encore at Wynn Las Vegas and Fontainebleau Las Vegas, both on track to open in 2009. Vdara, a 1,495-unit hotel condo with state-of-the-art meeting space, is scheduled to open in late 2009 as a key component of MGM's massive CityCenter development. On nearby Henderson's portion of the Strip, the M Resort, Spa and Casino is slated for a March 2009 debut.

Myriad meetings-friendly properties reside right on or just a block or so from the Las Vegas Strip, according to Goldsmith, including Hard Rock; Harrah's; New York-New York; Planet Hollywood; Platinum, a non-gaming boutique property; Trump International, another non-gaming hotel; The Venetian; and Westin Casuarina. Easing the burden for planners are entities like Las Vegas Meetings by Harrah's Entertainment, a one-stop shop combining the facilities and services of six properties for group agendas, including Bally's, Caesars Palace, Flamingo, Harrah's, Imperial Palace, Paris and Rio.

Meanwhile, there are plenty of options located away from the bustling "Resort Corridor" of Las Vegas.

Henderson, situated only a few miles from McCarran International Airport, is home to the Green Valley Ranch Resort, Spa & Casino, and Henderson's Lake Las Vegas resort community offers the group-friendly Loews Lake Las Vegas Resort, MonteLago Village Resort at Lake Las Vegas and The Ritz-Carlton, Lake Las Vegas.

Off-session opportunities in Henderson, according to Ed Kirby, national sales manager for Henderson Cultural Arts and Tourism, include hitting the links at one of 11 golf courses, including Reflection Bay and The Falls, and arranging a buyout for the group at a "great tapas restaurant" called Sunset & Vines on the shores of Lake Las Vegas.

In nearby Summerlin, meetings-ready properties include Red Rock Casino, Resort & Spa, JW Marriott Las Vegas Resort & Spa and Suncoast Hotel & Casino.


Laughlin

The Laughlin Visitors Bureau, according to Meg McDaniel, senior manager, regional sales for the bureau, unveiled a brand-new advertising campaign this year: "It's Like You Own the Place."

"It's the feeling groups have when they're here," she says of the town that sits where Arizona, California and Nevada meet. "You'll feel like the big fish no matter your size. We pride ourselves on giving groups personalized treatment and a memorable experience."

Located 90 minutes south of Las Vegas on the banks of the Colorado River, Laughlin, according to many visitors, "is like Vegas 40 years ago," McDaniel adds. "Research also shows that both our active and passive activities are a draw for attendees."

Hiking through Grapevine Canyon, seven miles west of Laughlin with waterfalls and 1,000-year-old petroglyphs, is one popular active group outing. For the passive, attendees enjoy day trips to nearby Oatman, Ariz., part of Route 66, where they can explore souvenir shops and take evening "steak rides" via horse or wagon into the hills.

"You step back into the 1880s there," McDaniel says. "It's a non-commercialized version of Tombstone."

Inside Laughlin's borders, eight of the nine group-friendly properties are connected by a riverwalk and accessible via water taxi, McDaniel adds, citing recent room renovations at Tropicana Express, the Aquarius, Harrah's and the Golden Nugget—almost 5,000 hotel rooms will have been renovated by the end of 2008 at a cost of $50 million.

Mesquite

Mesquite, according to the Nevada Commission on Tourism's Crystal, offers nice hotels at a more affordable rate than in Vegas.

"There's a relaxed rural feel there, mixed with the sophistication of fine hotels," she says, citing CasaBlanca Resort & Casino, Oasis Resort & Casino, Eureka Casino Hotel and Solstice Mesquite, which is scheduled to open sometime in 2009. "They do a great job on the meetings they target, including SMERF groups."

After the meeting, groups are increasingly taking advantage of the area's "awesome golf courses," according to Crystal.

"Mesquite is emerging as a golf mecca," she says. Among the area's eight courses are Falcon Ridge Golf Club and Palms Golf Club.

Primm

Another more affordable alternative to Las Vegas is Primm, about 45 miles away. According to Crystal, the laid-back area has a cluster of resort hotels within walking distance, including Buffalo Bill's, Primm Valley Resort & Casino and Whiskey Pete's.

Meeting facilities include a 21,000-square-foot conference center at Primm Valley, a 6,000-seat arena at Buffalo Bill's and a 700-seat showroom at Whiskey Pete's.

The Gold Strike Hotel and Gambling Hall in nearby Jean, Nev., is another option with a full-service banquet facility and volume room rates, Crystal says.
Reno-Sparks

It's an exciting time in the Reno area, with a huge investment going into its meetings infrastructure, according to Ellen Oppenheim, president and CEO of the Reno–Sparks Convention and Visitors Authority.

Among the latest happenings in town, the Peppermill completed a $490 million expansion; Atlantis Casino Resort Spa, situated across the street from the Reno Convention Center, completed a $50 million expansion; Grand Sierra Resort and Casino recently finished a multimillion-dollar renovation and expansion that included enhancements to meeting facilities; and the 10,000-seat Reno Aces Baseball Stadium, the anchor of a new baseball district that will bring additional retail and dining options to downtown, is currently being built.

Also, Oppenheim says, a new 28,000-square-foot, $25 million ballroom opened downtown in February across the street from both the Reno Events Center and the National Bowling Stadium, which serves as a great off-site venue for special events.

Another appealing off-site venue in Reno is the National Automobile Museum, ranked among the top 10 car museums in the country, Oppenheim adds.

"It's a great place for receptions," she says. "The Nevada Museum of Art is also lovely, with great indoor space as well as a rooftop with views of the Sierras."

Earlier this fall in Sparks, the first phase of Legends at Sparks Marina, a retail and entertainment destination intended for convention groups, opened. The Legends Bay Casino Resort Spa is slated to be developed as a part of the Legends project, with some 1,000 guest accommodations and ample meeting space.

Meanwhile, following the success of the Reno-based Truckee River Whitewater Park, a second location at Rock Park in Sparks is expected to open in summer 2009.

Lake Tahoe

"There are a lot of beautiful places, and this is one of them," says Mike Frye, sales and events manager for the Lake Tahoe Visitors Authority, representing South Lake Tahoe. "But what we have to offer is different—I can't think of another destination where you can be in a meeting and then walk to a gondola that takes you skiing or sightseeing and hiking in the summer."

Of the Stateline, Nev.-based South Tahoe resorts, including Harrah's, Harveys and MontBleu Resort, Casino & Spa, Frye says Horizon Casino Resort is the farthest (a mere 10-minute walk) away from that gondola at Heavenly Ski Resort, which straddles California and Nevada.

"This place is the real deal, and you get terrific value for your dollar coming here," Frye says, adding that Tahoe's abundance of year-round activities, from cross-country skiing, snowshoeing and snowmobiling in the winter to hiking and golfing in the summer, round out any event.

Frye adds that all the resorts mentioned are within walking distance of Lake Tahoe's beaches, and in 10 minutes groups can be at Zephyr Cove Resort, which offers team-building activities as well as Tahoe Queen paddle wheeler dinner/dance cruises in Emerald Bay.

In North Tahoe, according to Pettit Gilwee, spokesperson for the North Lake Tahoe Visitors & Convention Bureau, groups can count on similar year-round activities, including nighttime astronomy kayak tours at Sand Harbor State Park.

Standby group-friendly properties on the North Shore include the Hyatt Regency Lake Tahoe Resort, Spa & Casino in Incline Village and the Cal Neva Resort, Spa & Casino in Crystal Bay.

The historic Crystal Bay casino corridor is poised for a significant transformation, with plans for an upscale destination resort to include 366 hotel rooms, retail and dining options, a two-acre public gathering space, underground parking and meeting space.

Carson City

Carson City, Nevada's historic capital, is a great destination for smaller groups of up to 250 people, according to Janet Jones, CMP, group sales manager for the Carson City CVB.

"You can meet in historic buildings [including the Brewery Arts Center and the circa-1870 capitol building] and first-class hotels, all within walking distance," she says. "Often you go to a meeting and you have to rent a car, but here you can walk to dining and theaters. It's so charming and unique."

Two more distinguishing Carson City features are its Divine 9 golf courses, most of which have clubhouse event space for a meeting before walking out to play a round, and a fine-dining scene including Indian, Thai and French gourmet eateries.

"We're starting to brand ourselves as a culinary diamond," Jones says. "It's important to meeting attendees to get away from banquet food."

Meetings-friendly properties include the Carson City Plaza Hotel, the Gold Dust West Casino Hotel and the new Courtyard Marriott Hotel, situated adjacent to the Casino Fandango. Meeting space is also available in the new Galaxy Cinema, an all-digital movie theater.

Elko

Meeting space in Elko, which is surrounded by the Ruby Mountains, may blossom within the next few years, according to Tom Lester, convention and tourism manager at the Elko Convention and Visitors Authority. He says the city is looking into adding 60,000 square feet of space to the Elko Convention Center.

The Gold Dust West Casino, Red Lion Hotel & Casino, and Stockman's Hotel & Casino are other group-friendly facilities in town.

"We're the nation's third-largest gold producer, so we're booming right now with a lot of mining meetings," Lester says. "We're really starting to get the word out that Elko is a great place to meet, and groups are greeted with a lot of different things to do."

Among popular off-site options, Lester says, planners can arrange a lunch meeting complete with dude ranch activities at 71 Guest Ranch, about 20 minutes from town; a visit to nearby ghost towns, Metropolis and Tuscarora; and an event at the Western Folklife Center, home to the annual National Cowboy Poetry Gathering.

The California Trail Interpretive Center, which is scheduled to open in Elko in 2010, currently accommodates group functions for about 100 people.


For More Info

Carson City CVB     775.687.7410    www.visitcarsoncity.com

Elko Convention and Visitors Authority    775.738.4091    www.exploreelko.com

Henderson CVB     702.267.2171    www.visithenderson.com

Lake Tahoe Visitors Authority    775.588.5900    www.bluelaketahoe.com

Las Vegas Convention and Visitors Authority     702.892.0711    www.lvcva.com

Laughlin Visitors Bureau     702.298.3321    www.visitlaughlin.com

Nevada Commission on Tourism    775.687.4322    www.travelnevada.com

North Lake Tahoe Visitors and Convention Bureau    530.581.8703    www.gotahoenorth.com

Reno–Sparks Convention and Visitors Authority     775.827.7600    www.visitrenolaketahoe.com