Nevada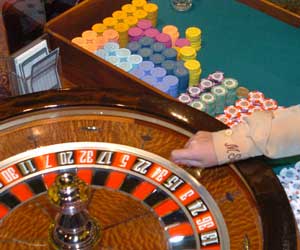 The Silver State might also be nicknamed the "state that never sleeps," as it's the country's mecca for legal gaming and therefore boasts a 24-hour lifestyle that follows the lead of its casinos, which never close. In Nevada, conventioneers will find the lights are always on, the restaurants are always open, music is always playing, and people are always having a good time, according to Chris Chrystal, media relations manager at the Nevada Commission on Tourism. With that in mind, groups can look forward to entertaining diversions in each meetings-friendly destination throughout the state—at any time of the day or night.
"It's attractive for any convention or business traveler that things are always open and that there's fun to be had after the meeting's over for the day," Chrystal says. "I think it's the most fun place, from the standpoint of a great diversity of things to do."
Las Vegas, Nevada's main meetings player, for instance, is home not only to gaming excitement, fine-dining experiences, world-class shopping opportunities and headlining entertainment, but also memorable side trips that planners can facilitate for groups.
"You can take a morning flight to the Grand Canyon, visit Hoover Dam, cruise on Lake Mead, kayak on the Colorado River, or take Pink Jeep Tours to Mt. Charleston," Chrystal says, explaining that the tour takes participants through the Toiyabe National Forest into a majestic alpine setting only 30 minutes from downtown Las Vegas.
Plus, if the group stays close to its headquarters hotel, Chrystal suggests planners ask group salespeople to help facilitate high-spirited casino gatherings, including poker and blackjack lessons and tournaments that make for wonderful ice-breaking or team-building events.
"Plus, there are all kinds of promotions in the casinos all the time to tell meeting attendees about," she says. "You just have to ask.
Las Vegas Area
Southern Nevada, among the nation's leading destinations for both business and leisure travel, is simply one of the best places to bring a meeting or convention, according to Michael Goldsmith, director of convention sales at the Las Vegas Convention and Visitors Authority (LVCVA). Whether it's a large convention in Las Vegas' resort corridor or a small corporate function in Henderson or Summerlin, Southern Nevada has something to appeal to everyone, he says.
"With an unparalleled combination of first-rate accommodations, dining, entertainment and service, the destination provides the perfect atmosphere to conduct serious, productive business and then have an incredibly entertaining experience when the work day is through," Goldsmith adds. 
It's no wonder groups travel from around the world to convene in Las Vegas, as it truly has something to appeal to each and every attendee.
"Group activities are abundant in Las Vegas, and can range from desert Jeep tours to helicopter breakfast tours in the Grand Canyon to private shows or dining experiences," Goldsmith says, explaining that planners can facilitate fun events with their headquarters hotel sales staff. "Las Vegas was seemingly built for group business, and the commitment to service ensures that groups can always find the right experience to fit their needs."
Located directly across from Mandalay Bay on the south end of the Strip, the new Cloud Nine Balloon Experience—featuring the largest helium-filled, land-tethered balloon in the world—is fast becoming a popular option for private group events of up to 30 people. The seven-story-wide-by-11-story-high balloon offers passengers a 360-degree view of Las Vegas from nearly 500 feet in the air. Event coordinators are also available to arrange catering, music and entertainment.
Most resorts in the Las Vegas area, Goldsmith says, will provide groups with the opportunity to conduct private gaming tournaments, from poker and blackjack to other casino options. The resorts will even build in lessons for all the participants, he adds.
Las Vegas properties also brim with their own unique brand of entertainment. One example is The Palms, where fun and fantasy are the name of the game. The property can put together one-of-a-kind events, and groups can retreat to one of several hip themed suites to host gatherings. One option is the 4,300-square-foot, retro-style Kingpin Suite, decked out with two bowling lanes, a pool table, a bar and lounge, and a theater-size projection television.
Meanwhile, a standby adventure outfitter that serves the whole area is Las Vegas-based Pink Jeep Tours, which now offers in-park service at Death Valley National Park. Other adventurous four-wheeling tours lead groups to, among other places, the Grand Canyon, Red Rock Canyon and Valley of Fire.
The area's climate is generally poised for successful golf outings in areas such as Summerlin and Henderson, home to the Lake Las Vegas resort community. In Henderson alone, according to Ed Kirby, national sales manager at the Henderson Department of Cultural Arts and Tourism, there are seven championship golf courses.
"The combination of comfortable year-round temperatures and the beautiful, natural desert landscape produce a perfect place to tee up and spend the day on the links," he says, citing Black Mountain, Desert Willow and Revere at Anthem golf courses, and Legacy, Rio Secco, Tuscany and Wildhorse golf clubs.
Laughlin
For planners looking for a spot to host a corporate retreat, conference or annual meeting, Laughlin is the ideal destination, according to Meg McDaniel, senior manager, regional sales, for Extended Destinations, a regional office of the LVCVA. Strategically located between California and Arizona, Laughlin is within a two-hour drive of Los Angeles, Phoenix and the Grand Canyon, and only 90 minutes from Las Vegas' McCarran International Airport.
"The area offers small-town charm and modern amenities," she says, adding that Laughlin's affordable room rates make it a great value for any small to midsize organization.
After the meeting concludes, groups are encouraged to get on the Colorado River for recreational pursuits, including jet skiing, kayaking, fishing and dinner or cocktail cruises aboard one of Laughlin River Tours' boats.
"It's great to be outdoors because we have more than 330 days of sunshine to go golfing, hiking, biking, horseback riding, exploring the desert by sand rail [via Laughlin Adventure Tours], strolling the riverwalk, or taking a leisurely boat cruise," McDaniel says.
One particularly memorable event, serving groups of up to 150 people, is a kayak run down the Colorado River. According to McDaniel, it makes for a great team-building competition.
"This trip is a diverse exploration of urban and undeveloped land that follows the Colorado River Heritage Trail," she says, explaining the adventure begins at historic Davis Camp and winds down past the casino row of Laughlin. "Once you pass the casinos it is a leisurely paddle through the residential area of Bullhead City and the Laughlin Lagoon area, where it is common to spot a variety of waterfowl and other wildlife."
Laughlin's nine hotel-casinos provide the perfect race environment at their highly energetic race and sports books, McDaniel adds.
"Groups can break into teams to bet on the horse races," she says. "If it isn't a high-stakes race you are looking for, round up your colleagues to try their hands at the tables with poker or craps lessons from the professionals."
Mesquite
Fun off-session activities in the resort community of Mesquite, nestled in the picturesque Virgin River Valley just an hour from Las Vegas, include golf outings on its seven championship and world-class courses, skeet shooting and skydiving above the beautiful valley with outfitter Skydive Mesquite, according to McDaniel.
"Golf is always a great group activity that encourages team building and also allows the group to experience the beautiful outdoors in Mesquite," she says.
The Oasis Gun Club offers all skill levels of skeet shooting and can create a great team-building event for groups or corporate outings, McDaniel adds, explaining speed, accuracy and timing will lead the winning team to victory.
Bowling is another fun team sport that most people can play.
"The Virgin River Hotel & Casino's bowling center offers the challenging 'Cosmic Bowling,'" McDaniel says. "Here, even the best bowlers test their skills with the 'lights out' and only black lights highlighting glowing pins and balls."
Slot tournaments in Mesquite's casinos are also terrific team-building events, according to McDaniel, who explains that participants compete for the most points on multiple machines by pressing the "spin" button as fast as they can to keep the reels rolling.
"Teams can be as few as two people or as many as 10, with 'pitch hitters' to take over for a weakening team player," she says. "The noise and flashing lights of the machines keep the excitement going."
Primm
After the meeting in Primm, depending on how attendees prefer to play, groups can partake in activities ranging from shopping to golfing at one of two Tom Fazio-designed golf courses.
Primm Valley Golf Club's two award-winning courses, the Lakes Course and the Desert Course, are equipped to host group tournaments of up to 288 players.
Inside Buffalo Bill's Resort & Casino, groups can team up for a friendly shooting competition on the Adventure Canyon Log flume.
"Participants take aim at the moving and still targets with state-of-the-art laser pistols while navigating the swirling rapids and treacherous waterfalls in a hollowed-out tree log," McDaniel explains, adding that those with the steadiest hands can toast their victory at Tony Roma's steakhouse afterwards.
If shopping is the name of the group's game, have attendees pack their running shoes for a fun, fast-paced scavenger hunt through the Fashion Outlets of Las Vegas, featuring 100 designer stores.
"Teams race to such high-class stores as Coach, Burberry and Neiman Marcus for clues, test their shopping knowledge and beat the clock to win," McDaniel says.
Throughout Terrible's Primm Valley Resorts' casinos, planners might arrange a craps lesson and tournament for the group.
"This challenging game has over 130 different types of bets," she says. "Groups can team up to strategize on how the dice can work in the team's favor. Make it a fund-raiser for your nonprofit association or a local charity."
Reno
Nestled at the eastern edge of the Sierra Nevada Mountains, Reno is an easily accessible, authentic destination where groups can expect to receive a great value as well as fun and excitement, according to Jill B. Stockton, communications manager at the Reno–Sparks Convention and Visitors Authority (RSCVA).
"Reno is an ideal meeting destination where visitors can partake in a variety of traditional and non-traditional activities, including skiing, golfing, shopping, dining, world-class spa retreats, Nevada-style gambling, AAA baseball and more," she says.
One activity groups seem to enjoy is a team-building scavenger hunt at either the downtown Reno Riverwalk District or in historic Virginia City.
"Virginia City is the nation's largest historic landmark and living ghost town," Stockton says. "Visiting Virginia City is akin to taking a step back in time into the Old West."
Outdoor activities also include horseback riding and boating at nearby Lake Tahoe, and kayaking, river tubing or river rafting along the Truckee River. The RSCVA, Stockton adds, is also happy to coordinate group golf activities at one of 50 area courses, as well as group ski adventures at one of 13 world-class ski resorts in the region.
"Additionally, a group-friendly cooking class can be arranged at the Nothing To It culinary center," she says, adding Nothing To It is a great venue for spouse activities while the group is in session.
The RSCVA also often facilitates craps, poker and roulette gaming nights for visiting groups.
"The RSCVA can arrange to work with a gaming school in order to bring in instructors to teach attendees how to play a variety of casino games," Stockton says.
Lake Tahoe
Lake Tahoe, according to Mike Frye, sales and events manager at the Lake Tahoe Visitors Authority, is the only destination in the U.S. that has world-class summer and winter recreation combined with gaming and headliner entertainment.
"We're also blessed with incredibly awesome weather," he says, citing 250 to 300 sunny days per year with average summer temperatures in the 70s and winter temperatures in the 40s.
With such agreeable weather, it's best to get the group outside to ski or snowboard during the winter and golf during the summer.
"But there are very cool activities that are a little different," Frye says, citing a snowmobile tour out of the South Shore's Zephyr Cove Resort, complete with Lake Tahoe and the Sierras as a backdrop, and a lunch stop.
At Round Hill Pines Beach & Marina, a beautiful beach location also situated on the South Shore that accommodates private events for up to 300 people, groups can rent Sea-doos, kayaks, paddle boats and parasailing equipment.
"I've personally taken a group parasailing," Frye says. "That's all they talked about for days."
The South Shore's Harrah's and Harveys, Frye adds, both offer complimentary casino instruction to all groups interested in learning the many games of chance.
North Lake Tahoe is also well-poised to offer group-friendly fun on the slopes and beyond, according to Jason Neary, director of conference sales at the North Lake Tahoe Visitor and Convention Bureau.
"Whether it's downhill, cross-country or via snowshoes, dog sledding or even snowmobile, groups have their pick of winter activities that offer up the best in fun and games," he says.
On the Nevada side of North Lake Tahoe, five historic casinos provide the area with 24-hour nightlife and entertainment.
"In addition to coordinating blackjack and poker lessons and tournaments for groups, guests can get a taste of what Lake Tahoe was like during the Rat Pack heyday by touring the lakeside Cal-Neva Resort, which was once owned by Frank Sinatra," Neary says, citing a nightly tour of the underground tunnels that connected the resort to bungalows that once accommodated Sinatra, Marilyn Monroe and President John F. Kennedy.
Carson City
The centrally located Carson City, only a half-hour from Reno, Lake Tahoe and Virginia City, is an ideal meeting place if planners would like to include excursions after business is done for the day, says Janet Jones, group sales manager at the Carson City CVB.
"Also, the historic component of the city makes for unusual meeting locations in historic buildings," she says, adding there are nine golf courses all within 20 minutes of the city where meeting attendees can enjoy team-building tournaments. 
The Virginia & Truckee Railroad is a unique option available for private parties.
"Private rides from Carson City to Virginia City on an 1800s train are available for groups," Jones says. "This can be done as a dinner train or a wine train and may incorporate many other party components for groups."
Elko
Elko, located in the northeastern corner of the state and sitting at the base of the beautiful Ruby Mountains between Reno and Salt Lake City, sports more than 100,000 square feet of affordable meeting space as well as more than 28 years of experience in pre-convention and program planning, according to Tom Lester, convention and tourism manager at the Elko Convention and Visitors Authority.
One fun off-session activity for groups is a wine, walk and shopping tour through downtown Elko.
"Try wines from around the world at each store as you shop and dine in historic downtown," Lester says.
Elko is also home to 24-hour casinos where groups can take part in blackjack, poker or slot tournaments.
Meanwhile, the 71 Ranch dude and guest ranch, just 30 minutes from Elko, offers a real cowboy experience, including horseback riding, ranch crafts and cowboy dinners around the campfire with authentic cowboy poets and entertainment, Lester adds, explaining the ranch is also available for daytime group activities.
Carolyn Blackburn knows firsthand about the fun and games in Nevada, particularly Las Vegas, where several years ago she tried her luck at the slots and saw Prince perform at the MGM Grand. She naturally also made time to drive down the Strip with Elvis, who was singing Viva Las Vegas from the car stereo.