Ireland's deluxe hotels exude history and charm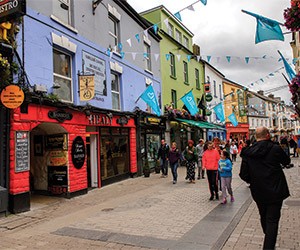 Whether it's savoring exquisite cuisine in a 19th century drawing room where the Irish Constitution was signed or watching for nesting swans on a river at a palatial estate, unforgettable experiences await at Ireland's impressive array of five-star hotels, many of them converted from historic manor houses and castles. Sweetening the deal is the fact that Ireland is a mere seven-hour flight from the East Coast and also provides some of the best value for meetings and incentives to be found in Europe.
That's what this writer and a small group of U.S. meeting and incentive planners discovered last fall on a familiarization trip led by Tourism Ireland. Traveling across the Emerald Isle, we experienced a unique assortment of hotels that included a complex of elegant Georgian townhouses in central Dublin, a stunning lakeside resort in Killarney and a grand manor in Adare where even the aristocratic denizens of Downton Abbey would feel at home.
"In our business we see a lot of hotels, but I was blown away by the quality of the properties we were able to see," says Blue Janis, national account manager for the meeting planning firm Experient. "I'd recommend Ireland as an incentive destination in a heartbeat."
While Ireland has yet to fully recover from the recession that felled its once booming economy, there are signs that tourism, including meeting and incentive business, is on the upswing.
"We did have a couple of lean years, but now we're getting a lot of bookings for 2014 as well as up through 2017 and beyond," says Marie McKown, manager of business tourism for Tourism Ireland, which organizes several familiarization trips a year for U.S. planners and provides an array of meetings services.
"We're here to help planners from both a practical and financial standpoint," she says. "From the bid process right up through site inspection."
Following are a few of the impressive meetings properties that our group experienced. PageBreak
DUBLIN
The Shelbourne Dublin
The Hotel Merrion
Just across from the Irish Parliament, the 142-room Hotel Merrion is comprised of four landmark 18th century townhouses decorated with intricate plasterwork and antique furnishings as well as a contemporary wing. Overlooking two private gardens, the hotel offers a full-service spa, two restaurants and several meeting rooms and venues available for private dining, including the atmospheric Cellar Bar with its brick walls and vaulted ceilings.
"The Merrion is one of the most significant restoration projects that has taken place in Dublin over recent years," says Peter MacCann, the property's general manager, referring to the conversion of the historic townhouses that preceded the opening of the hotel in 1997. "We have a winning combination of a remarkable building, first-class facilities and the latest technology."
Just around the corner from the Merrion and facing St. Stephens Green, the Shelbourne has been at the hub of Irish social and political history ever since it opened in 1824. Its elegant Constitution Room, where our group enjoyed a private dinner followed by a haunting concert by the Irish choral group Anuna, is where the Irish Constitution was drafted and signed in 1922. Still furnished with the original antique oval table and chairs, the elegant room, with its crystal chandelier and silk wall coverings, seats up to 20 people for a private event.
The Constitution Room is just one of several sumptuous spaces available for events at the 265-room hotel, which offers meeting space for up to 450 people as well as a spa, several restaurants and bars and a small museum off the lobby with memorabilia illustrating its role in Irish history.
COUNTY KERRY
The Europe Hotel & Resort
The dreamlike landscape of County Kerry, with its sparkling lakes watched over by the heather-covered McGillycuddy Reeks mountain range, is famed by the floor-to-ceiling windows of The Europe Hotel & Resort on the outskirts of Killarney. Along with access to nearby golf and lake activities, the contemporary-style resort boasts a dramatic, two-level spa, meeting space that accommodates everything from car launches to board retreats, several restaurants and a convivial pub with live Irish music in the evenings.
"Growth has been slow over the last few years but there is now a great upsurge," says Gerry Browne, sales and marketing director for The Europe Hotel & Resort, about his property's meetings and incentive business. "The next few years look promising, almost back to where it was in the year 2000." PageBreak
One of the main sources of group business for The Europe is incentive programs from the U.S., with some organizations choosing to buy out the 187-room property, according to Browne. While some groups fly into Shannon International Airport, about two hours away, and spend the entire program at the resort, others choose to begin with a few days in Dublin and then travel by coach or train to Killarney, he says.
Among planners in our group who recommend splitting a program between Dublin and Killarney is Liza Ahrendt, regional manager for Performance Strategies.
"Dublin and Killarney offer uniquely different experiences, so they work well together," she says. "I've had the opportunity to do a road rally between Dublin and Killarney, which was a huge success."
COUNTY LIMERICK
Adare Manor Hotel & Golf Resort
Just beyond the thatched-roof cottages of Adare, one of Ireland's most picturesque villages, Adare Manor sits in turreted, ivy-covered splendor amid 830 acres that include formal gardens, woodlands, a championship golf course and a meandering river. Accommodations include 62 guest rooms in the 19th century main house, many with ornate fireplaces and antique furnishings, and 54 villas scattered throughout the property.
Arriving at Adare Manor, our group was greeted by a falconer with a magnificent hawk perched on her shoulder. Falconry, in which a hawk flies overhead and swoops down upon the participant's gloved fist, is part of an array of activities at the estate, including archery, fishing, golf, spa treatments, ballooning and horseback riding.
Accommodating groups of up to 200, Adare Manor's meeting spaces include the Minstrel's Gallery, a banquet hall adorned with soaring stained glass windows, enormous fireplaces and 17th century Flemish choir stalls beneath soaring vaulted ceilings.
"We're always striving to provide a 'wow' factor, everything from a horse-and-hounds welcome to arranging for groups to visit a local Irish home where they can sample a home-cooked meal and experienced Irish hospitality," says Gillian Griffin, sales manager for the property.
COUNTY CLARE
Dromoland Castle
The fitting grand finale to our sojourn came with dinner in baronial splendor at Dromoland Castle, which was extensively rebuilt during the 19th century but has origins dating back over 1,000 years. The 99-room castle hotel is just eight miles from Shannon International Airport, but seems a world away with its vast grounds on the shores of Lough Dromoland. Along with falconry, golf, fishing, croquet, archery and other pursuits, guests can stroll the grounds on watch for red deer, pheasant and other wildlife.
The group-friendly property offers 12,000 square feet of conference spaces and numerous private dining rooms, including the elegant drawing room with red silk wall coverings where we enjoyed Irish cheeses, local seafood and a trio of rhubarb and strawberry desserts. The evening was only marred by knowing that our return flights back to reality beckoned the next day.