North Carolina celebrates with fairs and festivals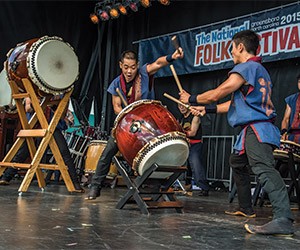 In the words of the North Carolina Association of Agricultural Fairs, which holds its 2017 convention this January in Durham, "As long as there is pride in our youth, heritage, history and future, there will always be fairs. As long as there is pride in North Carolina, there will always be fairs in North Carolina!"
"Fair" to say, North Carolinians love to celebrate their commerce, culture, cuisine and more. Like the colorful displays at the state's trio of springtime floral classics, Wilmington's North Carolina Azalea Festival, Fayetteville's Dogwood Festival and Asheville's Biltmore Blooms, the year-round festival calendar dazzles with options.
With unique choices such as the North Carolina Pickle Festival in Mount Olive (April), the Grandfather Mountain Highland Games in Linville, celebrating 61 years of Scottish heritage this July, and late October's winter-welcoming Woolly Worm Festival in Banner Elk, there is, as they say at the Dogwood Festival, "something for everyone."
For meeting planners, that means a wealth of ready agenda tie-ins, and for creating their own events, access to a network of well-heeled DMOs and show suppliers, organizers and producers.
Triangle  
Held each October at the 344-acre N.C. State Fairgrounds in West Raleigh, the 11-day N.C. State Fair, established in 1853, is the state's largest event and among the largest agriculture events in the nation. Attractions include the new "Homegrown Music Fest," featuring 117 concerts on three stages throughout the show. Offering 398,000 total square feet of multipurpose space, the fairgrounds host some 600 public and private events each year.
With more than 175 breweries and brewpubs, North Carolina dominates the Southern craft brewing industry. In April (North Carolina Beer Month), Raleigh hosts Brewgaloo, the state's largest craft beer festival. Raleigh features some 23 breweries and the Raleigh Beer Garden, the Guinness World Record holder for the largest number of operational taps.    
May features the four-day Raleigh Food and Wine Festival, along with Artsplosure, a free art showcase started in 1980. There's more creativity, art and design in September at SPARKcon, founded in 2006, along with Wide Open Bluegrass, part of the International Bluegrass Music Association's annual five-day World of Bluegrass homecoming and convention.
Premier events in Durham include Moogfest. Created in 2004 and named for Robert Moog, inventor of the modern analog synthesizer, this five-day celebration of electronic music relocated here in May from Asheville, where Moog lived for three decades.
Founded in 1934, the preeminent American Dance Festival (June into July) is the world's largest and most influential modern dance festival, featuring performances from a dozen-plus modern dance companies. The arts are also in focus at the influential Full Frame Documentary Film Festival, 20 this year, and Art of Cool Jazz Festival, both in April.
 In Chapel Hill and surrounding Orange County, major annual events include the Carolina Jazz Festival, which turns 40 in February 2017; Piedmont Living History Day and TerraVITA Food & Drink Festival, both in September; and Carrboro Film Festival in November.
Triad
In North Carolina's heartland, the Piedmont Triad's event legacy includes the July 1970 Love Valley Rock Festival, fondly remembered as "N.C.'s Woodstock." Today, another leading group trio, Greensboro, Winston-Salem and High Point, offers its own master class of cultural events.
"Greensboro has a long history of hosting signature events that deal with large crowds," said Henri Fourrier, president/CEO of the Greensboro Area CVB. "From NCAA events and the National Ice Skating Championships at our Coliseum Complex to the most recent hosting of the National Folk Festival, we stand poised with the expertise and professionalism to deliver Greensboro authentic Southern hospitality to all its visitors."  
That prowess was not lost on the Maryland-based National Council for the Traditional Arts (NCTA), which "recognized Greensboro's and North Carolina's unique cultural assets and strong community spirit" in naming Greensboro host city for its prestigious National Folk Festival (since 1934) for 2015-2017. The 77th edition of the free three-day celebration returns to downtown Greensboro in September 2017 with performances, workshops and demonstrations from some 300 of the nation's finest traditional musicians, dancers and craftspeople.
This May, the one-day Carolina Blues Festival celebrated its 30th anniversary as the longest running blues festival in the Southeast. In September, the 17DAYS Arts & Culture Festival features top-notch talent at more than 100 events across the city.
Also pulsing with festival energy is Winston-Salem.
"Our vibrant and walkable downtown is the perfect backdrop for meetings and conventions," said Richard Geiger, president of Visit Winston-Salem. "Known as a 'City of Arts and Innovation,' Winston-Salem offers planners a year-round calendar full of dynamic festivals and events that showcase our area's rich history and diverse arts and culture."
Founded in 1998 near Brevard, N.C., and relocated to Winston-Salem in 2003, the influential 11-day RiverRun International Film Festival, featuring Academy Award-qualifying films, returns March 30 to April 9, 2017.
Gateway to the award-winning wineries of the Yadkin Valley, Winston-Salem hosts Salute! The North Carolina Wine Celebration in June. Next scheduled for July 31-Aug. 5, 2017, the North Carolina Black Repertory Company's biennial National Black Theatre Festival features more than 100 performances throughout town, while September's four-day Bookmarks Festival of Books and Authors is the largest such festival in the Carolinas.
Jazz legend John Coltrane learned to play the saxophone while growing up in High Point, which lies halfway between and just south of Greensboro and Winston-Salem. Inaugurated in 2011, the annual John Coltrane International Jazz and Blues Festival celebrates his legacy over two days in September.
PageBreak
Charlotte
On Aug. 10, 1974, the Charlotte Motor Speedway hosted some 200,000 people at August Jam, one of the largest (and by some accounts, wildest) rock bacchanals ever staged in North Carolina. Today, the state's largest metropolis and center of the NASCAR universe is primed to party at signature events such as the Beer Bourbon & BBQ Festival in May; the three-day Taste of Charlotte celebration in June; and in September, Charlotte Beerfest, part of Craft Beer Week.
With its "Queen City" moniker (after Queen Charlotte Sophia of Mecklenburg-Strelitz in Germany, wife of King George III at the time "Charlotte City" was founded in 1768), Charlotte is also home to one of the nation's largest renaissance-themed events, the Carolina Renaissance Festival. Taking place on weekends from early October to late November at "Fairhaven," a fictional 16th century European village set on 25 acres about 12 miles south of downtown Charlotte in Huntersville, this merry affair turns 25 in 2018.
Fayetteville
Home to the weekend-long International Folk Festival, which celebrates its 40th anniversary in September 2018, Fayetteville's regional legacy includes the legendary 1972 Peachtree rock festival. Today, this scenic Cumberland County destination is best known for its annual Dogwood Festival.
Founded in 1982 by city leaders that included then-Mayor Bill Hurley, who had officially named Fayetteville the "City of Dogwoods," this three-day fest in April is among the most popular events in the Southeast, attracting an all-time record 250,000 visitors in 2011.
Asheville
From craft beer events to the internationally renowned Christmas at Biltmore Estate holiday celebration, Asheville is an irresistible Blue Ridge beacon for good times.
"Truly one of the great things about Asheville is that no matter what time of year you visit, you'll find a festival taking place in the streets of downtown, by the banks of the French Broad River, or tucked away in a mountain meadow," said Stephanie Pace Brown, executive director of the Asheville CVB.
"Ashevillians love a good party, and with so many celebrations it's no wonder why our city was dubbed the happiest city in America," she continued (referring primarily to a 2013 study by the University of Vermont). "Annual events and festivals help visitors experience the best of the area's culture throughout the year, which include mountain music jamborees, foodie-fueled fiestas and summer evening dance parties," Brown said. "A meeting planner can entice and impress attendees with a destination alive with opportunities for authentic experiences without lifting a finger."
 Asheville's calendar highlights include Biltmore Blooms, the annual March to May celebration of the Frederick Law Olmsted-designed gardens at Biltmore, the largest private home ever built in the U.S. August sees LEAF Downtown, a new community-driven arts festival, and Village Art and Craft Fair, with The Craft Fair of the Southern Highlands offered in July and October.
Taking place on Saturdays from July to early September, The Folk Heritage Committee's Shindig on the Green celebration of Southern Appalachian Mountain music, dance and storytelling turned 50 this year, with Brewgrass, Western North Carolina's original craft beer festival, turning 20 this September. From November to January, it's Winter Lights at the North Carolina Arboretum and Christmas at Biltmore Estate, featuring extravagantly decorated fireplaces as part of this year's "Hearth and Home" theme.
Coastal Carolina
Along with its expanding riverfront convention district, Wilmington is a festival hotbed, including the signature North Carolina Azalea Festival. An April tradition since 1948, this five-day event of floral splendor and Southern pageantry, which ushers in spring each year with the coronation of Queen Azalea, headlines the destination's many charms.
"With a National Register Historic District and nearby island beaches, people are naturally drawn to the Wilmington area," said John Sneed, vice president of sales and services for the Wilmington and Beaches CVB. "Whether just attending a meeting or staying for a few extra days, our mild climate and rich culture, including more than 200 restaurants, shops and attractions in the downtown area alone, offer something for everyone."
Celebrating the Cape Fear River, Wilmington Riverfest in early October is the area's second-largest event. Other popular happenings include the Wilmington Wine & Chocolate Festival (late January); North Carolina Jazz Festival (early February); Wilmington Restaurant Week (March & October); Pleasure Island Seafood, Blues & Jazz Festival in Kure Beach (mid-October); and Cucalorus Film Festival (November).
In New Bern, North Carolina's colonial capital and second-oldest city, dating to 1710, the two-day Mumfest turns 36 this month. Meanwhile, in December, the Candlelight Celebration is a popular two-night tradition at reconstructed Tryon Palace (1770).
Morehead City, on the Crystal Coast, is home to the renowned Big Rock Blue Marlin Fishing Tournament, which turns 60 next June, while Ocean Isle Beach in the Brunswick Islands is home to the North Carolina Oyster Festival, celebrating 36 years this month.