Indiana's vibrant arts scene has group appeal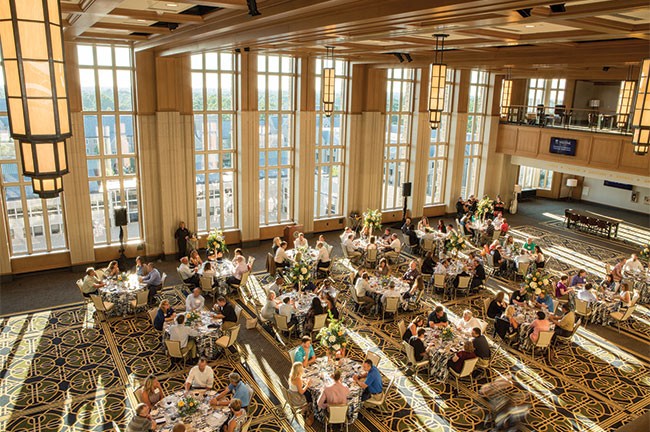 Indiana is alive with wonderful arts experiences that take meetings held throughout the state to the next level.
From glassblowing classes and arts festivals to architecture tours and after-hours cabaret shows, planners can find many opportunities to inspire the group with an artistic endeavor after the meeting.
Indianapolis
A great way for a group to start the day is to venture out for a walk or bike ride along the Indianapolis Cultural Trail, an eight-mile urban greenway lined with $2 million in public art.
"Don't miss sculptures like the interactive Ann Dancing, and towering murals of Indy natives Kurt Vonnegut and Mari Evans," said Susie Townsend, senior vice president of visitor experience for Visit Indy.
Guided group tours led by knowledgeable city guides, including bike and helmet rentals, are available through ActiveIndy Tours.
Another top arts experience in Indianapolis is a visit to the Indianapolis Museum of Art, which doubles as a must-visit attraction and a memorable off-site venue for meetings, receptions and banquets.
Docent-led group tours at the museum can be customized based on specific interests, including the gardens and estate tour.
"Pose with the original LOVE sculpture before touring the museum's 152 acres, featuring a historic home on the National Register of Historic Places and gardens designed by the Olmsted Brothers," Townsend said.  
At the Indianapolis Art Center, groups will find a lineup of hands-on workshops during which they can learn the art of glassblowing, painting and pottery, among other mediums.
A popular evening arts option is a performance at the Indiana Repertory Theatre, which has several spaces for a pre-show meeting or reception.
"Stunning dramas and delightful comedies have captivated audiences for more than four decades in this ornate, multistage venue," said Townsend, who added that groups of 10 or more can take advantage of up to 30 percent off regular ticket prices.
The Cabaret, where groups of 15 or more can make special reservations, is another after-hours arts hot spot.
"Enjoy dinner and drinks during an intimate, New York-style performance featuring renowned performers from across the country," Townsend said.    
Northern Indiana
The South Bend River Lights is one of the city's newest attractions and, according to Becky Fletcher, director of sales for Visit South Bend Mishawaka, it's "an absolute must-see."
This interactive light exhibit was installed in May 2015 and is lit at night 365 days per year in downtown South Bend along the St. Joseph River.
Fletcher also recommends groups check out the works of art at the Studebaker National Museum, "a gorgeous venue" that accommodates group gatherings and features classic Studebaker automobiles, motorcycles and historic wartime vehicles.
In Mishawaka, groups will find Shiojiri Niwa Japanese Garden, which doubles as a natural outdoor art exhibit.
PageBreak
"Most would not expect to find a Japanese garden in the midst of a small Midwestern city in the U.S., which makes it that much more interesting of an experience," said Fletcher, who also suggests that groups visiting in June should check out the Leeper Park Art Fair, which celebrates its 50th anniversary in 2017.
In downtown Fort Wayne, home to the Grand Wayne Convention Center, the annual summer festival Taste of the Arts draws thousands of people and is free to attend.
"For two days, residents and visitors can participate in fun activities conducted by several arts organizations in town," said Megan Flohr, director of convention services at Visit Fort Wayne.
The Glass Park, a newer arts offering in Fort Wayne, offers groups an up-close look at the art of glassblowing.
"Attendees can take classes, watch demonstrations and participate in one-on-one private lessons with professionals," Flohr said.
The Lafayette/West Lafayette area is also home to a glassblowing facility called Inspired Fire Glass Studio & Gallery.
"It's a glassblowing studio that offers tours and demonstrations for groups," said Ashley Gregory, director of sales for Visit Lafayette-West Lafayette. "Also for smaller groups, glassblowing classes can be offered with top-of-the-line torches and a kiln for glass fusing."
In addition to glass pieces, the gallery showcases other handmade artworks including watercolors, photographs and oil paintings.
The Haan Mansion Museum of Indiana Art, also located in Lafayette, is a historic mansion that houses an impressive collection.
"It's a quintessential group experience because of the variety of interests it might appeal to—art enthusiasts, architecture buffs, ceramics and painting aficionados, history buffs, furniture fans, nature lovers," Gregory said. "Groups can also stroll through the newly added Sculpture Garden in the backyard."
Southern Indiana
Every September, Bloomington welcomes the Lotus World Music and Arts Festival, which will enter its 24th year in 2017.  
"It is a great event to sync up to with your conference because it provides an amazing opportunity for attendees to experience music in a lively outdoor setting that can't be found anywhere else in the country," said Erin Erdmann, director of convention sales and travel media for Visit Bloomington.
Also in Bloomington, at Indiana University, is the Sidney and Lois Eskenazi Museum of Art, where groups can arrange informative docent-led tours.  
"The collection is comprised of more than 45,000 pieces and tours offer the opportunity to create connections and spark conversation among attendees," Erdmann said.
When convening in Columbus, groups can take a quick tour of Dale Chihuly's artwork.
The Seattle glass artist's hand-blown Yellow Neon Chandelier and Persians is on display at the Columbus Area Visitors Center, and his Sun Garden Panels, 32 painted and signed plexiglass drawings positioned inside a skylight, are on display at the Columbus Learning Center.  
Becky Harper, director of sales and hospitality for the Columbus Area Visitors Center, recommends groups also book a Columbus architecture tour.
"Columbus is known for modern design architecture with seven National Historic Landmarks," she said, adding the Columbus Area Visitors Center provides tours featuring both historic and contemporary buildings as well as public art. "Our trained volunteer guides lead the tours and share stories of the people instrumental in shaping our community."