Animal Sanctuaries in Upstate New York Enrich Meetings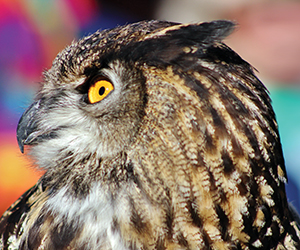 Last November 2016, I visited the Wolf Conservation Center (WCC) in South Salem, about an hour above Manhattan in northern Westchester County. Established in 1999, WCC presents year-round public programs and events promoting wolf conservation, along with customizable engagements for corporate, school and social groups.
Our program that day, "Wings and Wolves," incorporated education on WCC's resident ambassador wolves—their ancient, mournful howls casting quite the spell—with "Talons!  A Bird of Prey Experience" from Syracuse area-based master falconer Lorrie Schumacher. Among the feathered ambassadors performing controlled flying demonstrations for our group was Big Mama, a magnificent eagle owl who posed patiently for close-ups and selfies.
Informative and uplifting, the experience inspired this story, and as I would find, Upstate New York offers several places for groups to meaningfully explore the wild side of life and gain deep insight into new possibilities and ways of thinking from our furred and feathered friends.
Safe Havens
From the battlefield to the highway to the farm, the horse, domesticated some 6,000 years ago, has courageously served humankind like few other animals. Yet, for many thousands of horses each year, the end of the road is the slaughterhouse—including 1986 Kentucky Derby winner Ferdinand. News of his demise in Japan inspired former Boston Globe film critic Michael Blowen to establish Old Friends, his Georgetown, Ky.-based thoroughbred retirement and rescue facility founded in 2003 on the concept of "equine aftercare."
Several years later, while developing their own retired thoroughbred sanctuary in Saratoga County, married couple JoAnn and Mark Pepper reached out to Blowen for mentorship.
"We had long admired Michael's work," JoAnn related. "More than just offer guidance, he said, 'Let's do this together.'"
In 2009, the Peppers debuted Old Friends at Cabin Creek, their 40-acre horse haven in Greenfield Center, not far from the historic, group-capable Saratoga Race Course.
"Taking only geldings and stallions as space allows, our mission is to provide a dignified retirement home for thoroughbreds and raise awareness of their lifelong needs," JoAnn said. "Saratoga County's only publicly accessible farm, we offer tours on Saturday afternoons year-round, plus five days a week in July and August. We have welcomed groups of up to 100 people, and are willing to accommodate more, with plans for event hosting in the future."
In terms of benefits, she said, "Many visitors discover a profound relationship with our horses and their stories, and with the lifetime value of, and respect due to horses in general, plus the lessons they inspire around hard work, perseverance and keeping life in perspective."
Founded in 1986 "to combat the abuses of factory farming and encourage a new awareness and understanding about farm animals," Farm Sanctuary is the nation's largest farm animal rescue and protection organization, with two facilities in California and one at Watkins Glen in New York's Finger Lakes region. Set amid the picturesque Sugar Hill State Forest, this 175-acre facility, sheltering more than 500 rescued farm animals, offers tours and hosts May to October wedding ceremonies and events for 40-plus people.
With the same mission of saving farmed animals from cruelty, neglect and abandonment and providing them with loving lifetime refuge and care, while also championing veganism, Catskill Animal Sanctuary is a pioneering New York organization that hosts groups of 10 or more for tours, educational programs and events.
PageBreak
Founded in 2001 just outside of New Paltz and in its present 110-acre location in nearby Saugerties, since 2003 this Hudson Valley haven has rescued more than 4,000 animals to date. Having grown up amid farm culture in England, I thought I had a decent idea about the ways of animals, but my visit to The Sanctuary last month for this story would provide a profound shift of mind and awareness.
Talon-t Shows
Based southeast of Syracuse in Shelburne, master falconer Lorrie Schumacher has taken her "Talons! A Bird of Prey Experience" show to private events, schools, conservation centers and other venues in 11 states, from Kentucky to Maine.
"My birds have swooped in to deliver rings at weddings and engagements, always to the bride or groom's total surprise, and we also host private groups at our place in Sherburne," said Schumacher, who designed private homes and ran restaurants before getting her falconer's license.
"Sharing my love of raptors and nature with people became my calling," she continued. "It's about turning off the technology, taking a deep breath, and feeling like a kid again. Attendees love the up-close encounters with my raptors, learning about how they fly, hunt and survive in the wild. Each raptor is a unique being, and so for corporate teambuilding especially, there is much to learn from how they use 'what they got' and how they are made to the best of their ability every second of every day."
 Not far from downtown Buffalo in East Aurora, Hawk Creek Wildlife Center has gained national TV coverage for its acclaimed environmental conservation initiatives, including its raptor rehabilitation and propagation program. Celebrating its 30th anniversary this year, the Center has also garnered honors that include National Geographic's Blue Planet Hero award for its Barn Owl Reintroduction Project.
Providing a permanent natural home for 80-plus raptors, wild cats and other animals that cannot return to the wild, the Center's habitats include Walk with the Eagles. Created by founder and Executive Director Loretta Jones, this powerful experience brings visitors face-to-face with rescued bald eagles.  
"Our mission is to connect with our audience by sharing wildlife," Jones said. "Up-close encounters can have a life-changing effect, instilling a sense of stewardship of wildlife and the environment."  
With permits for shows in New York, New Jersey and Pennsylvania, Hawk Creek's customizable on- and off-site programs include guided tours, presentations, flying bird shows and ceremonies.
"Utilizing non-releasable animal ambassadors, we are uniquely poised as a vital resource for bringing people close to awe-inspiring wildlife," said Tanya Lowe, director of wildlife education. "Experiences such as a turkey vulture flying inches above a group of people dispels myths and creates a lasting connection between each participant and the wild world."
Presently hosting outdoor events up to 1,000 people, the Center is preparing to unveil a new facility this summer.
Preserves and Preservations
With the long-awaited Albany Capital Center slated to open March 1, more groups than ever are poised to discover the many assets of the Capital Region. These include wildlife encounters at two unique venues, the Albany Pine Bush Preserve and New York State Museum.
One of only 20 remaining inland pine barrens in the world, the former is a 3,200-acre National Natural Landmark preserve containing 1,500-plus plant and animal species. These include more than 45 New York State-designated Species of Greatest Conservation Need, including the federally endangered Karner blue butterfly. With 18 miles of trails for hiking and other non-motorized recreational pursuits, the LEED Gold-certified Discovery Center features educational programs, interactive exhibits and more.
Founded in 1888, the New York State Museum, oldest and largest of its kind in the nation, features stunning animal and bird dioramas in the event-capable Adirondack Hall and Bird Hall, respectively. Large groups can also rent the iconic Fourth Floor Terrace Gallery, which overlooks Empire State Plaza and includes horse rides—on a historic New York carousel.
At Tupper Lake in the Adirondacks, the event-capable Wild Center, New York's first LEED-certified museum, has its own Hall of the Adirondacks, only here the animal and plant species are alive and well. Advancing the idea that "people and the rest of the natural world can thrive together," the 54,000-square-foot Center, set on 81 acres, is home to more than 900 live Adirondack animals overall. Naturalist-led encounters with these residents—among them otters, porcupines, ravens and snakes—are based on imparting "a deeper understanding and appreciation of the inner workings of nature" to guests.
In picturesque Wyoming County, roughly an hour from Rochester, Buffalo and Niagara Falls, Hidden Valley Animal Adventure was born of late founder Hans Boxler's passion for animals. Home to some 400 animals representing 40 different species, among them water buffalo and zebras, his 63-acre park is among the Northeast's more-unexpected attractions.
"Hans' vision of combining a healthy environment for the animals with educational opportunities for visitors remains our guiding mantra," said Michael Powers, marketing director. "Through demonstrations, guided trolley tours and our Small Animal Adventure area, our close encounters breed deeper understanding and appreciation of these magnificent animals."
The park can host events for up to 300 people in its timber-frame lodge, which also offers a catering kitchen.
"Hidden Valley is an ideal choice for groups seeking a unique escape into the wild combined with education and inspiration," Powers said.