'Do Not Disturb' Policy Updates Spark Debate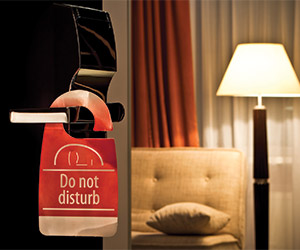 Do you want someone entering your hotel room without your permission? Do hotels even have the right to enforce this?
Those are the core questions on many travelers' and meeting professionals' minds in the wake of Walt Disney World Resort Hotels' decision to eliminate "Do Not Disturb," or "DND," signs from its hotel rooms, to be replaced with "Room Occupied" signs, as part of its updated security procedures.
Disney, which said the move was meant to "ensure guest safety," is not alone in its updated security policy. Following the horrific Oct. 1, 2017, Las Vegas mass shooting, several hotels along the Las Vegas Strip quickly tightened their room entry policies, requiring that rooms are checked on after so many hours (typically 24-48).
Hilton Hotels and Resorts also recently updated its "Do Not Disturb" policy, according to hotel industry website LoyaltyLobby, and the company is encouraging hotel employees to report any "suspicious" behavior.
According to the LoyaltyLobby post, the new Hilton procedures also direct hotel employees to consider the following issues that may be considered "suspicious":
• Guests overly concerned about privacy.
• Guests refusing room cleaning for an extended period of time.
• Those taking photos and notes about the hotel.
• Switching rooms a number of times.
• Requesting specific rooms.
• Extended use of DND sign.
• Using cash for payment.
• Guest doesn't leave the room for extended period.
• Guest leaves the room for extended period.
How Far Is Too Far?
The intersection of privacy and security is a hot-button issue roiling the hospitality industry. How far is too far when it comes to beefing up security procedures? We asked several meetings and hospitality industry professionals what they thought. Following are some of their reactions:
"I hope to learn what the policy will be FOR the entry," said Cynthia Adams, senior director of meetings at the Cystic Fibrosis Foundation. "In other words, is it enough for them to come to your door, you show your face and they go away? In essence that's just a wellness check.
"I'm assuming under certain circumstances they can come in and 'inspect' your room?," she continued. "Who will determine if circumstances warrant an inspection, and speaking of hotel staff safety, who would conduct such an inspection; there are so many variables and all subjective to how this will be carried out?"
Meetings industry attorney Steve Rudner, who represents the hotel side in legal situations through his Dallas-based firm Rudner Law Offices, is steadfast in his belief that properties have every legal right to set and enforce reasonable policies such as the "Disney DND" move.
"Hotels have the right to enter a guest room at any time," Rudner said. "The 'do not disturb' sign is a request from the hotel which [it] usually honors, but a hotel is certainly entitled to enter the room at least once a day to make sure that nothing nefarious or criminal is occurring and to make sure the guest is safe, if it elects to do so."
Joshua L. Grimes, an industry attorney who primarily represents the meeting planner side in the legal arena via his law firm, Grimes Law Offices, stressed that it's well within a hotel's right to enforce room entry policies, but the frequency of such entries depends on a variety of factors.
"This is a growing trend, and not just a response to the Las Vegas shooting," Grimes said. "All types of incidents occurring in hotel rooms, including room damage, illegal drugs, excessive drinking and sexual assault, make it prudent for hotels to reserve the right to check rooms.
"From a legal perspective, the hotels are not exercising a new right, since most states always allow hotels to enter rooms at reasonable times for legitimate purposes such as cleaning and protecting hotel property," Grimes continued. "The new policies by Disney and others are just highlighting these rights to enter for guests who might otherwise be unaware. The effect of this notice to guests may serve a dual purpose of reducing guest complaints when a hotel staff member insists on entering a room for a proper purpose, and also cutting down on wrongful acts by guests during their hotel stays, since the guests are aware the hotel may see what they're doing in the room.
"It's important to consider that not all hotels will apply these new policies the same way," he added. "Some hotels may insist on daily entry to each room for housekeeping, inspections and other purposes. Other hotels may consider that their guests are not likely to be performing harmful activities, and they will not enter rooms except in the event of unusual circumstances."
Meetings industry road warrior and sales trainer Gary R. Hernbroth, chief motivating officer for Danville, Calif.-based Training for Winners, understands Disney's motivations, but also frets about the loss of privacy and the potential, on a grander scale, for the loss of individual liberty.
"I applaud Disney for taking some steps to try to make things safer for travelers and guests—I'm all for that—but I wonder, in the big picture, whether this is really going to curb or fix the problem," Hernbroth said. "While I am applauding Disney—they may have the infrastructure to do an initiative like this—it's going to be tougher on the individual smaller hotels. This seems problematic to me from an implementation standpoint and a training and staffing standpoint across the entire industry, that every hotel will be doing it on a regular basis.
"I probably worry about an industry that has a knee-jerk reaction to what one crazy person did in Vegas, and now they have to go into every hotel room? The overarching question is, what is this really going to fix? Is this a step that is really going to stop something like this happening again?"
Industry veteran Joan Eisenstodt, a Meetings Today blogger and hospitality and meetings industry trainer, facilitator and consultant, also chimed in on the issue.
"Wellness checks are fine," Eisenstodt said, "but this seems to be like the opioid crisis—either all or nothing. There's got to be more to this and some reassurances of privacy in one's room. I've been told by industry attorneys that we in essence give up our right to privacy when we stay in hotels.
"I think this will hurt our industry and meetings … as if we needed one more thing in addition to all the surcharges, taxes, high outlet prices, etc."
A major issue in the conversation was the idea that housekeepers are being charged with providing a first line of security defense.
"I am on the side of the housekeepers who have the hardest job in the building," said Gary W. Brown, adjunct college instructor at Bryant & Stratton College and a longtime hotel veteran. "The daily change of sheets and towels is a waste of resources and drives up labor costs and the diminish of profits. (Yes, I am a hotelier!)
"In every hotel or resort I have served I find my way to the morning housekeepers meeting to express gratitude for all they do," Brown added.
From a legal standpoint, there are myriad issues, but industry attorneys who commented on the topic were in agreement that hotels have a legal right to enter rooms, if not an obligation in many cases.
"Lawyers will always tell you 'it depends,' which is true here, but you generally do not have the same rights as a hotel guest as you do in an apartment, as it is not a lease and you are not a tenant (unless you stay long enough to become a tenant under applicable law)," said meetings industry attorney Lisa Sommer Devlin, principal of Devlin Law Firm. "Plus, innkeepers have high duties to protect their guests—you and others—on the premises. I have not done research on this recently, but I believe that innkeepers always have a right to enter, especially if they have a reason to believe there is a safety risk involved to the guests or others.
"Remember that if a hotelier has reason to suspect something and does not enter, it could be liable: potential sex traffickers holding underage kids against their will; someone cooking meth (very common a few years ago); someone who appeared ill at check in and has not been heard from; etc. There are no simple answers."
Industry veteran Sandy Biback, founder of Meeting Professionals Against Human Trafficking (MPAHT), expressed concerns that take the issue beyond the guns-in-hotel-rooms context.
"Sex trafficking is going on all over Canada, the U.S. and the rest of the world," Biback continued. "By checking rooms daily, perhaps a victim or two can be saved. (My heart says I hope the hell sex trafficking isn't going on at Disneyworld!) There are signs to watch for and paying in cash is one of them. Another is DND signs. And then there is the danger of housekeeping going in, if criminal acts of any kind are taking place. What training do they have? This is much more than removing DND signage and goes much deeper."