North Carolina's Triangle Region Showcases Sports Venues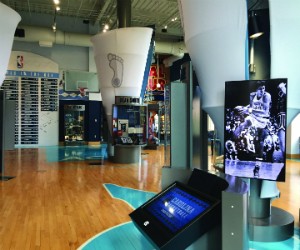 "Talent wins games," once said all-time basketball great Michael Jordan, whose three seasons at the University of North Carolina included making the winning jump shot as a freshman in the 1982 national championship game, "but teamwork and intelligence wins championships."
Visit North Carolina, contracted by the North Carolina Department of Commerce to lead tourism development as a business unit of the Economic Development Partnership of North Carolina, embraces this wisdom in its industry-specific marketing programs, sports included.
Through its Sports Event Recruitment program, the agency teams up with partners such as the North Carolina Sports Association, a statewide collaboration of sports commissions and authorities, CVBs and park and recreation entities, to attract athletic business.
Program components include sportsnc.com, an online resource covering North Carolina sporting events and available facilities and venues, developing relationships with event planners and leading delegations of local industry partners to key sports industry tradeshows.
In the Triangle region, lead entities include the Greater Raleigh Sports Alliance (GRSA), a division of the Greater Raleigh CVB; the Durham Sports Commission, operated by the Durham CVB; and through its direct efforts, the Chapel Hill/Orange County Visitors Bureau. Plus, there are local sports powerhouses Duke University, the University of North Carolina and NC State University.
Add first-class sporting venues and facilities, and year-round professional, collegiate and amateur events, and the Triangle is the ready teammate for group wins.
Greater Raleigh
Local community support is always a reliable measure of a competitive sports market.
"Whether playing themselves, attending games, supporting their team or watching at home, folks around here are downright passionate about sports, proving time and again that the Raleigh area is one of the country's most sports-friendly regions," said GRSA Executive Director Scott Dupree. "Our wealth of superb venues enables this region to host a variety of sporting events that provide a significant boost to the local economy, with our numerous community partners working together year-round to ensure that each event is truly a memorable experience."
Home of the NHL's Carolina Hurricanes and NC State University men's basketball, 19,500-seat PNC Arena hosts 150-plus sporting events, concerts and other programs each year. Flexible rentals include the full arena for conventions and club space for private functions. Upgrades including 3-D projection onto the arena floor and new upper bowl seating are slated for completion by fall 2018.
Fielding 23 varsity men's and women's teams, NC State Athletics offers plentiful options for game-day action and events at venues including hallowed multi-sport Reynolds Coliseum (1949) and nearly 60,000-seat Carter-Finley Stadium.
In Cary, 10,000-seat WakeMed Soccer Park is home field for North Carolina FC of the United Soccer League and the North Carolina Courage of the National Women's Soccer League.
The field has also hosted the U.S. Men's and Women's National Soccer teams, including the latter's qualifiers for the 2019 World Cup. Also staging national and regional college championships, the 150-acre park is encircled by an event-capable cross-country course.
Cary is also home to the National Training Complex for USA Baseball (amateur baseball's national governing body, headquartered in Durham), where groups can catch the action at the MLB-regulation main stadium.
Offering challenging NCAA championship-level golf, the public Lonnie Poole Golf Course and its clubhouse can be rented for corporate and charity events.
Featuring 55-foot indoor rock-climbing walls, Triangle Rock Club offers customized corporate teambuilding programs. Cary Tennis Park, North Carolina's largest tennis facility, hosts national and regional events. Groups can also organize functions, tournaments and teambuilders at the 30,000-square-foot Triangle Table Tennis facility.
Raleigh's two state parks and 180-plus miles of greenways, hiking and biking trails offer delegates plentiful outdoor recreation opportunities, including local favorite disc golf.
Durham
Time, like a fastball, can zip right by. But major happenings can have lasting impact, such as the 1988 Kevin Costner-Susan Sarandon hit Bull Durham.
Credited as a catalyst for baseball by raising awareness of now familiar staples such as promo nights, unique team names and branded merchandise, the movie's 30th anniversary was celebrated over two June 2018 weekends. The festivities, which included a screening of the movie and Durham Bulls baseball with the team in throwback uniforms, was held at Durham Athletic Park, where the movie was filmed.
As Ashleigh Bachert, executive director of the Durham Sports Commission, explained, this lively city is always switched on for sports.
"Proud home of Duke University, North Carolina Central University (NCCU) and the Durham Bulls, Durham is truly a destination for champions," Bachert said. "From basketball and baseball to eSports and curling, 'The Bull City' offers opportunities to compete and participate in many different sports. Our affordable, available and accessible venues attract event owners of all types.
"For groups, Durham is a premier destination to stay and play, with plenty of hotel, food and entertainment options within a compact radius," she added.
Opened in 1926 as El Toro Park, Durham Athletic Park was the Durham Bulls' home until 1995, when the team moved to nearby Durham Bulls Athletic Park. Close to the Central Park dining and entertainment district, the event-capable historic site today is home of NCCU baseball.
Featuring Durham Bulls baseball from April through September, the new Bulls Athletic Park is ideal for group outings. Rentals include the popular picnic and party decks; luxury suites for 20 to 30 guests; and PNC Triangle Club.
Duke University venues include the Duke Basketball Museum and Sports Hall of Fame, with reception space for 270. Overlooking 40,000-plus seat Wallace Wade Stadium, Blue Devil Tower flexibly hosts receptions and banquets for up to 600 guests. Groups can combine conferencing with championship golf at the celebrated Washington Duke Inn & Golf Club.
At the 14,500-square-foot Triangle Curling Club, instructor-led groups can experience the unique ice sport of curling from September to April. 
Chapel Hill
Winner of 43 NCAA Division I national championships in seven different team sports, plus 52 individual national championships, the University of North Carolina Tar Heels dominate Chapel Hill's sports scene.
"The sports market represents about 13 percent of our total group business, mostly related to University of North Carolina varsity and club teams," said Marlene Barbera, sales director for the Chapel Hill/Orange County Visitors Bureau.
With 27 varsity men's and women's teams, the school's year-round sports calendar is loaded with game-day options for groups. Major venues include 62,562-capacity Kenan Memorial Stadium (football) and 5,000-capacity Boshamer Stadium (baseball). Soccer is played at Fetzer Field; the women's team reigns supreme with 22 national championships. Construction is underway on a brand-new soccer and lacrosse field at the Fetzer site.
Another shrine is the 21,750-seat Dean E. Smith Center, or "Dean Dome," home of Carolina hoops and the nation's fourth-largest college basketball arena. The men's team has won six national championships, the first in 1957 and the latest in 2017. The adjacent free-admission Carolina Basketball Museum, fully renovated in 2017, is filled with artifacts covering the storied program's history.
Groups can take the Challenge Course at the UNC Outdoor Education Center or hit the links at the event-capable UNC Finley Forest Golf course. Unique options include stock car and other races at Orange County Speedway, billed as "America's Fastest 3/8-Mile Track." Outdoor enthusiasts can rent kayaks, canoes and flat-bottomed boats for seasonal outings on Cane Creek Reservoir or University Lake, while hikers have trails in Eno River State Park and Occoneechee Mountain State Natural Area.
TRIANGLE REGION CVB CONTACT INFORMATION
Chapel Hill/Orange County Visitors Bureau
919.245.4320 
Durham CVB
919.687.0288
Greater Raleigh CVB
919.834.5900