Puppy Love: A Story of Loss, and Being Found, on the Conference Floor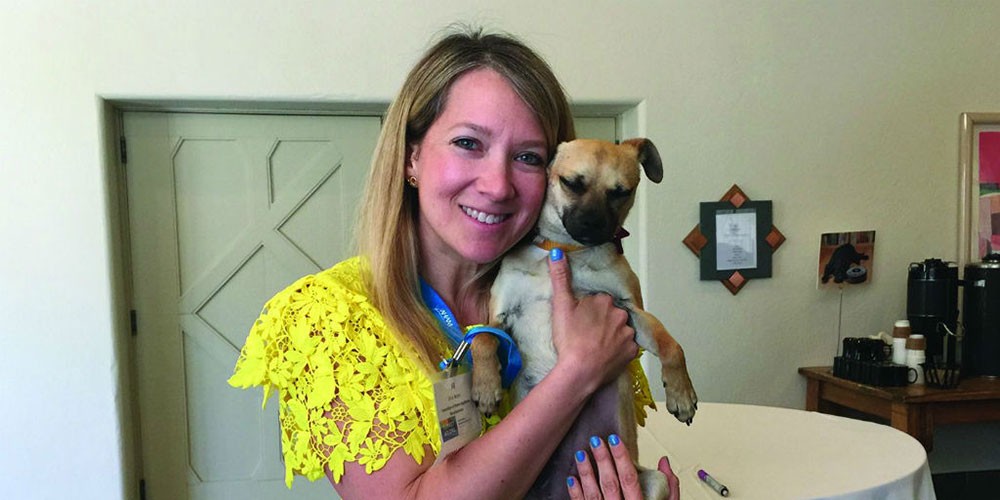 Lead time is always an issue in the meetings business, whether it be an association that books years out or a corporate meeting done seemingly on the fly.
And while associations especially tend to book further out, having to jump in and cover for a meeting planner who left the organization with just a few months to spare before the big annual would be enough to make any ad-hoc planner tear her hair out.
But when all else fails, call in the puppies!
This is the situation that faced Jill A. Notini, who had to jump in and organize some major components for the Association of Home Appliance Manufacturers' (AHAM) 2018 Annual Member Meeting April 19-21, 2018, at The Wigwam in Litchfield, Arizona.
"I never had responsibility for an annual meeting before, and I had been with them for 20 years," Notini said. "I was sitting at my desk and someone as a joke, I think, threw a Meetings Today magazine on my desk, and there was a story about three or five things to do to make your meeting a success story.
"We always did a golf tournament, but golf is sort of petering out for us, so I saw it had information about bringing in puppies, and an item on healthy food choices," she added.
"I thought, 'I can do this for my meeting!'"
The rest is puppy-love history, thanks to an assist from Lulubelle Animal Rescue, arranged through local destination management company Hello! Arizona Destination Management.
The 200-odd congregation of mid- to high-level executives from the home appliance industry representing companies such as Whirlpool, Electrolux and Samsung—about 90 percent male—at first glance didn't seem like touchy-feely types, but when you have a small army of adorable puppies in your arsenal, all bets are off.
"We had a 30-minute 'Bark-Out' networking break and they brought in about 12 pups that were up for adoption," Notini said. "Everyone loved it—they were thrilled. We tied it to our industry and found all of these stock photos of dogs with appliances and blew them up—a dog with a hair dryer, a dog on a vacuum—so I was able to tie it back to what we do."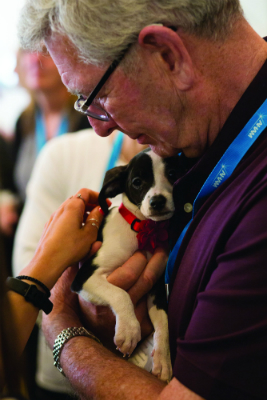 While the title of the meeting was "Expectations," for at least one attendee any assumptions he had coming into the event were blown out of the kennel as the Bark-Out wagged its way into his heart.
"When the dogs came in there was one man, a kind man, that had lost his two Scottish terriers about six months before," Notini said of longtime AHAM member and Sub-Zero Group consultant Dick Topping. "When he picked up this little tiny black and white dog, who was shaking, he held her for the entire 45 minutes, and she was so happy, cuddled into his chest.
"I went right up to him and said, 'It looks like you have a connection, how are you going to leave her?' He said, 'I don't know, can you take some pictures of her?" she continued. "He went home after the third day and showed his wife the pictures and said, 'I can't stop thinking of her.'"
A little over a month later the couple decided to pay for a volunteer to fly the little dog, Rosie, from Phoenix to Boston.
"Rosie found her way to New England—they had to buy her a sweater and we sent her a little care package of treats and toys and stuff," Notini said.
"It couldn't have happened to a nicer guy, with such a sweet dog," she added.
PUPPY PICS
Check out more photos below from the "Bark-Out" networking break at AHAM's 2018 Annual Member Meeting. As you can see, the puppies were a hit with attendees!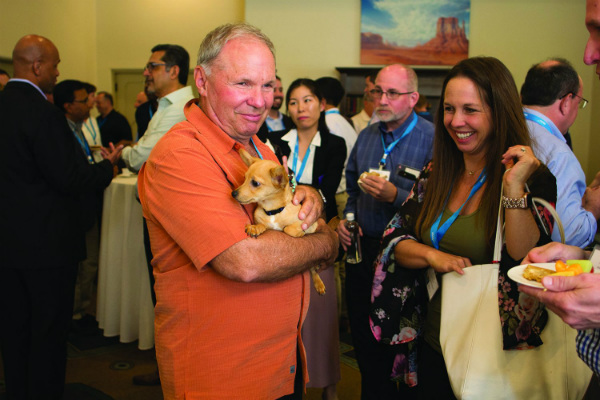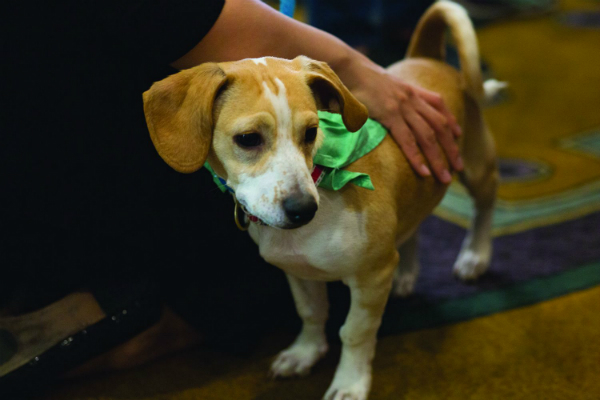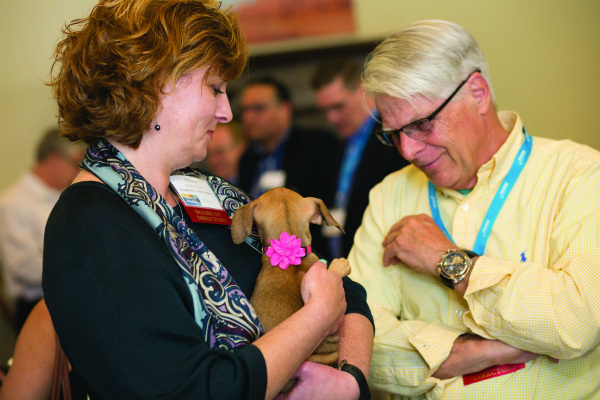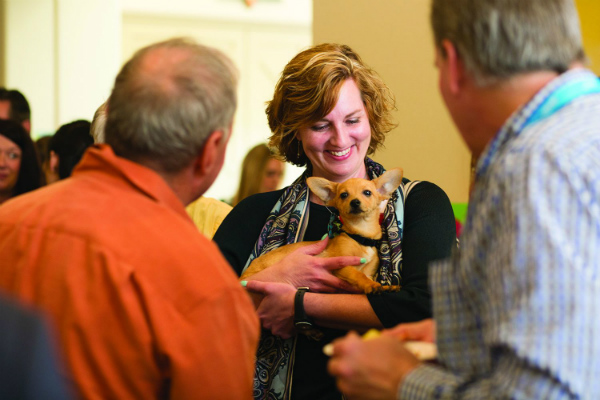 PAYING IT FORWARD
Here are some other organizations making a difference:
Kimpton Hotels and Restaurants had a team ride in the 2018 Chefs Cycle in Santa Rosa, California. The group of Kimpton chefs as well as CEO Mike DeFrino and newly appointed Senior VP of Restaurants and Bars, Scott Gingerich raised funds and awareness in support of No Kid Hungry. Cyclists rode 300 miles over three days with the goal of raising $2.4 million in total to connect kids across the country with healthy food.
Destination DC's The American Experience Foundation (AEF) awarded four students the 2018 American Experience Foundation Scholarship Award, one student the 2018 Gregory McCarthy Scholarship Award, recognizing exemplary leadership qualities, and one student the 2018 American Experience Foundation Academy Alumni Scholarship. AEF was created in 2001 to help cultivate the next generation of leadership in Washington, D.C.'s hospitality industry.
[Related Content: Read more about those giving back in our industry].