Wolfgang Puck Catering's Eric Klein Shares Insights on Culinary Wellness
Take one look at a delightful dish crafted or co-crafted by Eric Klein, vice president of culinary for the famed Wolfgang Puck Catering (WPC) and former executive chef at Spago Las Vegas, and "simple" is hardly the word that comes to mind. More like "complex," maybe even "fantastical."
But as Klein attests, his cuisine has always been about starting with the most basic, healthiest, freshest ingredients and letting the flavors, colors and overall combinations speak for themselves. And they do, whispering things like "divine," as you indulge in all the wonderful tastes and textures of something such as an inventive version of beet salad, a refreshing mix of chilled beet "snow," milk curd and fresh ginger, or crab salad with lemon and pomegranate tucked into edible hibiscus flowers that float on a bed of real grass.
"Why not change the way we eat, the way we present, the way we are constantly evolving," Klein said, explaining that his philosophy of culinary wellness is based on respect for the food, where it comes from and how it's treated—which he believes all planners should keep in mind when working with chefs to bring healthier cuisine to the group table.
"We are always considering the wellness of the animals we use, such as our pastured birds that are free to roam and eat fresh worms and grass, and our Miyazaki Wagyu beef from Japan, basically the best meat in the world, and you can taste that," he added.
The Miyazaki cows are treated with such respect, it's said they are massaged and even entertained with violin music to put them in a restful state. It's no wonder Miyazaki Wagyu has been considered the finest, most tender meat in the world for 10-plus years.
From meat to poultry to fish to produce, serving the highest-quality, naturally raised and produced ingredients of the season is paramount when creating innovative, flavorful and healthy cuisine, Klein said.
Getting Creative With Dietary Requests
Klein also looks at people's ever-changing dietary needs as opportunities for creativity rather than restrictions, and said it's important for planners to realize that even in catering, the menu can—and should—be customized for everyone's tastes and preferences, including gluten-free, dairy-free, vegan and vegetarian.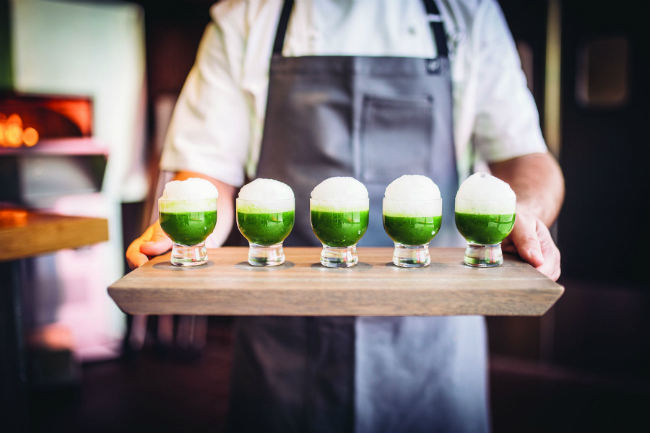 Green Juice, Credit: Antonio Diaz
Klein is famous for his deliciously healthy vegan takes on classic dishes, and he and the WPC team are favorites of many wellness-minded celebrities. Actor Woody Harrelson was so enamored with the custom vegan creations coming out of the kitchen at the 2018 Oscars Governors Ball, which WPC spearheads annually, with Klein co-designing the menu, that "More vegan for the Harrelson table!" was the request repeatedly coming into the back of the house that evening.
The year before, at the 2017 Oscars Governors Ball, Klein and his team designed a station where freshly made gnocchetti twirled out of an authentic pasta-making machine from Italy, and he whipped up braised wild mushroom and cashew cream sauce to order as the finishing touch to the completely vegan, gluten-free dish.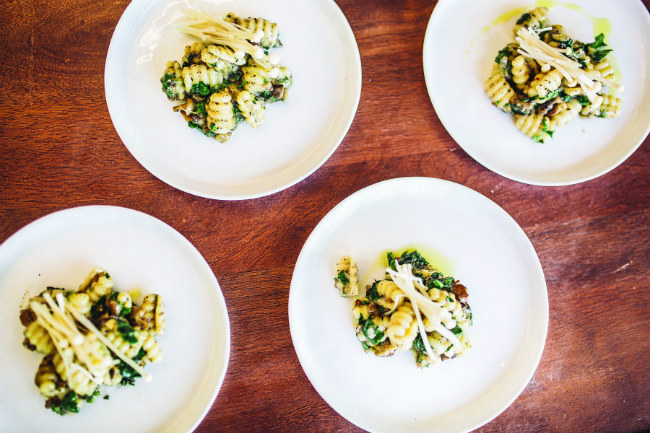 Gnocchetti With Braised Mushrooms and Cashew Cream, Credit: Antonio Diaz
"You always have to remember that everyone eats differently now, and there are very unique ways to satisfy their palates so every guest feels as special as the next one," he said.
Putting a Healthy Spin on Culinary Trends
Meanwhile, Klein said WPC is increasingly coming up with interesting new variations on the hottest culinary trends at events.
"We do things like gluten-free or vegan poke stations, house-made green juice stations, house-made granola stations with house-dried fruits and house-made coconut yogurt with coconut milk from the farmers market, and salad stations where our chefs cut living lettuces and herbs to order for guests," Klein said. "We are all about super healthy, super colorful and the highest quality. You want to make sure you are enticing all of the senses and serving food that is good for the body, the brain and the soul."
There are so many facets to wellness from a culinary perspective, Klein added.
"In the end, it's also about how we treat ourselves, how we live every day and how we enjoy what we put into our bodies," he said. "Food makes memories, and I am passionate about ensuring people are happy creating delicious memories together. That's good for everyone's well-being."