Q&A With Jennifer B. Davis on Greater Columbus Convention Center Updates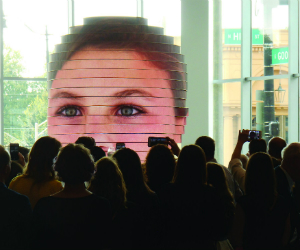 Meetings Today contributor Carolyn Blackburn interviewed Jennifer B. David, Senior Marketing & Communications Manager with the Greater Columbus Convention Center (GCCC), to discuss recent updates to the facility.
The GCCC, which features 373,000 square feet of contiguous exhibit space, wrapped a two-year $140 million renovation and expansion project in July 2017 to improve the overall guest experience, including the installation of an impressive art collection and local F&B concepts.
MT: The GCCC now features an indoor, vertical hydroponic Smartfarm, the first of its kind in a convention center. Please share a little about it.
David: Other facilities have a green roof or a garden in the back. We wanted our Smartfarm to be more visible to engage guests. Located adjacent to Discovery Cafe, diners can see the growing herbs and vegetables that will be utilized in culinary selections throughout the convention center.
Event planners can even call the culinary team in advance to request certain plants be grown for inclusion in their event's menu, such as mint for mint juleps to be served during a Derby Day party! The farm yields 2.5 tons of produce annually; what's not served in the convention center is donated.
MT: Please tell us about the GCCC's on-site art, including the innovative As We Are sculpture.
David: The Greater Columbus Convention Center features the largest contemporary collection of central Ohio art. Guests can embark on self-guided or docent-led tours to explore the diverse collection.
[Related Content: Southern Ohio Teambuilding Brings Groups Together]
The crown jewel of the collection is the 14-foot As We Are interactive sculpture created by Matthew Mohr of the Columbus College of Art & Design. Guests enter a photo booth in the back of the sculpture and then emerge to see their portrait projected by 850,000 LED ribbon lights.
It has become a popular selfie photo opportunity for guests of all ages and provides a free-of-charge and distinctive remembrance of their visit to Columbus.
MT: The GCCC recently began a "How are we doing?" initiative. How is it going?
David: We are the first convention center to utilize the Medallia survey program, which made its GCCC debut in October 2017. By visiting www.GCCCFeedback.com and answering a few simple questions, guests are assisting us in immediately enhancing their experience by providing real-time feedback.
We have collected thousands of surveys so far and have discovered how valuable it is to receive instant notification about opportunities to improve and respond to a guest concern while the guest is [on-site].
We also have signs posted throughout the building welcoming guests to share their thoughts with us, plus Smiley Touch guest feedback kiosks in our restrooms. Guests can rate their restroom visits by pushing one of a series of colorful buttons on a scale, from smiling to frowning.
MT: Please explain how different meetings utilize the color-coordinated LED lighting offered throughout the facility? 
David: When the 74,000-square-foot Battelle Grand made its debut as the largest ballroom in Ohio, it was the first of our ballrooms to feature LED ceiling lights that can project a variety of colors and effects, and it created a real demand.
During the recent renovation project, we transformed our other two ballrooms—the 25,000-square-foot Union Station and 15,000-square-foot Short North—into spaces that also feature the LED ceiling lighting package and accompanying upscale wall treatments and carpeting.
Additionally, our node walls throughout the facility feature lighting effects that can be programmed to display specific colors. "Nodes" are connecting points, and there is seating beneath these walls where guests can relax, gather together and charge their electronic devices at the same time.
Event planners have utilized the node wall and ceiling LED lights to project corporate logo colors and even rainbow effects.