2018 Sustainable Events Trends: Zero Waste, Service Projects and Partner Collaboration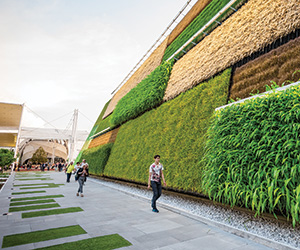 The ways in which events are becoming sustainable, sometimes to the goal of zero waste, are increasingly innovative and exciting.
"We're in a different place than ever before, and it's becoming a competitive advantage type of climate to save money and a desire to freshen things up and be more creative," said Chance Thompson, SMG senior manager of sustainability and public relations at the Salt Palace Convention Center and chair of the Green Team Committee in Salt Lake City. "It has become, 'How can we do things smarter, different, more fun and more socially aware?'"
"And money always talks, especially in cases where you plan a triple bottom line approach, where you can save six figures," he added, pointing to Oracle Open World, which completely eliminated its use of disposable water bottles, saving them roughly $1 million and breaking new ground in their goal to soon be zero waste to landfill.
Thompson and his team at the Salt Palace Convention Center and partner facility Mountain America Expo Center are also leading the way when it comes to collaboration and innovation in driving sustainability forward.
The jointly managed venues were given the IMEX-Events Industry Council (EIC) Innovation in Sustainability Award at IMEX Frankfurt 2018 for their creative approaches to repurposing event materials as well as for a novel strategy—spearheaded by Thompson. The strategy involved applying for APEX/ASTM (Accepted Practices Exchange/American Society for Testing and Materials) certification through a multiple-partner Green Team Committee that also included Visit Salt Lake, Utah Food Services, PSAV and others. As a result, Salt Lake City now has the most APEX/ASTM level 1 certifications for any event destination in the world.
"We won the award for our APEX strategy and the impact it was driving for our donation program," Thompson said. "In 2017, we donated a little over 200,000 pounds of event material in partnership with our clients to our network of community partners such as 501c3s, schools and education centers, and I believe we rescued about 30,000 pounds of food through Utah Food Services that went out to feed the hungry in Salt Lake."
As a result of the novel APEX strategy and impressive green initiatives, Thompson is now a member of the EIC 2018 Sustainability Committee and committee chair of EIC's APEX/ASTM relaunch, which aims to rewrite the APEX/ASTM Event Standards to make them clearer and more attainable for planners and suppliers.
Setting a Sustainable Example for Others
Thompson said other destinations and facilities are now looking to model Salt Lake's innovative strategies.
"Especially since I started working with the sustainability committee for EIC, we've been an open book," he said. "We've offered the tools for anybody interested in pursuing a similar strategy.
"Gaylord Opryland is a good example, as they are diving into sustainability pieces really strongly and have talked with us a lot about how to track waste, materials management and recycling," he added.
Thompson also said the St. Augustine Amphitheater in St. Augustine, Florida, also reached out for pointers on waste management and recycling, and he added that Oriole Park at Camden Yards in Baltimore is also looking into APEX standards to be as green as possible.
[Related Content: It's Time for Healthy Events]
Materials management, food waste management and green sponsorships are among the key ways to incorporate sustainable initiatives at meetings nowadays, according to Thompson.
"For materials management, you want to always try to donate to a 501c3 or faith-based organization," he said. "Meanwhile, we're seeing a lot clients look for creative ways to get green sponsors to help fund some of their efforts, which I think is key to impact because so many people look at sustainability as extra cost or more time spent. So it can creatively fund itself and help tell the green story through good marketing material. It can be things like in-kind gifts or materials."
Service projects within events is another big trend, according to Thompson.
"Attendees have a desire to be socially impactful," he said. "For example, at ASAE a couple of years ago in Salt Lake City, our staff did a canned and non-perishable food drive and took it a step further. Attendees went to the food bank and helped sort and inventory the food. And attendees also went to The Good Samaritan, where they made food and helped serve it to the homeless population."
IMEX Frankfurt and IMEX America are also known for their service projects, he said.
Destinations Move Toward Sustainable Goals
On the destination front, Thompson pointed out a few that he feels are becoming increasingly sustainable.
"Baltimore is a great one," he said. "They did a robust food rescue study to implement food rescue at all of their events, and it was impressive. San Francisco and Moscone Center are also standouts, and in Detroit, Cobo Center is a biggie. They hosted the EIC Sustainable Event Professional Certificate program recently.
[Meetings Today Blog: Beware the Polar Bear - How to Spot Greenwashing]
Internationally, he said Thailand is also innovatively boosting sustainability efforts.
"The CVB in Thailand is incredibly locked in and engaged in sustainability," he said. "They hosted the certificate program as well.
"One thing I'm hoping is to see CVBs driving the growth of this in destinations," he added.
Additionally, Thompson says one of the hotel companies that is blazing new trails sustainability-wise is MGM Resorts International.
"MGM has a highly sophisticated food waste program that others look to emulate, and they are very triple bottom line for many initiatives," he said. "They're a company that does the right thing."
Planners and Suppliers Working Together to Eliminate Waste
Meanwhile, Tracy Stuckrath, founder and chief connecting officer of Thrive Meetings and Events, is another big proponent of materials and food waste management and working with partners to come up with innovative solutions. Stuckrath is helping the EIC with the food and beverage aspect of event management in rewriting the APEX/ASTM Sustainable Event Standards.
"Planners should try to donate anything they can," she said. "Even bags. At a recent event, we had 700 bags that we were able to donate to local organizations."
Food waste is another challenge, she added.
"The whole point is we should not have waste in the first place," she said. "Knowing the history of your events is key, and you must track numbers very carefully. Ask people, 'Are you coming to this event?' We can make sure we have food for you and not over order food."
[Related Content: Creatively Repurpose Unwanted Tradeshow Swag]
Trying to work with your partners is also key, according to Stuckrath.
"Sometimes it's hard to get food and beverage partners to participate," Stuckrath said. "Go through current standards and try make them more sustainable. For example, ask your partners, 'What percentage do you order that's local, where do you source your beef and lettuce?"
Nancy Zavada, founder and president of MeetGreen, said planners can have a huge environmental impact nowadays.
"We order food and beverages for so many people, for example, and we make important choices that can greatly benefit—or greatly harm—the environment," she said.
Initial Steps for Achieving Zero Waste
Ditching plastic is one way planners can clean up their act, according to Zavada.
"Single-use plastic has become a really big issue," Zavada said. "It's tough to recycle now with Chinese regulations about what they will and won't take changing."
[Earth Day Infographic: Avoiding Single-Use Plastic at Events]
It's time for planners to retool their thinking, especially when it comes to large events, she added.
"Instead of recycling, ask yourself, 'Do I really need plastic in the first place?'" she said.
Looking at food waste is also important, Zavada said.
"Food waste is an increasingly important topic," Zavada said. "As you are ordering, check what is really needed, and if you will be leaving leftover food, will you be donating it? Make sure someone gets fed with your overage."
[Meetings Today Blog: Tips for Ending Food Waste at Events]
Finally, enlisting suppliers is key to sustainability success.
"Utilize your supply chain," Zavada said. "Put your vendors on your green team by enrolling them from the start and saying, 'We really want to make this a zero-waste event. What ideas do you have to help get us there?'"
Zero waste, a combination of not using things at all and recycling anything that needs to be used, involves an entire creative thought process that is best realized with an enthusiastic, green-minded team, Zavada added.