NFPA 3000: A New Standard for Active Shooter Response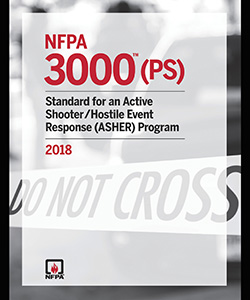 On Sunday, August 26, in Jacksonville, Florida, a 24-year-old suspect opened fire at a video game tournament, killing two people and injuring nine others.
People had gathered at the Jacksonville Landing—a waterfront marketplace that features restaurants, a shopping mall and other entertainment—for a regional video game tournament for the football video game "Madden NFL 19." Winners would go on to compete in the Madden Classic in Las Vegas.
As tragedies like this one unfold around the country, it's important to review the plans that are in place in case an active shooter situation or other hostile event occurs at your meeting venue or destination.
In response to the growing number of active shooter incidents, the National Fire Protection Association (NFPA) in May 2018 released "NFPA 3000," a provisional standard created with insight from law enforcement, fire officials, EMS, medical providers, facility managers, the CIA, the FBI and other experts.
The standard provides whole-community guidance on planning for, responding to and recovering from an active shooter incident and other hostile events.
[Related Content: Active Shooter Mitigation Strategies for Events]
The original request for NFPA to develop this standard came from the fire chief of Orange County Fire in Orlando, Florida, whose department responded at the Pulse Nightclub shooting on June 12, 2016.
Forty-nine people died and 58 were wounded.
In the NFPA's 122-year history, this marks only the second time that the organization has issued a provisional standard. Provisional standards are created in an "expedited process to address an emergency situation or other special circumstance."
Takeaways From NFPA's Active Shooter and Hostile Event Standard
John Montes, emergency services specialist at the NFPA, says one of the most important takeaways of NFPA 3000 is that emergency plans should be inclusive of the community.
When reviewing a venue's emergency, active shooter or hostile event plan, look to see if fire, police and EMS are involved and if they've assessed the building.
"They're going to give [facility managers] a perspective that [they] don't normally have, either from a security or a life safety perspective," Montes said.
It will also create a familiarity of the building for these players, Montes adds, so they can better serve the facility, should there be an emergency.
When the NFPA 3000 plan is in place, Montes also encourages it be tested once a year with the community.
"Some piece of the plan in some way—it doesn't have to be a full-on drill where everybody's moving," he said. "It could be a tabletop. It could be a functional exercise."
Montes said general knowledge of what to do during this type of event could help those who are at a venue unfamiliar to them.
"Everybody knows stop, drop and roll, but what about run, hide, fight? Or avoid, deny, defend?" he asked. "How many people have actually been taught that?
"That's something on a public education level that we need to catch up on," Montes added.
"NFPA 3000" is available via the organization's website. You can access the document via computer or mobile device, instantly search the document and create bookmarks, and print sections or chapters.
An online subscription is required to access the full "NFPA 3000" document.
Additionally, NFPA is offering an online training series, a downloadable checklist, a readiness assessment document and a fact sheet to help planners become more comfortable with the new NFPA 3000 standard.
Not sure how to get started on your own risk management plan? The recently released "Meeting & Event Risk Management Guide: How to Develop a Customized Risk Management Playbook," a step-by-step guide authored by Brenda Rivers and published by Meetings Today is a good place to start.