Omni Frisco Is a Dallas Cowboys Star Attraction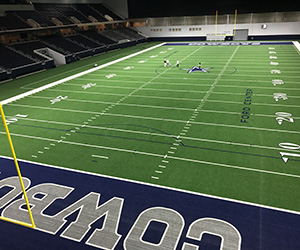 What do you get when you cross the world's most valuable sports franchise with one of the world's largest independently owned and operated hotel companies?
The "star attraction" named the Omni Frisco Hotel, of course.
"The commitment of Jerry Jones to move their headquarters here was phenomenal," said Omni Frisco Hotel General Manager Jeffrey J. Smith about the decision by Dallas Cowboys owner Jerry Jones to build Dallas Cowboys World Headquarters and the Ford Center in Frisco, Texas, and partner on the hotel.
Jones owns a 50 percent share in the Omni Frisco Hotel. Like other iconic outsize Texas personalities, he is known for going large, evidenced by the fact that his headquarters and hotel development actually cost more than where the Cowboys do their Sunday business at nearby Arlington's AT&T Stadium.
The indoor practice facility and attached Omni Frisco hotel cost $1.5 billion to build compared to AT&T's $1.2 billion cost. At the time, AT&T Stadium was the most expensive sports stadium ever constructed.
And with typical Jerry Jones risk-and-reward strategy, the pricy project is reshaping the very economics of sports practice facilities by bringing in football fans to immerse themselves in 24/7 Cowboys glory at the 91-acre The Star in Frisco development.
[Related Content: Southern Hospitality Meets Trendy Fun in Frisco]
The Star boasts more than 30 restaurants and retail establishments in its entertainment district; 60,000 square feet of state-of-the-art workout space at the Cowboys Fit facility; Cowboys World Headquarters; the BaylorScott & White Sports Therapy & Research center; the 12,000-seat Ford Center indoor football field and exhibition space; and Tostitos Championship Plaza, a miniaturized replica outdoor Dallas Cowboys football field that is a City of Frisco public park that ties together Cowboys HQ and the hotel.
"Practice facilities for football teams were a cost center," Smith said, "but knowing Jerry Jones, now it's a revenue center."
The 300-room, 16-story Omni Frisco Hotel offers 24,000 square feet of meeting space, including a 13,000-square-foot ballroom, and serves as the cornerstone of The Star development.
The hotel is connected to the Dallas Cowboys headquarters building by a skywalk that runs through the team's Ford Center indoor practice facility—the Cowboys practice either indoors on artificial turf or outside on grass depending on the stadium of the team's upcoming opponent.
The hotel offers four breakout rooms that look out over Ford Center's field complete with blinds that can be ordered drawn when the Cowboys are going through key game preparations.
Additional Omni Frisco Amenities
Other Omni Frisco Hotel highlights include the bling-forward Charlotte Jones Collection boutique—owned by Jerry Jones' daughter Charlotte Jones Anderson and the venue of choice if one is in the market for a $15,000 Swarovski-crystal-ensconced, Dallas Cowboys- and Ford Motor Company-branded miniature F150; a rooftop pool and deck area that can accommodate up to 400 for receptions overlooking the Plaza and Ford Center; 27 premium suites; the Neighborhood Services restaurant led by chef Nick Badovinus and featuring American-style cuisine in indoor and outdoor spaces adjacent to the hotel's lobby; and a lobby bar that boasts both a cheese monger and sommelier who have created wine and cheese pairing menus for guests.
Omni Hotels Continues to Build on Its Dallas Legacy
The Frisco property is one of five Omni hotels in the Dallas Metroplex, along with the Omni Dallas Hotel—itself a game-changer when it opened adjacent to Dallas' convention center in late 2011—and the 618-room Omni Fort Worth Hotel, which opened in 2009 across the street from the Fort Worth Convention Center.
And like the Dallas Cowboys and Jerry Jones, 60-property-strong Omni Hotels & Resorts calls its own shots on its own terms.
"Being privately owned, we're not on every corner because we want to control what our guests feel," said the hotel company's senior vice president of sales and marketing, Daniel Surette. "We want to play big."
More Photos of the Omni Frisco Hotel by Tyler Davidson: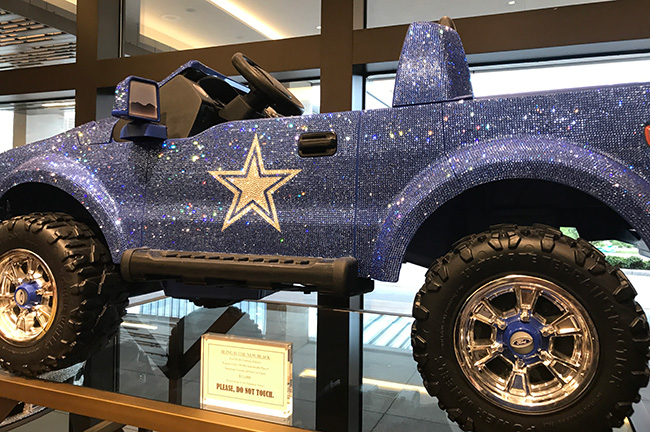 A $15,000 Swarovski-crystal-ensconced miniature Ford F150 is one of many bling-forward niceties at the Omni Frisco Hotel's Charlotte Jones Collection.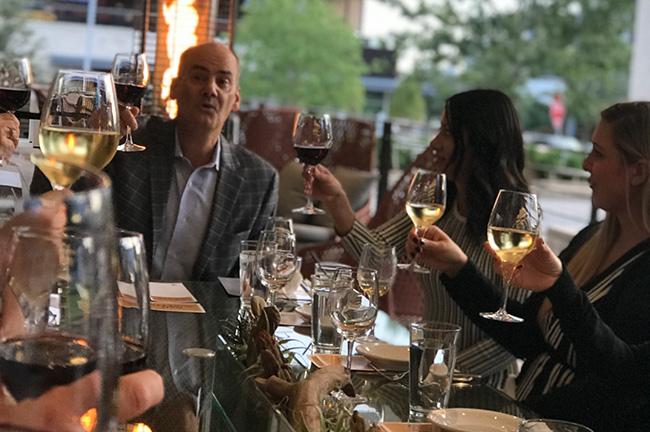 Omni Hotels & Resorts Senior VP of Sales and Marketing of Marketing Daniel Surette leads a toast at the Omni Frisco's Neighborhood Services restaurant.​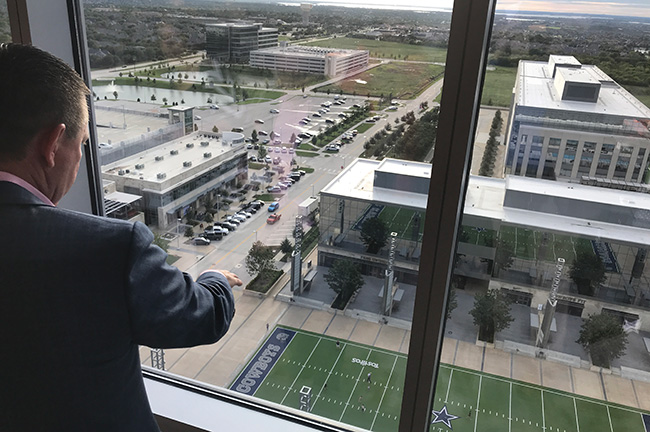 Omni Frisco Hotel General Manager Jeffrey J. Smith looks out over Dallas Cowboys headquarters from the Presidential Suite of the Omni Frisco.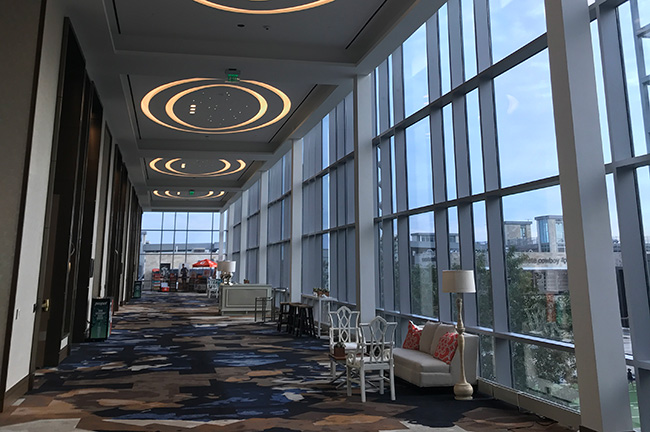 Prefunction meeting space at the Omni Frisco Hotel, as with public spaces throughout the hotel, feature football-themed design flourishes.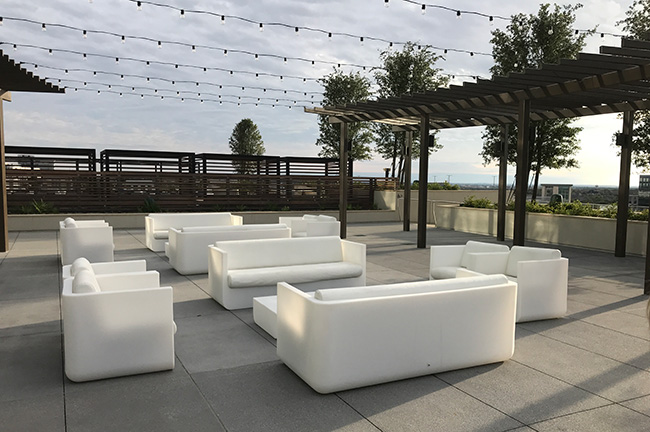 Pool area function space offers a rooftop retreat for meetings and events at the Omni Frisco Hotel.​