12 Ways to Prevent Luggage Theft and Minimize Hassles If It Happens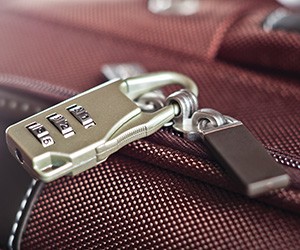 It's that sinking feeling in your stomach when you can't find your suitcase after all the bags have been dropped onto the conveyer belt. It's particularly unsettling if it's on the front end of a business trip when you arrive at your destination facing a full schedule of meetings and no time to deal with the consequences of a stolen bag.
The recent news of a woman in Australia who was arrested for allegedly stealing 18 suitcases at Melbourne Airport over the course of a year is a reminder of how easy it is for someone to walk away with luggage from baggage claim areas without being stopped by security.
Moreover, many suitcases look similar, and anyone stealing a bag can simply say they thought it was theirs if someone did approach them.
With the Melbourne Airport incident and widespread stories of luggage theft rings at airports around the world, travelers would be wise to take action.
Following are 12 tips to reduce the chance of someone stealing your luggage and minimize stress.
Carry your bag on instead of checking it whenever possible. Not only will this force you to pack light, it can save you the cost of checked luggage.
Always pack an extra change of clothes and toiletries in your carry-on if you do check luggage.
If you must check luggage, make sure it is easily identifiable by purchasing a colored or patterned bag instead of black and avoid high-end or designer suitcases. At the very least, tie a brightly colored ribbon onto the bag handle. This will deter thieves from lifting your bag from the carousel.
Never pack valuable items in checked luggage. Always carry them on your person or in your carry-on bag and keep an eye on your bag as it runs through and exits the metal detector.
Be sure checked luggage has an identification tag that is not likely to fall off, such as the paper tags offered to passengers at check-in. Invest in a sturdy identification tag.
Lock checked luggage with a TSA-approved lock.
Place a copy of your boarding pass inside your checked luggage.
Take a photo of the contents of your checked luggage just before placing it all in the bag to prove your case if you need to file a claim. Most airlines will reimburse travelers up to a certain amount if the loss of the luggage was caused by them. Check restrictions on excluded items with your airline.
Consider purchasing baggage insurance, which covers lost, damaged or stolen checked or carry-on luggage. Some travel insurance may also cover luggage.
Go directly to baggage claim after exiting the plane to retrieve your checked luggage. Aim to arrive before the bags are loaded onto the conveyor belt so you can spot your suitcase as it is dropped.
If you do not see your suitcase on the belt at baggage claim, check the surrounding area, as some airlines may remove some bags from the belt and place them in an area nearby.
If you can't find your bag, report it to the airline's customer service agents immediately. If necessary, file a claim with the airline and TSA. Be prepared to provide documentation of the contents of the bag, including any receipts for items.
[Related Content: