Out and Proud: The Rise of LGBT+ Representation in the Meetings Industry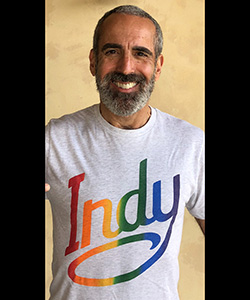 The public profile of LGBT+ people in the meetings industry has grown by leaps and bounds in just the past decade and a half, advancing from what some early adopters describe as the "secret handshake" days to a consolidation into the LGBT Meeting Professionals Association (LGBT MPA).
Now a two-year-old organization, the LGBT MPA is comprised of nearly 1,000 planners and suppliers who first exhibited at IMEX America in 2017 and made a repeat appearance at the 2018 show.
The road to the exhibit floor and showing such a public face had humble beginnings.
"I would say that in '93 or '94 … at [the annual meetings of] MPI and PCMA, a small group of gay planners and suppliers started to get together before the final-night event, and it was literally done where people would walk up and say, 'We have a suite,' and we would meet somewhere, and you'd get 10 or 12 people—it was all very quiet," said David Kliman, owner of hospitality industry consultancy The Kliman Group.
"You fast-forward to today and you have at MPI, PCMA, SITE—all the big events—officially sanctioned networking events and you have quite literally hundreds of [LGBTQ] people and straight allies in industry leadership roles expressing their support and admiration for LGBTQ issues," he added.
Kliman used 2018's MPI WEC, held in Indianapolis, as an example of meetings industry leaders such as MPI's Paul Van Deventer, PCMA's Sherrif Karamat and others attending their LGBTQ event and raising glasses to toast the group. Visit Indy President & CEO Leonard Hoops attended the event and handed out T-shirts with "Indy" printed in rainbow letters to the crowd and thanked them for their continued business in the city.
The Secret Handshake: Early LGBT+ Networking at Meetings and Events
Thirty-year meetings industry veteran Charles Chan Massey, owner of SYNAXIS Meetings & Events and the catalyst behind The Personal Stories Project, an activism, advocacy and support organization for the LGBTQ community, was one of those early proponents for LGBTQ openness in the meetings industry.
Charles Chan Massey in San Francisco.
He also has actively supported the emergence of dedicated LGBTQ professional groups in the industry.
"In the old days it was almost a secret handshake," Chan Massey said. "Basically, we would have an event at the MPI conferences, [and others such as] ASAE and PCMA, where whoever had a suite would invite us to show up, and someone would run to the store to get some booze and someone else would say, 'I have a cheese platter I can bring.' It was kind of an open secret [within the industry]."
"Now we've moved full circle 30 years later where it's a free-standing association of its own, primarily [providing] networking and education and business opportunities," he continued.
Editor's Note: Listen to Tyler Davidson's full interview with Charles Chan Massey, discussing LGBT+ issues and advancements in the meetings industry on the Meetings Today Podcast.
An Association for LGBTQ People in the Meetings Industry
While the public-facing presence of LGBTQ people in the meetings industry may have relatively organic beginnings, this segment of meeting professionals now has its own association.
The LGBT Meeting Professionals Association is helmed by Dave Jefferys, founder of Altus Agency, a Philadelphia-based advertising agency, and perhaps it's his background as an ad man that makes him such an energetic advocate and messaging whiz.
[Related Content: 5 Ways to Create More LGBTQ-Inclusive Events]
Jefferys produced the first LGBT destination tourism campaign in the nation 15 years ago, for the City of Philadelphia. While LGBTQ tourism generates upwards of $85 billion per year in the U.S., according to Jefferys, there's still a hill to climb in the meetings world.
"It's been amazing and powerful and unexpected at one level, and overdue and appropriate on another level—and needed," Jefferys said of the growing membership and industry presence of the LGBT MPA.
"It's weaving this web for professional development and opportunities at all levels, and to try to move the business around to destinations that consider themselves for available for consideration," he added.
Industry Support for LGBT MPA Continues to Grow
IMEX America 2018 was the second year LGBT MPA had a booth on the exhibition floor. Jefferys said LGBT MPA, a 501(c)(3) nonprofit organization, first partnered with the IMEX Group in August 2017.
"They said, 'We believe in what you guys are trying to do, and in the ability to provide like-minded people with like-minded experiences to come together … to bond … and help each other professionally," Jefferys said. "We have people come together and address issues that are important to say, LGBTQ youth, who are coming into the community and haven't had a chance to address these issues."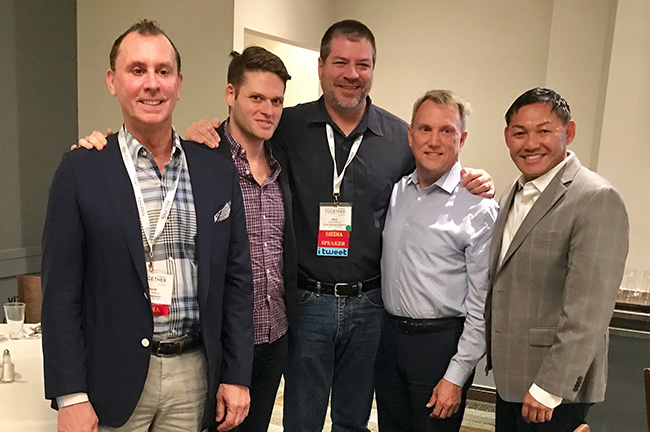 Dave Jefferys (left) and other LGBT MPA members at an industry association event.
Putting such a public face on what was a tight-knit, insular community didn't come without challenges, according to Jefferys.
"There were a number of established LGBTQ people in the meetings community that discouraged me from doing this—'Why do we need this? We're doing fine!' Now we have Costa Rica, Chicago, D.C., England and others that want to start a chapter," Jefferys said. "It's a groundswell, [they said]."
[Meetings Today Blog: Why Diversity and Inclusion Matter to and for Our Industry]
Besides offering professional development and support for its members, LGBT MPA also counts many destinations as supporters, including in what may be unexpected quarters.
"We have 'other-tier' destinations like Detroit, Birmingham [Ala.] and Macon [Ga.] that have really made strides and are trying to create a welcoming environment [for LGBTQ groups]," he added.
"I'm not just talking about L.A., Chicago or Fort Lauderdale," Jefferys said. "These other-tier destinations have worked hard and there's no way for them to affiliate with any other organization than ours.
"I don't believe there was a place to provide resources—it didn't exist," he continued. "In two years [the LGBT MPA] changed that. It's not five thousand [members], but there's four thousand that could come our way in the next few years. Certainly we're not at the beginning anymore."
The Issue of Boycotting Meetings Destinations
One hot-button issue in the meetings industry is the boycotting of destinations that have passed laws perceived as discriminatory against the LGBTQ community, such as those that have passed "bathroom bills" and legislation against same-sex marriage, among other prominent LGBT+ issues of the day.
While many in the LGBTQ community as a whole may advocate for such boycotts and others in our industry advocate against them, LGBT MPA does not take a firm stand on these political actions.
"We're a business group and we try to stay true to [providing] the education required to make business decisions," Jefferys said. "We have sworn a pledge to ourselves to not be politically biased, as we're inclusive. In the event that there is a planner that is LGBTQ-friendly that needs to take a stance against something that they can't be supportive of, we're there with the education, where to look, who to look for and what the policies are.
"We make the business argument, because that's what we're about," he added. "It's about our buying power."
[Read This Next: Moving GMID, Meetings and Our Industry Forward]