Park MGM's Meeting Spaces Now IACC Certified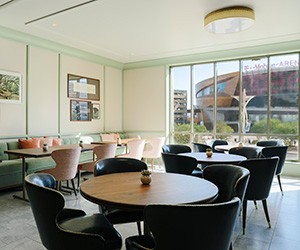 Las Vegas' Park MGM announced that its Ideation Studio and Madison Meeting Center (MMC) are now members of IACC, making them part of the association's group of 300 conferencing venues in 26 countries. 
With 80 percent of MGM Resorts' groups occupying 100 guest rooms or less, MGM said its Madison Meeting Center and Ideation Studio reflect the company's commitment to catering to small groups.
"The IACC certification distinguishes The Meeting Center at Park MGM among the best-in-class meeting venues in the world and recognizes that our work spaces achieve IACC's stringent global standards," said Shelly Cruz, vice president of sales for Park MGM. "We thoughtfully developed interactive, collaborative spaces using research and science as a design guide to generate greater conversation, creativity and results that maximize our groups' time."
Inside Park MGM's New Vegas Meeting Venues
Park MGM's Madison Meeting Center stands as Las Vegas' first executive meeting center and can cater to groups from 10 to 50 people. The 10,000-square-foot meeting space offers 10 flexible rooms, two self-service lounges, built-in audiovisual equipment and rolling whiteboards.
The 7,000-square-foot Ideation Studio opened in November and offers an innovative new way for people to meet. Working with Cisco Systems, Park MGM is the first hotel in the world to offer groups Cisco Webex Boards and Cisco Webex Teams, which give teams a virtual meeting space as well as messaging, file sharing, whiteboarding and video calling. Whether in the room or virtually connected, groups can collaborate, share messaging, notes, files, presentations across all devices and have access to all the notes and materials.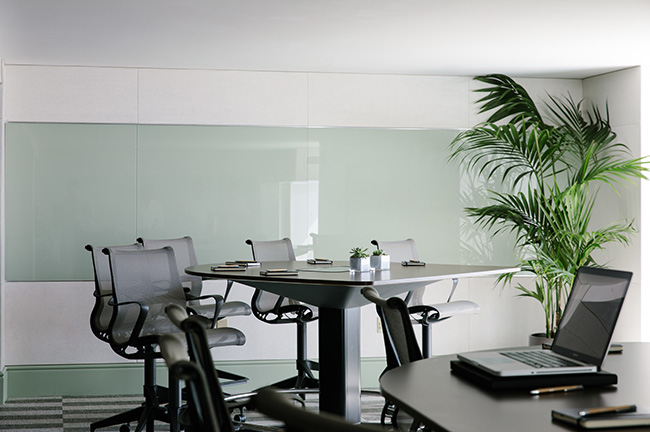 Park MGM IACC Certified Ideation Studio
Beyond the technology, elements within the Ideation Studio are based on behavioral science and how people interact with the environment. There are four distinct layouts and 10 rooms for groups of six up to 24, using elements such as chair and table height, lighting, flooring and room configurations to enhance engagement. 
"The designs of Park MGM's Madison Meeting Center and Ideation Studio have taken into consideration many of the trends and preferences from meeting planners that IACC has identified through its research," said Mark Cooper, CEO of IACC. "The Park MGM leadership team has poured so much dedication and passion into developing a haven for small meetings and we look forward to bringing our own events to these inspiring meeting spaces in the future."  
Staying Fit on the Road at Park MGM
The Madison Meeting Center features the first Daily Meeting Package (DMP) offering on the Las Vegas Strip. The all-inclusive pricing allows meeting planners to pay a flat rate per attendee.
Many attendees want to maintain a healthy lifestyle as they travel, and the Madison Meeting Center accommodates this through Stay Well Meetings, exclusive to MGM Resorts.
[Related Content: Getting Centered on Wellness With Deepak Chopra]
Stay Well Meetings features healthy environments that promote high-performance meetings by increasing attendees' energy, focus and productivity through a variety of elements. 
A partnership between MGM Resorts International and New York-based Sydell Group, Park MGM features 2,700 guest rooms and suites and offers 77,000 square feet of meeting space, with the ability to host up to 5,000 attendees in the customizable Park Theater.
Park MGM is located in the heart of The Strip next to the entertainment and dining neighborhood created by The Park and the 20,000-seat T-Mobile Arena. Restaurants Best Friend by chef Roy Choi and a Las Vegas outpost of the famed Eataly are scheduled to open by the end of 2018.
Destination Hotels' Nancy Lindemer to Lead IACC Americas
In other IACC news, the association announced Nancy Lindemer of Destination Hotels will head up its Americas Chapter as president effective January 1, 2019.
Lindemer, who has more than 26 years of experience in the meetings and events industry, was elected by IACC members for the 2019-2021 term and succeeds current IACC Americas President Sean Anderson of Sodexo Conferencing, who in turn was elected to the role of vice president of the Americas board.
"It's an honor to be elected president of IACC's Americas Chapter," Lindemer. "I have been involved in the association since 2002 and have seen it evolve with the industry. I'm looking forward to leading the Americas chapter and working with a group of talented and inspiring individuals as we continue to drive the ambition of representing all of the top 1 percent of meeting venues globally."
[Related Content: IACC Set to Double European Members]
In addition to the announcement of Lindemer's presidency, Peter Angelis from UCLA joins the IACC Americas Board as a director and Creston Woods of Benchmark was elected as vice president.
IACC also announced the re-election of some of its current Americas Board:
Susan Liston, Aramark
Alex Cabanas, Benchmark, a Global Hospitality Company
Paul Dolce, Meet in SoHo
TJ Fimmano, Gerstner Center for Learning
Andrew Hodd, Vantage Venues
Tim Luepke, Sodexo at USPTO
Heidi Niesen, SICO America, Inc
Joe Santo, PSAV
Brian Stapleton, Aramark
[Read This Next: Venues With All the Necessities for Stellar Executive Retreats]