PGA of America to Relocate to Frisco With Massive Omni Hotels-Backed Development
It seems like just yesterday that the Dallas Cowboys World Headquarters at The Star and the Omni Frisco Hotel at The Star were unveiled in Frisco, Texas. Today, following a December 4, 2018, announcement, Frisco is basking in the glow of another stellar development that includes PGA National of America's new headquarters, along with top-tier golf courses and another Omni hotel—plus a convention center.
PGA of America is moving its headquarters from Palm Beach County, Florida, to Frisco, where it will anchor a 600-acre, mixed-use development with an initial investment worth more than a half-billion. The move is one that will further cement Frisco's positioning as a sports, events and meetings mecca.
"It's very significant for the city," said Marla Roe, executive director of Visit Frisco. "PGA and Omni are incredible brands, and the sheer magnitude of the project combined with PGA of America moving here puts it on the scale of the Dallas Cowboys moving their headquarters here.
"Now, we'll have the power of another brand with PGA and a campus that has restaurants, retail, golf and the Omni, which will be a spectacular property," she added. "The Omni brand is just so well respected nationally, and with the markets they've been going into now with some of their large properties like Nashville, Oklahoma City and Louisville, it puts us in a different market than what we've had on a scale of larger meetings and meetings that maybe prefer resorts over non-resort properties."
The PGA of America development will feature two championship golf courses, a short course and practice areas totaling 45 holes; a clubhouse; Class AA office space; a 500-room Omni resort and 127,000-square-foot convention center; and a technologically advanced retail village.
The development will also include parks and open space plus several miles of trails.
Designed to be a welcoming gateway at Frisco's northern border, the upscale PGA of America project will be situated at Rockhill Parkway and Legacy Drive, approximately one-third of a mile south of U.S. 380. The 600 acres are primarily situated within 2,500 acres being master planned by Hunt Realty Investments.
The development will be open to the public, as well as golfers.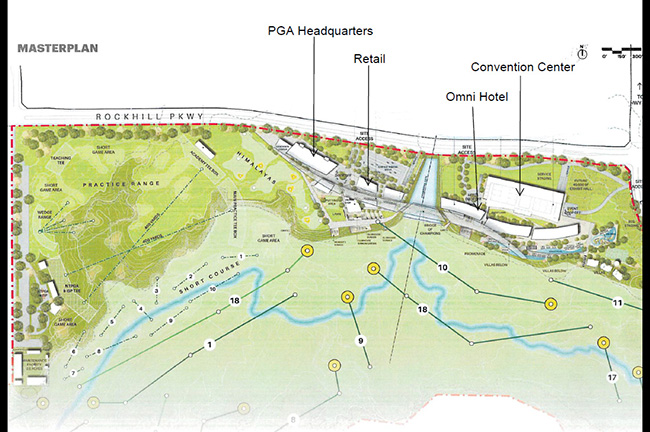 PGA of America Frisco Development Rendering
With the openings of the Dallas Cowboys Headquarters at The Star, the Ford Center and the National Soccer Hall of Fame and recent renovations to Toyota Stadium, the PGA of America development will enhance Frisco's brand appeal as "Sports City, USA" and create impressive new meeting and event experiences for groups, Roe said. It will attract existing clients and new clients that may be very interested in golf or like the Omni brand or resorts in particular, she added. 
The project will enable Frisco to diversify its client mix by targeting more incentives and boosting corporate and other sectors of business, according to Roe.
"Having 500 rooms at the Omni is the one thing that pushes it over the top," she said. "If you think about our Embassy Suites, our largest property, it has 330 rooms. So if a group gets to 250 to 300 peak, corporate groups don't like using overflow as much as other market segments don't mind.
"Now we'll probably be able to get to 400 peak on group business, so that in itself lends us the opportunity to get some sizes of groups that maybe we haven't been able to in the past," Roe added.
The new golf courses are expected to open in summer 2022. The Omni hotel, convention center and other facilities are expected to open within six months of that date.
The PGA of America development will host the KitchenAid Senior PGA Championship in 2023.
Meanwhile, under the agreement, two PGA Championships, two KPMG Women's PGA Championships and potentially a Ryder Cup will be held in Frisco.
For the innovative public-private partnership, PGA of America is teaming with Omni Stillwater Woods, a joint venture led by Omni Hotels & Resorts with Stillwater Capital and Woods Capital; the City of Frisco as well as its Economic and Community Development Corporations; and the Frisco Independent School District.
According to Roe, the city's great track record of successful public-private partnerships was one of the main reasons PGA of America chose Frisco, in addition to the city's healthy economic base.
"The city understands tourism and meetings and conventions, and they're willing to invest to provide things that benefit the residents but also provide general economic impact, plus look for those brands that kind of follow the city's values," she said.
"And having a school district involved is a precedent that the city set a long time ago that you just don't see everywhere."
Meanwhile, Roe added that PGA of America just announced a partnership with University of North Texas (UNT) to collaborate on a sports management program to help college students when the new UNT campus branch is built in Frisco in the next few years.
"Those are the partners the city looks for that really do provide collaboration on a lot of fronts," she said.
The PGA of America and Omni development comes at a time of continued growth for Frisco, with recent developments such as three new hospitals for a total of six, as well as seven hotels under construction that will will bring roughly 1,800 additional rooms to the market in the next year-and-a-half.
"All of Texas is booming, but North Texas more specifically," Roe said. "Frisco is one of the fastest-growing cities in the U.S. and has been for 10 years. Money magazine named us the "2018 #1 Best Place to Live in America."  
With its new developments and unique selling propositions, it's also becoming one of the hottest places to meet in the Lone Star State. 
"It's our proximity, with access to DFW International Airport so close, the newness of the product and the diversity of the product," Roe said. "And while we have a lot of sports venues, we also have incredible retail and attractions with museums, and I think our arts and culture is really growing in Frisco. 
The city's compact nature is another plus, she said. 
"There's a lot that is within a three- to four-mile radius of each other that makes it easy for people to have a meeting, do an off-site event and go to different areas without having long transportation times," she said.
Roe added that sports, dining and retail districts such as The Star and the upcoming PGA of America development bode well for groups wishing to gather in a compact, walkable area to savor memorable experiences in Texas.  
[Read This Next: Omni Frisco Is a Dallas Cowboys Star Attraction]