Puerto Rico's Comeback Story Thrives on Arts, Gastronomy and Heritage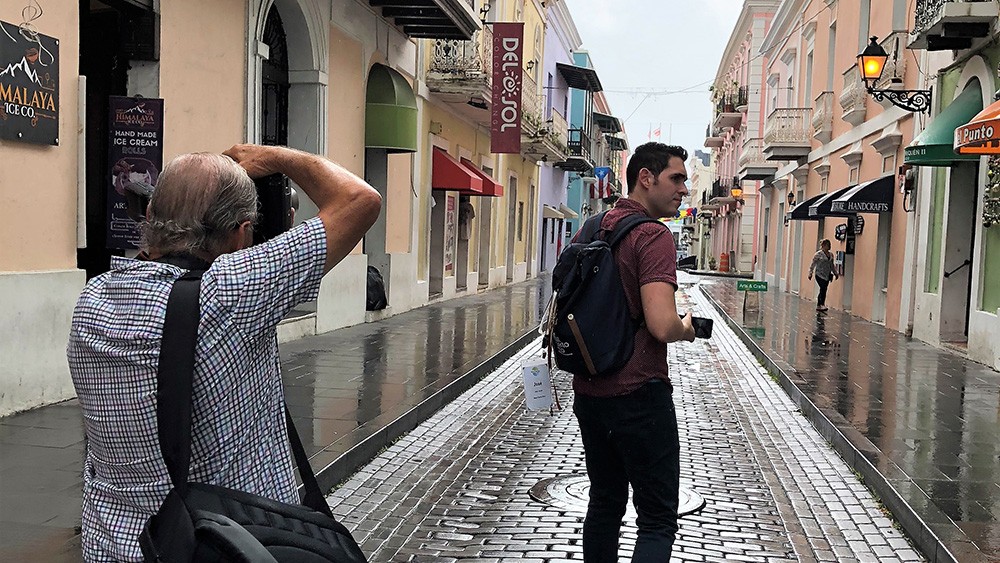 Puerto Rico may have had a massive setback following the disastrous Hurricane Maria in September 2017, but its comeback has been just as colossal, both from an infrastructure perspective and a cultural standpoint.
Discover Puerto Rico, the destination marketing organization created last year, is seizing the opportunity to reposition the brand as not just the beautiful beach destination it has always been known for but also a cultural gem of the Caribbean.
"If you look at the art, the history, the culture, the dance and the gastronomy with our vibrant foodie scene, Puerto Rico differentiates itself from other destinations," said Brad Dean, CEO of Discover Puerto Rico.
"In 2019, Old San Juan turns 500 years old, so you've got this extraordinary history as well as this interesting infusion of Caribbean, African and Spanish culture mixed in with the American character," he added.
[Related Content: $1.9 Billion in Developments on the Way for Puerto Rico]
Indeed, the island has never had a shortage of colorful festivals, quintessential food and drink, music and the arts. Nowadays, that diversity is becoming ever-evolving and eclectic, as are the ways both leisure travelers and meeting attendees can experience it.
Hamilton Supports Local Arts Community in Puerto Rico
Kicking 2019 off on a cultural high note, Lin-Manuel Miranda brought his groundbreaking Broadway musical Hamilton to the island January 8-27 in an effort to raise millions for hurricane relief.
Miranda is a native New Yorker whose parents are from Puerto Rico, and he spent his summers on the island with his grandmother when he was growing up and still travels back regularly.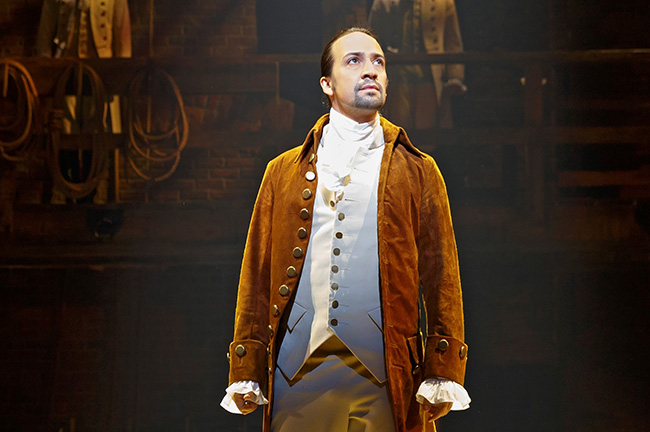 Lin-Manuel Miranda, Hamilton Performance, Credit: Joan Marcus
Miranda, who has been a huge advocate of helping the island rebuild after the hurricane, reprised his role as Alexander Hamilton for the sold-out 24-performance run at Centro de Bellas Artes in San Juan, with all proceeds benefitting the new Flamboyan Arts Fund.
With the belief that "in the time of social and economic change following Hurricane Maria, the arts can build hope, stimulate the economy and enrich people's souls," the fund is dedicated to all facets of the arts community in Puerto Rico, including music, theater, visual arts, dance, literature and youth arts education.
To create the limited-term arts fund, Miranda, his family and Hamilton partnered with the Flamboyan Foundation, a nonprofit that works to ensure every child in Puerto Rico and the U.S. mainland receives an outstanding education.
Groups can help support the arts on the island by checking out some of the grant recipients of the Flamboyan Arts Fund.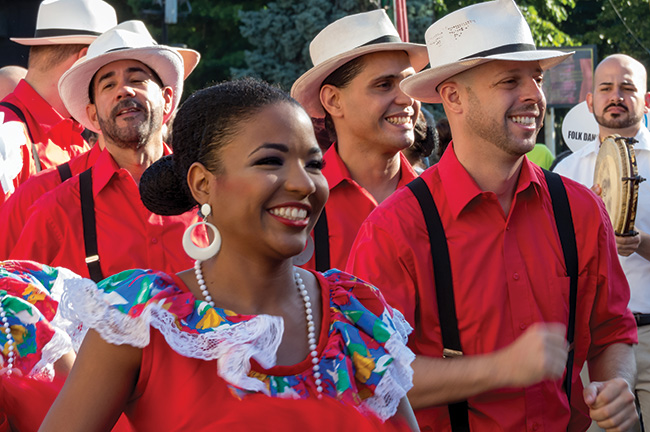 Puerto Rico Dancers, Credit: Shutterstock
Many of the institutions receiving grants are available for private events and conferences, including the following.
Puerto Rico Museum of Art, with 24 exhibition halls, a theater and a dramatic glass-walled atrium.
Puerto Rico Museum of Contemporary Art, situated in the Georgian-style Labra Historical Building.
Historic Teatro UPR, which is part of the University of Puerto Rico and has been the island's most important cultural center since it opened in 1939.
Teatro UPR stages performances such as theater, dance, symphony, opera and popular artists, and is available for conferences and symposiums.
Food Is Culture in Puerto Rico
Aside from the arts, Puerto Rico is cultivating a rich and exciting food and drink scene, according to Dean.
"Right now, there's a very vibrant foodie scene, with a lot of chefs who are creating or re-creating new restaurants experiences," he said. "Some of them are coming back to the island after Maria, committed to making sure gastronomy is an important part of our economic development going forward."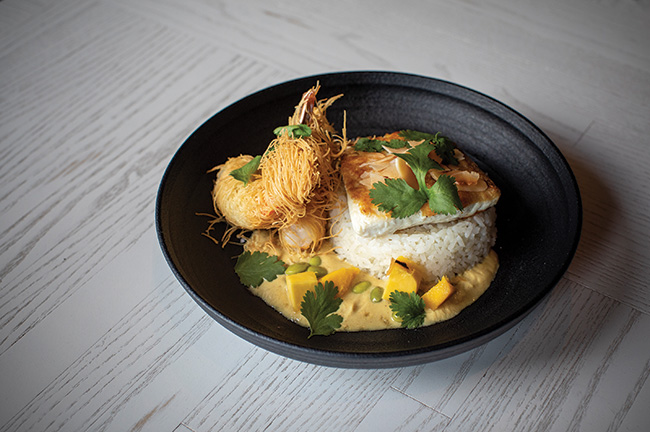 Roots Coastal Kitchen, Wyndham Grand Rio Mar Puerto Rico Golf & Beach Resort
Dean added that after Hurricane Maria, one of the epiphanies was how much of the island's food product was imported. Nowadays, it's becoming just the opposite.
"Entrepreneurial chefs are aligning with the farmers because they see this as not only an opportunity to elevate the brand but as a bit of an altruistic intent that we need to be a self-sustaining island," he said. "They see it as sustaining the quality of life as well as the tourism sector."
To that end, restaurants driven by locally sourced products are popping up throughout the island, including in La Placita and Calle Luisa, Dean said, describing the areas as interestingly eclectic neighborhoods that are popular with locals as well as visitors wishing to explore secret spots.
Meanwhile, another fresh dining addition is Roots Coastal Kitchen at the Wyndham Grand Rio Mar Puerto Rico Golf & Beach Resort.
Ramon Carillo, executive chef of the property, opened Roots in collaboration with New York's Top Chef finalists and James Beard Award nominees, Jeff McInnis and Janine Booth. The restaurant features innovative farm-to-table concepts inspired by Southern comfort cuisine with a Caribbean twist.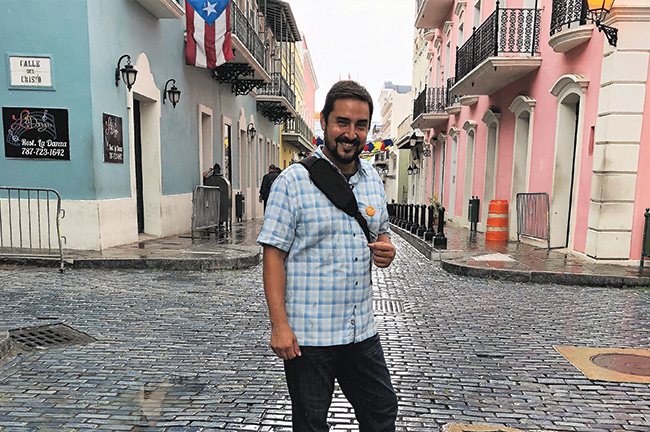 Pablo Garcia, Spoon Food Tours, Old San Juan, Credit: Lori Tenny
One of the best ways for groups to experience the intricate weaving of history and cuisine in Puerto Rico is on a customized Spoon Food Tours program.
On a recent visit, we indulged in the Old San Juan Walk & Taste Tour with the company's manager Pablo Garcia, a wealth of wisdom about Puerto Rican history and heritage.
He escorted us everywhere from traditional favorites, where we met the owners and learned about the delicious, ages-old recipes we tasted, to one of the destination's first craft breweries, all set along the charming cobbled streets of Old San Juan.
[On the Scene: People of Puerto Rico -- You Had Me at 'Hola']
On the beverage scene, Puerto Rico has long been famous for its rum, Bacardi, with its unmistakable bat logo, in particular. A visit to the historic Casa Bacardi, an Art Deco treasure, is an integral part of the group experience in Puerto Rico.
"We are a 127-acre open space full of sunshine, rum and unique experiences," said Irene Muniz, business development manager at the Casa Bacardi. "These range from spaces for events, teambuilding, meetings and private dinners, to mixology and rum tastings and historical tours, to learning all about rum making and a special hands-on experience, where you can fill your own bottle directly from the barrel onsite where the exclusive rums were crafted."
Bomba (traditional Puerto Rican music) experiences, mofongo-making classes (a traditional Puerto Rican dish) and a special tour of the bat caves are some of the other options available for groups.
Coffee Makes a Comeback in Puerto Rico
While Puerto Rico is known as the Rum Capital of the World, Dean said there's now a movement for the destination to be internationally recognized for another staple beverage: coffee.
"Coffee is an integral part of the economy but it's really part of the culture in Puerto Rico, and it took a heavy hit with Hurricane Maria," Dean said, referring to the thousands of coffee plants the storm wiped out. "It takes about three to four years for the product to come back but there's a concerted effort between the public sector and private sector to make sure it comes back strong."
On July 1, 2018, the first day the new Discover Puerto Rico DMO was launched, Dean said he brought in a coffee artisan to talk about how coffee is grown, harvested and made.
"By the end of it, we didn't know whether to drink it or salute it," he said. "It was like this spiritual experience.
"The sad part is that he had saved his last batch of coffee for us on our kickoff party," he added. "Now he's out of business until he gets more product coming in."
Starbucks recently announced it was donating 2 million coffee seeds to Puerto Rico, particularly to smaller coffee farmers and entrepreneurs.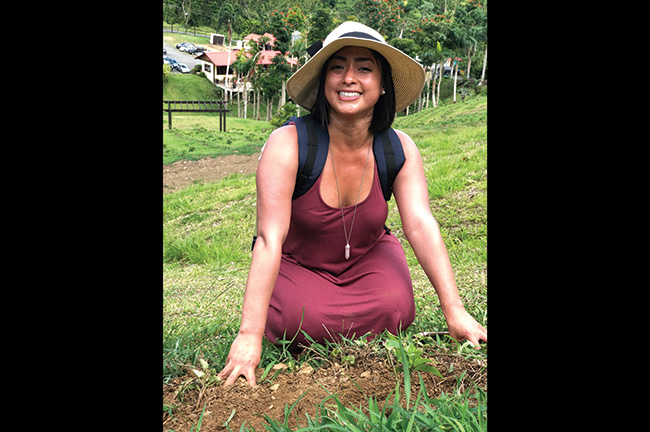 Planner Jennifer Hernandez Replants a Coffee Tree at Hacienda Munoz, Credit: Lori Tenny
One of the ways our group lent a hand on our visit in April 2018 was by heading to the beautiful Hacienda Munoz, with its open-air restaurant, delicious local cuisine, gorgeous countryside setting and unforgettable tour.
We were enamored by the fascinating stories and information on the coffee-making process by our tour guide, clearly the most passionate coffee farmer on Earth.
We then climbed up the hill and rolled up our sleeves to help replant newly sprouted coffee trees.
Giving back to an island clearly back in bloom and ready for groups to experience its rich brew of cultural diversity was a great way to cap off our Puerto Rico journey.
Puerto Rico CVB Contact Information
Discover Puerto Rico
787.957.8880