6 Event Tech Innovations That Will Change the Industry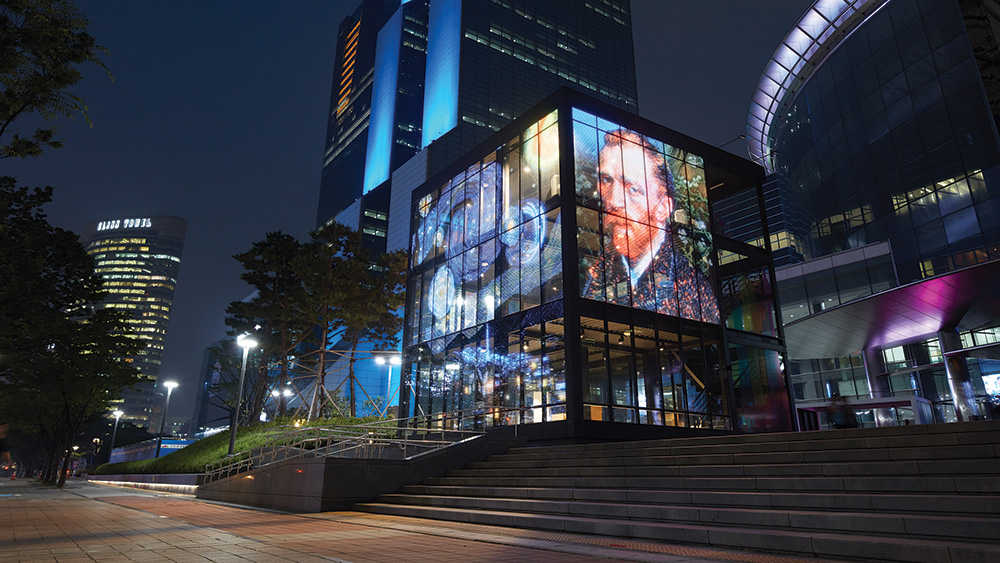 Michael Cerbelli has been turning meeting planners' heads since he first took the stage 18 years ago with his annual list of the latest trends sure to inspire, engage and mesmerize attendees during events.
This year, technology played a larger role than ever in the trends revealed during Michael Cerbelli's: The Hot List™: 2019 presentation during The Special Event at the San Diego Convention Center in January.
"We had our biggest audience ever for the presentation—standing room only—and the list for 2019 is the heaviest in tech ever," Cerbelli said, adding that roughly 16 items are tech-related out of 40 on the list. "It's fast and furious how tech has touched our community and is continuing to have such an impact on our industry."
Cerbelli selected six of the most exciting event tech innovations from his 2019 list.
Event Tech Innovation No. 1:
Datakalab Facial Recognition Software
"Datakalab is a neuroscientific way of reading audience members' expressions—it's really interesting," Cerbelli said. "It's something law enforcement uses, and Taylor Swift even used it to find a stalker in the audience."
In a meeting or event setting, the best part is seeing how attendees are truly reacting to what a presenter is saying, according to Cerbelli.
"Instead of getting a Survey Monkey questionnaire at the end, this is much more productive and revealing, not to mention really cool to understand what an audience is thinking," he said.
Datakalab's facial recognition software analyzes, via cameras, guests' facial expressions and emotions using neuroscientific datapoints.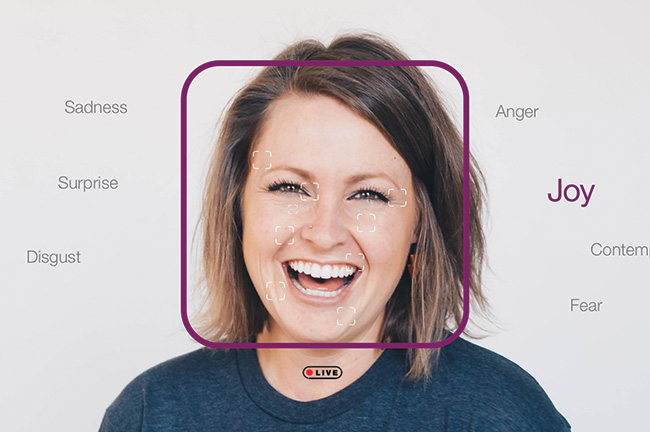 Datakalab Facial Recognition Software
The software is paired with cameras on the stage where audience members are focused. One camera can film about 75 faces in a room that is set up like an amphitheater.
The footage is sent to Datakalab's neuroscience experts for analyzation.
The report outlines attendees' collective responses to various points within the programming, allowing people to better tailor their content to what will drive the most successful responses in future content delivery.
Cerbelli said it's the future of delivering results, as it allows planners to consider eliminating post-event feedback campaigns.
Event Tech Innovation No. 2:
Lightform Projected AR Software
"In the events industry, we've all seen Lightform, another interesting product with the 3D effect that looks like a building is crumbling, for example," Cerbelli said.
He added that as the company is moving into five years with the technology, it created an attachment that faces the object, looks at it, scans it and puts it in your computer.
The attachment produced by Lightform makes it much easier for a creative person or marketing person, for example, to develop a unique "lightform" in 30 to 60 minutes on their computer at a great price point, Cerbelli said.
"You can add imagery to bottles, develop a painting or an outline," he added. "If you had a wall, a bar, a painting, a work of art, mannequins or even someone's dress, they could 3D map it."
Event Tech Innovation No. 3:
Doob 3D-Printed Action Figures
With Doob, 3D-printing reaches new heights, according to Cerbelli.
"Doob takes 3D to a new level by applying it to people and even animals," Cerbelli said.
"When stepping into a 3D scanner called the doob-licator, which are set up at retail locations around the U.S., cameras capture dozens of images from all angles and the data is used to create a 3D replica, which is like an action figure," he explained.
[Related Content: Doob Transforms Attendees Into 3D-Printed Action Figures]
Cerbelli was the first to use Doob's technology as an event invitation, creating 80 3D-printed "action figures" with a James Bond theme in a custom-made box.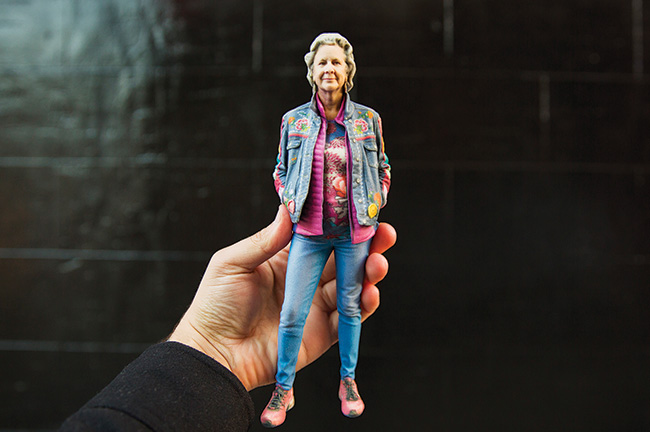 DOOB 3D-Printed Action Figure
"I also did one of myself for a presentation and my son carried it out on stage," he said.
"People went nuts," Cerbelli added. "It was very exact, right down to the handkerchief. This is something planners could even do as a creative thank-you presentation or as CEO gifts." 
Event Tech Innovation No. 4:
AI Robots at Meetings
Artificial intelligence robots debuted a few years ago, and they have started debuting at tradeshows and conventions.
Cerbelli believes it's just the start of a trend that will continue to evolve.
"These robots are incredible," Cerbelli said. "They have facial expressions and can have full conversations with you. There are endless ways they can be used at events. They are becoming so popular, Jimmy Fallon even had one as a guest on his talk show."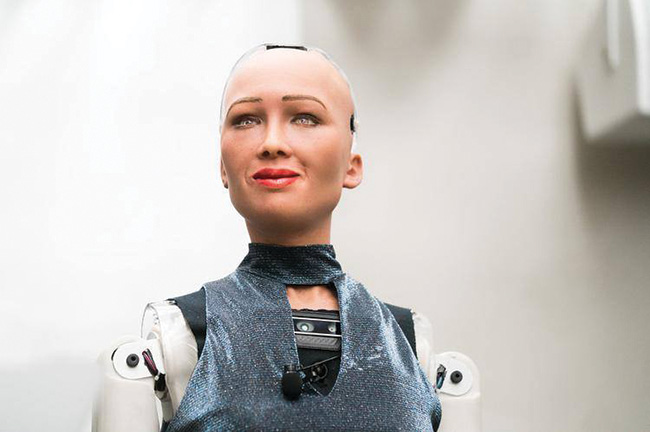 Sophia AI Robot by Hanson Robotics
"Sophia" is one of the more popular AI robots available today. She made her first public appearance at the South by Southwest Festival in Austin in 2016. She has the ability to display more than 50 facial expressions.
Sophia was named the United Nations Development Programme's first-ever Innovation Champion in November 2017 and is the first non-human given any United Nations title.
Event Tech Innovation No. 5:
G-SMATT Smart Glass Displays
Having the ability to transform a blank glass wall into an interactive digital canvas is a dream for event planners. The technology to do this is now available through G-SMATT.
"This is definitely the next generation of event technology and an amazing way to wow guests," Cerbelli said.
G-SMATT is a fully transparent LED glass that allows event producers to create a full 360-degree program that combines the physical and digital worlds to immerse guests in a brand's message in a unique and entertaining way.
"It's a great way to breathe life into any space," Cerbelli said.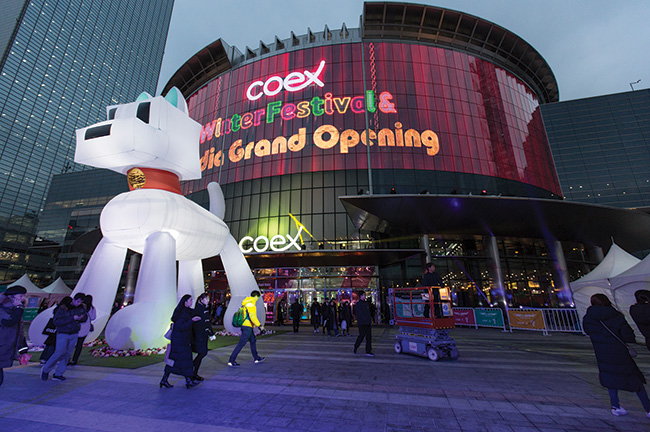 G-SMATT Kakao Talk  Smart Glass LED Display at COEX
The technology can display digital artwork, create augmented reality and holographic visuals, and even allow guests to play interactive games. It can be a building block for everything from tradeshow booth structures to the outside of skyscrapers.
It has been featured in everything from permanent installations of convention center buildings to temporary installations for Fortune 500 events.
Event Tech Innovation No. 6:
Visual Comet's LED Tunnels and Bars
The standard reception bar setup enters another realm with Visual Comet.
"Visual Comet creates incredible LED tunnels and bar [displays], for example," Cerbelli said. "The visuals and branding possibilities are fantastic with the imagery you can bring to life.
[Related Content: Visual Comet Unleashes One Amazing Event Light Show]
"We did one with a rock and roll theme and some with imagery when you first walk into a room and go into an aquarium with fish walking around you," he added.
Want to learn about more favorite finds from Michael Cerbelli's: The Hot List™ and Meetings Today? Sign up for our newsletter delivered every other Monday.