Executive Chef Ben George Serves Meals to Rock Stars … and the Rest of Us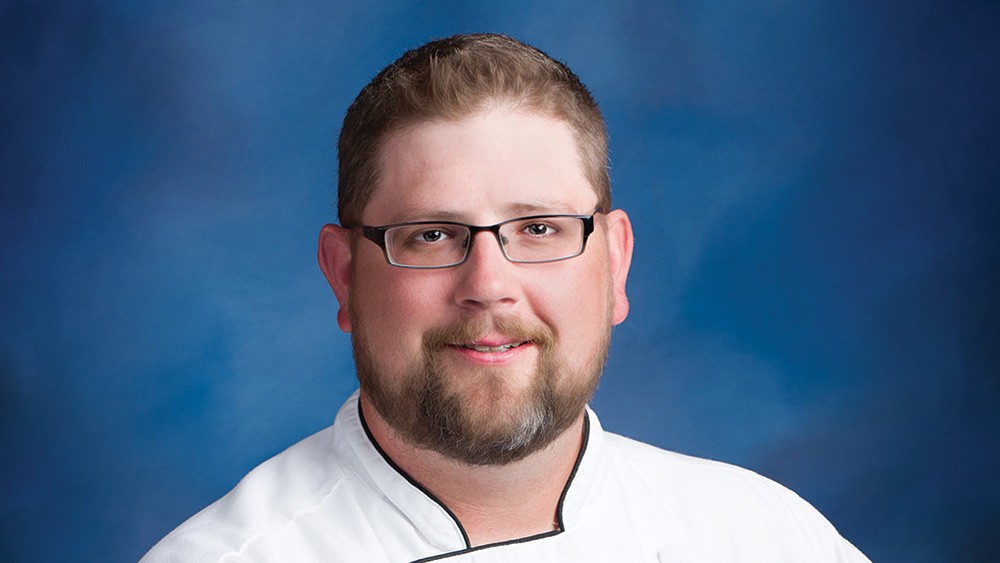 Last March 2018, Ben George was feeling the madness. As executive chef for Savor… at INTRUST Bank Arena in Wichita, Kansas, he was preparing food for the first and second rounds of the 2018 NCAA Division I Men's Basketball Championship, hosted by Wichita State University.
George led the efforts to provide meals to more than 45,000 guests during the event, including boxed lunches for more than 4,000 students and press meals for more than 400 media personnel.
Local paper The Wichita Eagle reported the tally was 40,000 burger patties, 16,500 chicken fingers and 5,000 pretzels among the food consumed.
[Featured Recipe: Bourbon Espresso Glaze by Chef Ben George]
He also provided food for the arena's more than two dozen concession stands, each of which was serving chicken, barbecue and hot dogs.
"It was a big event for us," George said.
"It was the first time we hosted the men's tournament," he added. "The first day of practice we prepared 6,000 boxed lunches and on top of that fed all the teams, press and a VIP party promotion company for 150 people for each of the games. On top of that was all the production for the concession stands—chicken fingers, pizzas, making 2,500 pounds of pulled pork."
The hard work paid off when George was named Chef of the Year by the Kansas Restaurant & Hospitality Association, an annual award that recognizes a working chef who has set new or consistent standards of excellence in the Kansas food scene.
The award also recognizes work in the community, as George volunteers through ProStart, a two-year nationwide high school program, as an instructor at Eisenhower High School.
He also volunteers for nonprofit organizations such as the Wichita Orpheum Theatre and Kansas Humane Society.
The 37-year-old chef, who labels his style of cooking Southwest French fusion, said that past gigs helped him prepare for the NCAA week—his work as corporate chef for the Warren Theaters in Wichita included, he recalled, dealing with five theaters of 200 people.
One interesting gig was at the Beech Activity Center, where he provided food service for Textron Aviation and prepared three-course meals for some of the richest people in the world.
Beech Activity Center clientele included the Royal Saudi Air Force, among others.
Rock Star Meal Requests
At INTRUST Bank Arena, sports season is generally October through May when the Wichita Thunder hockey team—the Edmonton Oilers' third-tier farm club—play.
The rest of the year the arena hosts concerts and other events.
"I've cooked for everyone from Ariana Grande to James Taylor to Disney on Ice to Journey," he said. "Musicians are more challenging."
[Related Content: 4 Healthy Food & Beverage Strategies]
Often, musicians send a rider six weeks before the concert.
One of the most amusing riders was from the Foo Fighters, who put together a coloring book with directions like "this is how bacon should look like."
It included pictures of a limp piece of bacon versus crispy bacon.
"A lot of artists who play arenas get the absolute worst food," George said.
"My kitchen is 90 percent from scratch," he added. "My goal is when an artist comes backstage, our food in little Wichita, Kansas, is the best on their tour."
Aside from the more mundane special requests like gluten-free, vegan and vegetarian, each artist has their own special requests.
Tone Loc wanted popcorn shrimp that tastes like the dish at Hooters. Lil' Wayne requested a gourmet grilled cheese station—deemed the best grilled cheese he ever had. One artist asked for individually peeled bananas, wrapped in gallon-size Ziploc bags in the freezer.
Though the INTRUST Bank Arena is often booked for entertainment, groups can rent the arena floor and the facility also hosts tradeshows. George typically serves buffets for group lunches.
He said that sweet potato crusted salmon is one of his go-to dishes for events.
"I still make the food from scratch," George said.
Click here to view Meetings Today's full roster of Top Chefs.