Army-Navy Game Showcases Philadelphia's Strengths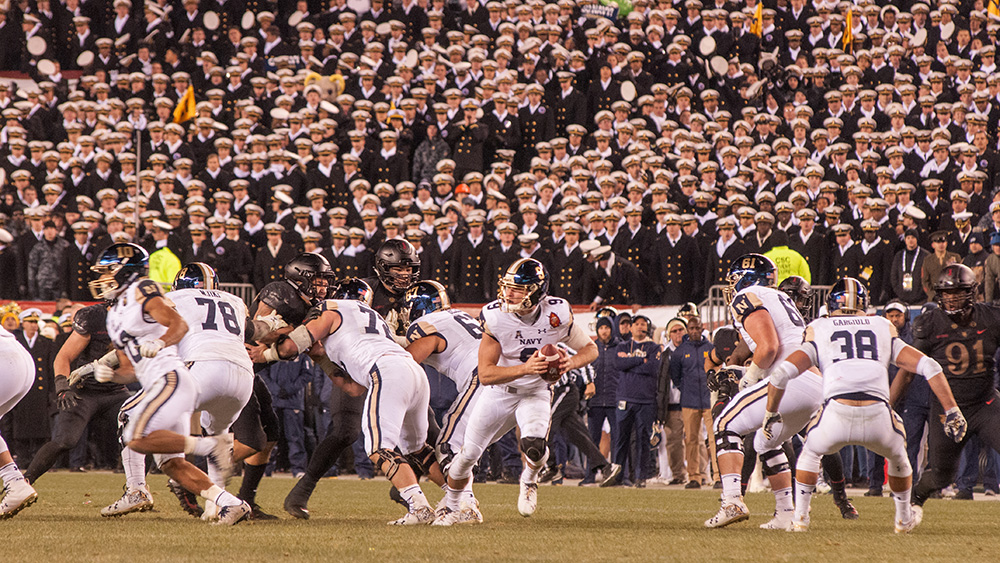 In June 1778, following the punishing winter encampment at Valley Forge, Pennsylvania, the Continental Army, under Gen. George Washington, resumed the Revolutionary War campaign with determination.
In December 2018, preceding the 119th annual Army-Navy football game, the Brigade of Midshipmen and Corps of Cadets paraded onto Lincoln Financial Field in the stirring "March On" ceremony.
Twenty miles and 240 years apart, these landmark events in Valley Forge and Philadelphia signify the region's historical relevance.
Hosting the annual Army-Navy football game for the 88th time, partners led by the Philadelphia Convention & Visitors Bureau (PHLCVB) dedicated sports division (PHL Sports) executed the event with customary operational precision. Valley Forge's leadership, closely identifying with its legacy, prioritizes winning group outcomes.
For meetings and events, it's win-win defined.
Army-Navy Game: More Than Just Football
An intimate CVB-led Army-Navy media fam in December 2018 provided compelling insight into Philadelphia's hosting prowess, venue diversity and expanding product set.
Our weekend base, Cambria Hotel Philadelphia Downtown Center City, is among nine scheduled new or upgraded flags adding 1,900-plus rooms from 2018 on, as soaring international visitation and robust convention growth spur major hotel development.
Just a 12-minute stroll from the Pennsylvania Convention Center, this stylish 223-room Avenue of the Arts newcomer offers 1,700-plus square feet of flexible space.
Nearby, the 52-story, dual-branded 295-room W Philadelphia and 460-room Element Philadelphia is scheduled for January 2020. Highly anticipated, too, is Four Seasons Philadelphia's slated mid-2019 reopening atop the new 60-story Comcast Center.
[Related Content: Exploring the Arts in Philly and Valley Forge]
Conceived by the Philadelphia CVB in 2003, the Patriot Games is an Army-Navy tradition pitting Cadets against Midshipmen in five physical and mental team challenges.
Accompanied by the Rocky theme song and Rocky impersonator John Monforto, first was a relay sprint up the famed "Rocky steps" of the Philadelphia Museum of Art.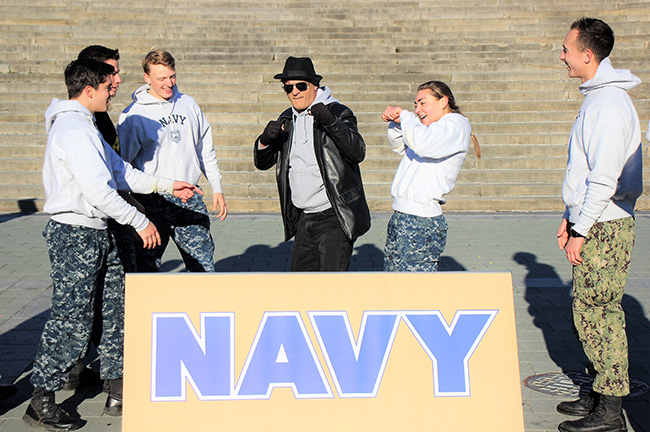 Midshipmen With Rocky Impersonator John Monforto at Rocky Steps, Credit: Jeff Heilman
The 1928 landmark is currently undergoing a total physical transformation master planned by star architect Frank Gehry, slated for 2020.
Hosting the outdoor Leadership Reaction Course, the Independence Visitor Center, undergoing a phased $15 million expansion, offers a second-level Liberty View event venue.
Center City skyscraper One Liberty Place, staging the Pull-Up Challenge in its Shops level, offers the enclosed 57th-floor observation deck for tours and events.
Completing the Patriot Games were the Tug of War on the event-capable USS New Jersey battleship in nearby Camden, New Jersey—located approximately 15 minutes away from Philadelphia, and gameday Stadium Obstacle Relay at Lincoln Financial Field.
Dignitaries attending the Army-Navy Gala, staged in the Pennsylvania Convention Center's national landmark Grand Hall, the magnificent former Reading Terminal Train Shed, included NFL legend and Navy veteran Roger Staubach and Philadelphia CVB CEO Julie Coker Graham.
Emcee Ron "Jaws" Jaworski, who quarterbacked the Philadelphia Eagles in the 1981 Super Bowl, shared these thoughts before the event: "Of all the cities I played, Philadelphia is the most passionate," said the 17-year NFL veteran. "Compact Philadelphia has it all for business meetings, too, including a dynamic dining, entertainment and hospitality scene."
Attached to the 78-suite extended-stay AKA Rittenhouse Square (closed for renovations until spring 2019), a.kitchen is an intimate bistro with a cocktail bar ideal for intimate events.
Harp & Crown, from serial restaurateurs Michael and Nina Schulson, wows with 24-foot ceilings, vintage decor and an underground bowling alley. Epicurean entrepreneur Townsend Wentz delivers a winning tapas-driven experience at event-capable Oloroso.
Tour-capable national landmark Reading Terminal Market, from 1893, was just voted America's top farmers' market. Opened in November 2018, the new Philadelphia Bourse artisanal food hall updates an 1895 Victorian commodities exchange.
The day before the big Army-Navy football game, we witnessed the commemoration of the Army-Navy mural at versatile 69,696-seat Lincoln Financial Field, where Philadelphia Eagles CFO Frank Gumienny led our fam group on a tour of event-capable spaces, including the Eagles' locker room, hospitality venues and natural grass field.
Game day at the multivenue stadium complex began with an indoor tailgate at adjacent Citizens Bank Park. Army won the game; Philadelphia won the weekend.
Valley Forge: Philly's More Than Capable Neighbor
"Leadership is ingrained in our destination," said Mike Bowman, CEO of the Valley Forge Tourism & Convention Board (VFTCB). "We closely associate Valley Forge's history with our efforts and work with organizations like the Montgomery County Development Corporation to best serve those coming into the region."
Examples include the Extraordinary Savings Program, a promotion featuring Continental soldiers offering planners up to $1,000 for booking a new meeting through the VFTCB.
"That really helped drive group business, so we're looking to extend that option into 2019," said Scott Higgins, the bureau's associate director of sales. "We are also emphasizing the teambuilding options offered by many of our 200-plus arts and cultural venues county-wide."
[Related Content: Valley Forge Casino Resort DOS Shares Her Secrets to Success]
Event standouts include the Glencairn Museum and the John James Audubon Center.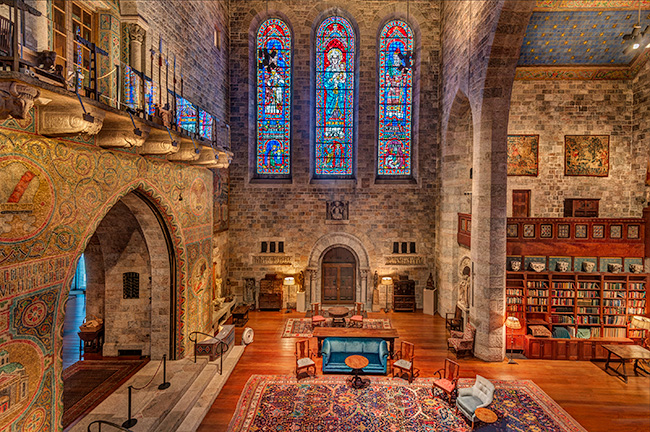 Glencairn Museum, Valley Forge Credit: VFTVB
Initiatives include the Executive Leadership Program at Valley Forge National Historical Park, from partners George Washington's Mount Vernon and the Valley Forge Park Alliance.
Drawing on Washington's strategy during the winter encampment, noted historians and military experts lead interactive discussions, park walks and other customizable elements.
Also offering group tours and events, the park opened a temporary visitor center in December 2018, ahead of the $12 million renovation of the original 1976 facility.
Teamwork and collaboration are common themes in diverse engagements across the county.
Culinary retreats at the IACC-certified Normandy Farm Hotel and Conference Center include teaming up to prepare meals for donation to Ronald McDonald House Charities.
Updating a Revolutionary War battle site, Chubb Conference Center offers a low-hanging ropes course for delegates to build personal and team strength.
There's also the Zoofari Course, scavenger hunt and other adventures at Elmwood Park Zoo; problem-solving at several area Escape Rooms; and ax-throwing at Bury the Hatchet, hosting 90-person-capacity private events.
Montgomery County's 54 golf courses, several historic and nationally ranked, offer some 300,000 yards of professional development and networking opportunities.
For well-crafted occasions, the expansion taproom at Workhorse Brewing Company in King of Prussia offers handmade brews and private event hosting.
Philadelphia and Valley Forge CVB Contact Information
Philadelphia CVB
215.636.3300
Valley Forge Tourism
& Convention Board
610.834.1550