6 Innovative Convention Center Projects That Are Reinventing the U.S. Meetings Landscape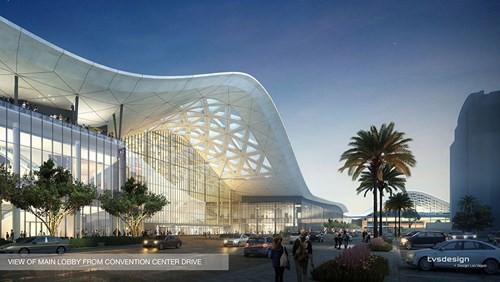 Hollywood has imagined some pretty dazzling fictional vehicles for movies and TV shows, from Tron and Logan's Run to Blade Runner and Star Wars.
Soon, Las Vegas delegates may be experiencing revolutionary rides for real.
In March 2019, the Las Vegas Convention and Visitors Authority (LVCVA) announced its recommended partnership with Elon Musk's The Boring Company to create a futuristic people mover for the Las Vegas Convention Center, which is undergoing an expansion. The LCVA Board also approved this partnership.
The AEV, or High-Occupancy Autonomous Electric Vehicle, would loop through underground express-route tunnels, zooming conventioneers between exhibit halls and other venues.
It's a visionary solution born of necessity.
At 200 acres, the completed convention district will require a two-mile walk from end to end.
Innovation is requisite for staying ahead in the convention business. It's second nature for Vegas, and it's also the watchword for reinvention in convention markets around the U.S.
The second phase of the nearly $1.5 billion expansion of the Las Vegas Convention Center District, timed for completion by CES 2021, will add 1.4 million square feet to the facility, including 600,000 square feet of new exhibit space. Phase three, slated for completion in 2023, will completely renovate the existing 3.2 million-square-foot venue.
With renderings showing sleekly futuristic lines and inspiring interiors, the design aims to establish an unmistakable identity and sense of place through unique architectural and artistic forms. Since the introduction of neon in 1928, that's core Vegas DNA.
So is evolving with the times.
Vegas has mastered turning challenge into innovation, driven to stay ahead of external competitors and its own groundbreaking standards.
The proposed delegate-mover is a textbook example. It's also part of the bigger growth picture.
Vegas, currently offering 11.5 million square feet of meeting space, is adding 3.5 million square feet in the next couple of years, along with several thousand new hotel rooms.
With the major meeting space additions in addition to expanding airlift and climbing tourism numbers, Vegas remains one hot ticket.
Amid the cheers, the transportation infrastructure is groaning.
Tomorrow's solutions are needed today as Strip congestion increases. That's where the potential LVCVA-Boring Company partnership comes in. The vision includes extending the AEV system to downtown Las Vegas, with stops along the Strip corridor, the airport and beyond, including the new Raiders Stadium. This is true "Future City" thinking—with convention innovation leading the way.
On March 12, 2019, the LVCVA Board approved the recommendation to select Elon Musk's The Boring Company to design, construct and operate a loop of underground express-route tunnels that could carry passengers in autonomous electric vehicles at high speeds, advancing the project forward.
The two organizations will determine specific design, construction and operational plans and negotiate a contract for final approval by the LVCVA Board in a subsequent meeting anticipated by June 2019.
The four-year, $551 million expansion of the Moscone Center, unveiled in January 2019, came with some unique engineering challenges.
First and foremost was maintaining convention business during some monumental demolition and construction phases.
"The building remained operational throughout 268 convention events, including some with 40,000-plus attendees," said Brook Mebrahtu, senior project manager for San Francisco Public Works.
"That required complex sequencing, scheduling and pedestrian-safe access measures throughout," she added. "Another unique complexity was the excavation work 40 feet below Howard Street."
Specifically, that required the removal of 18,000-plus cubic yards of earth separating the center's two vast underground halls to resolve an existing bottleneck and create expansive contiguous space.
Other advanced solutions included fabricating supersize BRBs, or buckling-restrained braces, for the superstructure and relocating electrical substations, gas pipelines and other critical systems and infrastructure.
"Don't underestimate the engineering miracles that needed to take place," said Santa Rosa, California-based industry expert David Kliman, who moderated the San Francisco Citywide Customer Advisory Council for the Moscone expansion project.
For Kliman, transformation highlights include the elimination of the former bottleneck between the underground halls, creating the requisite expansive contiguous space, and the new 50,000-square-foot, column-free ballroom, offering programmable outdoor terraces on either side.
"Years ago, we discussed building a new convention center on open land away from downtown," Kliman said. "That came off the table when customers unanimously said they wanted to be downtown."
"Accomplishing that goal, Moscone 2019 has created a walkable, state-of-the art campus in the heart of San Francisco," he added. "This level of downtown integration is unprecedented."
So, too, are sustainability innovations such a complex water capture and treatment system that makes the Moscone, slated for LEED Platinum certification, net positive on water by 5 million gallons per year.
The rooftop solar array, the largest in San Francisco, generates nearly 20 percent of the building's energy needs. 
World-class art has a major presence in the $620 million makeover of the Miami Beach Convention Center.
The reimagined center features a $7 million investment in commissioned public art, reinforcing Miami Beach's status as a global art destination.
Eco-friendly architectural innovation and new green space also contribute to a bold new identity and sense of place for the LEED Silver-designed building, which was unveiled in November 2018.
Sustainable technologies include the facade's undulating wave of heat-reducing metal fins.
The rooftop parking deck replaces the former six-acre asphalt lot, which is being transformed into green space with canopy trees, a public lawn and a plaza. Nearly three acres of programmable park space, centered around a majestic strangler fig tree, is being developed on the building's north side.
Overall enhancements include 500,000 square feet of renovated exhibit space, 84 breakout rooms totaling 183,000 square feet, a new 60,000-square-foot grand ballroom, a new 20,000-square-foot, glass-enclosed rooftop ballroom and a connected 800-room headquarter hotel.
Talk about beauty sleep. The Kentucky International Convention Center, shuttered in August 2016 for a two-year, $207 million transformation, was a masonry-clad eyesore originally opened in 1977.
Reopened in August 2018, the LEED Silver-designed KICC is the new jewel of downtown.
"Convention centers tend to be introverted building typologies—buildings that are inwardly-focused and turn away from the city. For KICC, we chose to create an urban extrovert," stated Peter Ruggiero, design principal for project partner HOK in Chicago, on the firm's website.
"This is a building that celebrates its place in Louisville—a convention center that uses its activity and presence to contribute to the vitality of downtown," he added.
As Bay Area-based meeting planner Christa Mekki discovered when hosting nearly 900 attendees at the KICC, the difference is like night and day.
The glass facade, framed by a grand colonnade and canopy, fills the building with natural light. The expansive new interiors, with exhibit space increased from 146,000 square feet to more than 200,000 square feet, offer dramatically enhanced sightlines, wayfinding and flow.
Key enhancements of the project include 200,000 square feet of contiguous, class A exhibit space, a 40,000-square-foot, column-free ballroom with color-changing LED walls, 52 meeting rooms, a 175-seat tiered conference theater and 6,000-plus square feet of pre-function space.
No more singing the blues either for the Memphis Cook Convention Center. The renamed Memphis Convention Center, slated to reopen in fall 2020, is set to rock following a nearly $200 million update.
The ground-up investment anchors the Bicentennial Gateway Project, a series of major improvements intended to reshape downtown, the riverfront and other areas as Memphis turns 200 this year.
Two preeminent design firms are behind the sweeping transformation: tvsdesign and Looney Ricks Kiss. Atlanta-based tvsdesign, also engaged on the Las Vegas Convention Center expansion, is a global leader in convention center design. The Memphis office of nationally renowned Looney Ricks Kiss brings their prowess for "engaging people" and "creating a sense of place" to the project.
Its vision includes expanding the MCC's existing footprint with outdoor terraces and glass-enclosed concourses, prefunction areas and meetings spaces that take full scenic advantage of the venue's location by the Mississippi River.
Overall upgrades to the Memphis Convention Center include:
the 118,000-square-foot, column-free Main Exhibit Hall, with new retractable ceiling lights;
secondary flexible space convertible to a 67,500-square-foot ballroom;
a 28,000-square-foot ballroom for smaller events;
46 flexible breakout rooms, up from 30;
a new skybridge connection to the 600-room Sheraton Memphis Downtown Hotel;
and upgrades to the connected 2,100-seat Cannon Center for the Performing Arts. 
"This project touches every square inch of the convention center, bringing hotel-quality finishes and amenities desired by meeting planners and delegates," said Kevin Kern, vice president of public relations for Memphis Tourism.
Meanwhile, Memphis is experiencing a hotel boom.
Indigo and Hilton Garden Inn just arrived; Moxy, Aloft, Arrive, Hyatt Centric, Tapestry and Curio by Hilton are on the way; and plans call for the 550-room Loews Hotel by the new convention center.
The 3.9 million-square-foot LEED Gold-certified Georgia World Congress Center, anchoring Atlanta's 220-plus acre, multivenue convention campus, is the world's largest LEED-certified convention center.
In 2018, this global convention powerhouse, the fourth-largest in the U.S., commenced its first major expansion since 2002.
The $55 million project, slated for completion at the end of 2019, is part of the Georgia World Congress Center Authority's 2020 Vision blueprint for campus growth and development.
The new 100,000-square-foot exhibit hall between buildings B and C will create more than 1 million square feet of contiguous exhibition space.
The 2020 Vision strategy also includes a new headquarter hotel, announced in February 2019. The GWCCA campus is among the debut locations for Hilton's global rollout of Signia Hilton, the company's new "dynamic meetings-and-events-focused brand."
The new-build property, reportedly breaking ground later this year, will have 900 to 1,000 guest rooms and 75,000 square feet of meeting space.