Asia-Pacific Events Showcase Cultural Teambuilding Activities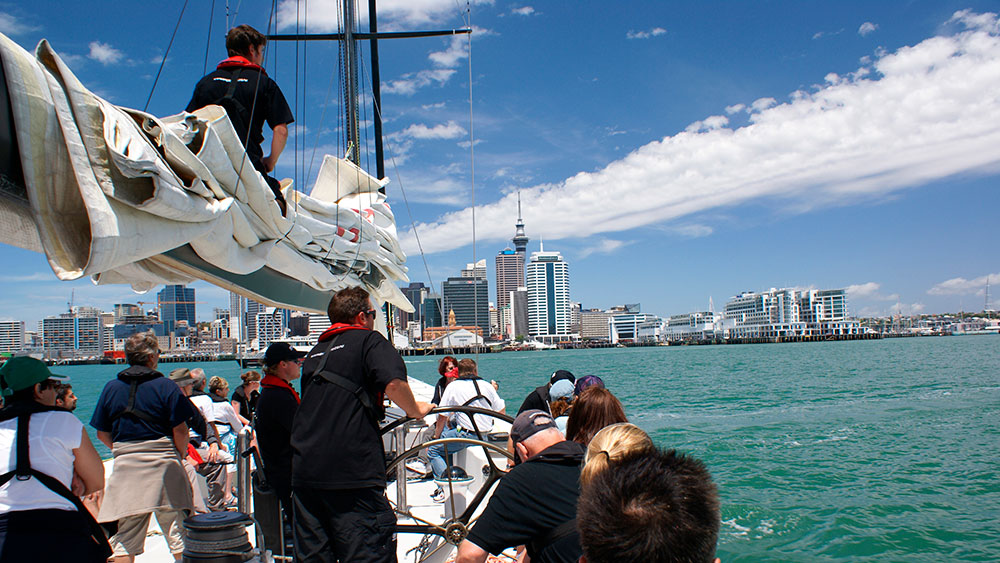 There is no better way to unite international meeting groups traveling to the far reaches of the Asia-Pacific region than to participate in one of the vast teambuilding options on offer.
Whether attendees are emulating a traditional dragon boat race in Singapore, sailing on an America's Cup yacht in New Zealand or climbing Australia's Sydney Harbour Bridge, there are a variety of ways to absorb the local flavor of each country.
Australia
From the main cities of Sydney, Melbourne and Brisbane to the north of Queensland in Cairns, Australia welcomes groups with a smorgasbord of teambuilding opportunities.
"Australia is home to some of the world's most inspirational business events destinations and 'can't be bought' experiences," said Mary Ann McDonald, business events manager for Americas at Tourism Australia. "Australia's innovative event delivery capabilities, friendly welcoming people and unique landscapes, combined with our exceptional food and wine and high-quality products and experiences, deliver above expectations for teambuilding events."
Sydney's iconic Opera House and Sydney Harbour Bridge are popular settings for teambuilding activities.
Teams can climb the Sydney Harbour Bridge with BridgeClimb Sydney or set sail on Sydney's Harbour. A yoga session can also be arranged on the steps of the Sydney Opera House.
Tourist magnet Bondi Beach is a lure for groups that want to learn how to surf or try stand-up paddleboarding. The company Let's Go Surfing offers group lessons in both as well as other beachside team-bonding options.
"In Brisbane, teams can kayak along the river that runs through the city, rock climb or abseil the cliffs along the river or take on beach challenges at nearby Moreton Island," McDonald said. "They can also head minutes out of the city center to cuddle a koala at Lone Pine Koala Sanctuary—one of few places in Australia where you can have this experience."
According to McDonald, teams can explore Melbourne's hidden laneways and arcades with a local street artist before creating their own artworks. Outside Melbourne, in the nearby wine region of Yarra Valley, Oakridge Wines offers groups wine tasting and grape stomping.  
Cairns offers teams easy access to the Great Barrier Reef for watersport adventures, while the 24 private beaches on Lizard Island and the deck of Sunlover Reef Cruises' pontoon at Moore Reef also are top spots for teambuilding activities like beach Olympics or other sports.
New Zealand
"New Zealand's array of high quality, high-value experiences make it a great destination for teambuilding year-round," said Alexa Bennett, business events manager for Tourism New Zealand. "And thanks to its diverse climate and landscape, there's no shortage of group-oriented, outdoor, cultural and urban experiences all across the country."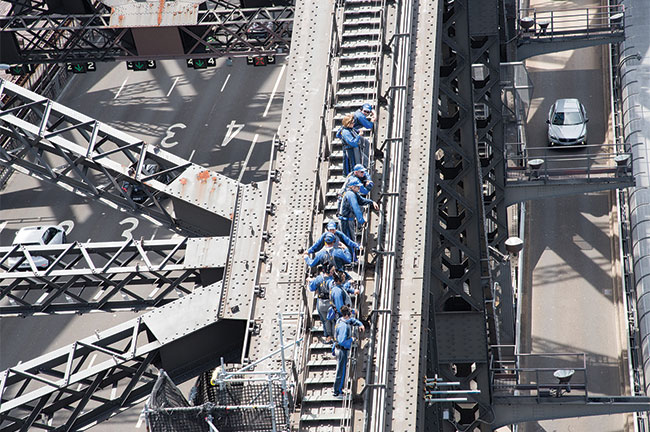 America's Cup Auckland-Harbour, New Zealand | Explore-NZ
Auckland is one of the primary bases for teambuilding adventure.  
"You don't need to go far from a city center to find accessible, outdoor adventure, creating the perfect balance of fun, work and teambuilding on any given day," Bennett said.
In the spirit of the 2021 America's Cup coming to Auckland, groups can sail an actual America's Cup yacht on Waitemata Harbour with Explore Auckland, with attendees taking the helm to steer on course or work on the grinders to hoist and trim the sails during the hands-on experience.
About a 35-minute ferry ride from Auckland, Waiheke Island offers competitive outdoor activities with Wild on Waiheke. Options include archery, clay-pigeon shooting and a host of other tame and enjoyable games in addition to its locally grown wines and brews.
New Zealand's capital of Wellington also offers group activities such as the culturally enriching Waka Tour, which focuses on the city's history.
Groups can undertake Maori cultural engagement activities, including a traditional Maori mihi whakatau (welcome) waiata (song) and introductions. There is also instruction to become kaihoe (paddlers), teaching basic commands and chants, haka and salutes, in preparation for paddling on one of the traditionally carved waka.
Meanwhile, Weta Studio Tours features immersive experiences at its workshops, demonstrations and presentations. The Weta Cave Workshop Tour offers a behind-the-scenes look at how Weta Workshop helps craft some of its films as well as hands-on lessons in mixing fake blood and learning how stunt professionals create believable fight scenes.
Hong Kong
For groups heading to Hong Kong, The Ultimate MICE Guide, recently introduced in print and digital formats by Meetings and Exhibitions Hong Kong (MEHK), a division of the Hong Kong Tourism Board (HKTB), focuses on Old Town Central (OTC).
According to Kenneth Wong, general manager of the HKTB's MICE and Cruise Division, the guide helps planners create an engaging and authentic Hong Kong experience in OTC.
Included are teambuilding options such as the PMQ Taste Library cooking classes. The instruction is held in the city's only food-themed library, which houses 4,000 cookbooks and culinary literature. Groups of up to 10 need to brainstorm ideas before heading out to the wet market on Graham Street for fresh ingredients to make a specified dish.
In another tasting option, Yuan Tang offers tea appreciation classes during which teams learn how best to bring out the full flavors of the tea leaves.
For larger groups, Social Place offers classes of up to 50 in dim sum making, or attendees can make dim sum-shaped candles with Be Candle. Other OTC options include a scavenger hunt, calligraphy classes and the Pottinger Street shopping challenge.
Singapore
Garnering the spotlight after the success of last year's film Crazy Rich Asians, Singapore also offers a host of teambuilding options to showcase its local culture.
Jet'aime Singapore, for example, offers team bonding through aromatherapy. Teams conduct a perfume personality assessment on each other and concoct a perfume together. Participants can create signature Singapore scents like the 'Native Orchid Oils of Singapore'. The perfumery can hold 62 people though mobile options can accommodate 180.
Raffles Singapore, which is undergoing renovation through the middle of 2019 when it will reopen, offers groups the Singapore Sling Master Class.
Bartenders teach attendees to create their own version of the cocktail, which dates to 1915. The challenge is judged, and three winners chosen.
Focus Adventure can organize its Dragon Boat Challenge for groups starting with creating a mascot of their designed dragon head that will be attached to the bow of the boat. Teams then paddle their 10-person boat together and can race against other teams.
Japan
Japan, which is preparing for the spotlight when it hosts the 2020 Summer Olympics, is rich with cultural and culinary options.
In Tokyo, groups can go to Tsukiji Fish Market, the world's mecca of sushi, and as a team learn detailed sushi-making processes under a master sushi chef, according to Alicia Hinds, convention specialist for the Japan National Tourism Organization.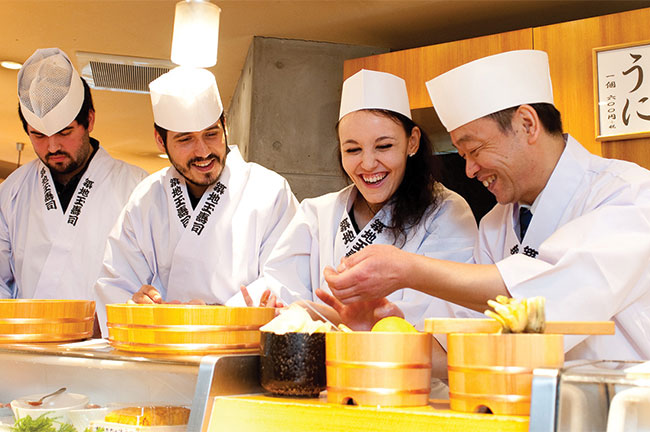 Sushi Making Group, Japan
The experience starts with attendees learning about the history of sushi and how to handle raw fish. They then don a sushi chef's uniform to try the craft themselves, with options to challenge other teams for the best tasting sushi.
"Iwate Prefecture in northern Japan (Tohoku region) has a specialty cuisine that is perfect for eating competitions," Hinds said.
"Wanko soba noodles are served in bite-sized wooden bowls. Teams can compete to see who can eat the most, and a prize is given to whoever can eat more than 100 bowls." 
Asia/Pacific CVB Contact Information
Business Events Australia
857.310.3725
Business Events New Zealand
310.857.2211
Hong Kong Tourism Board
212.421.3382
Japan National Tourism Organization
212.757-5640; +81.3.6691.4850
Meetings & Exhibitions Hong Kong
852.2807.6543
Singapore Tourism Board
+65. 6736.6622
Tourism Australia
+61.2.9360.1111