6 Raleigh Arts Institutions for Creative Off-Site Events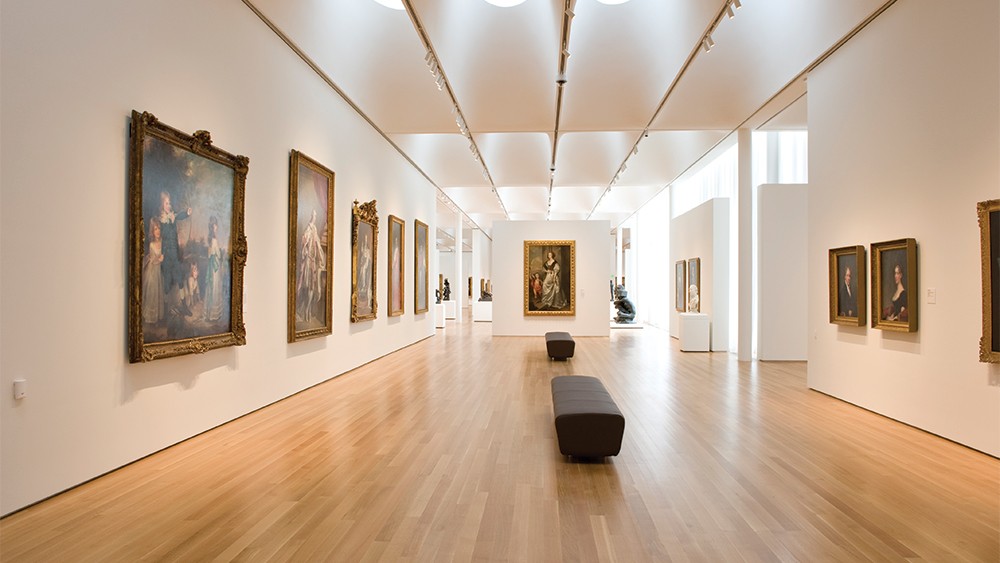 Raleigh's robust arts scene includes the Southeast's most impressive Auguste Rodin collection, an exciting calendar of live music ranging from symphony to rock, and theater productions that rival those on Broadway.
Groups seeking inspiration during a meeting are encouraged to visit the city's museums and various other purveyors of artistic expression. Additionally, these places offer some of Raleigh's most outstanding settings for off-site gatherings.
Following are six stellar ideas for planners who'd like attendees to both network and get their creative juices flowing during a reception or meal function.
1. North Carolina Museum of Art
The palette of works on display at the North Carolina Museum of Art includes the largest Auguste Rodin collection in the Southeast, American art of the 18th through 20th centuries, and various African and Judaic artworks.
There is so much for groups to explore here, both inside and outside in the Museum Park, which is home to more than a dozen monumental works of art.
"Any single gallery or combination of galleries can be viewed during an event," said Morgan Greer, the museum's special events director. "Docents can be available to lead tours or to answer questions about the collection."
A docent-lead tour paired with an event is a winning combination for groups.
Meetings, teambuilding activities, receptions and meals could all be arranged in the museum's function spaces. Popular options include two grand halls, an auditorium and an atrium with a garden patio.
[Eco-Friendly Features: Georgia's Cities Sustainable for Meetings and Events]
"The dynamic architecture, the museum's extensive collection and the beautiful green surroundings create an elegant backdrop," Greer said.
2. Duke Energy Center for the Performing Arts
North Carolina Symphony, Carolina Ballet, North Carolina Theatre and North Carolina Opera are among the six residents that stage performances at Duke Energy Center for the Performing Arts.

A.J. Fletcher Opera Theater, Duke Energy Center for the Performing Arts
The center hosts more than 600 events each year and also accommodates receptions and other private group gatherings in the intimate Kennedy Theatre or the elegant Memorial Auditorium, according to Michelle Bradley, the venue's director of marketing.
Groups could also arrange a tour of the complex.
"We love to share our venues and the history of the site," Bradley said. "We recently hosted the Raleigh Chamber for a walk-through of Raleigh Memorial Auditorium to talk about our most recent renovations and the wide variety of programming that the space has been able to accommodate."
[Read Also: 4 Luxury Hotels Redefining Upscale]
The calendar of events here is, in fact, eclectic and electric, and features everything from rock concerts to large-scale touring Broadway productions. This summer, if the timing is right, groups could check out the North Carolina Symphony's Biss Plays Beethoven, North Carolina Theatre's production of Annie or Carolina Ballet's Swan Lake.
Many performances offer a discount for groups of 10 or more and require no service charges, Bradley added.
3. Artspace
Artspace is exactly that, an art space that offers customized creativity workshops and also hosts meetings and receptions.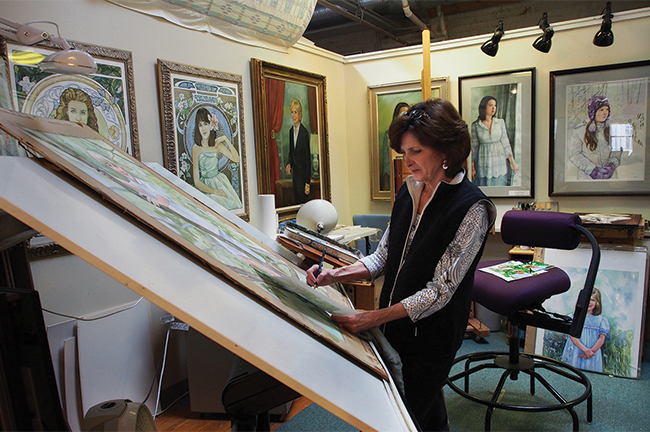 Artspace
"Workshops generally last two hours and are appropriate for all skill levels," said Mary Kay Kennedy, Artspace's director of development and communications.
A designated education and outreach manager works with planners to explore themes such as teambuilding and creative thinking, she added.
"Art activities can be collaborative or individual and most result in a piece the participants can take home," she said. "Past programs include mural painting, printmaking, weaving, line drawing, wire sculpture, fabric painting and more."
Artspace also accommodates both small and large groups in its various spaces for post-workshop receptions or banquets.  
Studio 206 and the Education Room are perfect for small groups, and Gallery Two seats 100 people at round tables and up to 150 people theater-style.
"Gallery Two features wood floors and a skylight, and guests can enjoy the artwork on exhibition," Kennedy said. "Guests may also rent the entire building, including the first floor lobby, for large reception-style events of 200 or more."
4. CAM Raleigh
CAM Raleigh, located at the center of the city's Warehouse District, is a non-collecting contemporary art museum, meaning there is always something new to experience because the exhibits change every few months.
"CAM's changing exhibitions provide a creative backdrop for gatherings of all sizes, including employee appreciation events with a creative twist, company celebrations and unforgettable receptions," said Gab D. Smith, the museum's executive director.   
Intimate dinners for less than 20 people, cocktail receptions for up to 500 people and everything in between could be arranged here.
"All events take place in galleries that showcase transformational work of international, national and hometown artists," Smith said.
Tours during events are always great conversation-starters and make group visits even more memorable, she added.
5. Vita Vite
Vita Vite, according to Owner Lindsay Rice, provides a different art experience than other venues in Raleigh because its two locations function as wine bars that also happen to promote the works of regional artists, including many who are based in North Carolina.
"Our decor and seating is relaxed and comfortable, which allows clients to see the art in an approachable setting, helping them to visualize how it could look in their own homes," she said. "Each location has a variety of seating options, with a rotating selection of art from Southern artists on the walls."
[Want Serene? Lake Tahoe Meetings Allow Groups to Retreat, Relax and Recharge] 
Vita Vite's midtown location has a mezzanine overlooking the main bar area that accommodates up to 60 people, and its downtown location has two different event spaces, one for up to 30 people and a larger, empty room for up to 80 people.
"It can be set up in a variety of ways depending on the style of the event," Rice said. "Whether it's a formal seated dinner, a casual cocktail party or a meeting utilizing our projector and screen, the room is a blank canvas."
Wine-tasting events could be arranged for groups that plan an event at Vita Vite," Rice added.
6. Live Music Venues
Raleigh boasts 80-plus live music venues that welcome groups that would like to unwind after a day of meetings.
"Raleigh is home to the most live music in North Carolina," said Malinda Harrell, director of sales for the Greater Raleigh CVB.
There is indeed something for everyone, from live jazz ensembles at smaller venues, including Irregardless Cafe, a farm-to table restaurant, to national marquee acts at downtown Raleigh's Red Hat Amphitheater.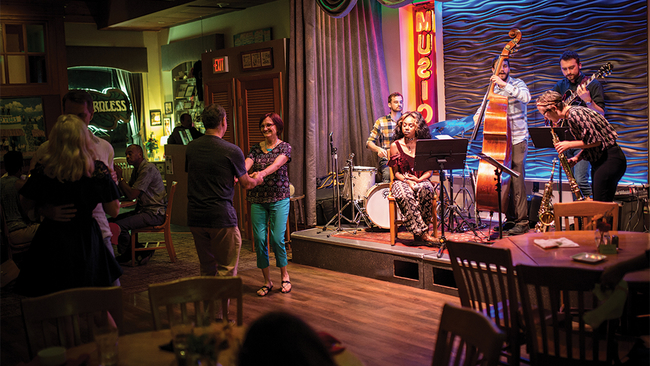 Irregardless Cafe
"Planners are sure to be the star of the evening when booking a VIP box at Red Hat Amphitheater," Harrell said. "Attendees will enjoy box seats, private food and beverage service, and a great view of the stage."
Other area music venues that accommodate group events include Raleigh-based Lincoln Theatre and nearby Cary, N.C.-based Koka Booth Amphitheatre.
Here's a quick bonus update on new and renovated properties in Raleigh.
4 Latest + Greatest Places for Meetings
1. The Embassy Suites Raleigh-Durham/Research Triangle is undergoing a multimillion-dollar renovation that is scheduled for completion this summer. The project includes a newly designed lobby, updated guest suites and redesigned ballrooms.
2. The 126-room Origin Hotel Raleigh opens fall 2019. Highlights will include meeting space and a wine and tapas restaurant.
3. Junction West, an event venue and bar, opened in October 2018 with more than 3,000 square feet of indoor space for various group functions.
The venue transformed a historic warehouse into a sprawling but intimate space featuring natural light and an outdoor courtyard. Junction West, named for the train tracks it sits next to, is located adjacent to the new Amtrak-affiliated Raleigh Union Station.
4. The fully restored and revitalized Norris House, originally built in 1879, reopened in May 2018 for private events.
Raleigh CVB Contact Information
Greater Raleigh CVB
919.834.5900
Check out what'​s happening in Florida destinations.