How the World's Largest Marriott Grows Its Own Produce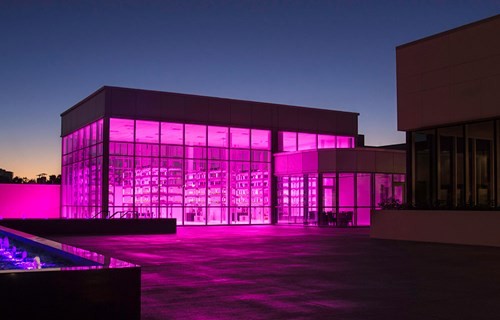 You've heard of farm-to-table dining, but what about pick-to-plate?
It's the new practice being conducted by the culinary teams in Florida's Orlando World Center Marriott, the largest Marriott property in the world.
It all started in April 2018, when the property launched its state-of-the-art HyCube, a modular hydroponic vegetable production system that focuses on sustainability while also providing fresh veggies that are served to guests daily.
The HyCube growing system supplies produce for the Orlando World Center Marriott's nine dining outlets and banquet functions in its 450,000 square feet of meeting and event space.
The 25-foot-tall illuminated HyCube was created in partnership with Eco Convergence Group Inc., an Orlando-based engineering and technology development company that focuses on sustainability.
It's located right next to the hotel's main kitchen, giving Executive Chef Eric Martinez access to a constant bounty of fresh produce such as lettuce, baby spinach, arugula, herbs, microgreens and edible flowers, as well as other leafy greens, all grown from organic, non-GMO seeds.
[Related Content: CSR and Sustainability at Events – Why Aren't We Doing More?]
"Our chefs walk outside, they interact with those farmers, they get the greens," said Destination Sales Executive Marc Alexander of the pick-to-plate process the property has implemented.
"When they were having a romaine scare across the world, we were serving romaine here–getting ours from that building right behind you," he added.
[Listen below: Alexander discusses what the HyCube hydroponic growing system is, how it's operated and why it's so special for the Orlando World Center Marriott]
[Meetings Today Podcast: World's Largest Marriott Continues to Exceed Expectations]
The HyCube provides enough vegetables for all of the Orlando World Center Marriott's salads, as well as fresh fruit like strawberries.
Alexander noted that it doesn't grow anything with a big root system.
Guests who dine on the property at spots like the Falls Pool Bar and Grill will find a "HyCube Grown Greens" icon next to a selection of menu items, as well. In a time when the farm-to-table dining trend has taken off, a pick-to-plate option sounds both intriguing and healthy.
HyCube Grown Greens
The HyCube is as smart on the inside as it is sleek on the outside.
It's a data-driven, precisely controlled, patent-pending hydroponic system that incorporates mineral-rich nutrient solutions in place of soil.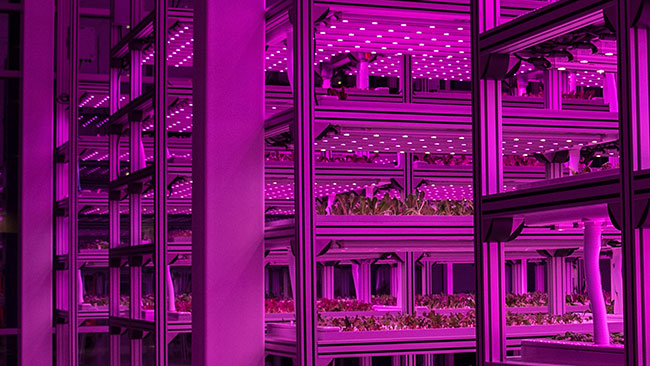 HyCube Vertical Hydroponic Growing System, Credit: Orlando World Center Marriott
The non-GMO, pesticide free facility also allows for an 80 percent reduction in water consumption and 20 percent reduction in grow time needed.
It also precisely controls the micro-environment—including air and water quality, temperature and humidity, light conditions and nutrients.
This allows for a steady yield of crisp, flavorful and nutritious produce.
Plant extracts are even used to create fresh green drinks and probiotic drinks and the water filtration system provides purified water that is bottled and offered in the Central Pantry, a "grab-and-go" outlet within the hotel.
Redefining Green Meetings
HyCube is located on the Harvest Terrace, the newest outdoor venue for events held at the Orlando World Center Marriott. The Harvest Terrace overlooks the powerfully lit HyCube, providing a stunning and natural ambience for social and business events alike.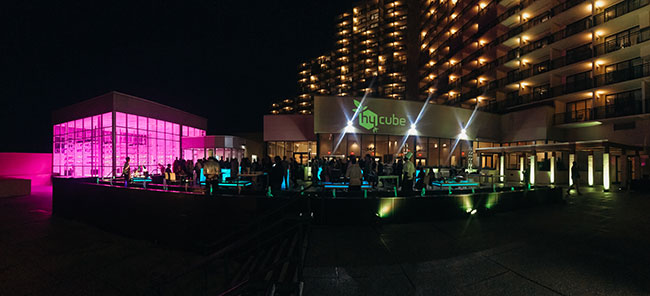 HyCube and Harvest Terrace, Credit: Orlando World Center Marriott
Meeting and event planners can book the space for an evening cocktail hour or dinner. For something smaller and more intimate, consider gathering in the HyCube's private dining room, where you can customize a menu for guests that incorporates the handpicked ingredients.
[Read This Next: MeetGreen Presents Its Hottest Sustainable F&B Trends for Events]