What to Eat and Drink in Myrtle Beach: Food Experiences, Group Dining and Local Beer and Wine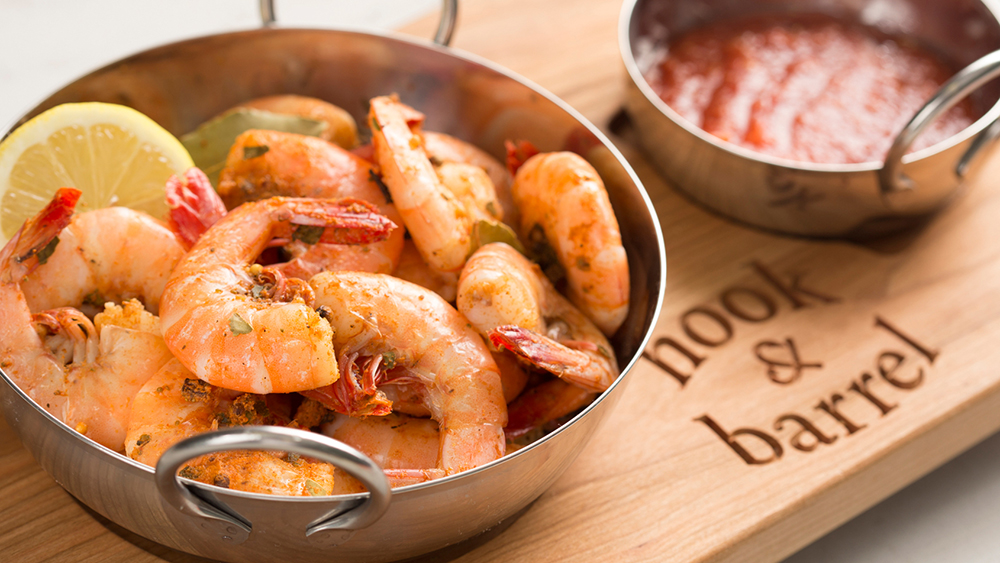 Myrtle Beach's coastal location and rich history have helped shaped the its cuisine.
"Our local food scene also helps paint a picture of the various communities within our destination," said Karen Riordan, president and CEO of Visit Myrtle Beach. "Take for example the northern end of Myrtle Beach, where Calabash-style cuisine is popular with traditional lightly-breaded seafood, compared to the southern end, where Lowcountry cuisine is king with chefs utilizing local ingredients, such as stone-ground grits, shrimp, blue crab and grouper." 
Lowcountry dishes feature an infusion of the cultural influences of the many people that settled in the destination in years past, including those from France, West Africa and the Caribbean.
It's just one of the many food experiences in Myrtle Beach that set it apart from its coastal neighbors.
[Related Content: The Coastal Carolinas Are Riding a Wave of Optimism]
We evaluated for the best ways for groups to immerse themselves in the region's Lowcountry dishes, ocean-to-table seafood and beverage scene. These are our top picks, from dining at Myrtle Beach restaurants and walking food tours to cooking demonstrations and sampling local wine.
Foodie Experiences: Connecting Myrtle Beach's Past and Present
One way to get a good understanding of Myrtle Beach's culinary scene and how it developed is to hit the ground through local walking food tours and participating in demonstrations and cooking classes from the area's up-and-coming chefs.
Carolina Food Tours take groups on a two-and-a-half- to three-hour tours of Myrtle Beach restaurants. The tours typically include three or four stops as well as background information on the history of the area.
Most of the company's tours can be tailored for private groups. The Historic Georgetown Food Tour takes groups to the Harborwalk to dine at restaurants along the way, providing a history lesson of Georgetown, S.C. at the same time.
Other tour options include the Murrells Inlet Marshwalk tour, where participants learn about the inlet and interesting facts about the area's seafood while strolling along the marshwalk; and the Drinks of Market Common Tour, which focuses on drinks—guests even get to hear from local bartenders.
The International Culinary Institute of Myrtle Beach at Horry Georgetown Technical College is where up-and-coming chef students train. A new $15 million facility opened last year at the Grand Strand Campus and can accommodate 400 students annually.
"The International Culinary Institute of Myrtle Beach at Horry Georgetown Technical College is another great element added to the cooking scene in Myrtle Beach," said Karen Riordan, president and CEO of the Myrtle Beach Area Chamber of Commerce.
"Up-and-coming chef students train using contemporary equipment in areas such as fine dining, buffet, and café service," she added. "Through their studies, menus are created using a variety of cooking techniques focusing on taste, texture, color and creativity."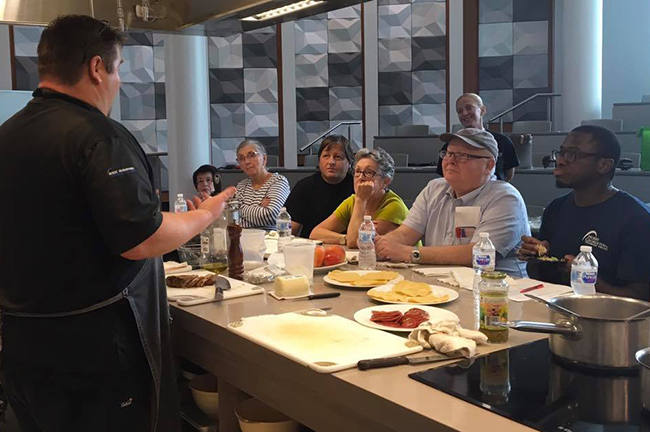 The International Culinary Institute of Myrtle Beach, Credit: Horry-Georgetown Technical College
The new building features state-of-the-art cooking technology and equipment throughout.
The International Culinary Institute of Myrtle Beach holds general public cooking demonstrations and classes and groups can also rent out the facility to host their own cooking lesson or demo. The facility is also open to group dining experiences.
This new facility includes:
two teaching kitchens.
two baking labs.
demonstration kitchen.
chef's dining room.
 teaching dining room with conditioned wine storage.
production kitchen with a bar.
exposed cooking suite and hearth oven.
outdoor BBQ and dining area.
greenhouse.
conference room.
Group Dining in the Seafood Capital of South Carolina
"Myrtle Beach fare's biggest draw is the abundance of ocean-to-table seafood offerings across the destination," Riordan said. "Murrells Inlet, located on the southern end of Myrtle Beach, is in fact widely known as the 'Seafood Capital of South Carolina.'"
Barefoot Landing, a retail, dining and entertainment district, has welcomed new restaurants this year as well as new outdoor attractions and live music programming. The destination is set along the Intracoastal Waterway and features its own 27-acre lake.
Barefoot Landing is anchored by Lulu's restaurant, owned by musician Jimmy Buffet's sister, Lucy. The restaurant offers live music nightly, a sandy beach area and a ropes climbing course. Try the fresh blue crab claws or peel-and-eat shrimp for some casual seafood bites.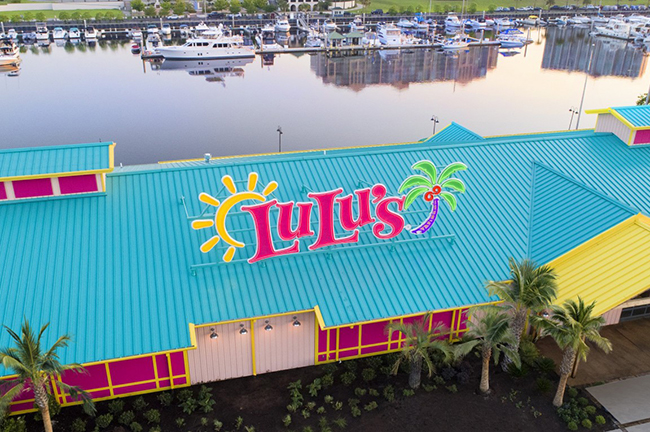 LuLu's Restaurant in Barefoot Landing, Myrtle Beach, S.C.
Barefoot Landing is also home to House of Blues Myrtle Beach, which can accommodate private events from up to 2,850. Whether at a private event or eating out before a show, try classic Lowcountry shrimp and grits at the House of Blues restaurant.
According to Visit Myrtle Beach, Tupelo Honey Cafe is a good option for a private dining experience that showcases southern food made with soul and recipes made from scratch like buttermilk fried chicken, Lowcountry catfish and bourbon peppercorn-glazed meatloaf.
The cafe also serves hand-crafted cocktails and offers a spirits menu with sustainably-sourced wine and beer.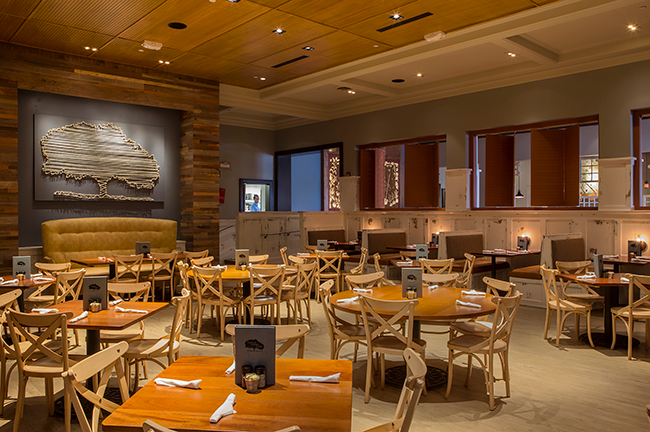 Tupelo Honey Cafe Main Dining Room
Additional options for group dining are Croissants Bistro & Bakery and Hook & Barrel, both owned and operated by Chef Heidi Vukov, South Carolina's Chef Ambassador in 2018.
Vukov is the pastry chef at Croissants, which has been serving comfort food since 1995. Her second restaurant, Hook & Barrel, offers sustainable seafood dishes and uses local produce with eco-friendly practices from the kitchen to the front of the house.
Drink Local Beer and Wine in Myrtle Beach
Duplin Winery's North Myrtle Beach outpost brings wine from grapes grown at its Rose Hill, North Carolina, facility to South Carolina.
The Myrtle Beach location opened in 2015 and features a hand-bottling line so visitors can see how the wine was bottled when the winery first opened in the 1970s.
Groups can arrange for private tastings and an education from staff members on the winemaking method. The facility is also available for private rental.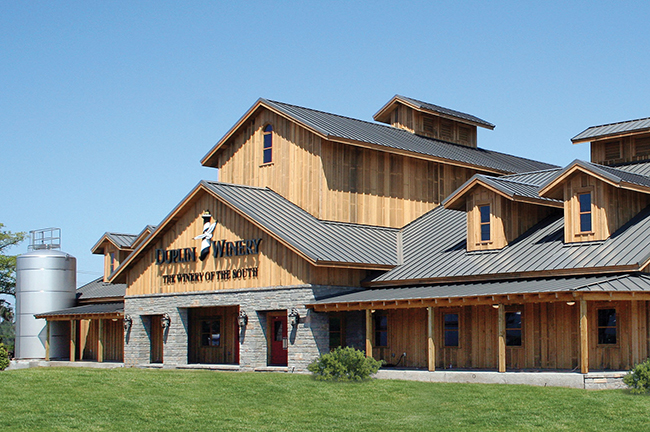 Duplin Winery's North Myrtle Beach Outpost
New South Brewing has been brewing beer in Myrtle Beach since 1998. The 20-barrel brewhouse also distributes cans of its New South White Ale and Nut Brown Ale to areas throughout South Carolina.
The brewery offers tours year-round and can accommodate group tastings. 
Liberty Brewery & Grill's Myrtle Beach location brews on-site and offers space for events, private dining and beer tasting. The two semi-private dining rooms can accommodate about 100 people each and the private indoor waterfront patio can host an additional 100 guests. The brewery has a full kitchen and a customizable banquet menu.
Myrtle Beach's outpost of Wine & Design offers private parties and teambuilding experiences. These can be customized for the group size, skills and needs and can be held at their site or off-site and the group's office or meeting space.
Myrtle Beach Hotel Openings and Renovation News
The Caravelle Resort completed a renovation that included upgrades to the Oceanfront Jacuzzi Suites, the on-site Santa Maria Restaurant, which is open for breakfast, lunch and in-season dinner. The resort has over 4,000 square feet of meeting space, including a banquet and meeting center, a boardroom and a private dining room.
A new Marriott-branded resort hotel is coming to Myrtle Beach. The property will be managed by local Brittain Resorts & Hotels. The development is happening in two phases and one resort tower is currently under construction and then another proposed tower will be built in the second phase with the addition of public space.
The resort will feature an outdoor pool, lazy river and a rooftop bar and restaurant on the 26th floor. Developers also plan to add two mixed-use areas that would house retail, restaurants and entertainment. The second phase does not currently have a start date.
Ocean Enclave by Hilton Strand Capital Group is collaborating with Hilton Grand Vacations to build a new hotel featuring 330 oceanfront units reaching 27 stories high.
Now under construction with a projected completion date in the summer of 2019, the will be named Ocean Enclave by Hilton Grand Vacations Club.
All units will be between one to three-bedroom suites and include full kitchens, private balconies and spacious living and dining areas. 
Residence Inn by Marriott Myrtle Beach Oceanfront opened in late winter 2019 and offers studio, one- and two-bedroom suites with separate living and sleeping areas along with a fully equipped kitchen. Complimentary grocery delivery service is an amenity of the property.
South Bay Inn & Suites is a new oceanfront resort property. The 19-story hotel is set on Myrtle Beach's boardwalk and includes 242 guest rooms, a gym, a multipurpose game room, bar area and restaurant. There is also an onsite waterpark.
Myrtle Beach CVB Contact Information
Visit Myrtle Beach
843.626.7444