Top Insights From the Powerful Women Who Have Shaped the Las Vegas Meetings Industry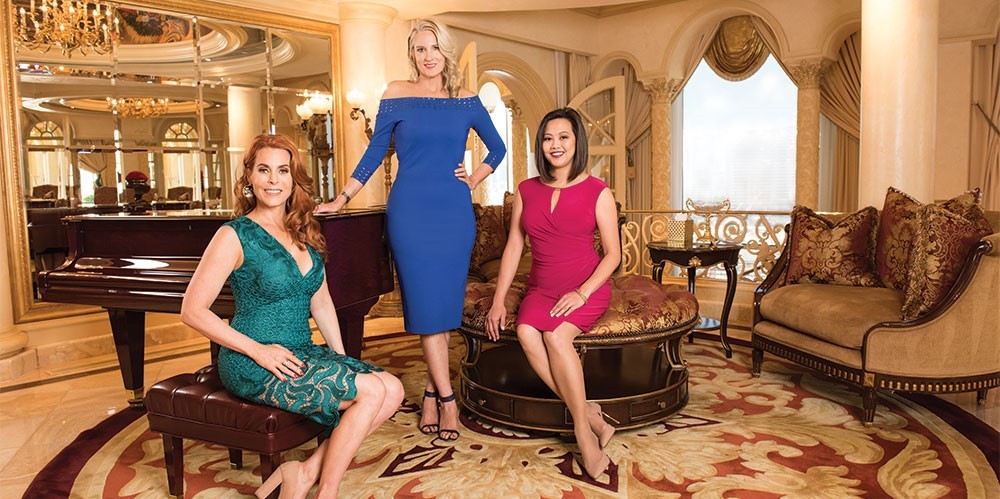 Women have been forces to reckon with in the often rough-and-tumble history of Nevada gaming," declared Dr. David Schwartz of UNLV's Center for Gaming Research, writing in 2014 about five women who shaped the industry.
Mayme Stocker, for one, secured the first legal gaming license in 1931.
Since the 1980s, women have become forces to follow in the Las Vegas meetings industry. In fact, their numbers and stories could fill this magazine. From a field of many, here are eight exceptional women sharing their pathways to leadership.
Chris Flatt, Executive Vice President of Hotel Sales and Marketing, Wynn Las Vegas and Encore
Few executives, female or male, can match Flatt's leadership record in Las Vegas.
Raised in Southern California, Flatt first experienced Las Vegas on family camping trips. At 13, her father's job brought them to Vegas for good.
From high school, she went into leisure sales at the Flamingo Hilton "to give it a try." Two years later, the Golden Nugget, then owned by Steve Wynn, came calling. 
"That was March 1986," Flatt said. "I've been with the Wynn organization ever since."
Golden Nugget's subsequent transition to Mirage Resorts put Flatt at the forefront of a Vegas revolution.
"Opening the pioneering Mirage in 1989 was wild," she said. "I was among the first employees, alongside Vegas legend Charlie Monahan, who became an invaluable mentor to me."
Mohahan, who had opened Caesars Palace, was hired to develop the Mirage's convention space. "This was a new segment for us, and Charlie, such a gentleman, showed me the ropes."
After that, Flatt went it alone: "My attitude was to push beyond my comfort zone, and figure it out."
Being taken seriously as a young woman was another early challenge.
"That's changed now, and it's been fun watching women rise to leadership ever since," she said.
Her 33-year journey includes opening one visionary property after another: Mirage, Treasure Island, Bellagio, Wynn and Encore.
"Like Vegas itself, this job is as exciting today as when I started," said Flatt, who is a dedicated mentor. 
Her key messages are emblematic of her relationship-driven approach to leadership.
"Have integrity, trust your instinct and speak up," she said. 
"My parents will tell you that I am a born competitor," the Reno, Nevada, native said, who found a home for her innate drive and team-oriented leadership skills in hospitality.
To support herself in college, Allison worked at the Reno Hilton. Starting as a front desk agent, she gained multifaceted experiences along the way.
"These included the VIP desk, casino marketing and special events, plus cross-training in operations," she said. "I loved leisure and group sales most of all, and set my sights on Vegas."
Her manager told her she'd never make it there.
"'No' is a powerful motivator," said Alllison with a smile. "Where others see rejection or risk, I see opportunity."
Working long hours at the Flamingo Hilton in catering sales, Allison, then 21, saw her moment when the Sands was imploded to build The Venetian. "Compelled by the master vision for the building, I sent my resume over."
Part of the pre-opening team in 1998, Allison remembers working in trailers on the construction site. Named vice president of sales in 2009, she was promoted to her current role in 2016, where she leads the strategic business development of the MICE segment and leisure transient.
"I am most proud of inspiring and mentoring our team, and transforming our culture," Allison said. "With women in 60 percent of our sales organization, the company fully supports giving diverse talent a voice and seat at the table. I've been the only woman in the boardroom many times, but never felt isolated."  
In ballet training since she was two, Glanzer went to Southern Methodist University on a dance scholarship while pursuing a double major in organizational business and sales and marketing.
When a car accident ended her ballet career, the New England native went "full force" into business, propelled by the work ethic from her rigorous dance days.
"My first job was as a leisure sales coordinator at The Mirage," Glanzer said, adding that she had no intention to stay in Vegas.
That was 21 years ago, and MGM Resorts International has been her home ever since.
Aiming to "always do the job of the leader ahead of me to advance," Glanzer then transitioned to Bellagio before joining the CityCenter pre-opening team.
"Hand-selecting the opening team was a dream experience that crystallized my career vision. Sales always thrilled me, but I was drawn to the art of assembling, mentoring and leading people."
Glanzer stands tall on the pillars of discipline and integrity.
"Maintaining my personal brand is paramount," said Glanzer, who rejects the idea that women have to emulate traditional masculine behaviors to be heard. "I tell my women mentees to be themselves—you don't have to be overly aggressive or overbearing to lead."
And, she added, "a big high five to working mothers for managing work-life integration."
Born into a family of New Jersey restaurateurs, Messina learned early about respecting others, "no matter their station." From Denny's to fine dining to the Sands in Atlantic City, she gained pre-professional experience in all phases of restaurant operations.
Her chosen path in hotel F&B seemed made to order—until interviewing with a female hospitality company executive as a senior at Cornell's School of Hotel Administration.
"In five years, she said I'd be married with babies and not want F&B hours," Messina recalled. "I accepted her tough love advice, a reality of the times, and shifted to sales."
After intentionally moving from one service level to the next in markets around the U.S. with Wyndham, Hyatt and for most of her early career, Hilton, Messina relocated to Vegas, where she became Chief Marketing Officer at ConferenceDirect "for the third-party experience."
In 2018, two years after her return to Hilton, Caesars' Chief Sales Officer Michael Massari came calling.
One year into her role, Messina, overseeing 160 people selling meetings and conventions for 45 properties nationwide, feels "in stride" as a leader.
"Inspiring and elevating my team is my best reward," she said. "My mother, an educator from the 'tough love' school, taught me that it's the people you lead that pay your emotional paycheck. And that includes my 10 direct reports—seven of whom are women."
Tara Russell, Senior Vice President of Sales & Conference Services, The Cosmopolitan of Las Vegas
Growing up in a small coastal Connecticut town, Russell zeroed in on her ambition early.
"I was determined to see the world," Russell said, crediting her mother for "opening my eyes" to life's possibilities. Influential, too, was working as a front hostess in one of her father's restaurants.
Drawn to hospitality, she started out with Marriott in Southern California. Moving to Las Vegas in 1998, she met gaming and resort veteran Bill McBeath.
Currently President and CEO of The Cosmopolitan Las Vegas, McBeath presided over the landmarks of the mega-resort era: Mirage, Treasure Island, Bellagio and ARIA.
Working for this "true visionary," Russell devoted 16 years to escalating sales roles at The Mirage, on Vdara's pre-opening team, and Bellagio.
"Another great mentor was MGM sales and marketing executive Gail Fitzgerald," Russell said. "Tough but fair, she groomed me from my arrival onward."
In 2015, she stepped away from her career to raise her second son and start her own consulting company. In 2018, McBeath brought her to The Cosmopolitan.
"Family remains the most important part of my life, and work-life balance has improved from when I started," Russell said. "At this level, though, I am available 24/7 for my team because that's the nature of the business."
SPECIAL SECTION "WOW" Factors: The Women of Westgate
Westgate Las Vegas Resort & Casino, located adjacent to the Las Vegas Convention Center and one of the top destinations in the city for meetings and conventions, celebrates its 50th anniversary this year. Ahead of this milestone, the resort saw three women take significant leadership roles in 2018.
Advancing at the iconic resort since 2001, Cami Christensen became president and general manager. Joining as vice president of hotel operations, Deborrah Ong's background includes Hilton International, The Venetian and Wynn Resorts. After 20 years with Caesars and two with Palace Stations, Dawn Rawle arrived as vice president of marketing and entertainment.
With 60 years of Las Vegas experience combined, the multi-talented trio shared their pathways to success with Meetings Today Senior Contributor Jeff Heilman at Westgate's executive suite.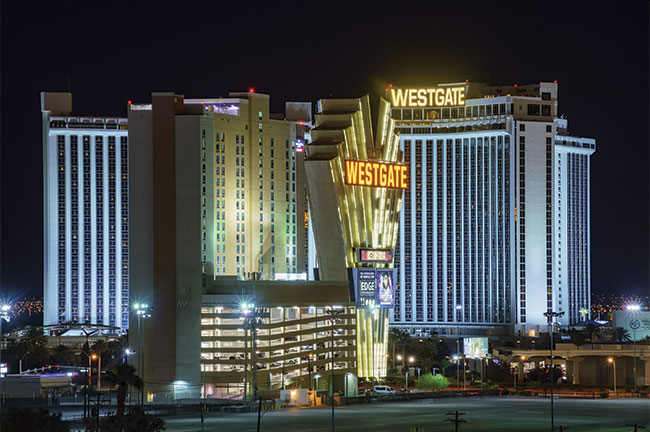 Westgate Las Vegas Resort & Casino
Meetings Today (MT): How did your professional journeys evolve?
Christensen: Raised on an Iowa farm, my childhood travels to Europe with my parents opened my eyes to the world. Continuing to venture after college, from Scottsdale, Arizona, to Switzerland, I was swayed by hospitality. A friend recommended Tunica, Mississippi, where after establishing myself as a casino host, the GM invited me to run the hotel. In developing the team, I found my calling. Relocating to Vegas in 2001, I discovered this building, then the Las Vegas Hilton. Like answering a siren call, I felt that I belonged, and worked my way up from assistant hotel manager.
Ong: My affinity for people and hospitality made hotel management a natural choice. Operations was especially appealing. Born in Guam, I interned at the Hilton International there. That led to my first leadership role, where at age 19 I oversaw the Executive Floors & Hilton Club as a department head. Then it was four years with Outrigger in Guam and Hawaii before our family relocated to Las Vegas in 2003. Multiple promotions took me from The Venetian to Wynn and Encore, followed by the Alon Las Vegas project and later Station Casinos, for the Palms relaunch, before I joined Cami's team.
Rawle: After growing up and schooling near Philadelphia, I worked as a media buyer and then on a U.S. presidential campaign. Then I went for my masters in Organizational Communications at Pepperdine University. While there, my electrifying first-time visit to Vegas changed my direction. Aiming for a foot in the door, I started in special events at Tropicana before spending two decades with Caesars. I was also on the Palms relaunch before joining the Westgate team.
MT: Who, or what, guided the way?
Christensen: My parents, both of Danish descent, instilled my work ethic and integrity. Always do the right thing, no matter how unpopular, and always care for people. My high school basketball coach imparted the value of teamwork and striving for excellence. Those lessons are perpetual guides, along with instinct and intuition.
Rawle: As hard-working small business owners, my parents were also role models, inspiring my dedication to the highest levels of service. I am also self-driven. When I believe in something, nothing stops me. At Caesars, my responsibilities came with challenges. Getting buy-in against pushback for the new shared services model was one. Another was building a centralized organization for 38 properties in the enterprise group. But that's how I grew as a leader. As I tell my team and mentees, you aren't in this business until you've resolved guest or organizational problems first-hand and still get the win for the company.
Ong: My family inspires me to work hard, always do the right thing and stay true to myself. I'm very passionate about everything I do, especially at work. With the support of mentors who have helped me grow into the leader I am today, I have always self-directed my career. It's about being self-aware, having a clear vision, setting goals and taking intentional steps to advance. I've taken lateral and even backward steps to acquire experience in order to move ahead. And I pay it forward by mentoring others in this and other industries.
MT: Have gender dynamics hindered—or helped—your careers?
Christensen: I've never let them be a hurdle. Asked many times about the "boys club," I always say, half-jokingly, join the Cami club. Men have helped me along, however. Early on, I became overly emotional during meeting, and afterward a male executive told me to check my emotions if I wanted to succeed. His message was not "be tough like a man" though. It was about being emotionally intelligent.
MT: Which raises another point—what attributes set women leaders apart from men?
Christensen: Women generally bring more empathy and compassion to the table. We tend to be more comfortable showing the emotions of gratitude and love. That's how we operate here. Our vision statement for Westgate is "Love what we do, love who we do it with and love who we do it for." I use humor to check people and situations when necessary. That avoids an adversarial environment while maintaining a nurturing, family atmosphere.
Ong: Instead of the separation that leadership can create, Cami's rise has brought her closer to our team members. She knows every team member by name and is not afraid to express love for them, from her heart. Seeing her as one of them, every level and position rallies behind her and the company vision that she exemplifies.
Rawle: Of the 50-some properties I've been on, this is the happiest by far. Entrepreneurship is encouraged, supported and rewarded, which meaningfully engages and invests everybody in Westgate's success. As we celebrate our 50th anniversary, everybody here is committed to the future.
Learn more about what's new and on the horizon for Las Vegas meetings and events in our 2019 destination supplement.
Read more: The Las Vegas meetings and events landscape is always evolving. Stay up to date with what's new on our Las Vegas destination page!