8 Group-Friendly Activities in Wisconsin Dells—Beyond Waterparks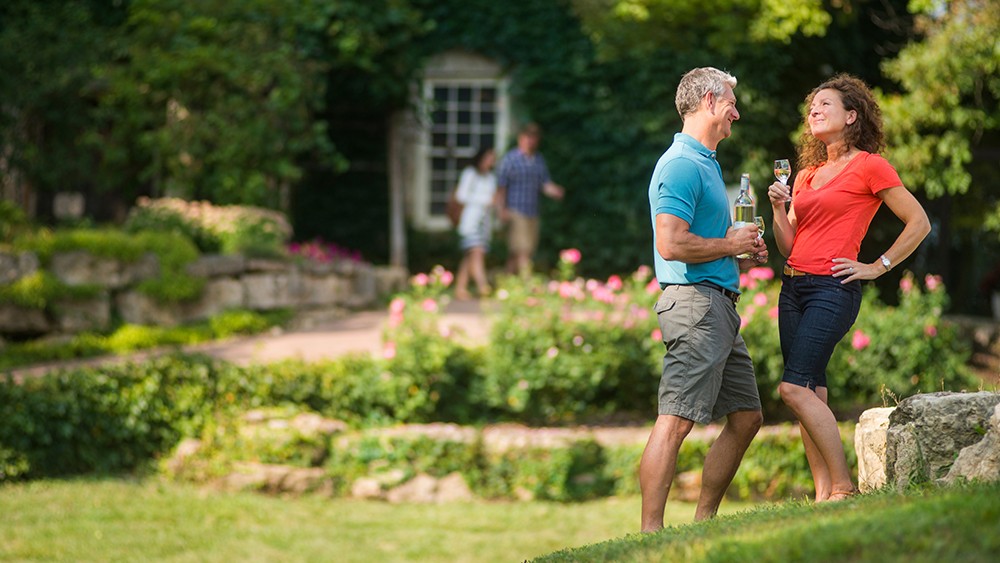 The Wisconsin Dells is known as the Waterpark Capital of the World, and there's no shortage of venues and attractions for groups interested in sliding and splashing in between meetings.
But planners should know that this Midwestern tourism mecca is much more than its nickname—there are many group-friendly activities here beyond waterparks.
From boat tours and golf tournaments to escape rooms and supper clubs, delight attendees and enhance the meeting agenda with eight quintessential Wisconsin Dells activities for groups that don't want to get wet.
1. Boat Tours in Wisconsin Dells
"A visit to Wisconsin Dells would not be complete without an opportunity to see the beautiful sandstone bluffs, or 'Dells,' that first made us famous," said Kyra Popp, assistant director of sales for the Wisconsin Dells VCB.
The best way to enjoy this scenery is to hop aboard a boat on the Wisconsin River operated by Dells Boat Tours, which runs seasonally from April through mid-November.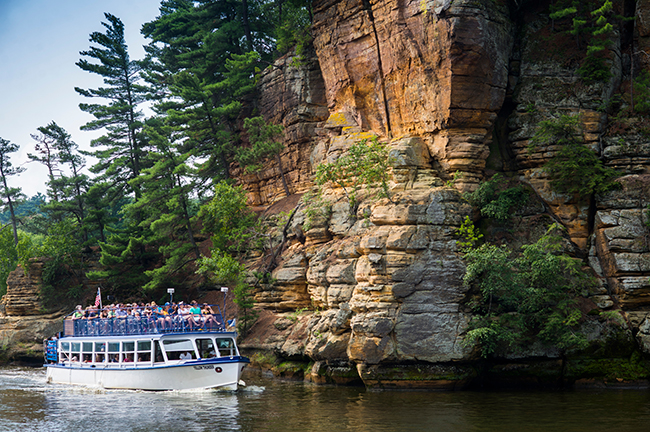 Dells Boat Tours, Wisconsin Dells
"It's a perfect group activity that many event planners incorporate into their programs," Popp said. "Tours can be customized to your timeframes and include shore landings and historical information."
Planners can add on a variety of on-board activities to their boat tour, including a breakout session or reception to promote networking outside the meeting room.
2. Wisconsin Dells Duck Tours
Another waterborne experience available to groups is an outing with the Original Wisconsin Ducks, an outfitter with a fleet of amphibious vehicles that can pick up conference attendees at area hotels and resorts to explore the Dells area on land and water.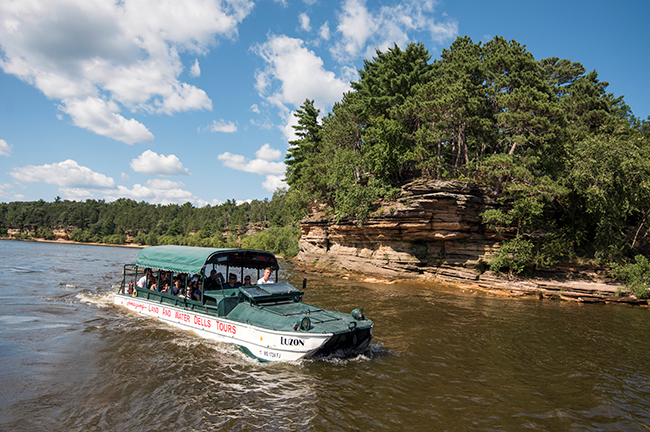 Duck Tour, Wisconsin Dells
During a Duck tour, groups will ride on wilderness trails along the Wisconsin River, climb sand bars and plunge from the lake to the river.
[A Meeting Planner Perspective: Holding an Event in Wisconsin Dells]
"Incorporating a Duck ride into your schedule is a must in Wisconsin Dells," Popp said. "Even if it is just transporting your attendees from point A to point B, they'll appreciate the opportunity to make transportation an immersion into our local tourism culture."
3. Golf and Mini Golf
Another quintessential group experience in Wisconsin Dells is a golf outing at one of its six courses, including Cold Water Canyon at Chula Vista Resort and Trappers Turn.
"Whether groups are looking for a course with some challenges or just want to golf amid the area's beauty, we have several perfect courses," Popp said.
However, if the group is made up largely of attendees with no golf experience, an alternative, more inclusive tournament can be arranged.
"If you are planning a conference in the colder months, indoor mini golfing options are also available in Wisconsin Dells," Popp added. "Mini golf is so much fun! And yes, you can still sell hole sponsorships and coordinate a shotgun start."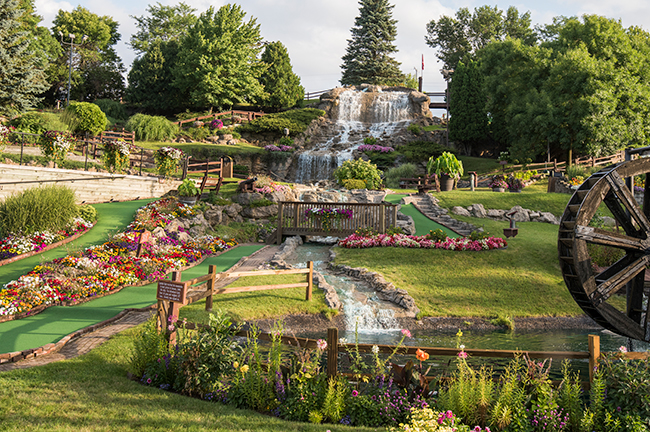 Pirate's Cove Adventure Mini Golf Course, Wisconsin Dells
Pirate's Cove Adventure Golf, which features 91 holes of miniature golf, is a recommended option for large groups.
4. Wineries and Breweries
"Wisconsin has a long agricultural history, as well as a storied brewing history, and Wisconsin Dells is no exception," Popp said.
This makes a winery or brewery tour an easy add to the event agenda.
There are five group-friendly wineries to choose from here, including Wollersheim Winery, located on a scenic hillside across from the Wisconsin River.
It also operates the adjacent Wollersheim Distillery, specializing in brandy—the feature ingredient of a Wisconsin-style old fashioned.
"It's a national historic site and is recognized as being one of the leading wineries in the Midwest," Popp said.
There are also three local breweries in the area, including Wisconsin Dells Brewing Co., which offers group tours and hosts private events.
Popp added the Wisconsin Dells VCB can also help planners coordinate winery and brewery trolley tours, for groups that want to sample a little bit of each.
5. Ziplining
Groups can easily arrange a ziplining excursion at Heightened Adventures, an adventure park that promotes team bonding on six scenic acres at Chula Vista Resort.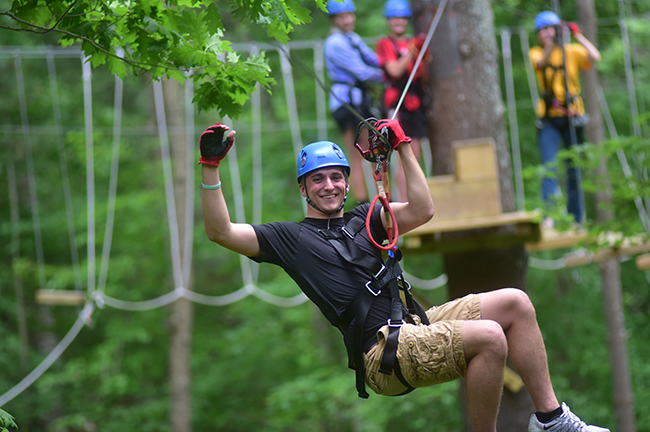 Heightened Adventures Zipline, Wisconsin Dells
"Nestled under a canopy of Norwegian pines along the Wisconsin River, ziplines offer opportunities for attendees to connect in memorable ways, and planners love the flexibility they provide groups," Popp said.
Through seven ziplines, attendees will glide over some of the Dells most recognizable scenery like canyons and sandstone rock formations.
6. Escape Rooms
Groups looking for a mental teambuilding challenge should look into the many escape room opportunities in Wisconsin Dells. The newest entrant, Booby Trap Escape Rooms, features four different experiences for small groups of up to 10 attendees.
[Related Content: Kalahari Resorts—Events Where You Can Bring Your Family Along]
"Although escape rooms are available in other destinations, we are fortunate to have such a large number of them," said Popp. "So even if you have a large conference we can secure multiple locations, making these experiences more accommodating to larger groups."
7. Supper Clubs
Supper clubs are a big part of Wisconsin's identity.
These vintage, family-run establishments are open only during supper hours and serve iconic sweet brandy old fashioneds and large cuts of prime rib. They are can't-miss stops for dinner during a visit to the state and luckily, the Dells area is full of them.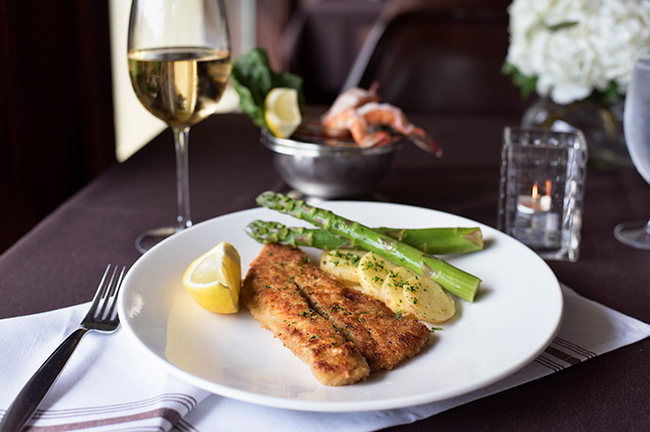 Del-Bar Supper Club, Wisconsin Dells
"We are fortunate to have some of the best supper clubs in the state right here in Wisconsin Dells," said Popp. Groups will enjoy mingling with supper club regulars as they share a meal including house-made cheese spreads, relish trays, salads, steaks and fish specials.
One of the best spots for groups is the The Del-Bar Supper Club, which has been in operation since 1943 and offers private rooms to accommodate groups of up to 100 people.
8. Trick-Skiing, Daredevils and Broadway Shows
When people think of New York, they think of Broadway, and when they think of Wisconsin Dells, the Tommy Bartlett Show comes to mind, according to Popp.
This live performance, a mix of fast-paced trick skiing and world-class daredevil acts, takes place seasonally on Lake Delton.
However, if your event is scheduled during Wisconsin's colder months, groups can check the lineup of shows at the Palace Theater, which specializes in Broadway musicals in a dinner theater atmosphere.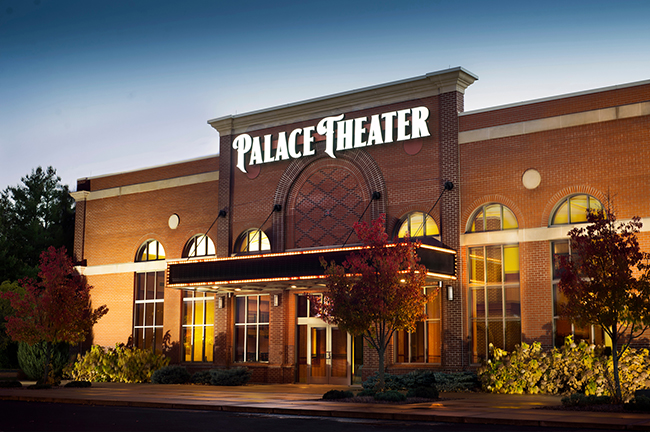 Palace Theater, Wisconsin Dells
"While groups love the thrilling atmosphere Tommy Bartlett provides, the Palace Theater is the best deal in town with fabulous meal options and great reception space," Popp said.
Additionally, groups can reserve space at the Palace Theater for improv teambuilding.
3 Renovation Highlights in the Wisconsin Dells
Kalahari Resorts and Conventions, which has 756 guest rooms, is undergoing a 112,000-square-foot expansion to its convention space for a grand total of 212,000 square feet. The expansion is set to open September 2019 and includes a 52,000-square-foot ballroom.
In January 2018, Sundara Inn & Spa completed a 40,000-square-foot addition for business gatherings and retreats.
The wellness-inspired space includes two meeting rooms, a boardroom and the Woodland Reflection Room, a standalone venue with floor-to-ceiling windows.
Riverfront Terrace, a seasonal outdoor entertainment space overlooking the Wisconsin River in downtown Wisconsin Dells, opened in 2018.
Wisconsin Dells CVB Contact Information
Wisconsin Dells VCB
608.254.8088