New Developments in Fort Wayne, Indiana, That Meeting Planners Should Care About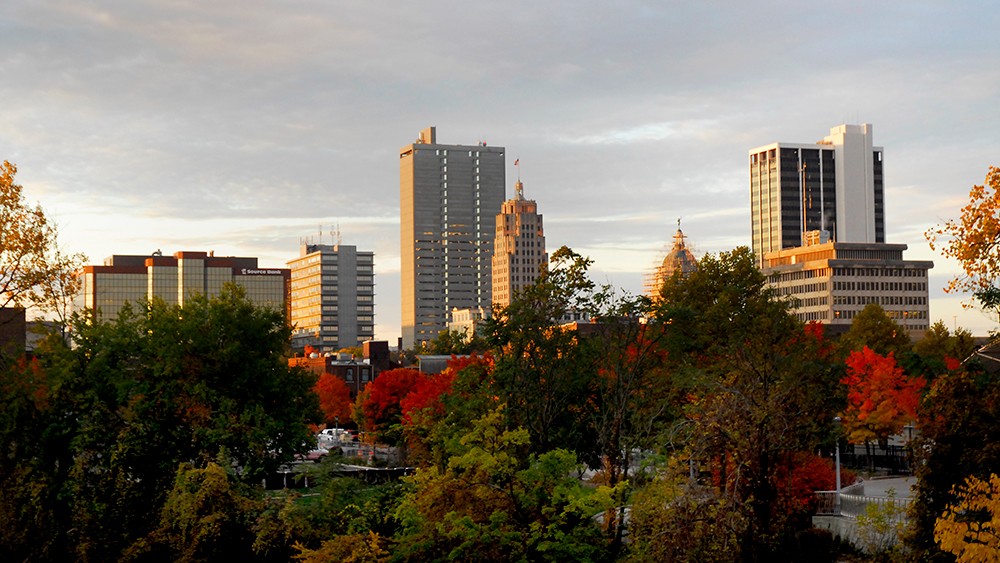 The compact downtown convention district in Fort Wayne, Indiana, is a selling point for meetings.
Fort Wayne offers lots to see, do and dine-around within close proximity to major convention and hotel facilities, which saves all manner of logistics and budget headaches.
While Fort Wayne is the second-largest city in Indiana, the safety and walkability of its downtown convention core allows attendees the ability to enjoy its major attractions often without the need of hiring transportation services.
"Just within steps of our doors there are 30 restaurants and an absolute boom in downtown Fort Wayne development right now," said Marcy McKinley, director of sales and marketing for Fort Wayne's Grand Wayne Convention Center. "We use the phrase 'more dining and more doing in downtown Fort Wayne, Indiana.'"
[Related Content: 9 Indiana Event Venues That Add a Dash of Splash]
McKinley singled out a variety of venues that are within a couple of blocks from the convention center, including the minor-league Parkview Field baseball stadium and the 91-year-old Embassy Theatre. The Courtyard by Marriott Fort Wayne and Hampton Inn & Suites Fort Wayne Downtown are across the street from the convention center and the 246-room Hilton Fort Wayne at the Grand Wayne Convention Center is attached.
The new Riverfront Fort Wayne development, constructed where three rivers converge in the heart of downtown, includes Promenade Park. The event-friendly public space will contain a pavilion, amphitheater, canopy trail and other features when it opens in June 2019.
Nearby is The Landing, the former hub of Fort Wayne that is being redeveloped into a residential and commercial district. It will have brewpubs, restaurants and nightlife options when finished by the end of summer 2019.
[Related Content: Indiana Gets Busy After Hours With Nightlife Options]
Another neighborhood off-site option is Historic West Central.
This nationally designated historic district next to downtown boasts a bevy of home styles, ranging from the 1840s to the present day, with a variety of restaurants and spaces that provide an elegant off-site reception option.
Fort Wayne Convention Center
Fort Wayne's convention center offers 225,000 square feet of space, including a 50,000-square-foot exhibit hall and 18 meeting rooms.
Free services at the Fort Wayne Convention Center include:
Drayage, engineering and room set services, because it's a non-union building.
On-site event managers, hosts and the services of a guest experience manager.
AV consultation.
Banquet tables, chairs, podiums, stage and other furniture.
Pre-function areas.
Wi-Fi that can handle up to 5,000 simultaneous users.
Sensory kits to assist those with sensitivities to light, sound and environmental concerns.
"As convention centers go, it's a convention center that almost runs more like a hotel," McKinley said. "It's fully carpeted, so event planners don't have to rent carpet—the public spaces have 30,000 square feet of polished terrazzo flooring—and attendees don't have to run a mile down the road to get anywhere.
"It's very well contained and has a lot of extra free services," she added.
5 Off-Site Meetings Options in Fort Wayne, Indiana
Allen County Courthouse Preservation Trust
This Beaux Arts stunner spans an entire downtown city block and was fully restored to its original grandeur in 2002. Still a fully functioning courthouse, groups can rent the National Historic Landmark facility after-hours for corporate events in its first- and second-floor common areas, and tours of its four Grand Courtrooms can be arranged if escorted by a trained docent and security guard. The facility offers a list of six pre-approved caterers.
Foellinger Freimann Botanical Conservatory
Described as an oasis in downtown Fort Wayne and next to the convention center, the conservatory offers three indoor rooms, three indoor gardens and the large outdoor Terrance Garden for group rental, with seasonally changing exhibits in its Showcase Garden. Tables and chairs are provided at no additional cost and the facility can provide a list of preferred caterers.
Part of the Fort Wayne Cultural District, this museum focuses on American art from the 19th century to today and can accommodate receptions of up to 100 guests after 6 p.m. Rental spaces include the Auditorium, Atrium, Overlook Lecture Hall and Sculpture Court.
This fully restored 1928 movie and vaudeville palace stages off-Broadway performances, concerts and special events, and recently completed a renovation to its top two floors that added a two-story ballroom and rooftop garden space with 360-degree views of downtown.
It's located across the street from the Grand Wayne Convention Center and connected to the Courtyard by Marriott by skywalk.
Planners can take attendees out to the ballpark right across the street from the Grand Wayne Convention Center. Home of the Fort Wayne TinCaps Single A baseball team, Parkview Field is an award-winning ballpark where groups can take in a game or hold special events such as on-field functions, suite rentals and use of the batting cages. Parkview Field is a full-service catering facility that also offers an AV-equipped conference room that can seat up to 25.
[Related Content: Northern Indiana 'Suits Up' With Sports and Activities]
Fort Wayne Travel and Flight Information
Fort Wayne is located in northeastern Indiana, approximately 125 miles north of Indianapolis. Fort Wayne International Airport (FWA) offers non-stop service from Allegiant, American, Delta and United from the following destinations:
Detroit
Minneapolis
Phoenix
Atlanta
Dallas
Philadelphia
Chicago
Charlotte, North Carolina
Myrtle Beach, South Carolina
Orlando, Fort Myers and Tampa, Florida
Fort Wayne CVB and Convention Center Contact Information
Grand Wayne Convention Center
260.426.4100
Visit Fort Wayne
260.424.3700