10 Crucial Meetings Food and Beverage Trends From Caesars Entertainment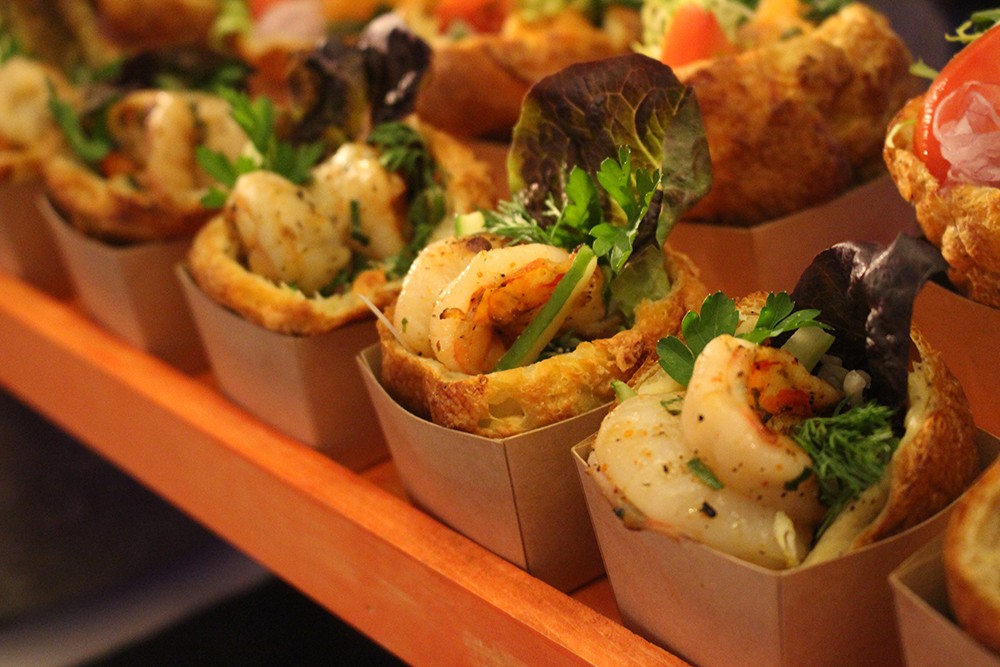 Caesars Entertainment excels at catering meeting functions ranging from 10 to 10,000 people. Here are my 10 key F&B trends and best practices that meeting planners can incorporate to deliver a high-quality event.
1. Be In the Know About Ingredients
Now more than ever attendees want to know where their food comes from and all the ingredients used in its preparation—the processed food days are over. House-made menu items continue to be more attractive to attendees.
Trending items such as house-made lavender quinoa granola or peanut butter protein bites are growing in popularity in comparison with pre-packaged granola or power bars.
2. Focus on the Sides
The magic is always in the details. Although the main entrée is important, what accompanies the dish makes it memorable.
Cucumber, green beans, heirloom carrots, pearl onions or roasted peppers are a popular choice because of the vibrancy of colors and the "zing" of their taste. House-pickled vegetables not only add a new layer of taste, but visually embellish any entrée.
3. Handcrafted Condiments
Handcrafted condiments, including mustards, stout-infused whole grain, honey curry, beet and horseradish, have become popular for their artisanal flavor and diverse use.
Condiments can be used on nearly everything from high-end canapes to comfort deli spreads to fresh vegetables during meeting breaks. Gochujang, brown sugar and habanero ketchup are also great when paired with an artisanal cheese selection on a slider bar.
4. Go for the Gut
We have been seeing increased requests for gut-friendly food items that go beyond just yogurt. With a focus on hydration, kefir, kombucha tea, coconut water and flavored seltzer waters are a great alternative to soda and coffee for meeting breaks.
Kombucha tea or mixed cocktails have also become popular beverages at events.
5. Dairy-Free Menus
Just a few years back, we would get an occasional request for non-dairy items. Now with the rise of lactose intolerance, our menus regularly feature almond, cashew, sesame seed or pecan milk, along with sorbets, fruit ices or frozen desserts made with rice or soy.
[Related Content: Food & Beverage at Events – Needs Versus Wants]
6. Customizable Regionally-Inspired Menus
Meeting planners should always celebrate the specific destination where their event is being held and embrace the regional cuisine with seasonal signature items.
New destinations present new ingredients and preparation to indulge in.
7. Bring Out the Nostalgia
Nostalgia is a key ingredient in making a dish memorable.
Try incorporating a breakfast cereal bar with old-school favorites such as Frosted Flakes, Cap'N Crunch or Cocoa Puffs. These thoughtful options are reminiscent of childhood and add a touch of joy and sentiment to the entire event experience.
[Meetings Today Podcast: F&B Trends, Preferences and Food Allery Musts]
8. Globally-Inspired Cuisine
There is a growing demand for international flavors and ingredients that highlight our globe, from Korean to Moroccan. Incorporating foods from varying cultures provides guests with fresh, new and exciting options.
9. Use of Natural and Repurposed Serving Containers
Single-use plastic pollution continues to be a global problem.
The hospitality industry and meeting planners are taking note and instilling daily practices to do their part in conservation and sustainability, including serving menu items on china or natural, reusable serving containers.
10. Focus on a Sweet Ending
First impressions are always important, but the last impression should be just as memorable. Everything from pastries and puddings to thematic popsicles, make-your-own ice cream bars and baked cookies to order are becoming an expected part of the meeting experience.
These special finishing touches can be a lot of fun to arrange and organize too!
SAVE THE WEBINAR DATE:
Best-in-Class: Big League F&B Trends
From Caesars' Michele Polci
Wednesday, June 26, 2019,
1:00 p.m. Eastern Time