5 Fresh New Food Experiences of Oahu and Kauai Are Rooted in Hawaii's Rich Heritage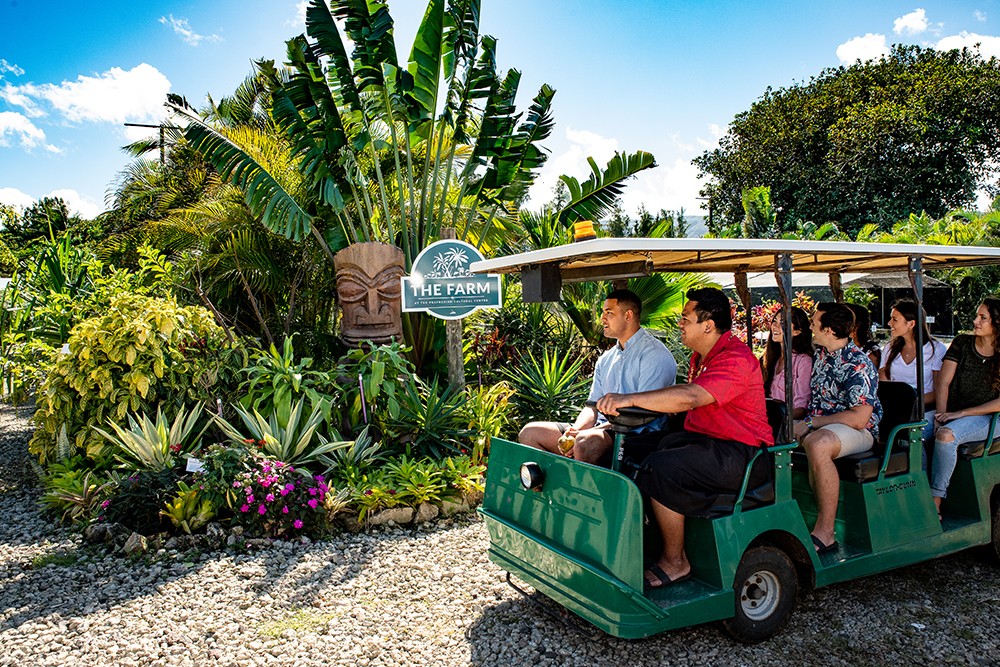 The explosive growth in experiential travel has meeting attendees and leisure travelers alike clamoring for opportunities to indulge in the local heritage of a destination. On Oahu and Kauai, the way to the hearts of the culturally curious is increasingly through their stomachs.
Progressive ways of sampling both islands' vast culinary and agricultural riches are sprouting up everywhere.
Oahu Agricultural Group Experiences
The Hawaii food scene on Oahu, its most populous island, is known for everything from shrimp trucks and shave ice stands to famous chefs like Morimoto and the annual Hawaii Food & Wine Festival, the premier event for epicureans in the state.
Two new group-friendly experiences are rooted in Oahu's longstanding agricultural legacy:
Ma'o Organic Farms is the centerpiece of the Farm to Forest Experience, one of three new Oahu programs offered by Hawaii Forest & Trail, which has operated on Hawaii Island for 25 years.
Ma'o Organic Farms is renowned for its socially responsible philosophy, serving the needs of the local community, particularly underprivileged youth.
It also has hosted former First Lady Michelle Obama, according to Rob Pacheco, co-founder with his wife Cindy of Hawaii Forest & Trail.
"[Michelle Obama] has said it is hands-down her favorite place," Pacheco said, explaining that the first time she paid a visit, she spoke about how it aligned so well with her belief that teaching children about sustainable farming and healthy food was a powerful way to address the country's childhood obesity epidemic.
The Farm to Forest Experience, which can be customized for small groups, allows participants to tour Ma'o Organic Farms, experience the progressive, community-based Hawaiian agricultural scene and enjoy a lunch of farm-to-fork local produce.
[Related Content: Oahu and Kauai Display Complementary Sides of Hawaii]
Groups can also learn about the human history of Oahu's west side and hike the uplands of Waianae with exclusive access to views of Pearl Harbor, Honolulu and Diamond Head.
"Like the Hawaii Island adventures that we are known for, we wanted to connect people with place with our launch of programs in Oahu in last November and inspire a deep connection with the nature and culture of Hawaii," Pacheco said.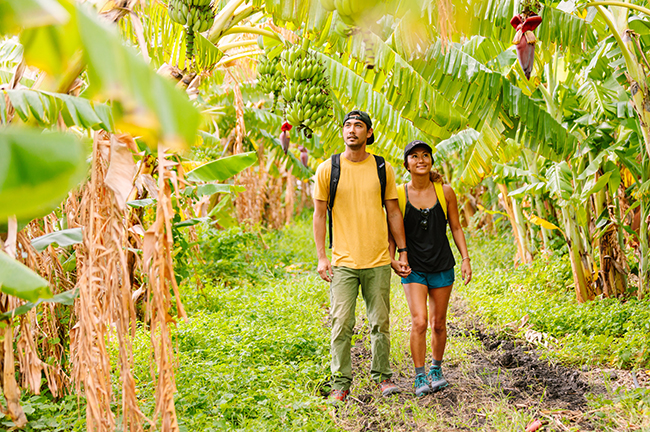 Mao Organic Farms, Oahu, Hawaii Forest & Trail, Farm to Forest Experience, Credit: Andrew Hara
Meanwhile, The Polynesian Cultural Center spotlights the spirit, culture and people of six islands of Polynesia, including Hawaii.
One of its latest additions, is the daily Farm Tour that can be customized for small groups.
"The program takes guests through our 7.5 acre working farm and nursery, where they can see things like banana crops, taro plants, breadfruit, flowering hibiscus and coconut trees," said Seth Casey, senior manager of marketing at the venue.
"These crops are used in our dining facilities and even incorporated into many of our performers' costumes," he added. "It's a great addition to a program for groups who come to the center for a performance or other event."
Uncover Kauai's Rich Culinary History
Gone are the days when the only thing Hawaii visitors wanted to do was soak up the sun on a warm bed of sandaccording to Lisa Nakamasu, director of sales for the Kauai Visitors Bureau.
"They're coming to experience something different, and they want to get deeper into what's new, what's happening culturally and what the locals are doing," she said.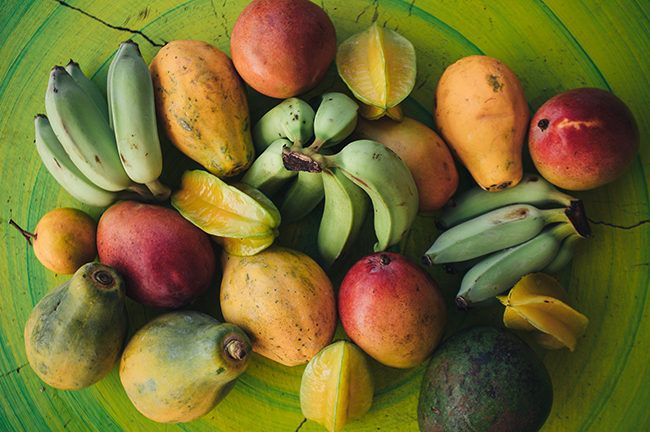 Kauai Fruit, Credit: Hawaii Tourism Authority, Mark Kushimi
One of the biggest areas of growth lately has been in food tours and tastings that highlight Hawaii's quintessential and progressive culinary heritage, according to Nakamasu.
She has been including three new options on meeting planner fams and meeting agendas in Kauai to give participants an authentic taste of Kauai:
"We try to showcase smaller businesses and local farmers, and Monkeypod Jam has some incredible things," she said, explaining that Owner Aletha Thomas just opened a brick and mortar store for the company she founded in 2010. "She only uses fruit and produce from dozens of Kauai farmers to make these delicious jams, jellies, marmalades and pickled items.
"Some of the most interesting are pickled breadfruit and pickled dilly beans," she added.
Monkeypod Jam offers private tours and tastings for groups, including a sample flight of appetizers spotlighting its preserves, a fruit prep demonstration and details about the company's history.
Tasting Kauai is one of the island's top choices for culinary excursions, according to Nakamasu, who said the company facilitates customizable driving and walking tours of different parts of the island for groups, including the new West Side Food Tour of Hanapepe Town.
"They support the small businesses that are just starting up and the longtime establishments, with opportunities to taste wonderful food items and hear about the story behind the businesses and destination," she said.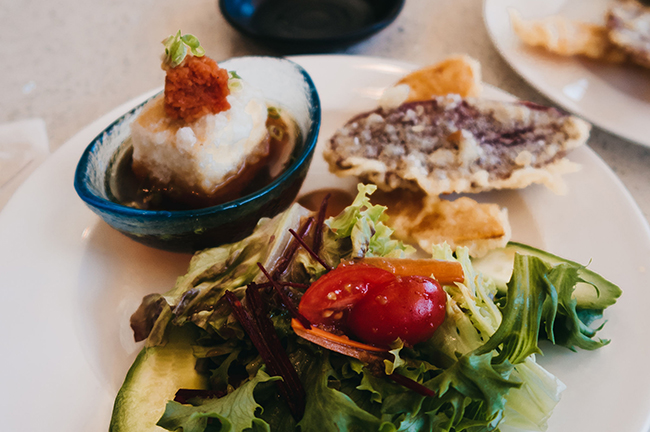 Tasting Kauai, West Side Food Tour
The company's West Side Food Tour features an afternoon stroll through the quiet streets of historic Hanapepe to learn about the town's past, present and future through its food.
Tasting Kauai has curated tastings with the town's best chefs, who help paint the picture of Hanapepe Town's plantation-era roots. This includes traditional Hawaiian foods, Japanese cuisine, locally sourced organic baked goods, Portuguese-style street food and culturally steeped Hawaiian sea salt-focused demonstrations.
Kauai Coffee's new Farm Tour is another great way for groups to indulge in an island specialty.
"It's the largest coffee plantation in the U.S.," Nakamasu said. "Participants get a great idea of its size [3,100 acres] on the tour, and then they plant their own coffee tree."
The tour takes place aboard an open-air truck and highlights how the coffee is sustainably planted, grown and manufactured before guests plant a tree—one of 4,000-plus on the estate.
The program ends with a complimentary cup of Kauai Coffee.
Whether you're savoring Kauai's rich brew, ethnic specialties and creative preserves or Oahu's sustainably diverse farms, Hawaii is a tempting treat for attendees.
7 Hotel Renovation Updates in Oahu and Kauai
Oahu
Waikiki Beachcomber by Outrigger completed a $35 million renovation.
The project included restyling the guest rooms, modernizing the lobby and pool experience and updating public spaces and the hotel exterior. Ocean photography from local artists such as Zak Noyle and immersive Hawaiian music are featured throughout the hotel.
Waikiki Beach Marriott Resort & Spa plans to complete a renovation of its 1,310 guestrooms in fall 2019 as the second phase of a major renovation.
Interior designer Bianca Yih was inspired by the bohemian lifestyle, surf culture and warm hospitality of the legendary Waikiki Beach Boys for the transformation.
Hotel Renew, one of Waikiki's original meetings-friendly boutique hotels, plans to unveil a property-wide reimagination focused on holistic Hawaiian wellness in June 2019. Rebranded simply as Renew, the property will function as a conduit to the local wellness community.
New amenities will feature craft juices, coffee and elixirs at the updated lobby bar and a program connecting guests to preferred local wellness, fitness and beauty partners outside the hotel. The hotel aims to offer guests meaningful, authentic, individualized experiences seeking a deeper connection to Hawaii than traditional tourist spots.
White Sands Hotel will reopen in July after completing a full restoration that brought it back to its original 1960s glory. The property is one of Waikiki's only remaining walk-up hotels.
The redesign reflects a funky and fun retro vibe, with highlights including a lush garden and pool courtyard oasis with a hot tub and adjacent bar. The food and beverage concept will include elevated takes on 1960s throwback dishes and cocktails.
Sheraton Princess Kaiulani in Honolulu will undergo a major redevelopment beginning in mid-2022 with the demolition of its existing hotel towers. The project will include a new 33-story hotel tower with approximately 1,009 hotel units, a recreational deck with a pool bar, gym, lazy river and infinity-edge pool, and an attached six-story structure with meeting space, retail stores and food and beverage outlets. The project is slated for completion in 2025.
Kauai
Courtyard Kauai at Coconut Beach in Kapaa is undergoing a complete transformation to become Sheraton Kauai Coconut Beach upon completion of the project later this year. Enhancements are being made to guest rooms, public spaces, the pool and the lineup of resort activities, and a large meeting space is also being added.
Sheraton Kauai Resort in Poipu Beach completed renovations to guest rooms and suites in the Ocean Wing and Beach Wing. The refreshed units feature modern furnishings with an island-inspired color palette.
Oahu and Kauai CVB Contact Information
Kauai Visitors Bureau
808.245.3971
Oahu Visitors Bureau
808.524.0722