How to Plan Accessible Meetings and Events: A Comprehensive Guide for Event Professionals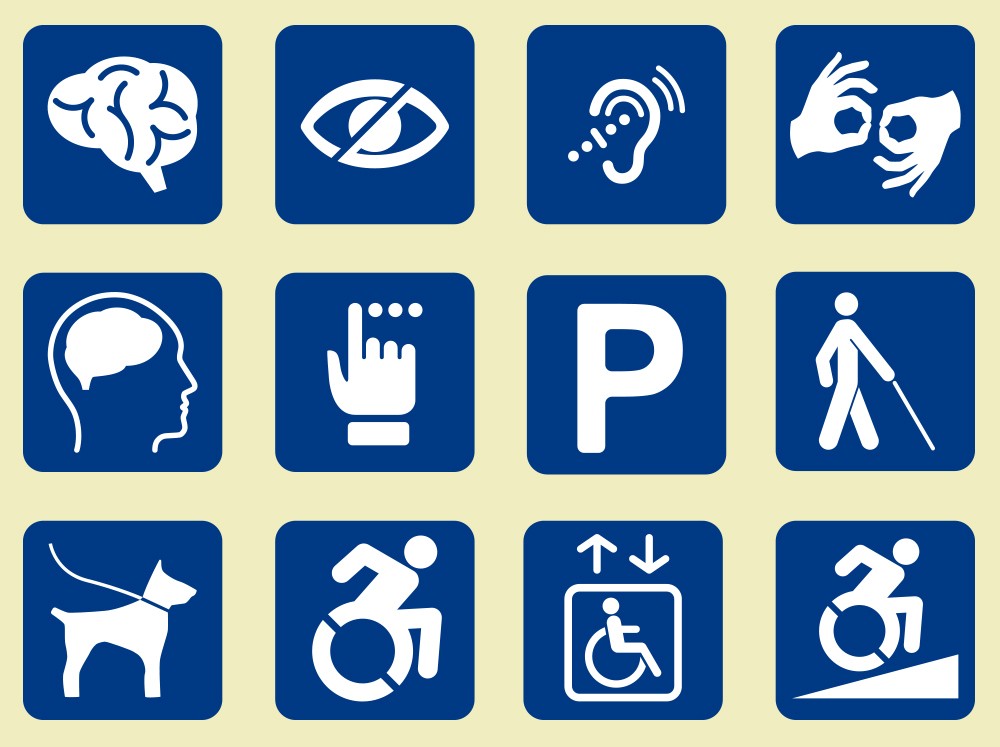 A meeting or event won't be productive or successful if everyone can't fully participate. That's why knowing the ins and outs of how to plan an accessible meeting is important.
Compliance with the American Disabilities Act (ADA) is required by law, but there's even more you can do to make your events accessible to everybody. And it doesn't need to be difficult; with preparation and thoughtful consideration, you can plan a meeting that's accessible and inclusive.
In this article, we will cover:
What Is the ADA and Who Does It Cover?
First, as a meeting planner, you should familiarize yourself with the Americans With Disabilities Act (ADA) and the people it covers.
First passed in 1990 and amended in 2008, the ADA is a civil rights law that prohibits discrimination of people with disabilities.
The ADA defines disability as "a physical or mental impairment that substantially limits one or more major life activities, a person who has a history or record of such an impairment, or a person who is perceived by others as having such an impairment."
It's important to understand not all disabilities are the same. Some are visible, like a person who needs a wheelchair or scooter to move around.
Some disabilities are temporary, caused by something that happens to an individual during travel or right before the event, like breaking a bone and requiring crutches. But disabilities aren't always visible. Some people have disabilities you can't see or easily determine.
According to the U.S. Census Bureau, nearly one in five people in the U.S. have a disability, which means it's highly likely you have planned events that have included attendees with disabilities, or will. Generally, there are a few categories of disability needs you should keep top of mind when planning your event:
Mobility Disabilities: These can include people who require wheelchairs and scooters to get around. In addition, people who need assistance from crutches, canes, walkers or artificial limbs. People with these mobility disabilities often have difficulty getting around at events and using restroom and guest room facilities.
Visual Disabilities: People with visual disabilities have partial or full vision loss.
Hearing Disabilities: People with hearing disabilities have partial or full hearing loss.
Other Invisible Disabilities: There are many people who have disabilities that aren't visible. These can include, but are not limited to, people with cognitive disabilities, people that have seizure disorders, people that have chemical sensitivities or food allergies, and more.
It's possible not everyone will disclose their disability-related needs during registration, so keeping this information in mind from the get-go is step one to a successful, accessible meeting. Which bring us to step two.
Before the Event: Registration
Even with disability needs top of mind, every person and their needs are different.
During the registration process for your event, add a write-in question about any disabilities a person may have and any specific needs they will require to fully participate. This can help you secure any services you need to provide early.
If registration for your event is online, the website itself should be accessible.
Follow Web Content Accessibility Guidelines (WCAG) to determine whether your website meets the standards. Based on WCAG, these are the top considerations you should take when building your event website:
Alt text on images: For any image that appears on your site, include alt text that describes the images. The more specific this text is, the better.
Captioning on videos: Closed captioning should be available on your videos and include a transcript of the recording whenever possible.
Audio content: Include a text transcript to accompany any audio-only content.
Fonts: Make sure fonts are scalable and colors are easy to read.
Keyboard: Functionality of your site is operable through a keyboard.
Even what may seem like small considerations are essential to accessibility, like an event logo on your site.
"You may have a special logo for your meeting that includes the date and location. You need to set up the image so that the text gives the meeting name, date and location," said Anne Carey, attendee engagement manager at BCD Meetings and Events. "This way people who use software to read web pages will not miss out on that information."
Before the Event: Site Inspection
Site inspection is the next important piece in the accessible meeting planning process.
Meetings Today contributor Joan Eisenstodt put together a site inspection checklist for planners detailing everything you should consider before selecting a venue for your event.
Some highlights include:
Guest arrival: Consider the locations of parking lots, doors and elevators in relation to the meeting spaces, in addition to shuttles to and from the airport.
Public restrooms: Identify the public restrooms that display the wheelchair symbol outside and check the heaviness of the doors, the turning radius within the restroom and how far the restroom is from the meeting space.
Service animals: If an attendee requires a service animal, check with the venue on its policies.
Seating availability: In meeting spaces, configure seating arrangements with enough aisle width for easy movement. Be mindful of furniture—consider the height of seats and tables provided.
Food and beverage offerings: Make sure the caterer can accommodate food allergies and sensitivities.
Air quality: Some attendees may have chemical and odor sensitivities, allergies or asthma. If there's an odor in the air, this could be a sign of poor air quality and ventilation.
Additionally, here's an infographic that you can share with others.

The Accessible Meetings and Conferences Guide by the ADA National Network recommends doing a site inspection twice—once on your own, and once with the onsite sales team.
[Related Content: A Site Inspection and Disability Accommodation Checklist]
Eisenstodt further recommends even taking a day to conduct a site visit using a mobility device, eye patch or one or two earplugs. Experiencing a site with challenges some of your attendees may face can help you better understand accommodations they need and why.
Additionally, you could have attendees with disability needs accompany you on a site visit so they can provide insight on what may or may not be accessible at the venue.
Before the Event: Travel Services
As a meeting planner, accessible travel can influence the selection of the city you decide to have your event in and can also determine the attendance rate.
Leverage the help of local DMOs to arrange travel options for your attendees.
Many CVB websites, like this one from Meet Minneapolis, provide important travel accessibility information. Denise Suttle, the assistant director of convention services at Visit Albuquerque, provides a detailed ADA accessibility resource list to planners.
"We maintain that list and keep it updated," Suttle said. "We have lists of wheelchair rentals, information about interpreters, we have information on nearest pharmacies, hospitals, etc."
Suttle is also the former president of Event Service Professionals Association (ESPA) and helped kick-off Project Access, which is an accessibility toolkit and checklist for both planners and suppliers.
"More and more people were asking meeting planners very specific questions like: Will I be able to rent a motorized scooter? Will I be able to get to the airport and to the hotel if I'm in a wheelchair? Do you have interpreters available for people who are deaf?" Suttle explained.
"It occurred to me that it made sense for ESPA to take the lead and develop a fairly comprehensive checklist that meeting planners could use as part of site selection, and that venues and convention centers could use to [help] answer these questions ahead of time."
Suttle said she hopes the toolkit continues to raise awareness about accessibility and push planners and suppliers to be more proactive in making their events more accessible.
"Hopefully, it will also spark a meeting planner's awareness to the questions they hadn't even thought to ask," she added.
Before the Event: Setup
The Accessible Meetings and Conferences Guide offers recommendations for event setup. Ensure there is enough aisle space for movement and provide accessible seating locations throughout the room so attendees with mobility disabilities have choices similar to others.
If you have attendees who require an ASL interpreter or are viewing captioning services, make sure their seats are near the front with a clear view of the interpreters or screen.
[Related Content: Closed Captioning at WordCamp Los Angeles]
If your event will take place in multiple rooms and the doors are not automatic, prop the doors open so people with wheelchairs and scooters can easily enter and exit rooms.
Suttle explained that many events hosted by ESPA are attentive to these specifics.
"The staff is very much aware of the physical set-ups, catering food and beverage set-ups, and any service areas, making sure they are in a low enough area so that people can reach them," she said. "They also make sure that aisles are wide enough and there's a variety of seating."
Even in networking spaces, keep furniture and configuration in mind. High-top tables, for example, can be difficult for those in wheelchairs and scooters to access.
During the Event: Presentations
Lou Ann Blake, who organizes events and conferences as part of her role as deputy executive director for the Blindness Initiative at National Federation of the Blind, stressed the importance of presentation materials being accessible.
"For any presentation materials, make sure you provide them to low-vision or blind attendees in an accessible electronic format," Blake said. "We try to do it ahead of time, so that these attendees can have access to those materials."
Blake added that if you are hiring an American Sign Language interpreter, make sure to schedule one well in advance and provide the interpreter with the presentation materials.
"You may need an ASL interpreter that has a certain expertise, like in medical terms for example, if you're planning a medical conference." Blake explained. "The interpreters like to have those presentation materials ahead of time."
[Meetings Today Blog: Accessibility, the ADA and Inclusion – It's Our Job!]
Brian Armstrong, the global business development manager for LTC Language Solutions, works with conference and association planners looking to secure certified ASL interpreters and captioning services regularly, and echoed Blake's advice.
"We ask [planners] for more details about the conference and what the subject matter is," Armstrong said. "If it's a medical conference, we will focus on medical interpreters—we can even get more focused within that subject matter, like hematology, for example."
ASL interpreters that specialize in conference jargon can be in high demand, which is a reason why Armstrong recommends scheduling far in advance.
"The other thing that's important is that we have materials ahead of the conference like speakers' notes and presentations," Armstrong added, recommending planners schedule ASL interpreters at least two weeks in advance of their event. "I can't tell you how many times we've gone to clients and they don't have their materials ready yet or until the last day."
LTC Language Solutions works globally, and can place interpreters in any location, though most of its work is in the United States. Captioning services are also available.
NFB's Blake also encourages that during presentations, planners work with the presenters to make sure they describe images and read texts off a PowerPoint presentation, if using one.
Other considerations Blake recommended for planners when organizing presentations:
Event apps: If your event has an app, make sure it's accessible with voiceover. Blake said in her experience, most low-vision and blind people use an iPhone, so ensure your app is compatible with iPhones. Follow Apple's accessibility guidelines.
Handouts: If a presenter has handouts they plan on using during a meeting, provide copies that are in braille or large print, if you have low-vision or blind attendees.
Signage: Make sure your event signs are easy to read and have alternative text in braille.
Meeting breakouts: When it's time to attend breakout sessions, consider having marshals at strategic points to guide people to the next meeting on their agenda.
Though there may be extra costs on the back end for some of these services, Armstrong stressed that taking care of your attendees and making sure they can participate is what planners need to remember.
"At the end of the day, how important are your attendees? You can have an attendee or attendees who have these services and walk away and talk very highly of your event."
After the Event: Follow-Up Survey
The best way to find out how accessible your event was is by communicating with your attendees. Listen, learn and adjust for the next event by sending out a post-event survey.
Ask attendees about any challenges they had in fully participating and what could be done to make the event more accessible to them.
"Unfortunately, it falls to the individual attendee to make the need known and ask for help, and that's quite a big burden," Suttle said.
"That's part of why we do what we do and come up with checklists and sessions. We will get to the point, I hope, where it becomes second nature [for us] to ask these accessibility questions."
Listen to this next: Cvent's Perspective: Making Meetings Accessible to All