3 Trends to Watch From IACC's 2019 Meeting Room of the Future Report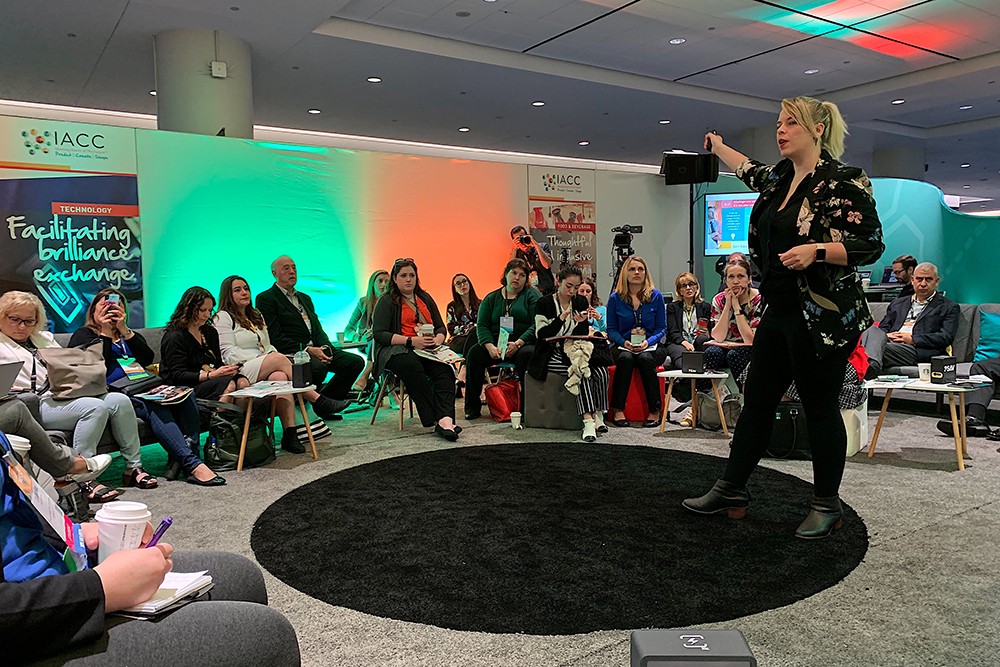 IACC surveyed 250 meeting professionals and suppliers from five continents for its 2019 Meeting Room of the Future global trends report.
At MPI's 2019 World Education Congress (WEC) in Toronto, IACC CEO Mark Cooper led a group discussion of the findings with analysis from Daniella Middleton, managing director of DCI's Business Events Division.
The takeaways were clear: big shifts are happening in the meetings business thanks to the influence from younger generations and the evolution of technology.
And attendees don't just want a meeting; they want an experience. Creating memorable experiences was both the overarching theme of WEC and the report.
Following are the trends IACC's Meeting Room of the Future says will continue to push meetings and events in this direction.
1. Demand for Flexible Meeting Spaces and Offsite Venues Is Increasing
Creating memorable experiences often starts with the venue.
"Fun is number one in terms of what meeting professionals want the meeting environment to be," Cooper said.
Other elements survey respondents said made an ideal meeting venue include:
Flexible
Bright
Large/spacious
Technology-equipped
Modern
Cooper said venues that have invested in specialized spaces outside the meeting room—like outdoor spaces and creative offsite venues—are those that will see success over the next few years.
"If the physical meeting space is staying the same, you're pushing against the tide," he added.
[Related Content: How to Incorporate Bleisure Travel Trend Into Your Next Event]
"Does this mean doom and gloom for big brands? No, but it is an eye-opener," Middleton said in regard to the increased demand for specialized event spaces.
She noted that while planners still rely heavily on large hotel brands for meetings because of consistency, those venues will have to adjust to meet the creative needs of planners and attendees in the future.
2. New Technology Is Critical: Wi-Fi, Data Security and Social Media Tools
"The use of technology to keep attendees engaged is as important as it's ever been," Cooper said.
The IACC report found that technologies like event apps, social media and live streaming have been regularly adopted and implemented by meeting planners. Other technologies like free Wi-Fi are no longer a nice-to-have, but a must.
"Inclusive internet—it's like hot water in your hotel, you shouldn't have to pay for it," he said.
Additionally, just over a quarter of the respondents to the survey reported data security as the most critical technology needed for meetings in the next five years.
[Related Content: Cybersecurity Musts for Meeting Planners]
Meeting planners are still slower to adapt virtual reality technology, however, with 45% saying they would not consider replacing an in-person venue inspection for a virtual reality tour. However, that number may decrease in the future, with 32% saying they're "not sure," 16% saying "yes," and 6% "already doing it."
Middleton said it's becoming more common for event teams to outsource technology pieces like social media strategy to experts, which can help alleviate some multitasking.
3. Sustainable, Healthy and Diet-Conscious Meals Are the Future of F&B Practices
As national trends point to increased concern over the environment and the need for providing dietary accommodations like vegan and gluten-free foods, event food and beverage practices will need to evolve. The IACC report found this to be true, with 89% of respondents saying they'd like to see healthier food and beverage offerings during events.
[Related Content: 10 Crucial Meetings Food and Beverage Trends]
Many planners are also considering venues' food waste management, sustainable food practices and ability to accommodate dietary needs when planning an event.
"People want to know where the food is coming from and how it's labeled," Middleton explained. "They also want to know what happens to the food afterwards."
Listen to more on this topic:
The trends we've highlighted here aren't going away—they will only become more prominent over the next few years as younger generations continue to enter the workforce, technology evolves and the desire for memorable experiences increases.
 Are you seeing these trends in the meetings industry? How are you adapting your planning strategies and budgets to accommodate them? Let us know in the comments below.