Historic Event Venues in Detroit: 6 Spaces That Mix Storied Pasts With Modern Amenities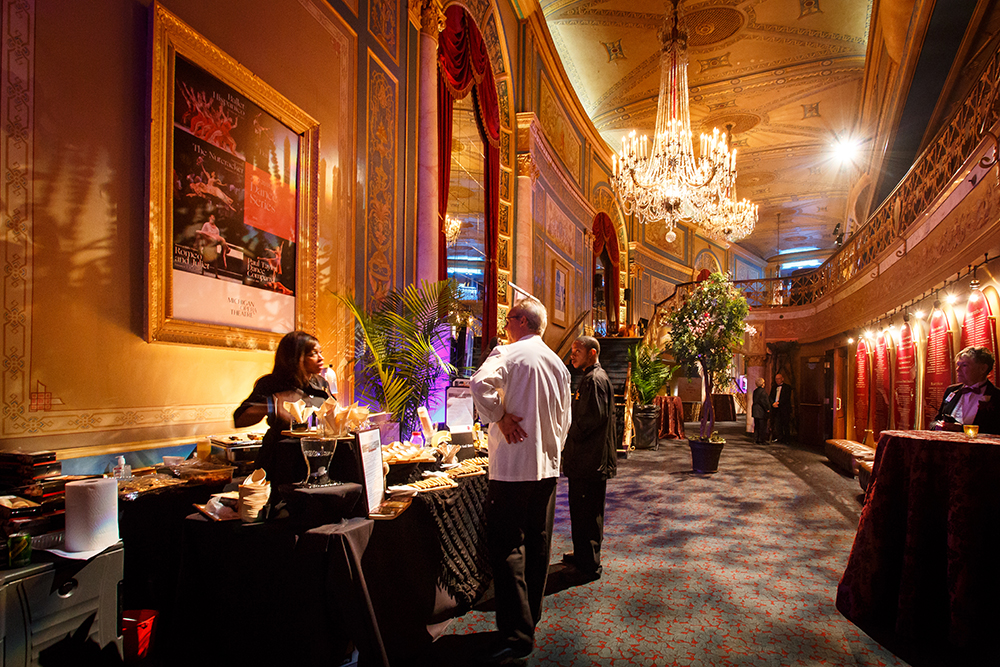 Great American cities like Detroit are steeped in history. Tap into this history by hosting your next meeting or event at one of the city's many storied venues.
From a gorgeous old opera house in downtown Detroit to a museum complex in nearby Dearborn, it's easy to celebrate the past while still enjoying modern amenities at these six venues in the Detroit Metro area.
Beautiful sounds and event spaces await groups at downtown Detroit Opera House, which opened in 1922 as the Capitol Theater.
Throughout the years, the venue has staged many performances, including current works presented by the Michigan Opera Theatre. The 2019-2020 season includes Mozart's Don Giovanni and Leoncavallo's Pagliacci.
The theater holds 2,700 people for performances and accommodates various group gatherings for 15 to 1,000-plus people within its 11 event spaces, says Kate Mahanic, the historic theater's associate director of sales.
"With smaller lounges, working meetings with all-day meal service are ideal," she said. "For galas and fundraisers, our parking lot can be tented to accommodate 1,200 or the interior of the space can be decorated for a strolling reception of up to 1,000 guests."
Other spaces planners can choose from are the grand lobby and the rooftop sky deck, which offers panoramic views of the Detroit skyline. 
"Our iconic stage is perfect for a plated meal of up to 350 guests, or a strolling meal of up to 400," Mahanic added. "And our petite lounges can be used for more intimate gatherings, or as a VIP component to a larger event."
The Madison Theatre, designed in a neoclassical style and opened in 1917, was at one time the largest theater in Detroit's Grand Circus Park theater district. 
The theater closed in 1984 and in 2011 it joined the Bedrock portfolio of popular Detroit event venues that accommodate both corporate and social gatherings.
"We've hosted everything from new product launches to fireside chats with some of the most influential entrepreneurs in the world," said Lyn Gleasure, CMP, CPCE, the Madison's event manager.
Spaces here include a 130-seat, technologically advanced auditorium, a loft that accommodates strolling receptions and seated dinners for up to 180 people, and a rooftop overlooking Comerica Park, Ford Field and other Detroit landmarks.
"The best part of the Madison is how easily you can flow from a technical presentation in the auditorium to a meal in the loft and then end on the rooftop with a spectacular view of all the new development and historic restoration projects happening in our great city," Gleasure said.
The journey of the Detroit Institute of Arts (DIA) began in 1885 on Jefferson Avenue. In 1927, the collection had grown enough to necessitate a move to its current location on Woodward Avenue, which has undergone further expansions and renovations over the years.
The DIA is the first American museum to receive a Vincent Van Gogh painting, the circa-1887 Self Portrait, says Laura Skimin, the museum's communications coordinator,
"We're also known for Diego Rivera's amazing Detroit Industry fresco cycle, which he created over a period of two years from 1931-1933," she said. Today, the murals can all be viewed in a room called Rivera Court. "It truly is a sight to see."
The original, stately Woodward Avenue entrance to the museum leads to Rivera Court and the Great Hall, both popular gathering spaces. 
"We accommodate all kinds of corporate groups," Skimin said. "From a large presentation in the Detroit Film Theatre, which can seat 1,100 people, to small private lunches, meetings and presentations for a group of 28."  
Additionally, groups are encouraged to book a customized docent-lead tour to coincide with an event.
"The works at the DIA often present themes, which can help spark conversation," Skimin said.
The circa-1900 State Savings Bank, another event venue in the impressive Bedrock portfolio, is on the National Register of Historic Places.
"The original bank vault centers the room and the gilded ceiling has been meticulously restored to provide a dramatic backdrop," said Event Manager Lyn Gleasure.
"To think this building was once slated for demolition is quite surprising given the historical gem that lies behind the front doors," she added.
The space has become a favorite with corporate clients throughout the Metro Detroit area. It has hosted everything from multi-day conferences and large-scale fundraising dinners to executive forums paired with A-list entertainers. 
"State Savings Bank is a blank canvas that partners well with planners who like the freedom to bring their unique vision to life," Gleasure said.
Seated functions for up to 400 people and strolling receptions for up to 600 are accommodated here.
Situated outside Detroit in nearby Dearborn is The Henry Ford museum complex, which opened in October 1929 with a gala event celebrating the 50th anniversary of the incandescent light bulb. Inventor Thomas Edison, President Hoover and various dignitaries were in attendance.   
Today, The Henry Ford is a must-see Michigan attraction that also accommodates memorable events for visiting groups from 50 to 5,000 attendees.  
A top choice for event planners within the complex is the Henry Ford Museum of American Innovation, according to Amy Cox, senior director of sales for The Henry Ford.   
"It's perfect for professional groups who want to be surrounded by ideas and innovation that have changed the world," she said. "Design, social and technical innovation are all here to inspire creativity with groups."
Also part of the complex is Lovett Hall, a ballroom built by Henry Ford that delivers old world glamour during meal functions and award ceremonies, and Greenfield Village, an outdoor living history museum that Cox recommends for picnics for 150 to 1,000 people.
She added Greenfield Village could also be booked in the evening for up to 5,000 people, complete with horse drawn carriage rides, a running historic steam locomotive and an old-time baseball game on the green.
"Adding that special 'wow' is our specialty," Cox said. "From historic transportation, guided tours, presentations, music, teambuilding and integration of our Model I Learning Platform, our staff of CMPs love to build the right programming elements to enhance your event."
Also located just beyond Detroit's city limits is Rochester-based Meadow Brook Hall, which was built in the 1920s for entertaining and hospitality.
Faith Brody, external relations assistant for Meadow Brook Estate, explained Matilda Dodge Wilson told architects that she wanted the hall to be large enough to provide "living space for four, dinners for 40 and parties for 250."
Today the home is used for a wide variety of corporate experiences, Brody added, from small private meetings in the library to large networking events in the ballroom.
"The ballroom is the only two-story room in the mansion, with soaring Gothic-style beams, stained glass windows and a cozy fireplace," she said.
Groups often book a private docent-lead tour followed by lunch in the dining room prepared by the in-house executive chef. Planners can also request docents be stationed in each room for self-guided tours during events.
Digital Extra: 3 Detroit Hotel/Venue Announcements
Shinola Hotel opened downtown in January 2019 with 129 guest rooms, onsite shopping and dining, and meeting and event space for groups of 12 to 200 people.
A 154-room Cambria Hotel is slated to open downtown in 2020 with meeting space including a formal ballroom.
Atwater Beach will open along the Detroit Riverfront summer 2019.
It will feature a large sandy beach, a musical garden, a large shed structure for programs and retail, and a colorful floating barge for food and drink.
Detroit Metro CVB Contact Information
Detroit Metro CVB
313.202.1800